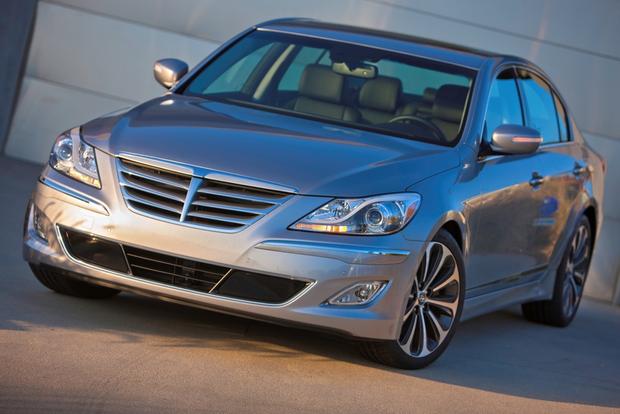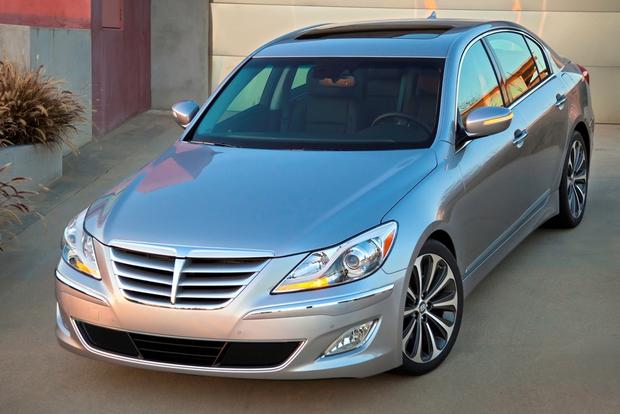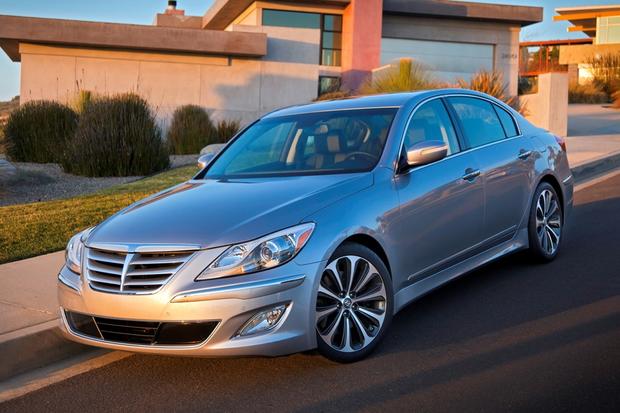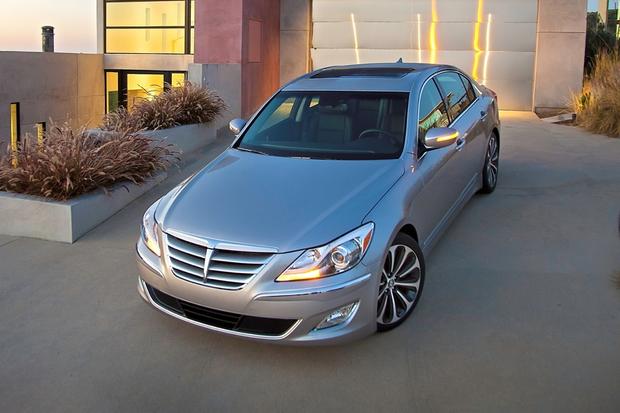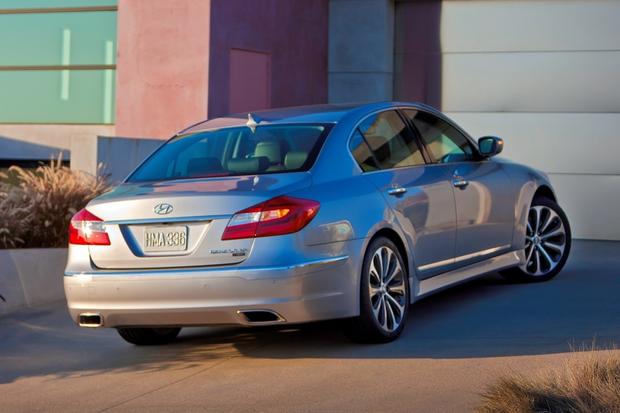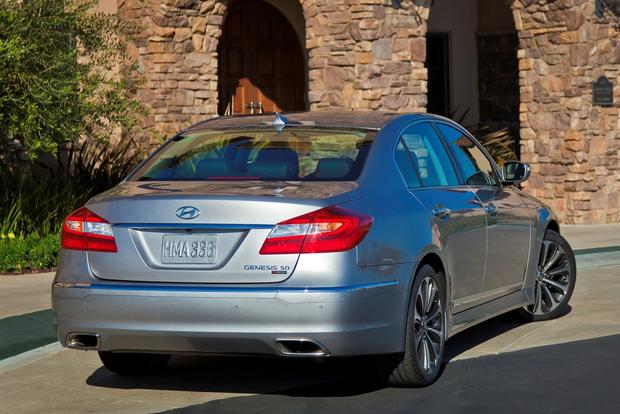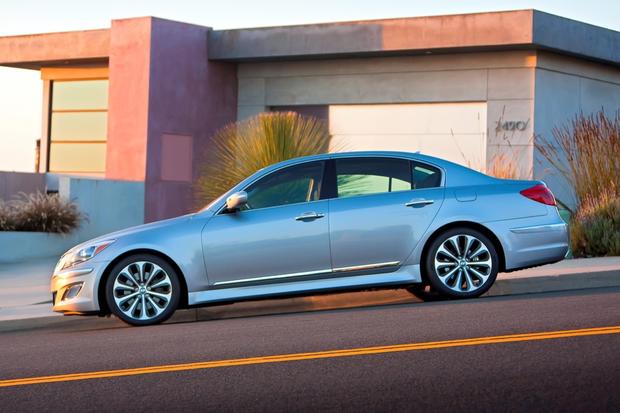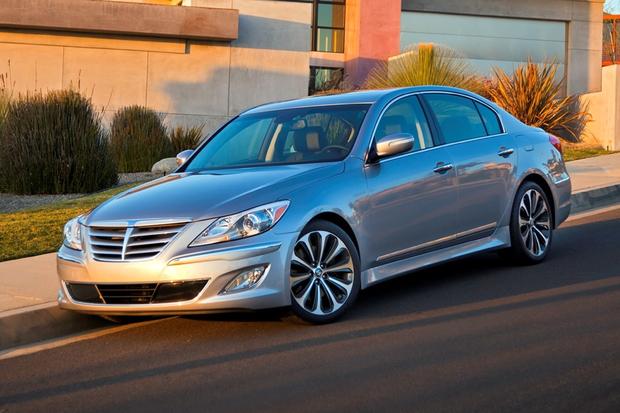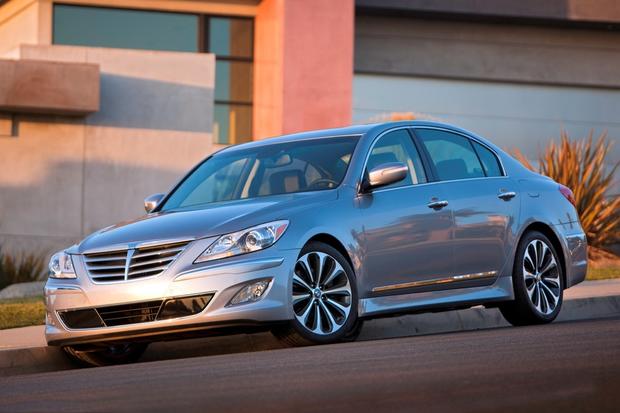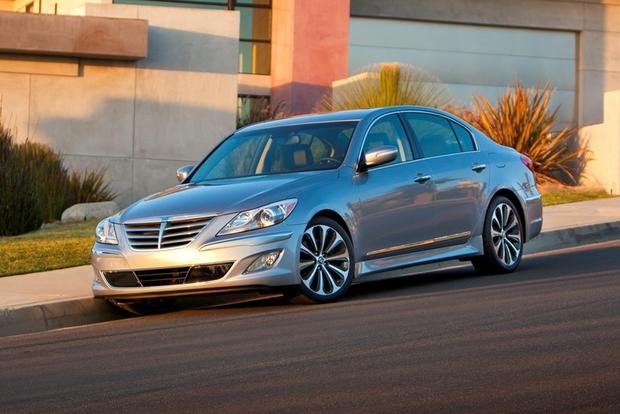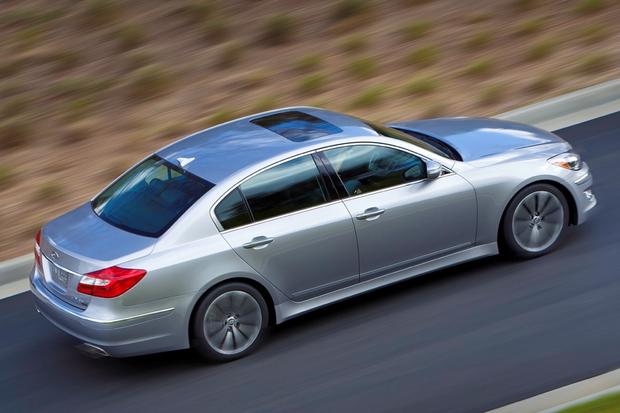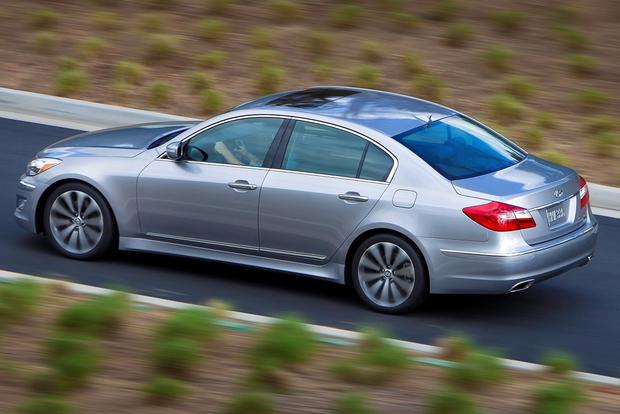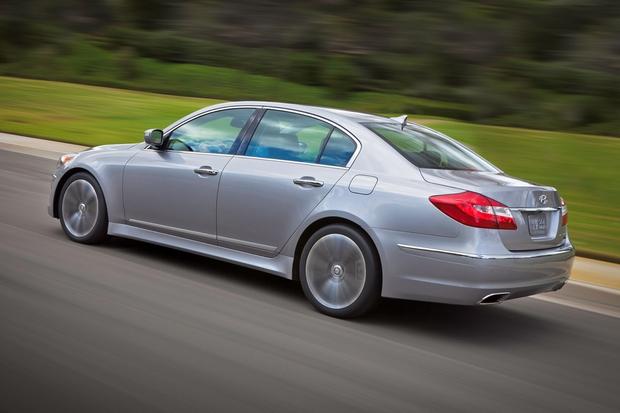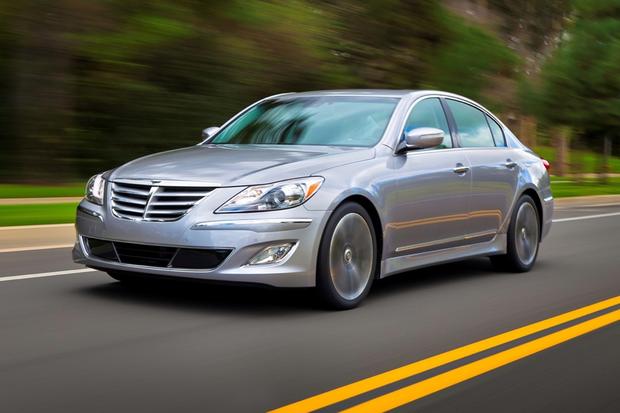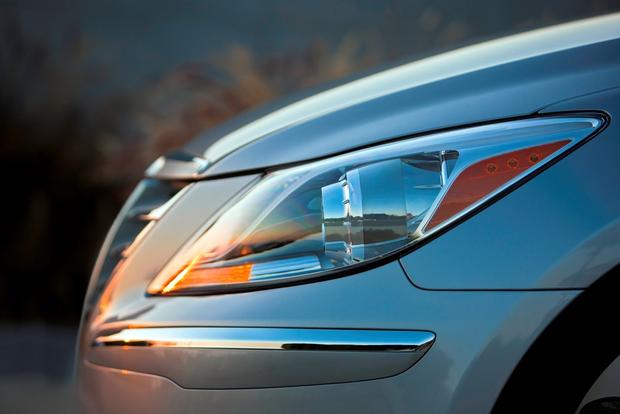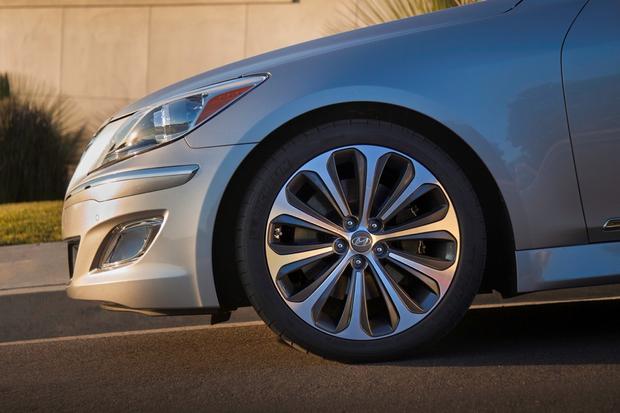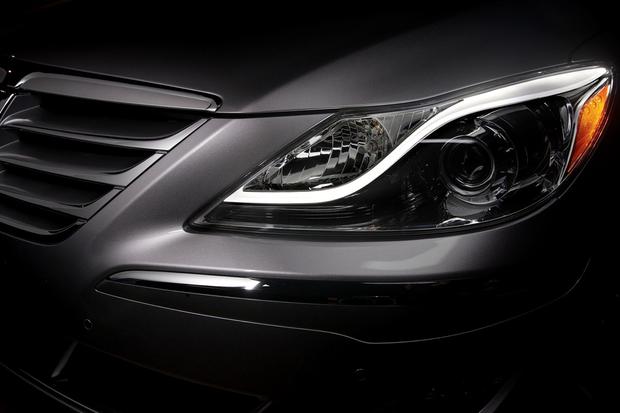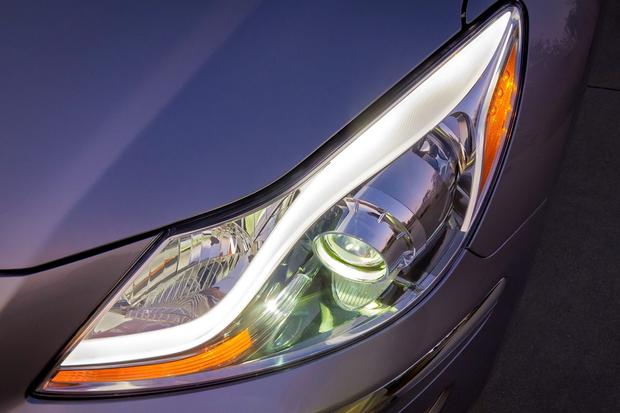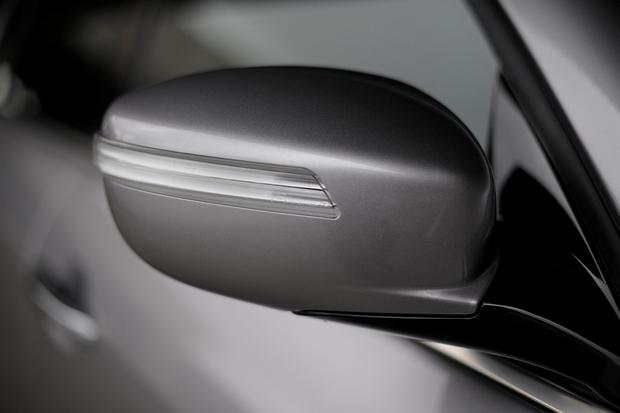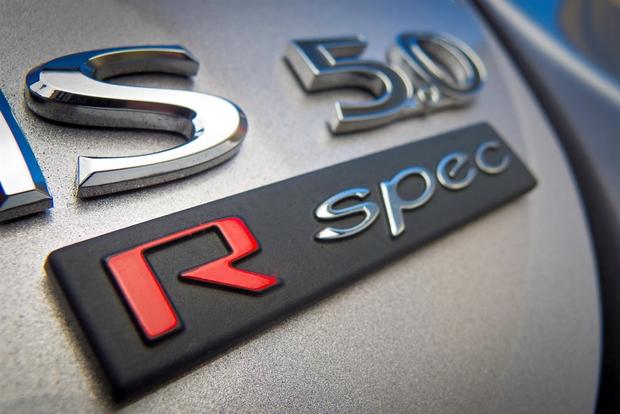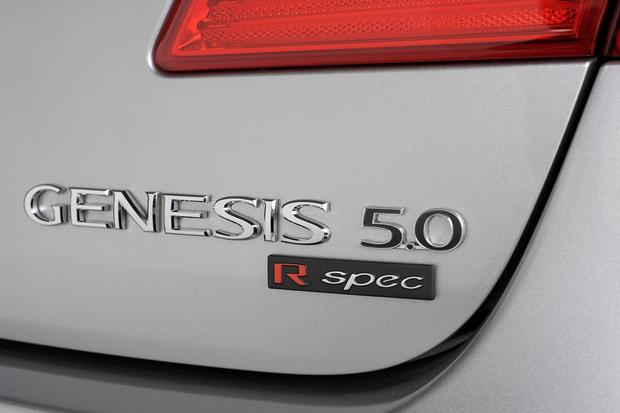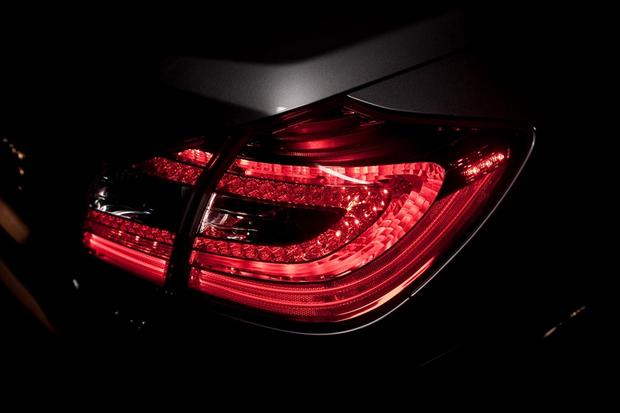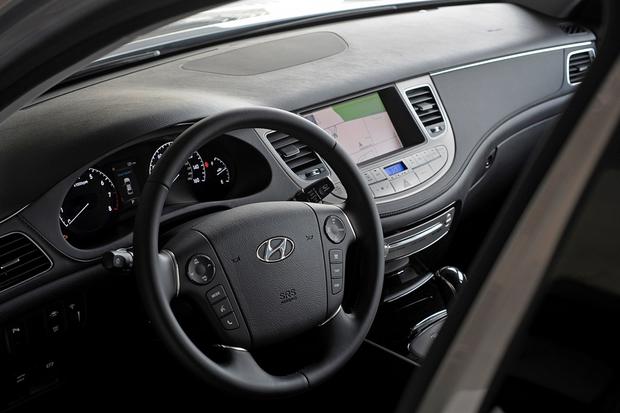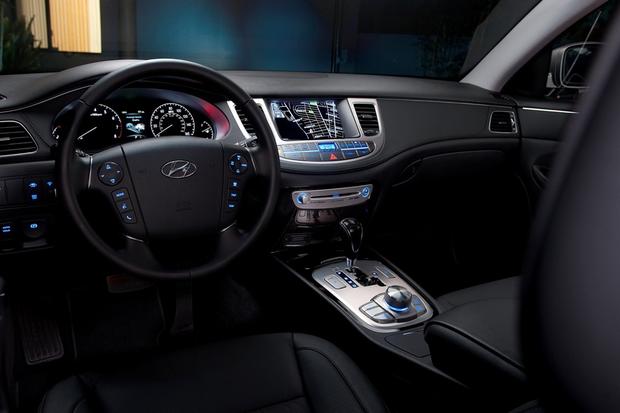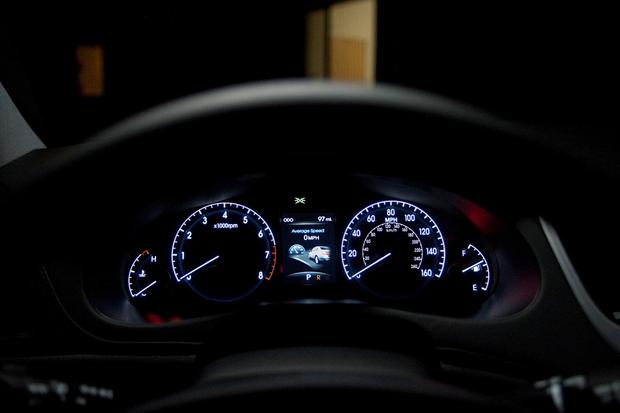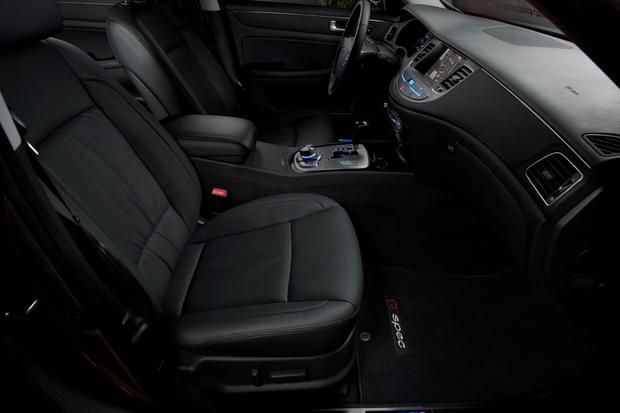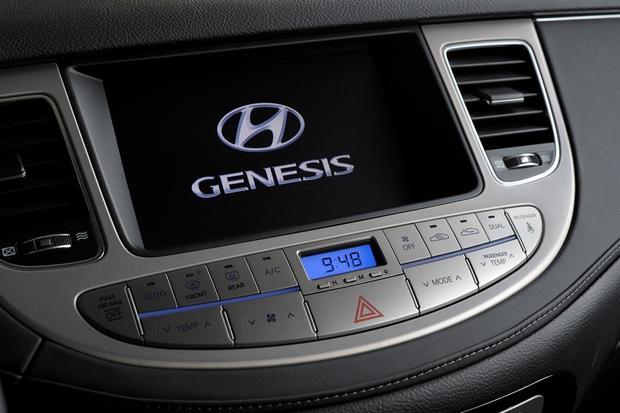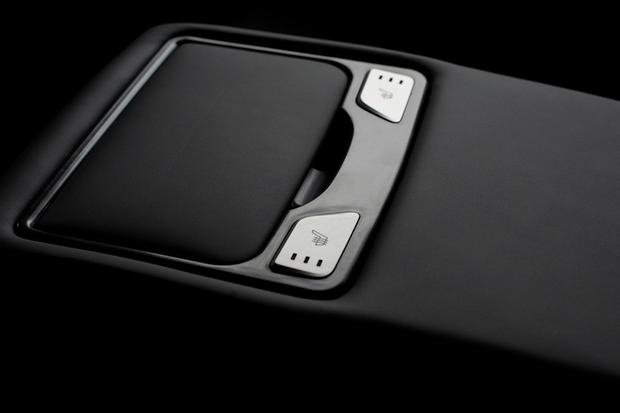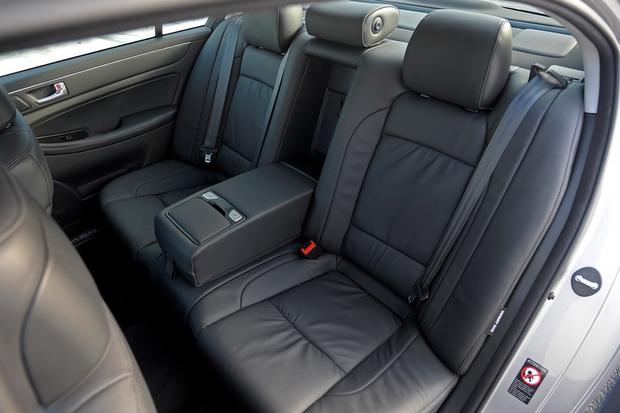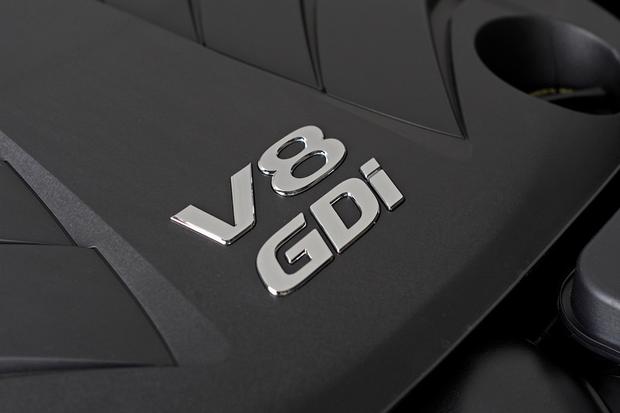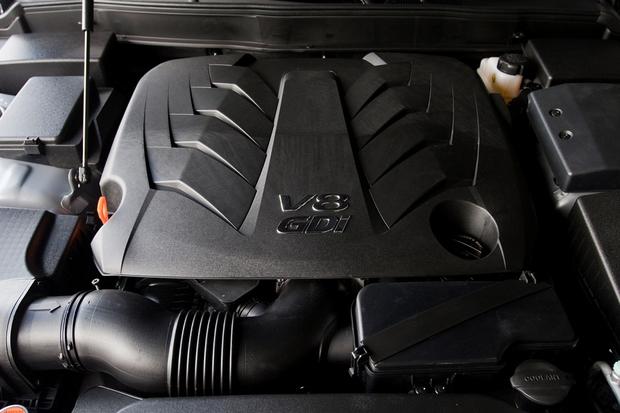 Pros: Upscale interior; smooth ride in the V6 model; huge back seat; satisfying optional V8; still a good value.
Cons: Base steering wheel doesn't telescope; AWD isn't available; imprecise steering; V8 is only offered in edgy R-Spec trim.
What's New: The 2013 Genesis bids adieu to the old 4.6-liter V8, leaving just two engine offerings, while an upgraded hard-drive-based infotainment system and Hyundai's Blue Link telematics suite join the options list.
Introduction
The familiar 2013 Hyundai Genesis might no longer be the next big thing in affordable luxury, but Hyundai's doing its best to keep things fresh. This year's freshening includes the removal of an engine that many considered redundant: the 4.6-liter V8. We always thought this sweet-natured motor didn't get enough credit, but once the base 3.8-liter V6 got bumped up to 333 horsepower last year, the midlevel V8's days were numbered. So now the Genesis buyer has two clearly defined options: sensible V6 or sizzling 5.0-liter R-Spec V8.
We do appreciate the 429-hp R-Spec's sizzle, but the Genesis is fundamentally about pampering its passengers, not giving them a thrill ride. A more meaningful change for 2013, then, might be the introduction of an upgraded hard-drive-based infotainment suite with navigation. Although last year's humdrum DVD-based system remains the default choice for ordinary V6 models, the 3.8 Technology package thankfully includes the hard-drive-based system with its superior 8-inch display. R-Spec customers receive the upgraded system as standard.
Overall, we'd say the 2013 Genesis is making the best of a slightly awkward phase. Released before Hyundai's "fluidic sculpture" design language became the company's norm (see Sonata, Elantra, Azera), the Genesis features relatively conventional styling that betrays its age. But it's still a great car, a genuine bargain packed with power, poise and perks. It's fresh enough that we strongly recommend test driving one before going with a more conventional luxury sedan selection.
Comfort & Utility
The 2013 Hyundai Genesis comes in two primary trim levels defined by engine displacement: 3.8 (the V6) and 5.0 R-Spec (the high-output V8).
Even the 3.8 is bursting with standard amenities, including 17-in alloy wheels; fog lights; automatic halogen headlamps with LED accents; keyless entry with push-button ignition; electroluminescent gauges; a trip computer; dual-zone automatic climate control; woodgrain interior trim; a surprisingly tilt-only leather-wrapped steering wheel; cruise control; leather upholstery; heated power front seats with driver height and lumbar adjustments; and a 7-speaker audio system with iPod/USB and Bluetooth connectivity.
There are two significant options packages for the 3.8. The Premium package adds 18-in wheels; a sunroof; driver memory functions; extended leather dash and door trim; a power tilt/telescopic steering wheel; a power rear sunshade; rain-sensing wipers; a 14-speaker Lexicon audio system; a DVD-based navigation system with a 7-in display; a rearview camera; and power-folding outside mirrors.
The Technology package, which requires the Premium package, adds adaptive Xenon headlamps; adaptive cruise control; a cooled driver's seat; heated rear seats; parking sensors; upgraded leather upholstery; an electronic parking brake; an exclusive TFT LCD trip-computer display with enhanced Bluetooth functions; a 17-speaker Lexicon audio system; a hard-drive-based infotainment system with navigation; and an 8-in display and the Blue Link telematics suite.
Keep in mind that these packages don't come cheap. If you want both, Hyundai's retail price is over $9,000.
The 5.0 R-Spec, meanwhile, gets most of those optional goodies as standard, including the 17-speaker stereo and the upgraded infotainment system, and adds a sport-tuned suspension, various sporty styling elements and 19-in alloy wheels with available summer performance tires.
In our interior evaluation, we noted that while the Genesis' front seats vary in their adjustability and other features, one thing remains constant: their flat cushions, which are fine for long hauls but not fine for holding occupants in place during spirited cornering. The base 3.8 model's standard tilt-only steering wheel is an insult at this price; luxury sedan buyers shouldn't have to pay extra for a basic convenience item like a telescoping steering wheel. Fortunately, the other models get a power tilt/telescoping wheel.
The Genesis' gauges could have been taken straight out of a Lexus, as they employ the same minimalist look and electroluminescent illumination. Turning to the central control stack, the buttons look similar and take some getting used to; also, we're not completely enthused about the silver plastic Hyundai uses for some of the trim pieces. Aside from that silver plastic, though, the quality of the materials is outstanding, giving even some executive-class luxury sedans a run for their money.
The Genesis' back seat is another highlight--if there's a roomier, more comfortable back seat under $70,000, we haven't sat in it. Trunk space is an average-plus 15.9 cu-ft.
Technology
A glance at the 3.8's standard equipment shows that even the cheapest Genesis has a decent technology roster given its mid-$30,000s starting price. In terms of options, we haven't been as impressed as some other publications by the Lexicon audio system, but let's be clear--it still sounds pretty darn good. The entry-level DVD-based navigation system looks and feels old, so if you can swing it, go for the hard-drive-based upgrade with its superior speed, display quality and trip computer. Either way, we're fans of the iDrive-style controller knob on the center console, which obviates the need to lean forward for adjustments when you're driving.
Sweetening the deal for 2013 is the available Blue Link telematics suite, which includes voice-recognition software that converts your spoken words to text messages (compatible smartphone required); monthly reports on vehicle performance and maintenance; emergency roadside assistance at the push of a button; and point-of-interest searches for nearby restaurants and such.
Moral of the story? The Genesis might be getting along in years, but we think Hyundai has injected enough modern technology to keep it reasonably competitive.
Performance & Fuel Economy
The rear-wheel-drive Genesis (all-wheel drive is not available) starts with a 3.8-liter V6 engine that generates 333 hp and 291 lb-ft of torque. This is an excellent engine, delivering serious doses of power and refinement. As for the R-Spec's 5.0-liter V8, it certainly puts plenty of distance between itself and the V6--429 hp and 376 lb-ft of torque will do that for you--but you're stuck with the R-Spec's racy styling and firm sport-tuned suspension, so it might come as a mixed blessing.
Both engines do business with a Hyundai-built 8-speed automatic that frankly could use a little more refinement. Gear changes are sometimes slower than we expect in a powerful luxury car. They're smooth enough, however.
Fuel economy is 19 mpg city/29 mpg highway with the 3.8 and 17/26 mpg with the 5.0 (which the Environmental Protection Agency rated at 16/25 mpg last year).
Safety
The Genesis comes with standard stability control, 4-wheel antilock disc brakes, active front head restraints, and eight airbags (front, front-side, rear-side, full-length side curtain).
The government has not crash-tested the Genesis, but the independent Insurance Institute for Highway Safety (IIHS) awarded the Genesis its highest rating of Good in all categories.
Driving Impressions
Interestingly, the base Genesis 3.8 comes with conventional hydraulic steering, while the R-Spec gets an electro-hydraulic setup. On the road, though, the main impression we get from the steering is a detached numbness, regardless of the model. That might be fine by folks who just want a smooth, isolated luxury experience, but it's an area in which Hyundai could certainly improve. Otherwise, though, the Genesis 3.8 is a treat. The ride is exceptionally quiet, and thanks to some suspension tweaks a few years back, bumps are dispatched with executive-grade disdain. Moreover, the Genesis is actually fairly composed in fast corners; it's just that the steering can't keep up with the chassis. Unfortunately, the R-Spec has needlessly firm suspension tuning that compromises its luxuriousness.
Other Cars to Consider
BMW 3 Series - We know the 3 Series sedan isn't nearly as large as the Genesis, but it has an adult-friendly back seat now, and it delivers superior dynamics without sacrificing much in the way of ride quality.
Hyundai Azera - Hyundai's new full-size sedan got the full fluidic-sculpture treatment inside and out, which could sway some buyers who find the Genesis a bit old fashioned. The Azera is front-wheel drive, though, and its 3.3-liter V6 isn't especially strong.
Mercedes-Benz E-Class - You'll have to settle for the Benz's base V6 instead of the Hyundai's V8, but a loaded Genesis does command E350 money these days. At that price, some might be tempted to go with the Benz badge and mystique.
AutoTrader Recommends
We want the 5.0-liter V8--badly--but we couldn't deal with the R-Spec suspension that comes with it. So we'd recommend sticking with the base 3.8 model, perhaps adding some options if the mood strikes.