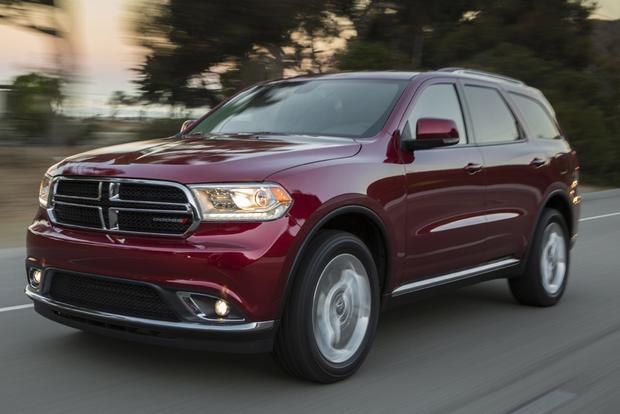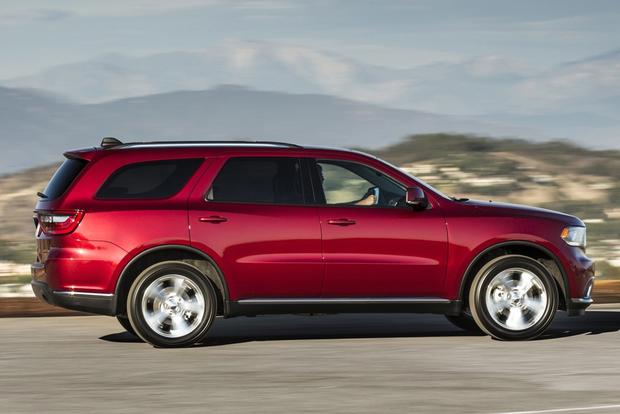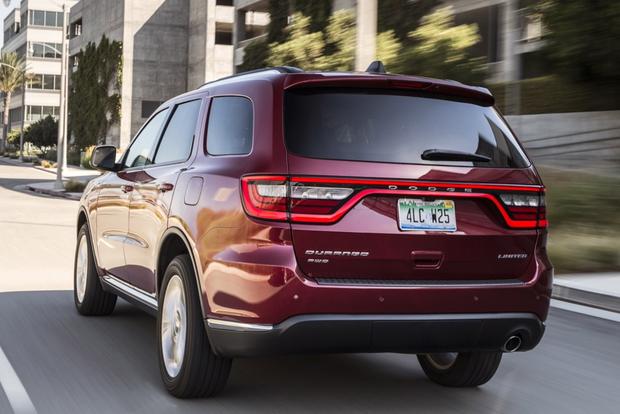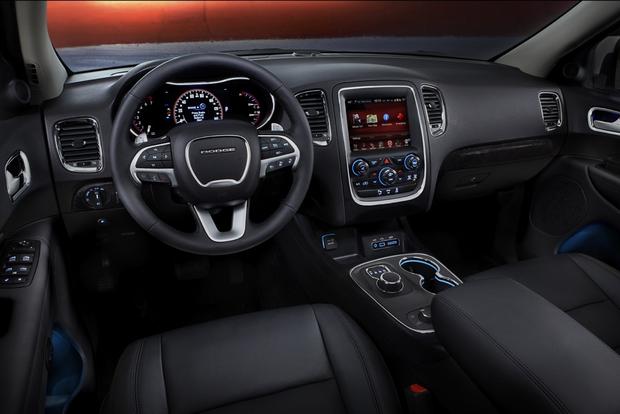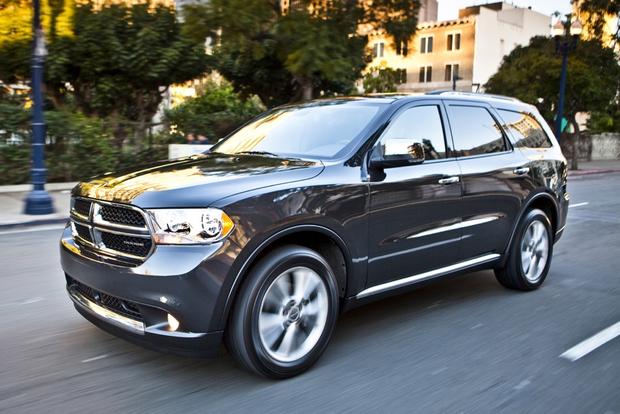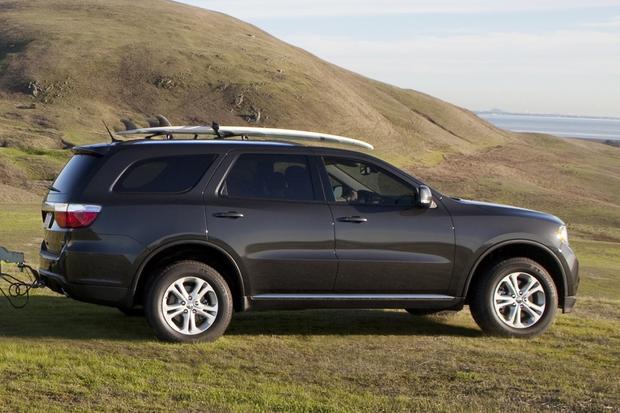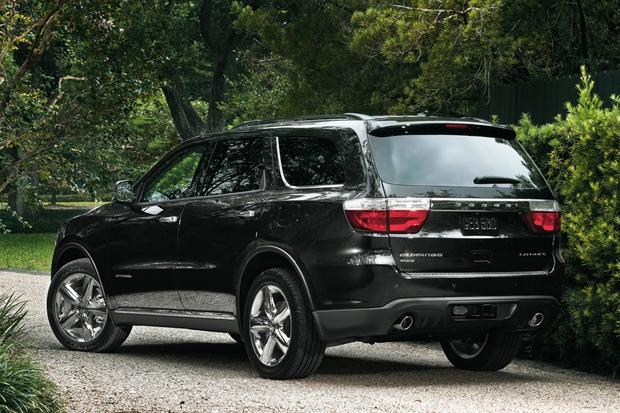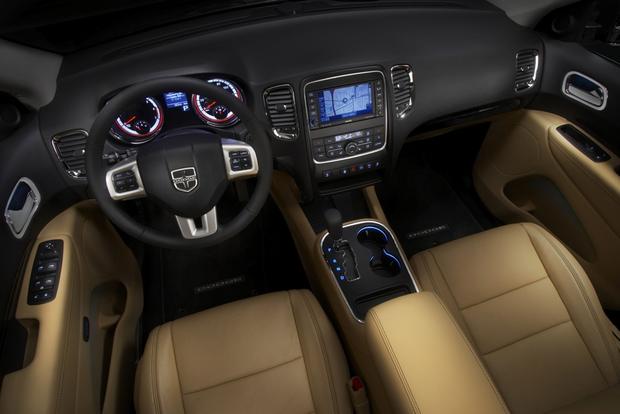 A frequently overlooked gem in the family-sized SUV segment, the 2014 Dodge Durango received a ton of improvements intended to give it greater appeal with American families. Though it shares a platform, powertrains and other components with the popular Jeep Grand Cherokee, the Durango looks, feels and even drives more like a pavement pounder than a rugged off-roader, making it direct competition for similarly sized crossover SUVs.
Are the changes to the 2014 Durango compelling enough to attract buyers who might also have the Chevrolet Traverse, Ford Explorer, Honda Pilot, Nissan Pathfinder and Toyota Highlander on their shopping lists? Let's take a closer look at the differences between the previous 2013 model and the updated 2014 Dodge Durango.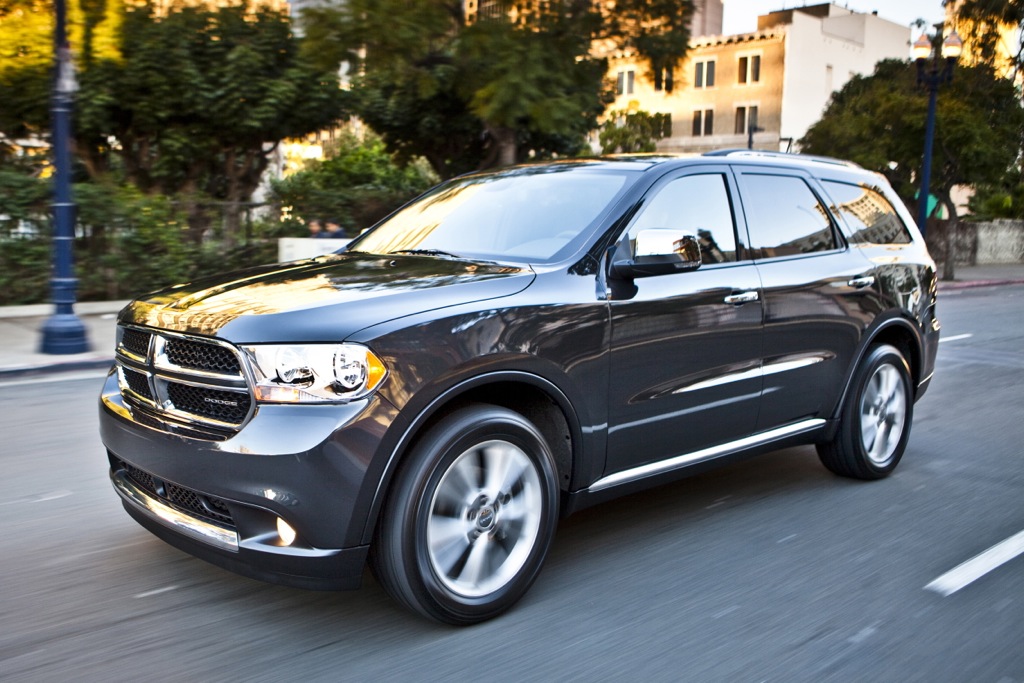 Exterior
Visually signaling the changes for 2014, the new Durango features a restyled front end with new projector-beam headlights and fog lights, newly available LED running lights and a restyled grille, hood and front bumper. A capless fuel-filler system debuts, too, meaning that you won't need to twist off and remove a gas cap before refilling the Durango's fuel tank.
New wheel designs also arrive with the 2014 Durango, and this SUV is unmistakable at night thanks to its new LED racetrack-style taillights. Dodge has also revised the rear bumper to accommodate the standard Class IV tow hitch, which is fully integrated with the Durango's frame for a 7,400-lb maximum tow rating when properly equipped.
The previous version of the Durango was a handsome vehicle, and though it takes awhile to get used to the new LED taillights, the styling changes for 2014 didn't ruin a good thing.
Interior
Mainly because of new mechanical, feature and technology upgrades for the 2014 Dodge Durango, this SUV's cabin has changed quite a bit since the previous model year. We'll dive into the details in the sections that follow, but for now we'll mention the new instrumentation display, the new rotary e-shift knob for the transmission, and the new steering wheel with standard paddle shifters.
Additionally, a new Durango Limited model debuts for 2014, slotting between the base SXT model and the sporty R/T model, and featuring leather upholstery, heated front and rear seats, a heated steering wheel and a Uconnect infotainment system with an 8.4-inch color touchscreen, among other upgrades.
Though the 2014 Durango's cabin looks similar to last year, fire up the engine and the differences are easy to spot.
Mechanicals
If the 2013 Durango needed improvement, it was with regard to fuel economy -- and Dodge addresses this issue in the 2014 Durango.
All versions of the 2014 Dodge Durango have a new 8-speed automatic transmission and a new default Eco driving mode. Together, these changes improve the Durango's gas mileage by 9 percent, according to Dodge. Official Environmental Protection Agency fuel economy estimates now range from a low of 16 miles per gallon to a high of 20 mpg in combined driving, compared to last year's 15 mpg/19mpg.
Drivers shift the new transmission using a rotary dial on the center console next to the cup holders. Manual shifting is available via paddle shifters mounted to the redesigned steering wheel. Otherwise, the Durango's mechanical bits and pieces carry over from the previous year, and that's not a bad thing.
Features
When it comes to new features, the 2014 Dodge Durango is loaded with them. Most are related to technology and safety, and will be covered in the sections that follow. Here, we'll discuss new upgrades in the form of a heated steering wheel, heated and ventilated front seats and heated rear seats.
Additionally, a new rear-center storage console with USB charging ports is offered for versions of the Durango equipped with optional second-row captain's chairs. From the front seat, the driver faces a new 7-in reconfigurable instrument display. Dodge says there are 100 different ways to set this up, allowing the Durango's owner to tailor information to individual preferences.
Technology
In addition to the new instrumentation, the 2014 Dodge Durango comes standard with a new 5-in touch screen infotainment system and a media hub that includes a USB port, an SD card slot and auxiliary audio input jacks.
While it's great that these features are standard on the Durango SXT, the real action on the technology front is reserved for the more expensive Limited, R/T and Citadel models. They include an 8.4-in touchscreen Uconnect infotainment system with new 3D maps and Bing location search capability -- and the ability to transform the Durango into a rolling Wi-Fi hot spot.
New Uconnect Access Via Mobile technology adds mobile application compatibility and natural voice-recognition technology that provides text-message receipt and dictation capabilities, as well as voice control over the Durango's Bluetooth connectivity, audio, climate and navigation systems. An optional Blu-Ray DVD player is new, too, and includes dual 9-in high-resolution screens and HDMI game system jacks for second-row passengers.
While these features of the revamped 2014 Durango are sure to please passengers, drivers will likely appreciate the new Adaptive Cruise Control Plus system, which offers full-speed-range capability including a full-stop function.
Safety
If Dodge made big strides in terms of the 2014 Durango's infotainment technology, it executes massive leaps forward in terms of safety features and crash-protection ratings.
According to the National Highway Traffic Safety Administration, the 2014 Durango 2-wheel-drive model's rollover-resistance rating improves from three stars to four, and the frontal-impact rating for the front-seat passenger improves from three stars to five. Overall ratings remain unchanged, however, at four stars for both the 2013 and 2014 models.
The Insurance Institute for Highway Safety (IIHS) assigns the 2014 Durango a new Advanced front-crash prevention rating when the SUV is equipped with the newly optional Forward Collision Warning Plus system, which includes crash-mitigation braking technology. In crash tests, the 2014 Durango earns Good ratings, but this SUV has not been assessed in the small-overlap frontal-impact test, and therefore is ineligible for a Top Safety Pick award. It is possible, though, that IIHS could complete testing sometime in the summer of 2014.
Other safety-related upgrades include standard active head restraints and new 911 Assist technology that activates an Automatic Crash Notification system when the airbags deploy. Add all of these features to the technologies offered on the 2013 Durango, and it's clear that the 2014 version represents a big improvement in terms of safety.

Conclusions
So, what's Dodge charging as a premium for all the upgrades to the 2014 Durango? How does $200 sound? That's the price increase for the least expensive Durango SXT model, which runs $29,995 -- and that means these improvements represent a genuine bargain.
Though fuel economy figures for the 2014 Durango do rise a bit, they're still not as impressive as many of this SUV's competitors. Nevertheless, if trading a few mpgs for an excellent family-sized SUV isn't a concern, the 2014 Durango deserves careful consideration.