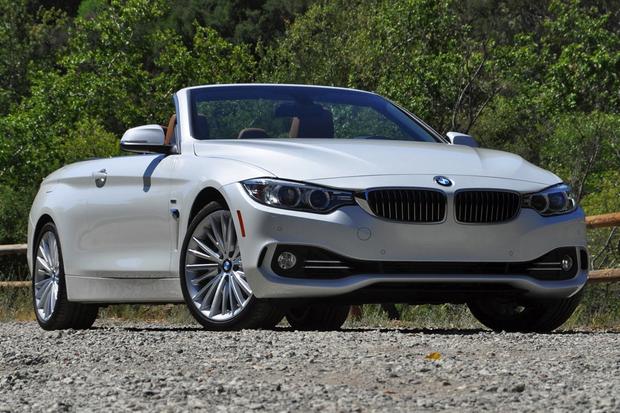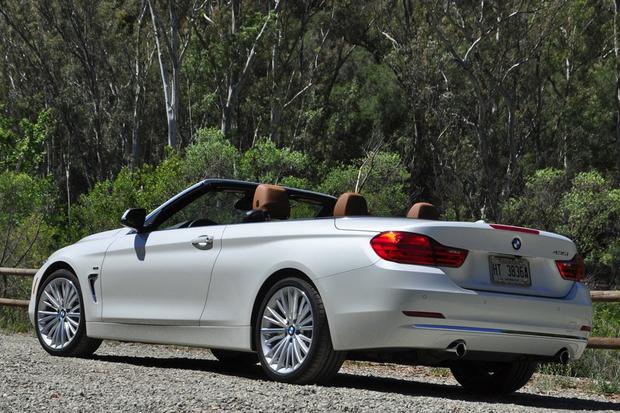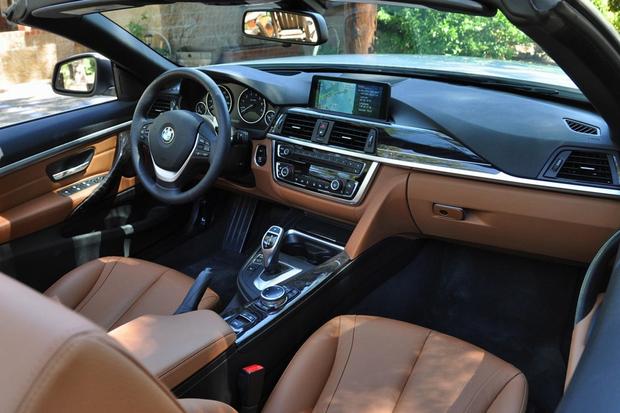 Choosing a convertible over a coupe almost always results in compromise, and that's true of the 2014 BMW 4 Series Convertible. New for 2014 and based on the 4 Series Coupe, this new BMW convertible is more expensive than the coupe and is also heavier, slower, less fuel-efficient, and smaller in terms of trunk space and rear-seat room. But hey, the top goes down with the push of a single button, and there's plenty to be said for letting the sunshine in on a bright summer day.
Plentiful Options
Three versions of the new 4 Series Convertible are on sale. Save money and gas by choosing the 428i, and if you want BMW's available all-wheel-drive system, the 428i xDrive model is the only way to go.
I tested the 435i Convertible, which wears a base price of $55,825; that's $8,900 more than a 435i Coupe. After adding the Luxury Line trim, Saddle Brown leather, Mineral White paint, a set of 19-inch multi-spoke aluminum wheels, and several option packages containing upgrades such as satellite radio, smartphone integration, a navigation system, a reversing camera, a neck-warming system and more, the sticker price rose to nearly $70,000.
The 435i Convertible is equipped with a turbocharged 3.0-liter 6-cylinder engine making 300 horsepower and 300 lb-ft of torque. It powers the rear wheels through a standard 8-speed automatic transmission, and an automatic stop/start system shuts the engine off when the car is idling in traffic or at an intersection in an effort to improve gas mileage.
If you want a traditional manual gearbox for the 2014 BMW 4 Series Convertible, you're out of luck. Instead, what you do get is Driving Dynamics Control: BMW's way of letting you select an appropriate vehicle setup to match your driving style. Choices include the Eco Pro, Comfort, Sport and Sport+ driving modes. The driver chooses the setting, and for my driving I selected the Sport mode, in part because this selection shuts off the rather rough automatic stop/start feature.
Large, but Still Nimble
Despite a hefty, 4,050-lb curb weight -- nearly 500 pounds more than a 435i Coupe -- the 435i Convertible is a quick car and accelerates effortlessly. BMW says it will get to 60 miles per hour in 5.4 seconds, and that feels right by the seat of my shorts. Clearly, I spent lots of time exploring the 435i's performance potential during a rousing drive in the Santa Monica Mountains northwest of Los Angeles, extracting 17.8 miles per gallon from a car that the Environmental Protection Agency says ought to get 20 mpg in the city and 30 mpg on the highway.
Weatherproof
Thanks to my test car's Luxury Line trim, it was not equipped with the sport seats that are installed in the Sport Line and M Sport Line models, so this example of the 2014 BMW 4 Series Convertible didn't pinch my sizable midsection. The testing day was a scorcher, though, and the 435i Convertible isn't available with ventilated seats, which results in a sweaty backside. Honestly, I can't think of anyone who can afford to spend almost $70,000 on a new car putting up with this type of discomfort.
BMW has planned well for top-down driving in chilly weather, though. If you get the Cold Weather package, heated front seats, a heated steering wheel and a neck-warming system keep the cabin warm and toasty. Power the windows up and install the optional wind blocker, and a 435i is a genuine 3-season convertible. Better yet, the power retractable hardtop is insulated and soundproofed, and with the 428i version's available xDrive all-wheel drive, you can use a 2014 BMW 4 Series Convertible year-round in any climate.
Raise the Roof
With the push of a button, the roof folds into the trunk in about 20 seconds and can be used at speeds up to 11 mph. This action erases nearly 5.3 cu ft. of trunk space, but when the top is dropped, the 4 Series Convertible still provides 7.8 cu ft. of room, which BMW reckons is good enough for luggage or golf clubs. While that is less than an Audi A5/S5 Cabriolet, which supplies 10.2 cu ft. thanks to its traditional soft-top design, the BMW's trunk is larger than the Audi's when the roofs are raised.
Both the Audi and the BMW are equipped with folding rear seats and a ski pass-through to expand cargo room as is necessary. A power assistance function raises the BMW's folded roof for improved access to items kept in the trunk, representing a fairly complex solution to an unavoidable problem. Audi's approach of using a lighter, simpler and more compact fabric on their roofs might still be the best way to design a convertible.
Made for Cruising
As for how the 435i Convertible drives -- well, it accelerates, handles and brakes like a 435i Coupe loaded down with a couple of pro football players. Especially in the Luxury Line trim, this is a cruiser, a quick and comfortable luxury car for rolling up a sun-drenched coast. If the wind buffeting is too much, power all four windows up using a single, convenient switch to dramatically reduce the level of irritation.
The car accommodates friends, too, and while full-sized adults might find rear-seat room snug, there's no shortage of headroom with the top down, is there? In that respect, a 4 Series Coupe simply cannot beat the 2014 4 Series Convertible.