Editor's note: You may want to read more of Autotrader's model vs. model comparison car reviews as well as the 2014 Ford E-Series review and the 2015 Ford Transit review.
If you're interested in a van for business purposes, or if you're looking for a vehicle that can haul a big group, you're probably considering all the usual suspects in the full-size van world: the Chevrolet Express and GMC Savana, the Nissan NV, the Mercedes-Benz Sprinter and the RAM ProMaster. But your list should also include the 2015 Ford Transit, which has been dramatically modernized compared to last year's E-Series van. What exactly is so different? We've rounded up all the changes to help you understand what's new in the world of Ford's full-size vans.
Exterior
Few automotive redesigns are as dramatic as the one that transformed the E-Series into the Transit. The E-Series was old, no doubt about it. In fact, it was one of the oldest models on the market, with its platform dating back to the 1970s and its basic design stretching to the early 1990s. The Transit has wiped that slate clean, with a totally modern new look that brings, dare we say it, some style into the world of the full-size van. There are curves, there are lines that go beyond simple function,and there are even headlights that form a shape other than a perfect square. Van people, get excited: This is as stylish as it's going to get.
Interior
Although it might be hard to believe, changes to the Transit's interior are almost as thorough as updates to the exterior. Everything is new, from the gauges and the steering wheel to the shift lever, the center stack, the switchgear, the controls and the dashboard. There's a high-roof version for extra cargo room and an even longer long-wheelbase model for additional cargo space or seats. Speaking of seats, the front ones have been reshaped for a more comfortable driving experience. Ford is even offering its latest MyFord Touch infotainment system, which will offer a big step up over the E-Series' increasingly outdated available infotainment system.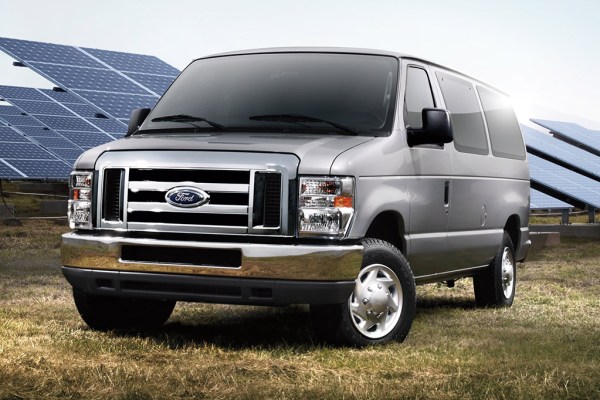 Mechanicals
The E-Series offered three available engines. Base models used a 225-horsepower 4.6-liter V8, while drivers who wanted more power could upgrade to a 255-hp 5.4-liter V8. Topping that, and only offered in the heavy-duty E-350, was a 6.8-liter V10 that made a brawny 305 hp and 420 lb-ft of torque. E-Series fuel economy was mediocre, as the van returned just 13 miles per gallon in the city and 16 mpg on the highway in its most efficient configuration. These figures dropped to 10 mpg city/14 mpg hwy with the V10.
The Transit ditches the old V8s and V10 in favor of three smaller new options that offer dramatically better fuel economy numbers. Standard is a 275-hp 3.7-liter V6 that touts gas mileage ratings as high as 14 mpg city/19 mpg hwy. For more power, drivers can opt for a 3.5-liter turbocharged V6 that touts 310 hp, 400 lb-ft of torque and roughly the same fuel economy. Finally, the Transit's most efficient option is a turbodiesel 5-cylinder that offers just 185 hp but 350 lb-ft of torque. While fuel economy numbers aren't yet available for that engine, we expect they'll match or beat figures for the Transit's V6s.
Features & Technology
As you might expect, the new Transit offers a dramatic step up over the outgoing E-Series in terms of features, equipment and technology. In fact, just about every modern convenience available in the new Transit wasn't offered in the outgoing model, including such items as parking sensors, lane-keeping alert, Ford's latest MyFord Touch infotainment system and Ford's MyKey personalized key technology.
While no cargo van is a technophile's dream, the outgoing E-Series was positively outdated, offering only the bare minimum level of features and equipment to scrape by. With some new tech features and a dramatically improved available infotainment system, the new Transit at least manages to join the 21st century, if not exactly the year 2015.
Driving Experience
Continuing the theme of "night and day differences" is the driving experience category, which allows us to highlight all the major, highly welcome changes that Ford has made to ensure that the Transit feels more modern and more drivable than its predecessor.
Updates are immediately obvious at every level, and not just to car experts: People who've spent their whole lives driving outdated pickup trucks down bouncy dirt roads would still be able to spot major differences between the Transit and the E-Series after just a few minutes behind the wheel of each. Compared to the E-Series, the Transit offers tighter steering, more direct handling, improved visibility, a more comfortable ride, better brakes and acceleration that seems quicker, even though we know it probably isn't. Chalk that up to being in a vehicle that just feels more modern at every level.
While driving experience isn't necessarily an important category to most van shoppers, we think that just about everyone will appreciate updates to the Transit. It's simply an easier-to-drive, more maneuverable vehicle than the E-Series, and its modern platform could be a blessing to anyone whose job places them behind the wheel of a Ford van.
Safety
Although full-size vans aren't known for their safety equipment, we're impressed with some of the new features in the 2015 Transit. There's an available backup camera (also optional on the E-Series), optional rear parking sensors (inexplicably unavailable on the E-Series) and a smart lane-keeping assist function, which can be helpful for professional drivers who might be at risk of dozing off after a long stint at the wheel.
Passenger versions of the Transit also offer side-curtain airbags that cover the van's entire passenger area, no matter how many rows of seats you opt for. That feature wasn't available in any E-Series. But at least the E-Series included standard anti-lock brakes, a feature the Transit also has on its list of standard equipment.
Conclusions
We do a lot of these What's the Difference stories, and we've never yet written one where the difference between the old model and the new one is so dramatic. When it comes to comparing the 2015 Ford Transit with the outgoing Ford E-Series, we'll sum it up with three simple words: everything has changed. Styling is totally new, the interior is completely revamped, powertrains are all-new, the driving experience has improved, safety is better and there are several new features and gadgets. Although bargain-basement pricing might make the E-Series seem appealing, we strongly suggest considering a Transit instead, especially if you're carrying passengers, since its new safety features dramatically enhance the van's appeal.