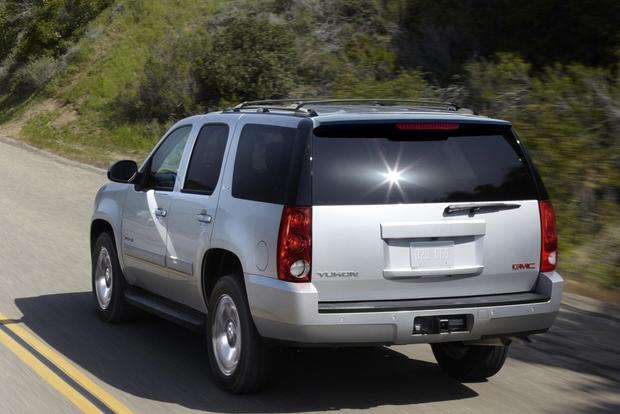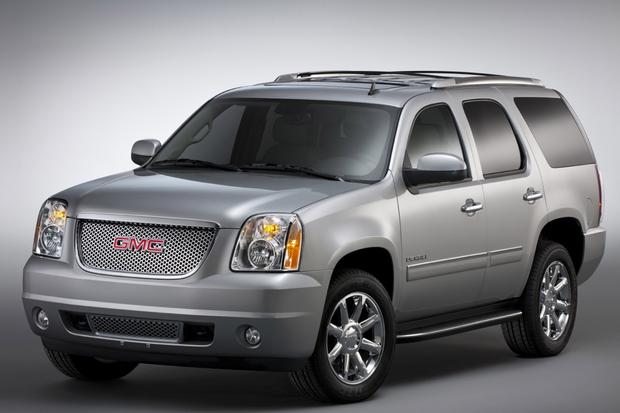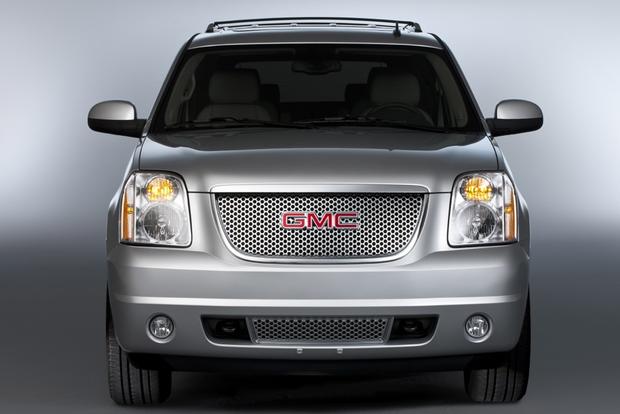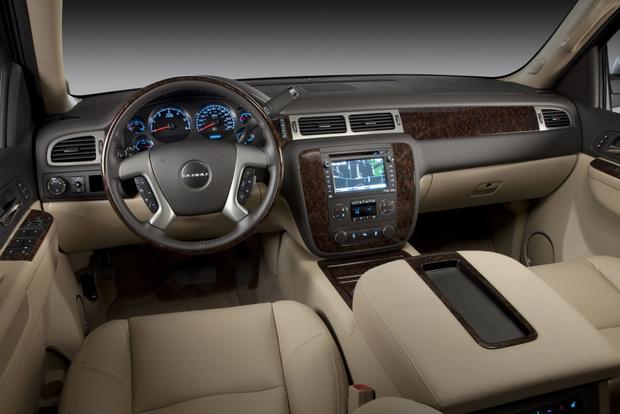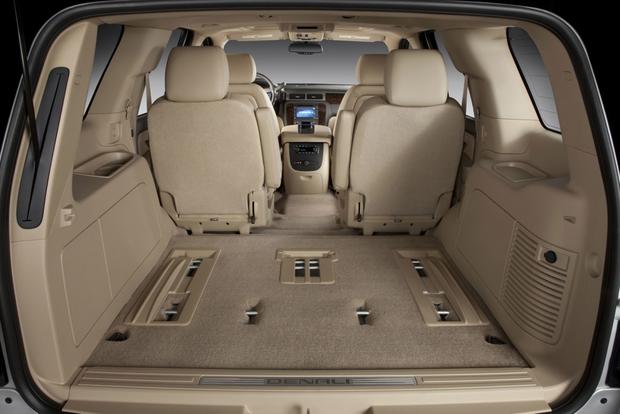 Regardless of the current price of a gallon of gas, the full-size SUV remains a popular choice for many drivers. Like many large sport utilities, the 2014 GMC Yukon offers spaciousness and versatility that are unmatched by smaller SUVs and crossovers. Whether it's the shorter wheelbase (116-inch) Yukon or longer (130-in) Yukon XL, this GMC's high seating position, excellent visibility and truck-based platform make it a great perch from which to navigate school zones, the morning commute or the Friday afternoon drive to a weekend getaway.
The Yukon/Yukon XL shares a chassis, a drivetrain and most sheet metal with the Chevrolet Tahoe/Suburban. Both SUVs remain enduring examples of a plentiful American past in which gasoline was cheap, roads were wide and families -- or families and their friends -- were large. With the Yukon, GMC has attempted to keep up with the demand for more efficiency while still offering this capable full-size SUV. But the Yukon still demands a sizable investment. In return, drivers get abundant space for people and cargo, plus the simplicity, reliability and inexpensive maintenance that come with the Yukon's dated, truck-based architecture.
Some of that simplicity will change next year, when the Yukon is fully redesigned. It will offer a more modern cabin, a new exterior look and new technology. But for now, the Yukon soldiers on just as it always has: as a comfortable SUV with room for everything and everyone.
What's New for 2014?
The Yukon's hybrid engine is no longer offered for the 2014 model year. Additionally, the SUV's Convenience Package, once optional on SLE models, is now standard. Otherwise, the Yukon is unchanged ahead of its 2015 redesign.
What We Like
Exceptional capability; strong towing capacity; fits neatly between the Chevrolet Tahoe/Suburban and Cadillac Escalade
What We Don't
Gas mileage; aging interior and platform; surprisingly expensive
How Much?
$45,500-$65,100
Fuel Economy
The Yukon 1500 is offered with two engines. Most models use a 5.3-liter V8, which makes 320 horsepower and 335 lb-ft of torque. Fuel economy with that powerplant is 15 miles per gallon city and 21 mpg highway, regardless of whether you choose the Yukon or the Yukon XL, or 2- or 4-wheel drive.
Step up to the Yukon Denali and you get a 6.2-liter V8 that makes 403 hp and 417 lb-ft of torque. It doesn't matter if you choose the Yukon or the Yukon XL. Either way, the Denali returns 14 mpg city/18 mpg hwy with 2-wheel drive, or 13 mpg city/18 mpg hwy with 4-wheel.
Standard Features & Options
The 2014 GMC Yukon is offered in three trim levels: base-level SLE, mid-level SLT and an upscale version known as the Yukon Denali. Regardless of whether you choose a regular-length Yukon or a Yukon XL, trim levels mostly include the same features and equipment.
The base-level Yukon SLE ($45,500 for a Yukon; $48,900 for a Yukon XL) features 17-inch wheels, OnStar, an iPod interface and auxiliary jack for music, power adjustable pedals, Bluetooth, a rearview camera, rear parking sensors, cruise control, tri-zone automatic climate control, automatic headlights, a Bose audio system and full power accessories. The Yukon comes standard with 8-passenger seating, but an optional rear bench can raise that figure to nine.
Step up to a Yukon SLT ($49,900 for a Yukon; $52,100 for a Yukon XL) and you get leather upholstery, fog lights and, more importantly, a longer list of options. Such features include power front seats, ventilated front seats, a navigation system and a power rear lift gate.
The high-end Yukon Denali ($59,300 for a Yukon; $62,000 for a Yukon XL) adds the 6.2-liter V8 engine. It also adds virtually every option from the Yukon SLT, including a navigation system, ventilated front seats, power front seats, heated rear seats and a power rear lift gate. There's also a load-leveling rear suspension, unique 20-in wheels, unique exterior trim and a blind spot warning system.
The Yukon's extensive options list includes a rear-seat DVD player, a power sunroof, a towing package and, for SLE and SLT models, several features that are standard on higher-level trims.
Safety
When confronted with a collision scenario, size does matter. The Yukon will be bigger than most things it collides with. But to improve your survivability if a collision does happen, the Yukon includes standard side-curtain airbags with rollover protection for all seating rows and standard seat-mounted side-impact airbags for the driver and right front-passenger, as well as seat belt pretensioners, which minimize passenger movement during a collision. The Yukon also offers an available blind spot warning system. We expect the 2015 model will include even more options.
In National Highway Traffic Safety Administration (NHTSA) tests, both Yukon models -- the regular-length and the XL -- received four overall stars, including five stars for front and side impacts, as well as three stars in the rollover test.
Behind the Wheel
Within the context of a 20th-century design, GM's engineering team has done a remarkable job of keeping the Yukon driver connected to the pavement. However, with 6,000 pounds of mass and a fairly conventional front suspension and live rear axle, there's only so much a design team can do without scrapping all the hardware.
We found the Yukon delivered what you'd expect from a big, 2-box design intended for people-hauling and trailer-towing. The ride is comfortable, the handling fairly remote and the power delivery seamless. In these times, and at these price points, it would be difficult to ask for more.
If the Yukon's separate body-on-frame architecture is a tad long in the tooth, so is its interior. To GMC's credit, the instrument gauges are easily readable, but the Yukon's center stack is decidedly last century. The automaker has added those technological bits and pieces necessary in the luxury truck category, but they appear to be an afterthought and not an integrated part of the design. And although the seating is comfortable, it provides just the smallest suggestion of real lateral support.
For those who regularly carry a bunch of people, or a few people in combination with a bunch of things, the Yukon and Yukon XL are better equipped for the task than most vehicles. Both front and middle rows are genuinely spacious. The Yukon's third row is one an adult can actually enjoy, not the for-kids-only penalty box common to smaller vehicles. For those who carry a lot of stuff on a regular basis, we'd go for the extra space of the XL. It gives you three rows and prodigious cargo space. And if you're towing, the Yukon XL 2500 is a three-quarter-ton platform with more than 9,000 pounds of towing capability.
Other Cars to Consider
Chevrolet Tahoe/Suburban -- The Tahoe and Suburban are mechanically similar to the Yukon and Yukon XL. The Yukon, especially in Denali form, offers more high-end features. But if you just want a big SUV for carrying your family and towing, both will suffice.
Ford Expedition -- While its popularity has waned in recent years, the Expedition was once the Yukon's chief rival. It's similar in many ways, with a body-on-frame chassis, 3-row seating and V8 power. However, it is also getting old.
Infiniti QX80 -- Infiniti's large SUV is especially a competitor for the Yukon Denali. It offers a lot of gadgets, 3-row seating and a large V8 engine.
Mercedes GL-Class -- If you're looking at the Yukon Denali, consider this Mercedes full-size, 3-row SUV. The prices and amenities are similar, and you get the alluring Mercedes name.
AutoTrader's Advice
The best Yukon largely depends on your needs. If you want luxury, it's hard to pass up the Yukon Denali and its long list of standard features. But if you're looking for the best value, we'd recommend a modestly equipped Yukon SLT. It'll give you everything you want, without the huge cost -- or the frivolous features -- of a Denali.
Find a GMC Yukon for sale