Editor's note: You may also want to read more of Autotrader's model vs. model comparison reviews as well as the 2014 Subaru Forester review and the 2014 Subaru Outback review our our in-depth "Everything You Need to Know" articles on the Subaru Forester and Subaru Outback.
Many drivers looking for a small crossover end up stumbling across the 2014 Subaru Forester and the 2014 Subaru Outback at some point during their searches. On paper, the two cars are pretty similar: seating for five, standard 4-cylinder engines, all-wheel drive and even comparable pricing. So what's the difference? To help you decide which one is right for you, we've outlined the major variations between the two cars.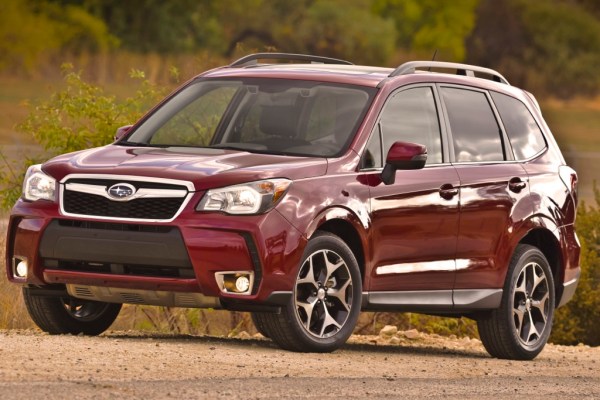 Exterior
Some of the biggest differences between the Forester and the Outback are seen in the exterior styling of both models. The Outback is still based on Subaru's midsize Legacy sedan, which means that it's still technically a station wagon. By comparison, the Forester is a crossover SUV, designed to compete with the likes of the Toyota RAV4, the Honda CR-V and the Ford Escape.
Interestingly, this perception isn't as true in practice as you might think. In a constant effort to accommodate more cargo space and passenger room, the Outback keeps getting bigger; the current model's height is within 6 inches of the Forester's. Still, the Outback's look definitely says station wagon, while the Forester's says crossover.
Interior
Even though the Forester was redesigned more recently than the Outback, it's the Outback that boasts the more mature, modern cabin. This is punctuated by the Outback's rounded, silver-colored center control stack, which looks far more stylish than the Forester's black plastic unit. We also happen to prefer the Outback's center-mounted touchscreen to the Forester's optional infotainment screen, which looks like an aftermarket add-on.
Of course, many items are shared between the two cars, and we think that any driver who becomes comfortable with one vehicle will easily be able to find his or her way around the other. And speaking of comfortable, you'll find that interior dimensions are roughly the same in both cars, from hip room to legroom, both in front and in back. Even the cargo dimensions are within inches of one another: The Forester has 34.4 cu ft. in back, while the Outback has 34.3 cu ft.
Mechanicals
The Outback and Forester are probably most similar when you look at the two cars from a performance standpoint. Both offer standard all-wheel drive. Both feature a standard 6-speed manual transmission and an available continuously variable automatic transmission. Both cars offer two engine choices.
Interestingly, the two models diverge a bit when you examine the two engines that they offer. Both come standard with the same powerplant, which is — in both cars — by far the most popular engine choice. It's a 2.5-liter boxer 4-cylinder that makes around 170 horsepower and 174 lb-ft of torque. When equipped with an automatic, the 2.5-liter Forester returns 24 miles per gallon in the city and 32 mpg on the highway, while the Outback is rated at 24 mpg city/30 mpg hwy.
The Outback and Forester offer two different optional engines. In the Outback, it's a 3.6-liter 6-cylinder that makes 256 hp and 247 lb-ft of torque, good for 17 mpg city/25 mpg hwy with the standard automatic transmission. The Forester's optional powerplant is a turbocharged 4-cylinder, which makes 250 hp and 258 lb-ft. Also only offered with an automatic, it returns 23 mpg city/28 mpg hwy.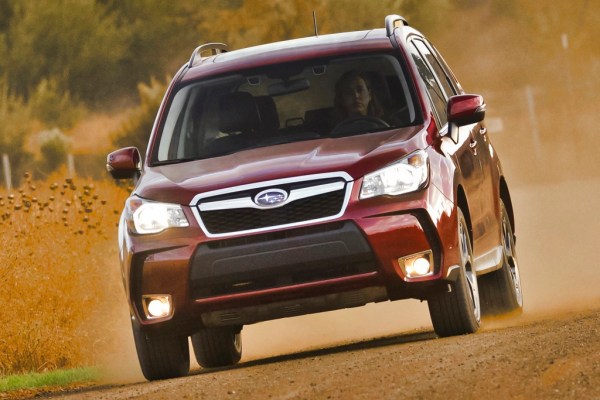 Features
Pricing for a base-level Outback starts around $24,300, which is only around $1,500 more than a base-level Forester. As a result of their similar cost, the Outback and Forester offer largely the same equipment and trim levels.
For example, base-level 2.5i models in both cars come standard with Bluetooth, power accessories, a 4-speaker sound system and an iPod/USB interface. Both the Outback and Forester also offer Premium and Limited trim levels, with slightly different features, while the Forester also boasts an upscale Touring model.
As you might expect, the Forester and Outback largely offer similar equipment. When it comes to features, items available in one model are usually offered in the other, whether you're talking about leather upholstery, alloy wheels, xenon headlights or Subaru's EyeSight system, which incorporates adaptive cruise control, a pre-collision braking system and lane-departure warning.
Technology
As was the case in the features section, the Outback and Forester are highly similar when it comes to technology. For example, both offer Subaru's cutting-edge EyeSight system, which includes adaptive cruise control, a pre-collision braking system and lane-departure warning. And both models boast many available convenience features, such as dual-zone automatic climate control, a navigation system and a backup camera.
The only real differences are minor: The Forester offers an optional power tailgate, which isn't available on the Outback, while the Outback offers a slightly larger infotainment screen. The Outback's infotainment system also has app integration, which isn't available with the Forester's system.
Safety
Like with features and technology, the Outback and Forester are highly similar when it comes to safety equipment. For instance, both models include stability control, 4-wheel anti-lock disc brakes, front-side airbags, side-curtain airbags and traction control.
When it comes to options, both the Outback and Forester offer Subaru's impressive EyeSight system, which includes adaptive cruise control, lane-departure warning and a pre-collision braking system.
Not surprisingly, the Outback and Forester also performed similarly in crash tests. Both models earned a 5-star overall crash-test rating from the federal government's National Highway Traffic Safety Administration, while both models also earned Top Safety Pick+ ratings — the highest possible score — from the nonprofit Insurance Institute for Highway Safety.
Conclusions
If you've spent a lot of time researching crossovers, this article likely confirms what you've suspected: The 2014 Subaru Forester and the 2014 Subaru Outback are surprisingly similar vehicles. As a result, our conclusion is that the difference between the two largely comes down to personal preference. If you'd rather have the Forester's crossover-like styling or its available turbocharged engine, we suggest you go for it. Likewise, if you prefer the Outback's traditional family-wagon look, we think it, too, is an excellent pick.
Admittedly, the Forester is a little less expensive, but the Outback makes up for it with a slightly nicer interior and a larger center-mounted touchscreen. For us, the choice is a toss-up, and we think most drivers considering one would be equally happy with the other.