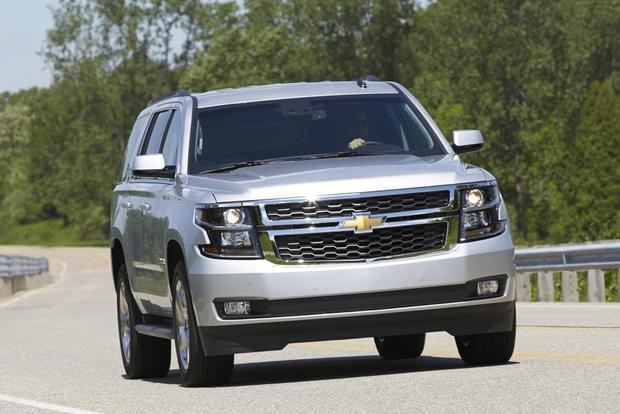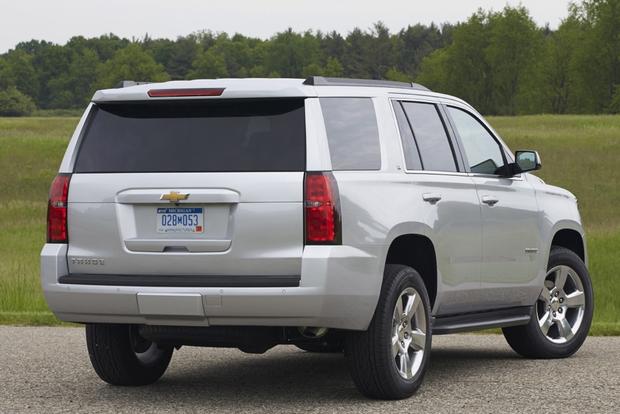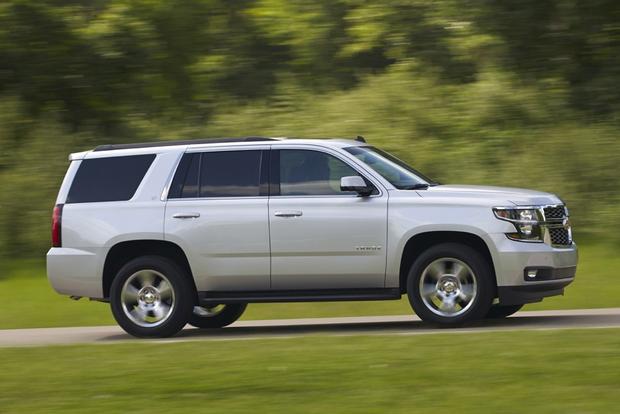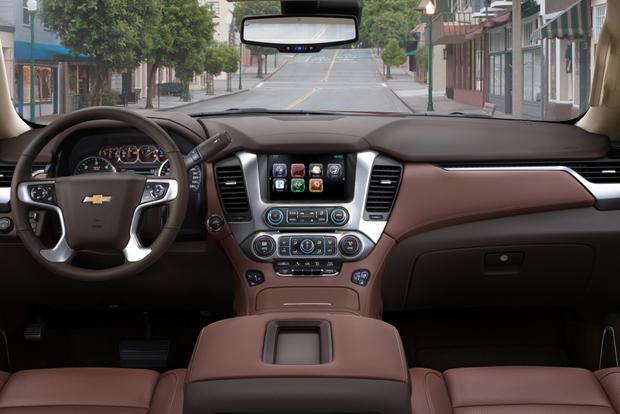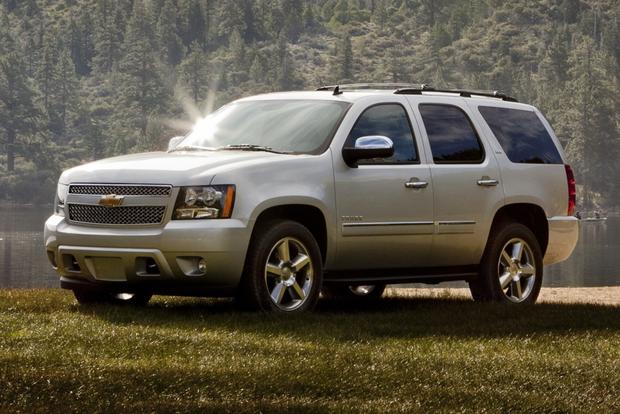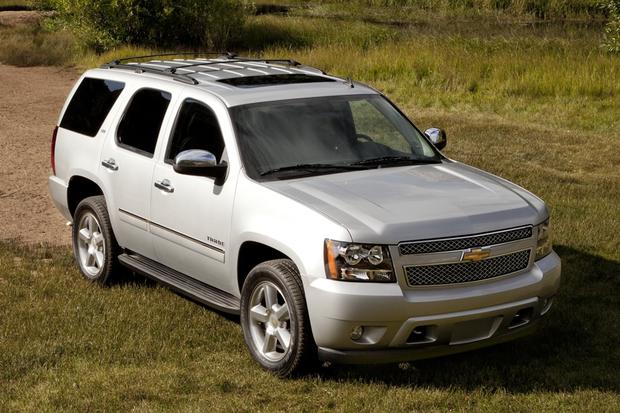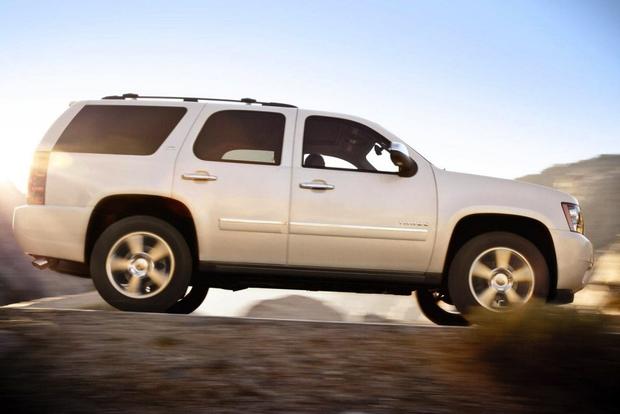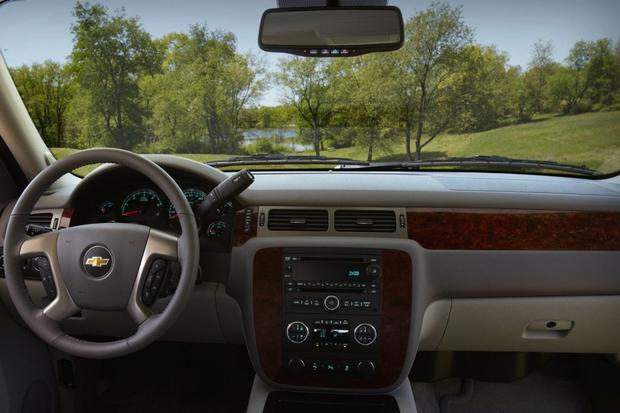 Full-size sport utility vehicles fell out of favor with American families when the economy tanked and gas prices skyrocketed, but the redesigned 2015 Chevrolet Tahoe could convince consumers to give a traditional SUV another try.
Chevy is making a big bet with its new Tahoe and the longer and roomier Suburban models, sinking a huge amount of cash into a segment that other car companies are ignoring or abandoning. Even Ford, Chevrolet's primary competitor in this vehicle class, is simply refreshing its large Expedition SUV rather than redesigning it. Does the expense of performing a complete redesign represent a smart investment for Chevy's future, or will it prove to be a money-losing gamble of epic proportions?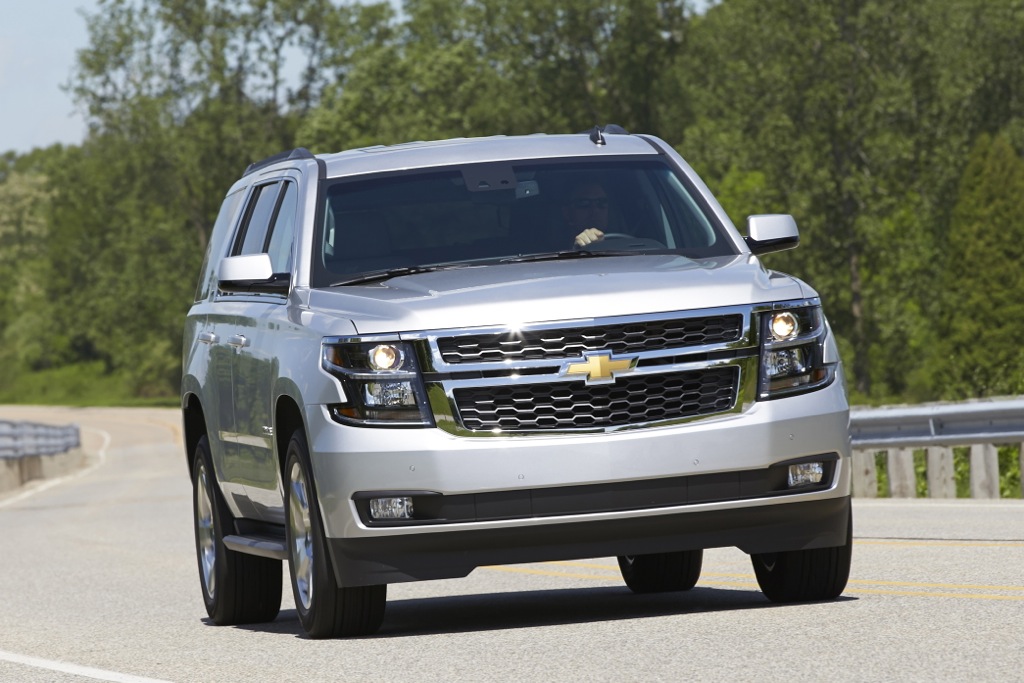 Exterior
While the previous-generation Tahoe aged well, the redesigned 2015 Tahoe looks crisper, more angular and more upscale. As was true before, the new Tahoe is sold in LS, LT and LTZ trim levels, with the LTZ now identified by its HID headlights, LED running lights and extra chrome trim.
For 2015, improved aerodynamics contribute to a quieter cabin and better highway fuel economy, and the new Tahoe features laminated windshield and front-side window glass to reduce unwanted interior noise. Aluminum is used for the SUV's hood and tailgate, and buyers can select aluminum wheel designs of up to 22 inches in diameter.
Despite the 2015 Tahoe's oddly shaped headlights, this redesigned SUV features a tasteful and conservative design that should prove appealing for years to come.
Interior
Exterior design changes contribute to a quieter interior for the 2015 Chevrolet Tahoe, and Chevy also claims that its new SUV is more comfortable than before and is now easier to get into and out of. Seating upgrades include new high-wear fabric for the Tahoe LS and a standard reclining second-row seat for all models.
Practicality is enhanced, too, thanks to new fold-flat second- and third-row seats, but the design reduces cargo space in terms of volume and dimensions. The new Tahoe also isn't quite as roomy as before, with reduced front, hip and shoulder room, slight reductions in second-row seat space, and less third-row headroom and legroom than in the previous-generation model.
Still, we prefer the new approach to the previous Tahoe's design, which required the complete removal and storage of the heavy third-row seat in order to maximize cargo space.
Mechanicals
Built on a stronger frame, the 2015 Chevrolet Tahoe is more powerful and more fuel-efficient than the vehicle it replaces.
A new 5.3-liter V8 engine is standard, featuring direct fuel injection, continuously variable valve timing, and Active Fuel Management technology that allows the engine to operate on four of its eight cylinders under certain types of driving conditions, such as when coasting down a hill or letting up on the accelerator while approaching an intersection. These technologies, combined with the Tahoe's slipperier aerodynamics, improve official Environmental Protection Agency fuel economy ratings from 17 miles per gallon in combined driving for the old Tahoe to 18 mpg for the new Tahoe.
The new engine generates 355 horsepower and 383 lb-ft of torque, increases of 25 hp and 48 lb-ft compared to the old Tahoe, and Chevy includes two years or 24,000 miles of free scheduled service. A 6-speed automatic transmission includes manual gear selection, a tow/haul mode and automatic grade braking, with power being fed to the rear wheels. A 4-wheel-drive system is optional, and when properly equipped, the 2015 Tahoe can tow up to 8,500 pounds, which is the same as last year's model.
Chevrolet has also improved the new Tahoe's steering, brakes and suspension. The steering is electrically assisted, and Chevy says that feel and responsiveness are improved over the old model. New Duralife brake rotors offer twice the service life as those installed in the old Tahoe, providing up to 80,000 miles of travel prior to replacement. The independent front and 5-link rear suspensions are designed for what Chevrolet claims are better ride and handling characteristics, and the 2015 Tahoe LTZ can be optioned with a new version of magnetic ride control.
Mechanically, the new Tahoe is clearly superior to the old one.
Features
Chevrolet offers a long list of new features for the 2015 Tahoe, most of which are related to safety and technology and will be discussed in detail below. One thing we find compelling about the new Tahoe is the hidden locking storage compartment housed in the dashboard behind the motorized Chevrolet MyLink touchscreen display. Additionally, the new Tahoe's center console is designed to hold a tablet or laptop.
Technology
The latest version of Chevrolet MyLink technology is available for the 2015 Tahoe, equipping the SUV with an 8-inch color touchscreen display supporting gesture recognition, text-messaging alerts, natural voice recognition and Siri Eyes Free capability.
The Tahoe's OnStar services system is available with new 4G LTE connectivity (which Chevy says is 100 times faster than previous OnStar technology) and includes mobile Wi-Fi service with a free 3-gigabyte, 3-month data trial. Up to 10 devices can be connected to the system at the same time, and the Tahoe offers up to six USB ports, six power ports and a 110-volt 3-prong electrical outlet.
We're betting owners will use that outlet to power game consoles in order for kids to play the latest gaming creations on the available rear-seat entertainment system's dual viewing screens. Alternatively, pop in a Blu-ray Disc movie for hours of on-the-road entertainment.
Safety
Chevrolet has upped the 2015 Tahoe's game when it comes to safety. As was true last year, a reversing camera is standard, but now, all versions equipped with front bucket seats have a new front-center airbag designed to protect the driver or front passenger from impact forces occurring on the opposite side of the vehicle from where they are sitting.
The new Tahoe is also available with additional safety technologies, and they're no longer reserved only for the top LTZ trim level. Highlights include the return of a blind spot monitoring system, now enhanced with rear cross-traffic alert technology and paired to what Chevrolet calls a Safety Alert Seat that vibrates the driver's seat cushion on whichever side a threat may exist. New lane-departure warning and lane-change alert systems are connected to the Safety Alert Seat, too, as well as a new forward-collision warning system with an automatic braking feature that's designed to reduce as much speed as possible prior to an unavoidable collision.
In addition to these upgrades, the new 2015 Chevrolet Tahoe offers an available adaptive-cruise-control system and an optional security system equipped with glass-breakage sensors, motion sensors, and self-leveling sensors that are designed to thwart thieves.
In National Highway Traffic Safety Administration crash tests, the new Tahoe earns 5-star ratings in every collision-related assessment, turning in a slightly better performance than the previous model.
Conclusions
The redesigned 2015 Tahoe represents a clear improvement over the previous version of the SUV in all respects except one. The old Tahoe offered greater cargo space, while this new one's maximum capacity isn't much better than some crossovers. In fact, Chevrolet's own Traverse crossover SUV seats up to eight people and carries more stuff.
If that's not a factor for your family and you need the towing and hauling capability of a new full-size SUV with a V8 engine, the 2015 Tahoe deserves consideration.