Editor's note: You may want to read more of Autotrader's model vs. model comparison car reviews as well as the 2014 Toyota Yaris review and the 2015 Toyota Yaris review.
The subcompact Toyota Yaris has been updated for the 2015 model year, and while changes to the small car aren't dramatic, they're certainly noticeable. What's new with the 2015 Toyota Yaris? And is the new model worth its price premium over a slightly used or new, dealer-leftover 2014 Yaris? We've rounded up all the key differences between last year's Yaris and the new version to help you make the best possible decision.
Exterior
If you're familiar with the Yaris, you'll immediately notice all the updates to the car's exterior for 2015. The biggest difference comes to the hatchback's front end, which gains a totally new grille, a new bumper and new headlights designed to differentiate the latest Yaris from earlier models and competitors. Changes in the back don't go quite as far, though the Yaris' styling is certainly modernized compared to last year's model.
Although the Yaris is merely facelifted for 2015 rather than fully redesigned, we're impressed with how far the updates go, and we think Toyota has done an excellent job distinguishing the latest version of its subcompact car from last year's model.
Interior
Inside, the 2015 Yaris offers only minor changes compared to its predecessor. Though the dashboard design has changed slightly, the overall look is still generally there, and while there are a few new materials and some repositioned switchgear and vents, the cabin will be familiar territory to anyone who has spent time in the outgoing Yaris. Perhaps the biggest interior change is a newly standard touchscreen, which we've covered in greater depth below in the Features & Technology section.
Mechanicals
Despite its new look, the 2015 Yaris is completely unchanged under the hood compared to last year's model. You'll still get a 1.5-liter 4-cylinder engine that makes 106 horsepower and 103 lb-ft of torque, mated to either a standard 5-speed manual or an optional — and woefully outdated — 4-speed automatic. Fuel economy stands at 30 miles per gallon in the city or 37 mpg on the highway with the manual or 30 mpg city/36 mpg hwy with the automatic.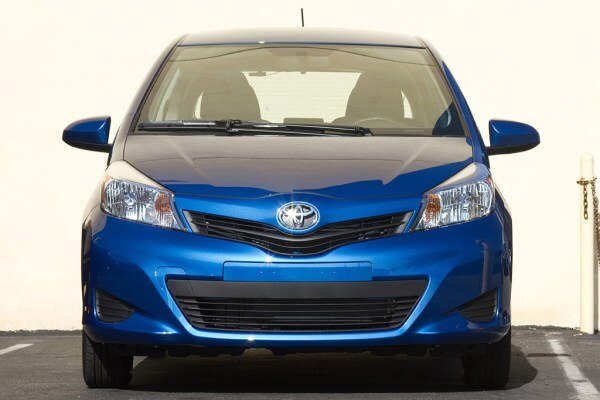 Features & Technology
The Yaris' biggest change for 2015 comes to its list of standard equipment. Last year's traditional radio head unit is gone, replaced instead with a newly standard 6.1-inch touchscreen. That's a big deal for a subcompact car, since most of the Yaris' rivals still only offer touchscreens on the highest trim levels, if they're available at all. The Yaris also adds an optional navigation system for 2015 as a dealer-installed extra.
Otherwise, the Yaris remains largely similar to last year's model, which is to say that it's a bit behind the pack. The subcompact hatchback offers everything you'll need from a new car, but there are few additional creature comforts or unique features. Still, we're happy to have the new touchscreen.
Driving Experience
We've always found the Yaris to be a little better to drive than you might expect, and that's certainly true of the 2015 model. Toyota claims to have updated the Yaris' driving experience for 2015, offering retuned suspension, a stiffened chassis and quicker steering. While these changes are minor, we think they're noticeable, and we think the latest Yaris is even sharper to drive than its predecessor. And that's saying something, since we already felt that the previous Yaris offered a more enjoyable driving experience than most subcompact-car rivals.
Beyond steering and handling characteristics, the Yaris also offers a secure, comfortable ride, predictable braking and good visibility. In fact, we can't fault the Yaris for any aspect of the driving experience except for acceleration, where its lackluster 1.5-liter 4-cylinder engine and available 4-speed automatic simply feel overmatched. We're disappointed that Toyota didn't update the Yaris' powertrain for 2015, though we're hoping to see some major changes when it comes time for the next redesign.
Safety
In crash tests conducted by the National Highway Traffic Safety Administration, the 2014 Yaris earned a 4-star overall score, falling just short of the government's perfect 5-star rating. We don't expect that figure to change with the 2015 Yaris, since the latest model really only offers cosmetic updates, not structural ones.
Also unchanged for 2015 is the Yaris' safety equipment. Anti-lock brakes remain standard, as do side-curtain airbags, traction and stability control, and a driver's-knee airbag. Modern safety gadgets such as lane-departure warning and blind spot monitoring are absent from the Yaris, though to be fair, they're not commonly found in other subcompact models, either.
Conclusions
The 2015 Toyota Yaris offers minor but noticeable changes over last year's model. There's new front-end styling, a slightly updated rear end, a revised interior and a newly standard touchscreen with a newly optional navigation system. Do these features justify paying a premium for a new model over a used or certified pre-owned 2013 or 2014 Yaris? To us, it depends on the price, but we could certainly see ourselves spending a little more just to get a car with zero miles on the odometer, a fresher design and a revised interior with more modern technology.
Find a 2014 Toyota Yaris for sale