Editor's note: You may want to read more of Autotrader's model vs. model comparison car reviews as well as the 2015 Toyota Camry review, the 2015 Honda Accord review, Buying a Used Toyota Camry: Everything You Need to Know and Buying a Used Honda Accord: Everything You Need to Know.
If you're looking for a midsize sedan, the Honda Accord and Toyota Camry are probably on your shopping list. Both are among the most popular midsize sedans on the market, offering notorious reliability, impressive levels of standard and optional equipment, and enough room for the whole family. Which one is better? We compared the 2015 Accord to the newly revised 2015 Toyota Camry to find out, but first, let's take a look at what's new with the two cars for the latest model year.
2015 Toyota Camry
Although the Camry isn't completely redesigned for 2015, it is much different. Changes include a thoroughly revised exterior, along with major updates to the car's cabin, dashboard and interior materials. The Camry also adds some new safety gadgets, a high-tech thin-film-transistor display in the gauge cluster and a sporty new XSE trim level.
2015 Honda Accord
Unlike its Camry rival, the Accord is almost completely unchanged for the 2015 model year since it was an all-new car for 2013.
Reliability
As you might expect, comparing the reliability of the Camry and Accord is largely an exercise in futility — primarily because they're both just so good. In J.D. Power's ratings of predicted reliability, both the 2014 Accord and the 2014 Camry earn the same better-than-average score, and we have no reason to believe that the mechanically identical 2015 models won't do just as well. In terms of warranty length, the Camry and Accord offer roughly the same term, though the Toyota also includes 2 years of standard free maintenance. In this situation, reliability is a tie, as it's just too close to call. We suspect that shoppers who prioritize reliability will be happy with either model.
Fuel Economy
Based on sales numbers, we think that most shoppers will likely opt for the standard 4-cylinder engine in the Accord and Camry. In the Toyota, that's a 178-horsepower 2.5-liter 4-cylinder engine that returns 25 miles per gallon in the city and 35 mpg on the highway with its standard 6-speed automatic transmission. Meanwhile, the Accord's 185-hp 2.4-liter 4-cylinder engine returns 27 mpg city/36 mpg hwy when equipped with its optional continuously variable automatic transmission, so the Accord offers a slight advantage in terms of mpg for most shoppers.
Drivers who want a little more power can upgrade to optional V6 engines in both cars. In the Camry, that's a 268-hp 3.5-liter V6 that returns 21 mpg city/31 mpg hwy, while the Accord's optional 278-hp 3.5-liter V6 puts out 21 mpg city/34 mpg hwy. Therefore, the Accord holds the advantage once again.
Finally, shoppers who are especially interested in fuel economy can opt for a hybrid version of either the Camry or the Accord. Once again, the Accord offers better gas mileage, returning 50 mpg city/45 mpg hwy, while the Camry tops out at 43 mpg city/39 mpg hwy. Given its advantage in 4-cylinder, hybrid and V6 configurations, the Accord has the leg up on the Camry in terms of gas mileage.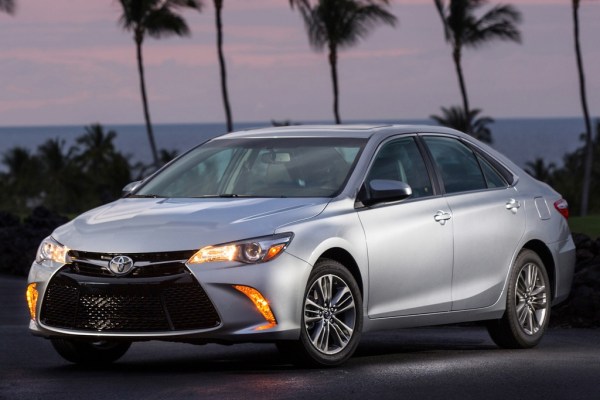 Safety
Although the revised 2015 Camry has not yet been crash-tested, Toyota is expecting good ratings. We expect the same, given that the outgoing Camry earned a perfect 5-star rating from the National Highway Traffic Safety Administration (NHTSA) and the two vehicles are largely the same under the skin. Likewise, the Accord also received a perfect overall score from NHTSA, suggesting that the two cars don't differ too much when it comes to crashworthiness.
As far as safety features go, the 2014 Accord had a leg up over its Camry rival, but for 2015, Toyota has updated the Camry to offer a wide range of new safety gadgets. There is, for example, an available pre-collision system, along with lane-departure warning and available adaptive cruise control. And while the Toyota still doesn't offer Honda's excellent LaneWatch blind spot monitoring system, its safety equipment is otherwise identical. As a result, the Camry and Accord are on a level playing field in terms of both safety features and crash-test results. Once again, this category is too close to pick a clear winner.
Technology
Interestingly, technology is also a close race between the Camry and the Accord. While last year's Accord was a step above the Camry, the latest Camry evens things out a bit. Adaptive cruise control is now available, for instance, as it is in the Accord, and the Camry also adds an impressive lane-departure alert system and pre-collision warning technology. In addition, the Camry comes with a standard backup camera, much like the Accord.
Perhaps the Accord's only advantages are its dual-screen center stack and its available LaneWatch blind spot monitoring system, though the former is more of a matter of personal preference than a high-tech benefit. As a result, we once again have to say that this category is a little too close to call, especially when you consider the wider range of functions available with Toyota's Entune infotainment system.
Value
If you've made it this far, you've probably discovered that the Camry and Accord are very similar — whether you're talking about engine power, technology, reliability or safety. As you might expect, they're also priced about the same, and that makes neither model a standout when it comes to value. In the end, assigning a victor in this category is very hard, but we'll hand it to the Accord, as we prefer its simple, option-free trim levels and its better fuel economy. Still, the Camry's reasonable pricing and all-around excellent traits make it difficult to dislike, even though it has not historically been one of our favorites.
AutoTrader's Advice
It's hard to imagine a comparison test where the cars under consideration are more similar than the 2015 Toyota Camry and the 2015 Honda Accord. While the Accord used to have the advantage in terms of driving experience, the latest Camry has ensured that that's no longer the case — and the same can be said for technology. Ultimately, it's nearly impossible to pick one over the other. Enthusiasts will like the Accord's available manual transmission and choice of coupe or sedan body styles.
If you're looking to get an entry-level Camry or Accord, we're giving a thumbs-up to the Accord. The Accord Sport is simply one of the best sedans around — and for a price that's just a tad over $20,000. If you're looking for a nicely equipped car such as an Accord EX-L or Camry XLE, however, we think that the Toyota Camry is the better car by a fairly wide margin. The interior materials give the car (in XLE and XSE trims) an upscale look and feel that just isn't there with the Accord — no matter how much you spend. The simple truth is that you can't go wrong with either choice if you're trying to decide between the Camry and the Accord.
Find a Used Honda Accord for sale