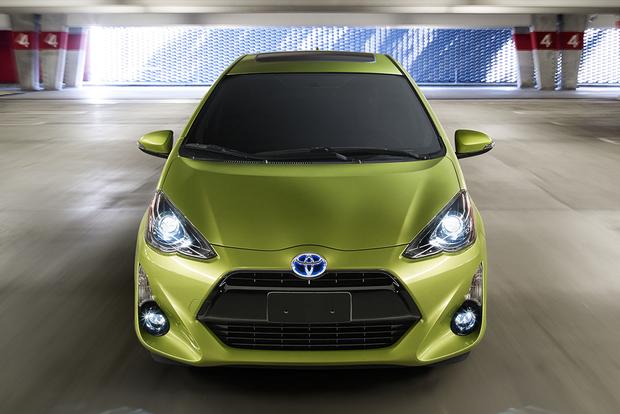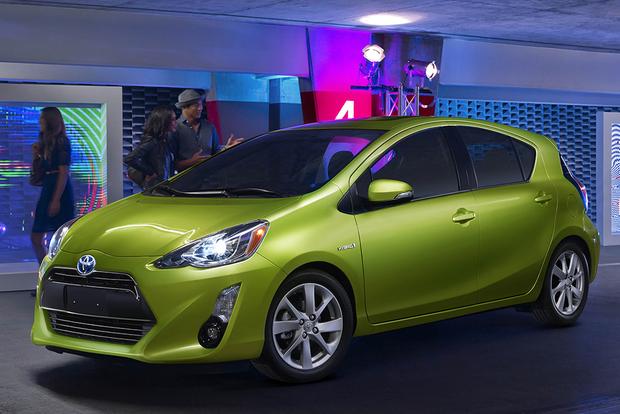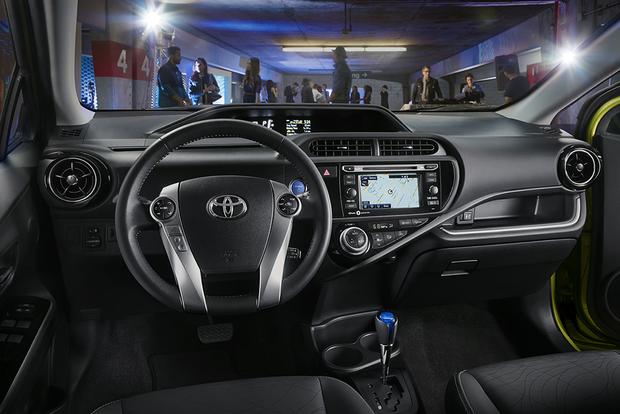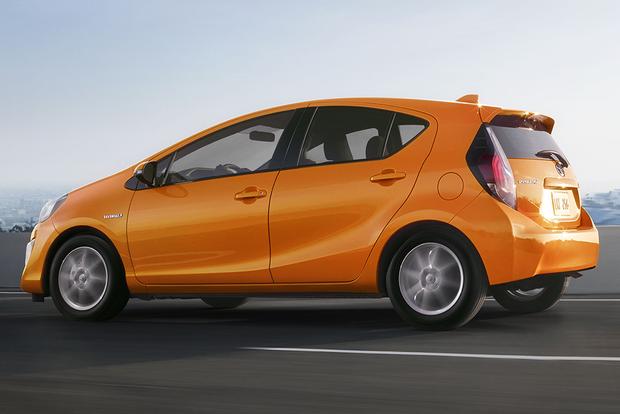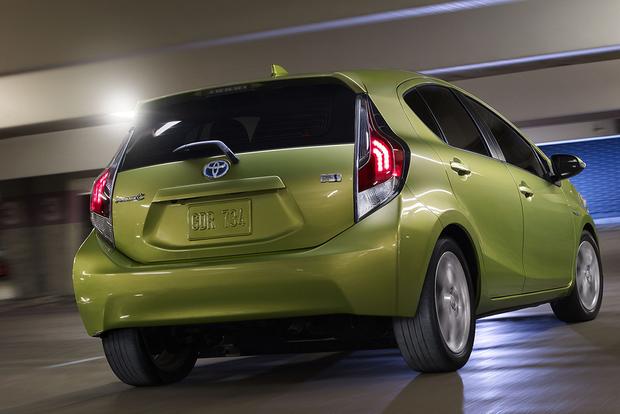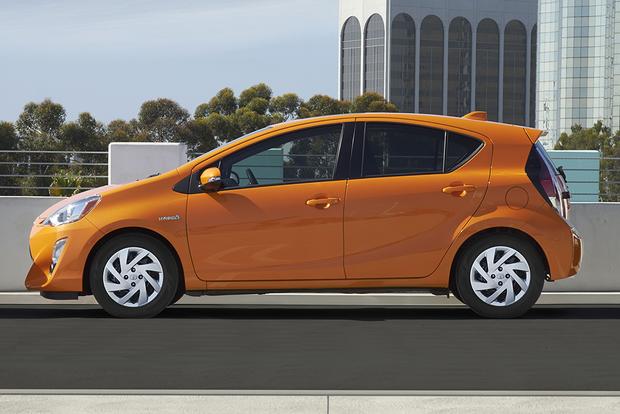 It didn't take long for the Toyota Prius c to become one of Toyota's rising stars. Orders for the pint-sized Prius exceeded expectations early on, transforming this projected bit player into a marquee attraction. In retrospect, we should've seen this coming. After all, the Prius c gets the same overall fuel economy as the regular Prius, an astounding 50 miles per gallon, yet its base price is more than $5,000 lower.
Not surprisingly, the 2015 Toyota Prius c makes a few compromises relative to Prius norms. Because the structure comes from the short-wheelbase Yaris subcompact, it's not as refined as the standard Prius, and it yields a firmer, bouncier ride. Moreover, road noise is elevated, and space for passengers and cargo is diminished. We'll also give big brother the nod for both exterior styling and cabin quality.
But the Prius c is better at navigating tight spaces, and its handling feels more responsive. Plus, $5,000 is a lot of money, representing a discount of roughly 20 percent compared to the cheapest traditional Prius.
Overall, while the Prius c isn't a full Prius substitute, it's undoubtedly the cheapest way to hit the 50-mpg milestone in a new car today. That's the formula that propelled the Prius c to instant stardom, and we expect it to maintain its appeal in these consumption-conscious times.
What's New for 2015?
The Prius c receives a face-lift for 2015. The hatchback features revised front and rear styling that includes new headlights, new taillights and a new grille. Top-level Four models add some additional standard features, including a sunroof and a backup camera.
What We Like
Stellar fuel economy; appealing price; hatchback convenience
What We Don't
Firm ride by Prius standards; ponderous acceleration
How Much?
$20,200-$25,200
Fuel Economy
The front-wheel-drive Prius c is powered by a 1.5-liter gasoline inline 4-cylinder and an electric motor teamed with a battery pack. Total output is 99 horsepower, which isn't much in a car that weighs 2,500 lbs. But speed has never been the point of any Prius. And given that the Environmental Protection Agency (EPA) rates the Prius c at a whopping 53 mpg in the city and 46 mpg on the highway (50 mpg in combined city and highway driving), we suspect most owners won't mind setting a leisurely pace.
Standard Features & Options
The 2015 Toyota Prius c subcompact hatchback comes in four trim levels: One, Two, Three and Four.
The entry-level One ($20,200) feels basic inside, though it does come with power accessories, automatic climate control (an unusual luxury at this price point), a 3.5-inch color display with a real-time power-flow diagram and a 4-speaker audio system with iPod/USB and Bluetooth connectivity.
Step up to the Two ($21,000) and you'll get six speakers for the stereo, variable intermittent wipers, 2-tone seat fabric with a driver-seat height adjustment, SofTex dashboard trim, a 60/40 split folding rear seatback (the One's rear seat back folds down in one piece), cruise control and a center console with an armrest.
The Three ($22,800) adds voice-command recognition, a navigation system, the Entune smartphone-based mobile app interface and keyless entry/ignition with push-button start. (Lesser models have a traditional twist key.)
The Four ($25,200) tacks on fog lamps, 15-in alloy wheels (optional on Three), heated front seats and SofTex trim for the seats and steering wheel. For 2015, it also adds a sunroof and a backup camera.
In terms of options, the Prius c doesn't have many. A sunroof can be added to either the Three or Four, and sunroof-equipped Fours are eligible for 16-in alloy wheels with a quicker steering ratio.
Safety
The Prius c comes with standard stability control, nine airbags and anti-lock brakes.
In National Highway Traffic Safety Administration (NHTSA) testing, the Prius c received four overall stars out of five, having received four stars in the frontal test, four stars in the side-impact test and four stars in the rollover test.
Behind the Wheel
The Prius c doesn't have the smooth ride of the regular Prius. They're different cars underneath, and the Prius c's Yaris genes don't do it any favors. It's not as quiet at cruising speeds, either.
But while we unexpectedly found the steering too heavy (heavier still with the Four's optional 16-in wheels), it's reasonably precise for a car of this nature, and body roll is kept within acceptable limits. We also love the tiny turning circle, which makes U-turns a breeze. The regenerative brakes may feel strange if you're a hybrid novice, but you'll get used to their inconsistent feedback.
Other Cars to Consider
2014 Honda Insight -- Conceived as a Prius-fighter, we think the Insight might be a better match for the comparably priced Prius c. The Insight's back seat is inhospitable even compared to the c's, but we enjoy driving Honda's hybrid hatchback more.
2015 Honda CR-Z -- If you don't need a back seat but could go for a more engaging drive, the 2-seat CR-Z is about the only game in town, delivering superior dynamics (and considerably worse fuel economy) for similar money.
Used Chevrolet Volt -- The Volt is a plug-in hybrid, and that means regular access to a charging station is important. If you have that, you might want to consider a used Volt, which offers impressive fuel economy and a range-extending gasoline engine that kicks in once the electric motor is out of juice.
Used Toyota Prius -- If the Prius c doesn't seem like enough, keep in mind that the regular Prius starts under $25,000 and comes well equipped. Used models are even less expensive, so you might be able to get a 1- or 2-year-old Prius for about the same money as a new Prius c.
AutoTrader's Advice
We'd have to have push-button start, so put us down for a Prius c Three. That pushes the price past $22,000, but it gives you a lot of technology for the money.