Editor's note: You may want to read more of Autotrader's model vs. model comparison car reviews as well as the 2015 Nissan Altima used car review and the 2016 Nissan Altima used car review.
If you're interested in buying a new midsize sedan, you probably have the highly popular Nissan Altima on your shopping list. After all, the Altima is a roomy, reliable family sedan with a smooth ride and reasonable pricing — and it's just been updated for the 2016 model year. So what exactly separates the 2016 Nissan Altima from last year's model? And is the latest version worth the price premium over the outgoing one? We've created a close comparison between the 2016 Altima and the 2015 model in order to help you find out.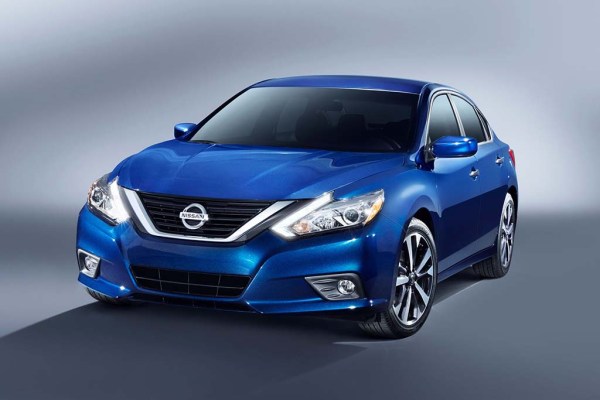 Exterior
On the outside, the latest Altima is merely freshened, rather than totally overhauled. The most obvious new feature is an updated grille, although the sedan also sports new wheels, new colors, new headlights and a revised rear end — all of which help the Altima become a closer fit to Nissan's corporate look that's been pioneered by the latest Maxima and Murano. Still, this isn't a redesign, and some shoppers will have a hard time telling apart the new Altima and the old one unless the two sedans are parked right next to one another.
Interior
Changes to the Altima's interior are far less dramatic than updates to its exterior. While there's a slightly revised center control stack with a little extra style, the vast majority of interior points remain identical, including the steering wheel, gauge cluster, door panels and most controls. Of course, interior room also remains unchanged since the Altima's 2016 update is almost completely cosmetic.
Mechanicals
Under the hood, the Altima is completely unchanged for 2016. The base-level engine remains a 182-horsepower 2.5-liter 4-cylinder, while the optional engine remains a 270-hp 3.5-liter V6. Both are mated to a continuously variable automatic transmission and front-wheel drive. Unlike some rivals, there's no hybrid option or available all-wheel drive.
Features & Technology
The Altima makes three major equipment changes for 2016. The most important is a newly available forward-collision warning and automatic braking system, which is now offered on SL models. The Altima also adds Nissan's NissanConnect Services package, which includes stolen vehicle locating, emergency assistance and automatic crash notification. Finally, a sporty new SR trim level — available only on 4-cylinder models — boasts 18-inch alloy wheels, a sport-tuned suspension, fog lights, a rear spoiler and steering-wheel-mounted shift paddles.
Driving Experience
On the road, we suspect you won't find any major changes between the 2016 Altima and the outgoing model. That's largely because the mechanicals are almost completely carried over, as the new version uses the same engine, transmission, suspension and steering. As a result, expect a more comfortable ride than many family sedans, along with a roomier interior — but also less precise steering and a little more body roll in the corners.
The lone exception to all this is the new Altima SR, which adds a sport suspension and comes only with the 2.5-liter engine. While this model is certainly sportier than the standard Altima, we don't think it's by much, and we suspect many drivers won't notice the upgrades unless they're really pushing it around corners. Acceleration with the SR model is, of course, identical to any other 2.5-liter Altima.
Safety
Although the latest Altima has not yet been crash-tested by the federal government's National Highway Traffic Safety Administration, we suspect it will retain last year's perfect 5-star overall score. Meanwhile, the latest Altima has earned a Top Safety Pick+ rating from the nonprofit Insurance Institute for Highway Safety, which is an improvement over last year's mere Top Safety Pick score.
The main reason for this is that the Altima added a new feature for 2016: forward-collision warning with automatic braking. Also newly available is the NissanConnect package, which includes items such as stolen vehicle tracking and emergency assistance. Other features, such as a blind spot monitoring system, rear cross-traffic alert and lane-departure warning, carry over from 2015. Still, there's no doubt that the latest model offers better safety compared to the outgoing version.
Conclusions
The 2016 Nissan Altima only makes a few changes compared to its predecessor. You won't find a dramatically different list of equipment, save for a new SR model and a few new safety features, and you won't find a hugely different design, save for a revised front and rear end and a few new interior touches. As a result, we don't think you should pay a big premium for a 2016 Altima unless you really want forward-collision warning with automatic braking and the sedan's updated front and rear ends. If those items aren't hugely important to you, you can undoubtedly find a better deal on a leftover 2015 Altima or a certified pre-owned model.