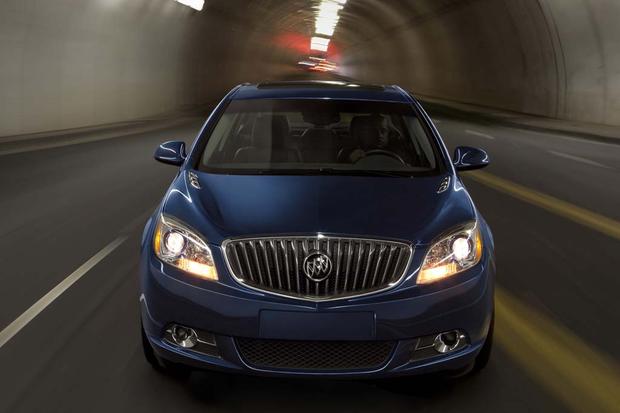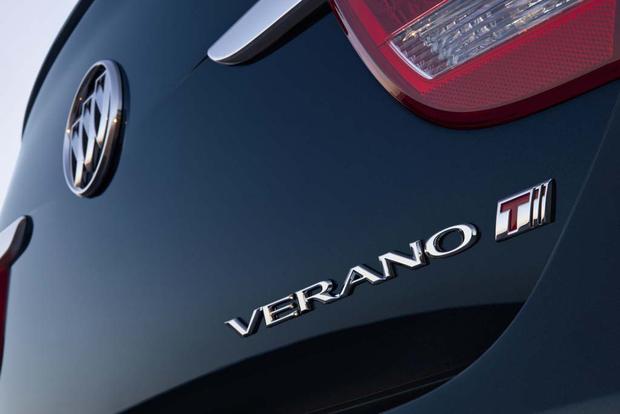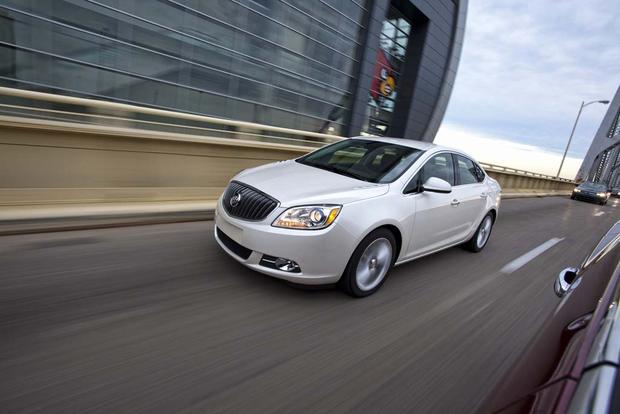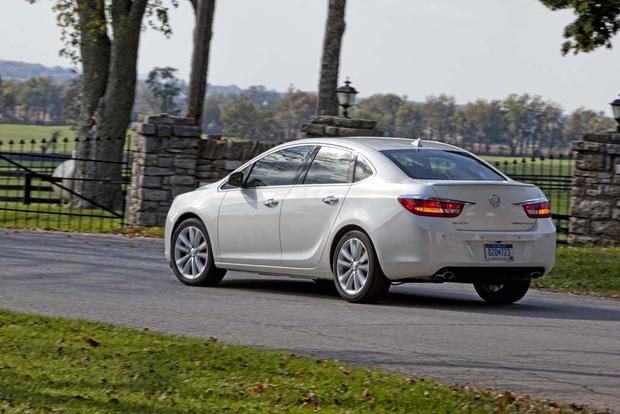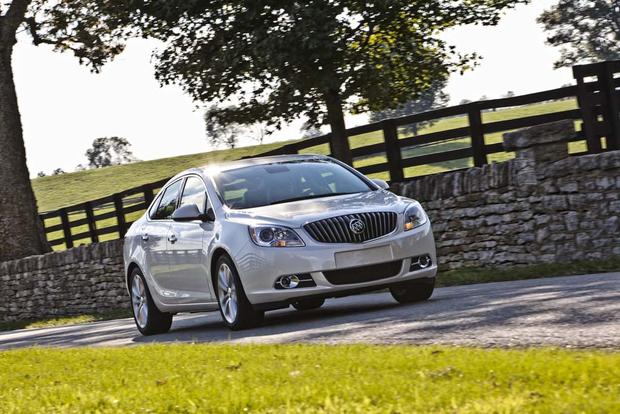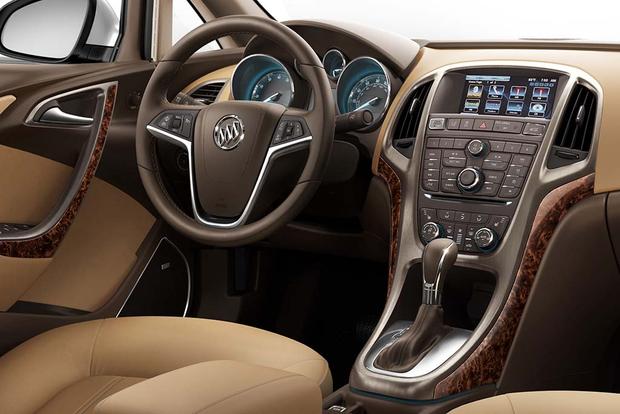 The 2016 Buick Verano is an entry-level premium sedan that shares its basic underpinnings with the Chevrolet Cruze. Don't think the Verano is simply a rebadged version of the small Chevy. Instead, the Buick is original inside and out, with a totally different design and many unique features.
The Verano should appeal to young professionals looking for premium amenities without breaking the bank. Since it's not as mainstream as the Infiniti Q40 or the Lexus IS, some of the Verano's appeal might be its originality. Another set of buyers who might find the Verano interesting are current premium car owners who wish to trade down without completely exiting the luxury segment. The Verano will give these folks a choice that's long on value but still delivers the refined equipment they're used to.
The Verano's modern demeanor helps Buick round out its model range and combat the brand's stodgy, yesteryear image. While the Verano might not have the visibility or reputation enjoyed by many other premium sedans, it's well positioned to compete in the segment.
What's New for 2016?
Aside from a few trim updates, new wheel styles and minor changes to the interior, the Verano remains largely unchanged for 2016, pending the arrival of an all-new model potentially as soon as next year.
What We Like
Upscale cabin; compliant ride; affordable compared with other luxury marques; generously equipped in high-end trims; powerful turbo engine option
What We Don't
Tight rear seat; busy control layout; relatively mediocre performance with base engine
How Much?
$22,000-$29,600
Fuel Economy
Base-level Buick Verano models are propelled by a 2.4-liter 4-cylinder engine that produces 180 horsepower and 171 lb-ft of torque. A 6-speed automatic is standard. According to the Environmental Protection Agency (EPA), this engine returns 21 miles per gallon in the city and 32 mpg on the highway.
The Verano Turbo has a 2.0-liter 4-cylinder that produces 250 hp and 260 lb-ft of torque. It, too, comes with a 6-speed automatic, but a 6-speed manual is optional for those who prefer to enjoy the Turbo's sportier character by rowing through the gears. The Verano Turbo is EPA-rated at 21 mpg city/30 mpg hwy when equipped with the automatic. The manual Turbo has a 1-mpg advantage on the highway.
Standard Features & Options
The 2016 Buick Verano is offered in four different trim levels, ranging from the basic Verano 1SV to the midlevel Verano and Verano Leather and the high-end Verano Premium Turbo.
The base-level Verano 1SV ($22,000) comes standard with only basic features, like 17-inch alloy wheels, dual-zone automatic climate control, variable intermittent wipers, a USB port with iPod connectivity, steering wheel-mounted audio and cruise controls and remote keyless entry.
Step up to the Verano ($24,400) and you'll receive a leather-wrapped steering wheel and shift knob, a backup camera, a remote starter, Bluetooth and GM's IntelliLink infotainment system, which includes app integration and voice control. An optional Comfort package adds a power driver's seat and heated front seats.
Next up is the Verano Leather ($27,400), which touts a heated steering wheel, a Bose sound system, a passive entry system, push-button starting and leather upholstery.
Topping the sedan's range is the Verano Premium Turbo ($29,600), which includes the 2.0-liter turbocharged engine, along with a rear spoiler, a dual exhaust and aluminum pedals.
As for options, the Verano offers a navigation system, a sunroof, parking sensors and a new Driver Confidence package that includes a blind spot monitoring system, rear cross-traffic alert, lane-departure warning and forward-collision warning.
Safety
Like the Chevrolet Cruze, the Verano offers an impressive 10 standard airbags: front, side, curtain, front-seat knee and rear-seat side. It also has GM's OnStar telematics system. Options include parking sensors and a Driver Confidence package that offers a blind spot monitoring system, rear cross-traffic alert, lane-departure warning and forward-collision warning.
In government crash testing, the Verano received a 5-star overall rating, the best rating available. It earned four stars in rollover tests, along with five stars in frontal and side-impact assessments. The Verano has not yet been crash-tested by the nonprofit Insurance Institute for Highway Safety.
Behind the Wheel
Despite sharing the same platform as the Cruze, the Verano's ride quality is considerably more upscale and comfortable. It swallows up most road blemishes with ease and would have to drive across a very rough surface for occupants to feel discomfort. Aside from its relaxed manner, the Verano benefits from a quiet cabin thanks to Buick's sound-deadening efforts. Wind and road noise have been minimized to an almost imperceptible level. The result is reduced occupant fatigue during both interstate cruising and around-town driving.
The Verano is a capable handler, mainly thanks to its electric power steering. That's possibly the strongest mechanical suit for nonturbo models. The system feels perfectly weighted and responsive, bringing quickness and precision to every turn. Driver inputs are well managed by the Verano's chassis, even at faster speeds. There is a definite fun-to-drive factor here.
When it comes to acceleration, though, the nonturbo Verano falls short. It doesn't deliver strong off-the-line punch, nor does it have the low-end power needed for confident left-lane passing at highway speeds. For this reason, it's difficult to call the Verano a sport sedan. It's almost there, but not quite.
The Verano Turbo does offer serious grunt. It's considerably quicker off the line, shaving more than 2 seconds off the base car's 0-60 miles-per-hour time. Plus, the turbocharged engine offers considerable torque even at low engine speeds, allowing better highway passing speeds without the need for a downshift.
Other Cars to Consider
2016 Acura TLX -- The TLX handles better than the Verano, and it benefits from more power and stronger acceleration. The Verano offers more aggressive pricing, and it's hardly a slouch when it comes to off-the-line power, assuming you opt for the turbo.
2015 Infiniti Q40 -- Although it's heading for cancellation, the Infiniti Q40 offered an inexpensive way into the Infiniti lineup. The Q40 also offers more power than the Verano and enthusiast-friendly rear-wheel drive.
2016 Mercedes-Benz CLA -- The CLA represents a new base-level offering from Mercedes-Benz. Although it's more expensive than the Verano and offers fewer features, the CLA has excellent driving dynamics. Plus, it's hard to top the small Benz's opulent brand name.
Used Lexus IS 250 -- The Lexus IS is more refined and upscale than the Verano. Although the Lexus is not as performance oriented as others in its class, it still offers more power and better acceleration than the Verano. Prices are high, though, so you may have to consider a used model.
Autotrader's Advice
If you don't mind the standard Verano's sluggish acceleration, we recommend the Leather model, with push-button starting, keyless access and a high-end cabin. But we would personally go with the Turbo, which offers an impressive array of luxury equipment and a potent 4-cylinder engine.