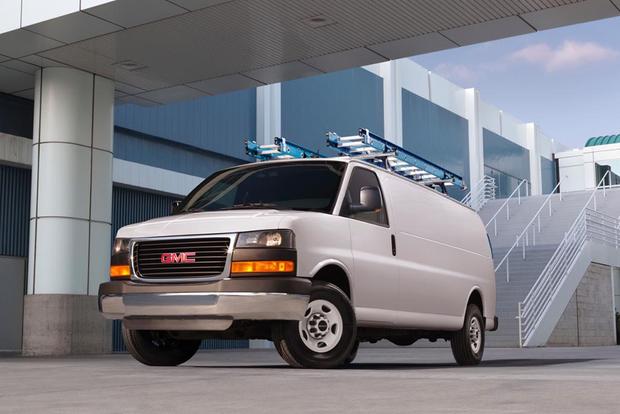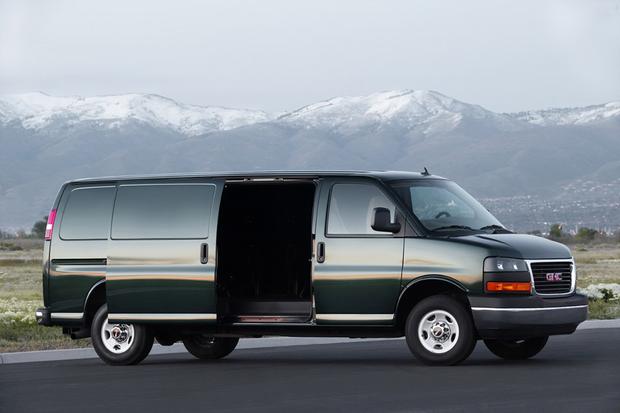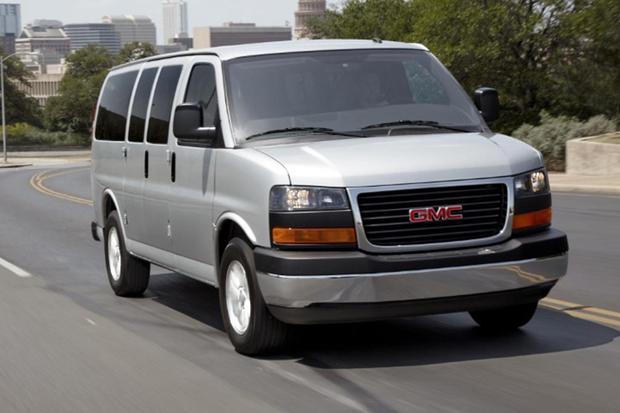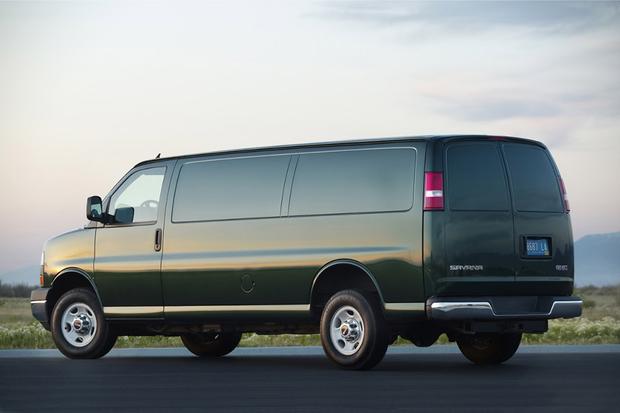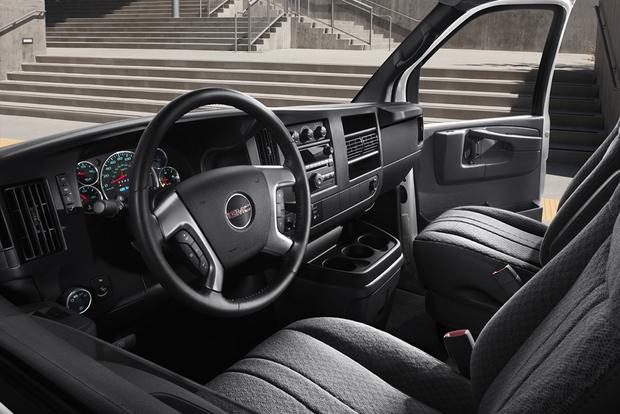 With a wide range of new full-size vans entering the market, the 2016 GMC Savana 2500 (now the van's base model, following the recent cancellation of the Savana 1500) is starting to feel pretty old. In fact, it's the only full-size van with roots still in the 1990s, and if you're interested in a new van, this fact quickly becomes apparent.
For example, there's no high-roof version for extra cargo storage, like in rivals. There also aren't any fuel-efficient powertrains for drivers looking to save on gas. GMC doesn't even offer a long-wheelbase version, though you can choose an extended version of the Savana 3500.
Fortunately, the Savana 2500 includes a few updates for 2016, keeping it relevant in the face of newer rivals. There is, for example, newly standard 4G LTE Wi-Fi. There's also an improved infotainment system and additional airbags. Still, we'd be sure to shop the competition, unless you find a really good deal on a Savana.
What's New for 2016?
The Savana 2500 now includes standard 12-passenger seating in passenger models, replacing last year's standard 8-passenger seating. The van also adds built-in Wi-Fi and a revised infotainment system for 2016.
What We Like
Affordability; large covered cargo area
What We Don't
Not the most contemporary van; inefficient engines; sloppy driving dynamics; dated compared to GMC's pickup, SUV and crossover lineup
How Much?
$31,600-$43,500
Fuel Economy
Three engines are offered. Base-level Savana models come standard with a 4.8-liter V8, which makes 295 horsepower and returns 11 miles per gallon in the city and 17 mpg on the highway. The 4.8-liter V8 will tow 7,400 pounds as a cargo van or 6,700 pounds as a passenger van.
Extra power comes from an optional 340-hp 6.0-liter V8, which enables an increased towing capacity of up to 10,000 pounds in cargo form or 9,800 pounds as a passenger van. The larger engine returns only slightly worse fuel economy of 11 mpg city/16 mpg hwy.
Formerly only available in the Savana 3500, a diesel powerplant is also available in the Savana 2500 Cargo. Starting at a pricey $43,500 with shipping, the diesel powertrain offers 265 hp and a brawny 525 lb-ft of torque, which makes it best for drivers looking to tow. Due to its weight class, the diesel-powered Savana isn't rated by the Environmental Protection Agency, though we wouldn't expect a major step up compared to gas-powered models.
Standard Features & Options
Like its Chevrolet Express mechanical twin, the 2016 GMC Savana 2500 is offered in two distinct models, including a cargo van with no rear seats and a passenger van with seats. Cargo models come in only one trim, while the Savana Passenger is separated into LS and upscale LT models.
Choose the Savana 2500 Cargo ($31,600), and you should only expect the basics. That means vinyl seating, manual air conditioning, an AM/FM stereo with an auxiliary port and little else. That's right, no CD player, no OnStar system and no power accessories. With that said, drivers who want those items can order them from the options list.
Step up to a Savana LS ($34,000), and you add a few more items. Most notably, that includes 12-passenger seating, but the Savana LS also adds power door locks, cruise control and standard Wi-Fi to the Cargo model's basic equipment list.
Topping the Savana range is the LT ($35,800), which adds cloth upholstery, a compass, remote keyless entry, rear air conditioning and exterior chrome accents.
In addition to the vans' standard equipment, GMC offers a long list of options. They range from simple items, like power mirrors and windows, to upscale features, like a reversing camera, a newly updated MyLink infotainment system and rear park assist. Shoppers can also choose between rear- and all-wheel drive and must decide which of the van's three engines they'd prefer.
Safety
The Savana's 4-wheel disc brakes with anti-lock braking and dynamic rear proportioning reduce the drama inherent in stopping a loaded truck. Helping you stay between the center stripe and the ditch is StabiliTrak, GM's stability control program, which comes standard on the Savana. Another safety benefit is the sweeping visibility in the 2500 passenger van. Available backup camera and rear parking sensors aid in low-speed maneuvering. Head side-curtain airbags and lap and shoulder belts for center-seat passengers wrap up the Savana's safety menu.
Likely owing to its narrow appeal and low-volume production, the Savana is unrated in overall crash tests by the federal government's National Highway Traffic Safety Administration (NHTSA). However, NHTSA did rate the Savana for rollover protection, where it received three stars.
Behind the Wheel
With a 135-inch wheelbase and 2-stage, multileaf rear springs, the Savana is not designed for quickness. Ponderous proportions typically make for ponderous handling, and in this regard, the Savana delivers as expected.
With room for 12 passengers or a couple of tons of cargo, you can configure a GMC Savana in dozens of ways. In cargo form, as marketed to many fleets, the Savana can serve roles as diverse as plumbing, carpentry or delivery. As a passenger van, the Savana is frequently used in shuttle or limousine service. As an RV, the Savana can capably serve as a donor vehicle for aftermarket-modification companies. Passenger comfort, however, is determined in large part by the Savana's fleet specification. There's no pretense here of matching the luxury or appointments available in GMC's trucks or sport utilities. Rather, this is a get-me-to-the-airport spec, with an interior designed to satisfy for no more than an hour at a time.
Other Cars to Consider
2016 Chevrolet Express -- The most obvious competitor to the Savana is its Chevrolet twin, the Express. If you can't find a Savana that meets your needs, consider its Chevy version.
2016 GMC Yukon XL -- If you're looking for a large vehicle with a lot of seats, the most obvious competitor to the full-size Savana is in the same showroom. A Yukon XL will seat up to eight, and although it doesn't deliver the Savana's sheer volume, it tops the van in comfort and on-the-road demeanor.
2016 Ford Transit -- Ford's all-new full-size van is also offered in cargo and passenger configurations. Unlike the Savana, it boasts several fuel-efficient engine choices, modern driving dynamics and high-tech optional extras.
2016 RAM ProMaster -- Ram's latest take on the full-size van offers huge capability, whether you're hauling people or large items. With diesel engines and European design, fuel economy is also much better than the Savana's figures.
Used Mercedes-Benz Sprinter -- The Sprinter offers impressive capability and efficiency in a considerably more modern package than the Savana 2500, but it's also more expensive.
Autotrader's Advice
We'd shop the competition, but if we had to choose a Savana, we'd opt for an entry-level LS or Cargo model with sparse options. As rivals have improved dramatically, affordability is the Savana's last major selling point.