Editor's note: You may want to read more of Autotrader's model vs. model comparison car reviews as well as the 2016 Honda Pilot used car review, the 2016 Subaru Outback used car review, Buying a Used Honda Pilot: Everything You Need to Know and Buying a Used Subaru Outback: Everything You Need to Know.
Although it might seem unusual at first glance, comparing the 2016 Honda Pilot and the 2016 Subaru Outback makes a lot of sense. Both models offer family-sized interior room, along with all-wheel drive and many of today's latest safety features and gadgets. We also suspect that more than a few shoppers have both models on their shopping lists. So which one is better? And which one should you get? We've created a close comparison to help you decide, but first let's check out what's new with the Pilot and the Outback for the latest model year.
2016 Honda Pilot
The Pilot was fully redesigned for 2016. Changes include a new design, an updated interior, revised powertrains and a long list of new safety features and gadgets. See all 2016 Honda Pilot models available near you
2016 Subaru Outback
After a full redesign last year, the Outback earns only minor changes for 2016. They include additional app connectivity for the infotainment system and newly optional lane-keep assist. See all 2016 Subaru Outback models available near you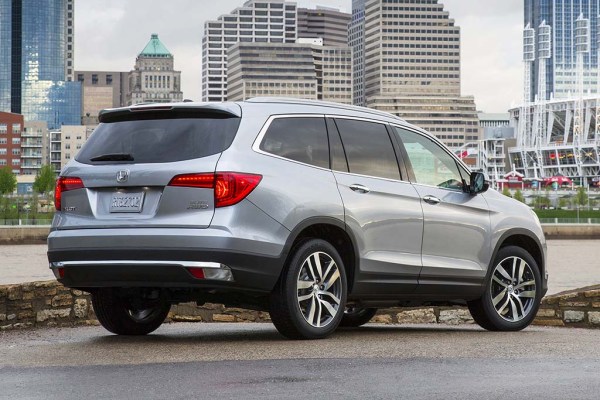 Reliability
Because they're so new, neither the Subaru Outback nor the Honda Pilot has yet been rated for reliability by industry experts at J.D. Power. It's worth noting, however, that in J.D. Power's Vehicle Dependability Study, which is ranked by manufacturer, Subaru finished below average, while Honda finished above average. As for warranty coverage, these two models are the same, with both touting 3 years or 36,000 miles of bumper-to-bumper protection and 5 years or 60,000 miles of powertrain coverage.
The result: It's too early to say whether the Outback or the Pilot is the reliability winner. While we're leaning slightly toward the Pilot based on J.D. Power's Vehicle Dependability Study results, we'd like to have some data about the specific models before we reach a conclusion.
Fuel Economy
The Pilot offers one engine: a 280-horsepower 3.5-liter V6, mated to either a 6-speed automatic or — in upscale models — a new 9-speed automatic. The 6-speed returns up to 19 miles per gallon in the city and 27 mpg on the highway, while the 9-speed offers 20 mpg city/27 mpg hwy, both with front-wheel drive. Adding all-wheel drive drops each figure by a single mpg.
The Outback offers two engines. Base models use a 175-hp 2.5-liter 4-cylinder, which is mated to a continuously variable automatic transmission and standard all-wheel drive to return 25 mpg city/33 mpg hwy. Drivers who want more power can opt for a 256-hp 3.6-liter 6-cylinder, which returns 20 mpg city/27 mpg hwy.
The result: The Outback is the winner here, but largely because its base-level engine has so much less power than the Pilot's standard V6. That's no problem if you don't mind performance, but if you want a little more oomph, you'll find that these two models offer roughly identical gas-mileage numbers.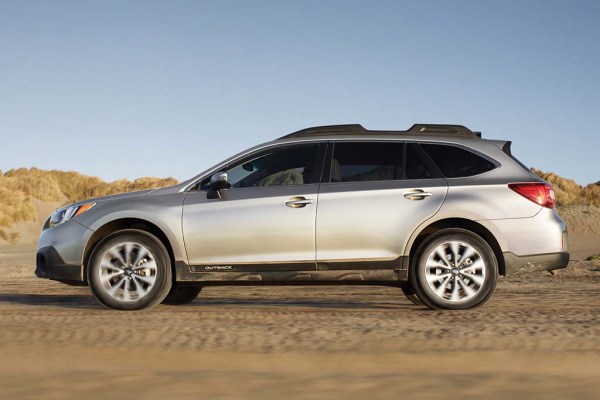 Safety
In crash-testing carried out by the federal government's National Highway Traffic Safety Administration, both the Pilot and the Outback earned a perfect 5-star overall score. In testing carried out by the nonprofit Insurance Institute for Highway Safety, both models earned the firm's coveted Top Safety Pick+ overall rating.
As for safety features, the Pilot and Outback offer just about everything you'd want, from a blind spot monitoring system and lane-departure warning to rear cross-traffic alert, parking sensors, forward-collision warning and automatic braking. Simply put: Safety-obsessed drivers can't go wrong with either of these two models.
Technology
Although previous Subaru models have lagged behind the competition in terms of cutting-edge technology, the latest Outback is different — largely thanks to the brand's EyeSight safety suite, which includes items such as forward-collision warning, automatic braking and adaptive cruise control.
Still, the Pilot is more advanced than its Subaru rival. It offers a wide array of extra comfort and convenience features compared to the Outback, including LED headlights, automatic high beams, a LaneWatch blind-spot camera, ventilated seats, a panoramic sunroof, automatic wipers and a heated steering wheel. While the Outback isn't behind in terms of modern technology, the Pilot is way ahead, and it's our pick for drivers especially interested in the latest gadgets and features.
Value
If you're considering these two models with an especially tight budget, there's no doubt that the Outback is the way to go. It offers similar equipment to the Pilot for a lot less money, as the Outback's starting price of around $26,000 with shipping easily beats out the Pilot's base MSRP of $31,000 including destination.
With that said, drivers who aren't on such a restrictive budget will find that the Pilot offers a lot of benefits that help justify its higher price. There's a standard 6-cylinder engine, for example — an add-on to the Outback that would bring its base price to $28,300. There's also more interior room, a third-row seat, better technology and additional ground clearance with a higher seating position.
The result: Value is a toss-up depending on your priorities. If you're on a tight budget, you'll want to go with the Outback, but drivers with more to spend may prefer the Pilot's advantages.
Autotrader's Advice
To us, the choice between the 2016 Subaru Outback and the 2016 Honda Pilot entirely comes down to what you're looking for. If you want the latest technology, the higher seating position, the extra power and the third-row seat, you'll want the Pilot. But for many families, those items are needless luxuries that only serve to place them in a larger, more expensive vehicle when they could easily make do with an Outback.
As a result, we suggest that you take stock of what you really want. If it's space, seats and technology, go for the Honda. If you can get by with less, save your money and go for the Subaru.
Find a Used Honda Pilot for sale