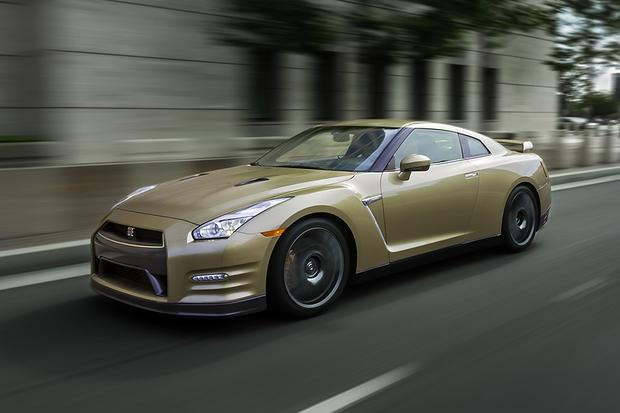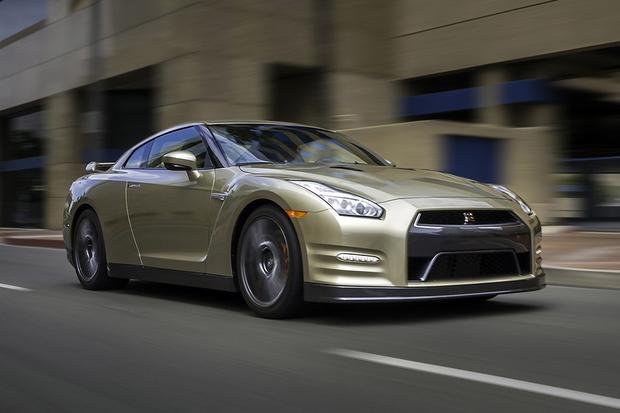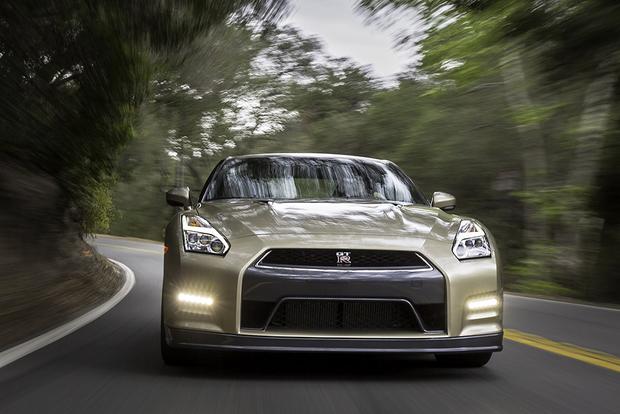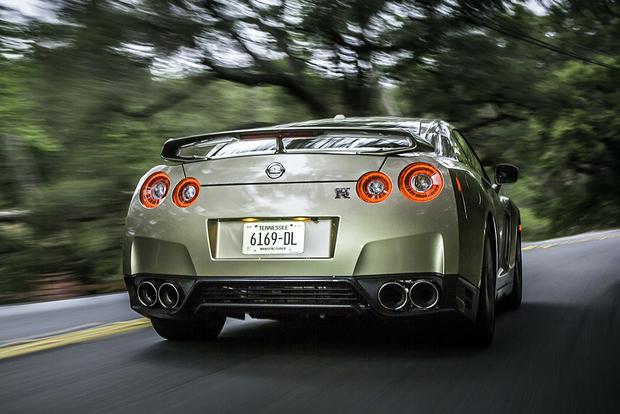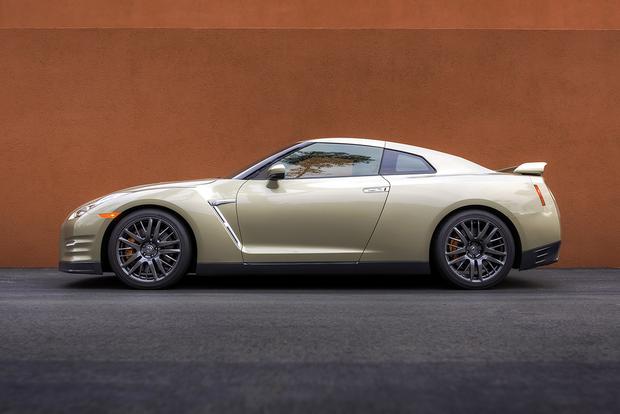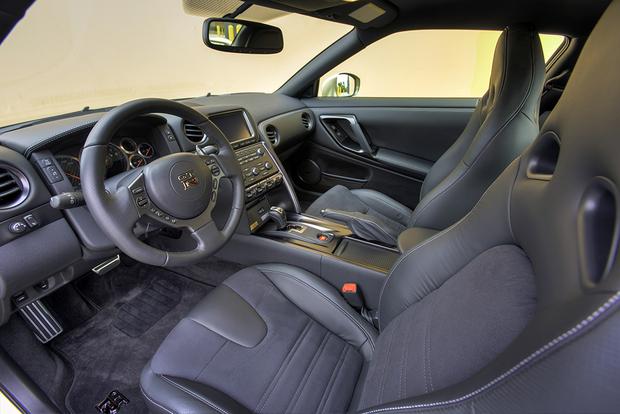 Fans, the press and car folk in general view the 2016 Nissan GT-R as one of the world's great high-end performance machines, and Nissan is just fine with that. Technically a 4-seat (2+2) sport coupe, the GT-R's abilities permit it to run side-by-side with exotic supercars that cost twice, or even three times, as much. At over $100,000, it's not like the GT-R comes cheap. But for those who are well off enough to drop the cash, owning a GT-R allows for the thrill of driving a high-end, high-performance machine that doubles as an everyday driver.
At the heart of every GT-R is an extremely potent twin-turbo V6, a fast-shifting automated manual gearbox, sport-tuned suspension, powerful Brembo brakes and a sophisticated all-wheel-drive system. All these elements come together to make the 2016 Nissan GT-R an extremely capable sports car. In the GT-R NISMO edition, all of these elements are tweaked for even greater performance.
Inside and out, the GT-R looks the part of a fast car. Its exterior is sleek and aerodynamic, and its inside is a well-crafted, sport-infused cockpit with no shortage of performance cues.
What's New for 2016?
For 2016, the GT-R gains new 20-inch Rays alloy wheels and a special 45th Anniversary Gold Edition. The Gold Edition GT-R features a special Silica Brass paint color, a gold-toned VIN plate and a commemorative plaque on the interior console. Less than 30 Gold Edition cars will be produced. Last year's Track Edition has been dropped from the lineup.
What We Like
Very fast; superb acceleration; extremely agile; upscale interior; abundant premium amenities; affordable in relation to the competition
What We Don't
Less of a status symbol than most competitors; feels a little large and heavy in corners; no crash-test data from the National Highway Traffic Safety Administration (NHTSA) or Insurance Institute for Highway Safety (IIHS)
How Much?
$103,365-$164,780
Fuel Economy
The 2016 Nissan GT-R is equipped with a 3.8-liter twin-turbo V6 that makes a tremendous 545 horsepower and 463 lb-ft of torque. In NISMO trim, those figures jump to 600 hp and 481 lb-ft of torque. All of this energy is fed to an advanced all-wheel-drive system by way of a revised 6-speed dual-clutch automated manual gearbox that offers smoother, quieter shifting thanks to sturdier components. The transmission offers three driver-selectable shifting programs.
The Environmental Protection Agency fuel economy estimates for the GT-R are a respectable 16 miles per gallon in the city and 23 mpg on the highway.
Standard Features & Options
The 2016 Nissan GT-R is offered in three distinct trims: Premium, Black Edition and NISMO.
The Premium ($103,365) includes a carbon-fiber center stack with a matte black switchgear and a dash-top multifunction display that details a range of performance data, including g-forces, shifting patterns and lap times. Drivers can use this information to improve their piloting skills.
Notable convenience features include HID headlights, leather and suede upholstery, navigation radio, Intelligent Key keyless entry and start, Bluetooth, a rearview monitor, power front seats with heat and a premium 11-speaker Bose audio system with active noise cancellation, a USB port and streaming Bluetooth capability.
The limited run Gold Edition is built from the Premium trim and adds $1,000 to the bottom line.
Performance enhancements include a Bilstein DampTronic adjustable suspension, Brembo brakes, 10-spoke Rays forged alloy wheels and nitrogen-filled Dunlop Sport Maxx GT 600 performance tires.
The Black dition ($113,105) adds lightweight Rays black alloy wheels, Recaro sport seats clad in red and black leather, a handmade dry carbon-fiber rear spoiler, a custom dark headliner and a red-accented steering wheel.
The NISMO edition ($151,585) has a more powerful 600-hp engine, enhanced aerodynamic body reinforcements, further upgrades to the suspension and brakes, NISMO styling touches, and wider wheels and tires.
Options for the GT-R are limited to two packages for the Premium trim. A Cold Weather package adds a 30/70 coolant-to-water ratio and high-performance all-season run-flat tires, while the Interior package adds red semi-aniline leather front seats.
The NISMO has only one option: a $12,900 titanium exhaust.
Safety
Standard safety features for the GT-R include an anti-lock braking system, stability control, traction control and six airbags: front, side and head-curtain.
Due to its limited production number, neither the NHTSA nor the IIHS has performed crash tests on the 2016 Nissan GT-R.
Behind the Wheel
From a speed and acceleration standpoint, the GT-R is as good as it gets, with blindingly fast straight-line performance and tire-melting torque. All this power feels a little less daunting because it is accompanied by a very precise steering system, sophisticated all-wheel drive and big, strong brakes that are designed to reel the car in with precision and control.
The GT-R is as sure-footed and stuck to the pavement as a world-class sports car can be. That's especially true in the curves, whether on harrowing canyon switchbacks or a racetrack. Almost regardless of its speed, the GT-R feels extremely confident in corners. It maintains grip and balance as if it's a race car, and it offers a true sense of control and stability. But if the driver is feeling a little daring and wishes to break the car loose, the stability control can always be shut off.
The GT-R model's main drawback is its 3,800-lb-plus curb weight, which makes it feel a bit less agile than a few of its top German competitors. If this car were to shed 200 to 300 pounds, it would be better positioned to outmatch top performance cars.
The GT-R offers an easygoing ride thanks to a driver-selectable vehicle dynamics system. In normal mode, the car takes on a less rigid personality, making it viable for daily commuting or interstate cruising. Everyday comfort is something that many vehicles in this category can't claim.
Other Cars to Consider
2015 Porsche 911 -- The starting price for the iconic Porsche is close to that of the GT-R, but optional equipment adds up quickly. The GT-R model's off-the-line acceleration is more impressive, but the 911 is more nimble.
2016 Chevrolet Corvette -- The Corvette is more affordable than the GT-R. From a pure performance standpoint, however, the GT-R is slightly quicker and more agile. The Corvette Z06, however, is match to the NISMO.
2015 Mercedes-Benz C63 AMG -- The C63 AMG offers both luxury and performance at a very high level. The GT-R offers more all-around track prowess, while the AMG is better suited for daily drives.
Used Ferrari F430 -- For about the price of a new NISMO, you could pick up a used 2007 Ferrari F430.
Autotrader's Advice
For our money, we'd choose the Black Edition over the Premium. The Black Edition is primarily an appearance package, but it only adds another $10,000 to the GT-R model's price tag and contributes a bit more exclusivity. Hardcore track enthusiasts should, of course, opt for the NISMO, but it seems a bit pricey for the advantages it offers over the base car.