Editor's note: You may want to read more of Autotrader's model vs. model comparison car reviews as well as the 2016 Volvo XC90 review and the 2016 Mercedes-Benz GLE review.
If you're looking for a family-friendly luxury crossover, you've probably already realized you have a wide range of vehicles from which to choose. Two of the most appealing are the 2016 Volvo XC90 and the 2016 Mercedes-Benz GLE, both of which offer a lot of equipment, impressive safety features and smooth, comfortable rides. Which one is better, and which one should you buy? We've created a close comparison between the XC90 and the GLE to find out. First, let's see what's new with both SUVs for the 2016 model year.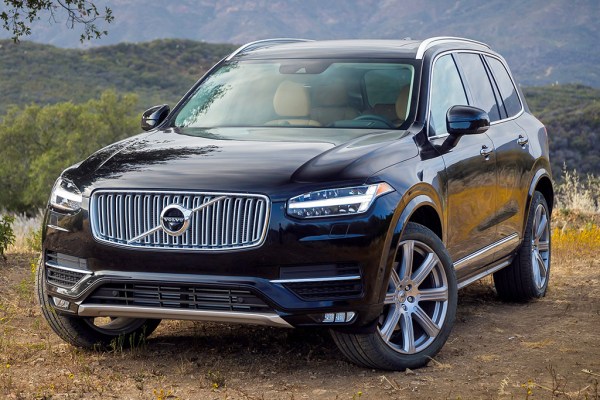 2016 Volvo XC90
The Volvo XC90 is a luxury crossover with 3-row seating and a wide array of modern safety features. It's fully redesigned for 2016 to offer new styling inside and out, new powertrains and a lot of new equipment. See all 2016 Volvo XC90 models for sale near you
2016 Mercedes-Benz GLE
The GLE has officially replaced the M-Class in Mercedes' lineup. With its name change comes a few other updates, including revised styling, an updated infotainment system and a plug-in hybrid variant. See all 2016 Mercedes-Benz GLE models for sale near you
Reliability
Because they're so new, neither the Mercedes GLE nor the Volvo XC90 have been rated by experts at J.D. Power for dependability. With that said, J.D. Power rated previous versions of both models. The outgoing XC90, which shares nothing with the current version, earned a below average rating, while the outgoing M-Class, which shares many components with the GLE, earned an average score.
As for warranty length, the two models are the same, both offering 4 years or 50,000 miles of bumper-to-bumper coverage. This results in no clear winner here, at least until J.D. Power publishes reliability ratings for the new XC90 and GLE.
Fuel Economy
The XC90 offers two engines. Most models, dubbed T6, come standard with a 316-horsepower turbocharged and supercharged 4-cylinder, which is mated to an 8-speed automatic transmission and standard all-wheel drive (AWD). Fuel economy is rated at 20 miles per gallon in the city and 25 mpg on the highway. Drivers who want better mileage can upgrade to the plug-in hybrid XC90 T8, which uses a 394-hp plug-in hybrid 4-cylinder that can travel up to 17 miles on fully electric power.
While the GLE offers five powertrains, only three might be of interest to shoppers with an eye on fuel economy. Most notable is the base-level 2.1-liter turbodiesel 4-cylinder, which comes standard in the GLE300d. That engine makes 201 hp and touts 22 mpg city/29 mpg hwy. Drivers looking for more power can upgrade to the 302-hp GLE350, which uses a 3.5-liter V6 and touts up to 18 mpg city/24 mpg hwy with 2-wheel drive or 17 mpg city/22 mpg hwy with optional AWD. Finally, the new GLE550e offers a plug-in hybrid drivetrain that boasts an impressive 436 hp and a claimed 18-mile fully electric range.
So, which one is better? For all-out fuel economy without going plug-in, the GLE300d is the one to pick, though its 201 hp may leave something to be desired on the performance front. If you want more power, you'll definitely want the XC90 T6, which trumps the GLE350's gas mileage numbers. When it comes to plug-in hybrids, both the XC90 T8 and the GLE500e seem appealing.
Safety
Because they're so new, neither the XC90 nor the GLE has been crash-tested by the federal government's National Highway Traffic Safety Administration. It's worth noting that the M-Class, on which the GLE is heavily based, received a perfect 5-star crash-test rating. In crash testing carried out by the nonprofit Insurance Institute for Highway Safety, both the XC90 and the M-Class received the firm's coveted Top Safety Pick+ designation, though the GLE has yet to be tested.
When it comes to safety features, these two models are among the best in the business, as they offer just about every modern safety feature, items like rear cross-traffic alert, lane-keep assist, lane-departure warning, forward-collision warning and blind spot monitoring. But the XC90 simply goes above and beyond, offering many modern features, like automatic forward-collision braking and a run-off protection feature, which is standard instead of optional. We think the XC90 is one of the safest vehicles on the market, both in terms of crashworthiness and equipment, so it edges out the GLE to win this category.
Technology
The XC90 and the GLE are two of the most technologically advanced new models on the market, and it's hard to think of features they don't offer. Both models tout adaptive suspension, a panoramic sunroof, an advanced infotainment system, the aforementioned plethora of safety features, ventilated seats, multi-speaker sound systems from high-end audio brands and more. Simply put, if you're a technophile, it's hard to imagine you'll be disappointed by either the XC90 or the GLE.
Value
Like most luxury SUVs in this segment, the XC90 and the GLE offer highly competitive pricing. The Volvo starts around $50,800 with shipping, while the GLE is $52,000 including destination, a price difference that can easily be negotiated away or diminished with manufacturer incentives.
With that said, the Volvo offers many more standard features than its Mercedes rival. The XC90 comes with 19-inch wheels to the GLE's 18-in wheels, for instance, along with 4-zone automatic climate control (versus dual-zone in the GLE), a panoramic sunroof (versus a standard sunroof in the Mercedes), full leather upholstery (versus Mercedes' MBTex synthetic upholstery) and a 9-in central touchscreen with a standard navigation system. A navigation system is optional on the GLE, while the biggest screen you can have in the Mercedes is only 8 inches. The Volvo also comes standard with all-wheel drive, while it's optional in the GLE.
The result is the XC90 edges out its Mercedes rival for an easy win in terms of value, especially if you're interested in getting the most equipment you can for your money.
Autotrader's Advice
Although we like the GLE and we've liked the M-Class that came before it, the 2016 Volvo XC90 is the better SUV here. It offers more standard equipment, more safety features and a more modern design for a touch less money. It also boasts a handsome new interior with an exciting style the GLE just can't beat. Your only problem might be finding one, as high demand has made the new XC90 a hot commodity at Volvo dealers nationwide.
Find a Used Volvo XC90 for sale