Editor's note: You may want to read more of Autotrader's model vs. model comparison car reviews as well as the 2016 GMC Acadia review and the 2017 GMC Acadia review.
If you're looking for a midsize SUV that offers family-friendly equipment and interior space, the GMC Acadia is certainly worth a spot on your shopping list, but the recently redesigned 2017 GMC Acadia offers some major changes over its predecessor that will likely split opinions. So what exactly has changed, and should you get the brand-new Acadia or the outgoing model? To help you decide, we've created a close comparison that explains all the differences between the two SUVs.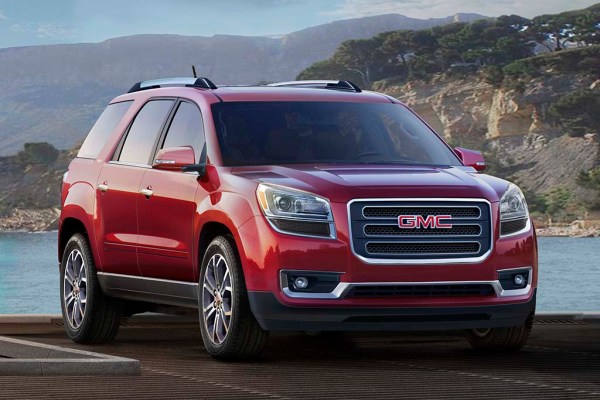 Exterior
On the outside, the latest GMC Acadia clearly shares many general design elements with the outgoing model, but a close look reveals the major differences. These include a new front and rear end, new wheel designs, new colors and even a revised overall profile that gives the SUV a slightly bulkier stance this time around.
The biggest difference, however, is one you might not notice right away: At 193.6 inches in length, the 2017 GMC Acadia is 7.2 inches shorter than the outgoing model. That's a major change, and it moves the Acadia squarely into the midsize-SUV segment — last year's version straddled the line between midsize and full-size.
Interior
Inside, the Acadia's interior is just as thoroughly revised as its exterior. There's a new steering wheel, a new gauge cluster, revised climate-control vents, a new center control stack and dramatically improved materials all around. The major changes result from the fact that the Acadia has gone nearly a decade without a full redesign.
Perhaps the Acadia's most important interior update, however, relates to cargo and passenger room. The SUV offers roughly the same amount of space in the first row, a little more space in the second row and noticeably less space in the third row. It also offers less cargo room than its predecessor. Those declines in interior and cargo volume are due to the SUV's smaller overall sizing for the 2017 model year.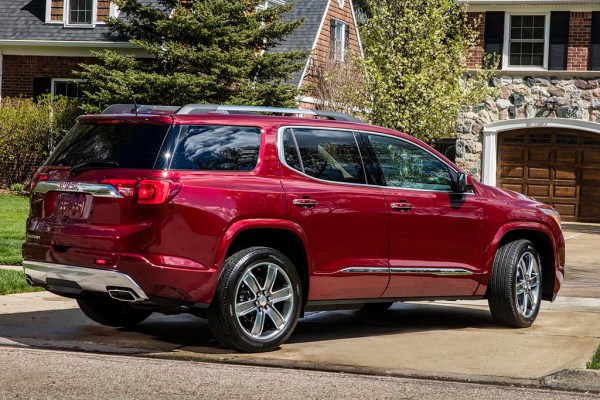 Mechanicals
The outgoing Acadia offered only one engine: a 281-horsepower 3.6-liter V6, which was mated to a 6-speed automatic transmission and front- or all-wheel drive. Gas mileage topped out at a middling 15 miles per gallon in the city and 22 mpg on the highway.
The new Acadia offers two powertrain choices. Standard on base models is a new 2.5-liter 4-cylinder, which touts 194 hp and 190 lb-ft of torque, lower figures that the Acadia can now offer due to its smaller size. The new engine returns up to 21 mpg city/26 mpg hwy. Drivers who want more power can upgrade to a 310-hp version of the old 3.6-liter V6, which now boasts up to 18 mpg city/25 mpg hwy. A 6-speed automatic remains the sole transmission choice, while front- and all-wheel drive remain optional.
Features & Technology
As a function of its far newer design compared to the outgoing model, the latest Acadia touts a lot more equipment than the old version. New features include a surround-view camera system, adaptive cruise control, a configurable gauge cluster, automatic high beams and a few high-tech safety features, such as forward-collision warning with automatic braking. The latest Acadia also touts Apple CarPlay and Android Auto.
Indeed, while GMC did a good job keeping the outgoing Acadia relatively fresh, it still lags well behind a fully redesigned model like the 2017 Acadia, and that makes the latest version an easy pick for technophile shoppers who want the latest in features and equipment.
Driving Experience
On the road, the latest Acadia certainly feels smaller and lighter than the old model. Handling and cornering capabilities have improved, the SUV doesn't have as much body roll as its predecessor, and the optional V6 provides even better acceleration and passing power than it did before — no easy feat, as we always thought the outgoing Acadia offered a surprisingly muscular powertrain.
Inside, the latest Acadia is a nicer place to be than the outgoing model. Materials have improved, the driving position is more commanding, and visibility seems better. We also think the newer model is quieter than the old version and offers improved suspension that provides for a more comfortable ride, in addition to the better steering and handling we described above.
Safety
Although the latest Acadia has not yet undergone government crash testing, we have high hopes for the new model, as the outgoing version earned a perfect 5-star overall score. The latest Acadia has also not yet been tested by the nonprofit Insurance Institute for Highway Safety, while the old version didn't go through enough crash tests to qualify as a Top Safety Pick.
As for safety equipment, the new Acadia and the outgoing model are surprisingly similar, as GMC did a good job of keeping the old Acadia full of modern features while it aged. For instance, both models offer forward-collision warning systems, lane-departure warning, blind spot monitoring systems and rear cross-traffic alert, along with standard features such as side-curtain airbags, anti-lock brakes and a backup camera.
With that said, the 2017 Acadia has a few advantages, including an automatic braking system to go along with forward-collision alert, plus automatic high beams, lane-keep assist and a novel new feature that reminds drivers to check the back seat before leaving their vehicle to prevent infants or toddlers from being accidentally left behind.
Conclusions
While it may look somewhat similar to the outgoing model, the 2017 GMC Acadia offers some major differences from last year's version. It's smaller and more maneuverable but also tighter on the inside, both for cargo and for third-row passengers. And while there's a lot of new technology and equipment in the new Acadia, there's also a newly standard 4-cylinder engine that doesn't have the muscle of the old model's standard V6.
With that said, we prefer the 2017 Acadia, but we can understand why some shoppers might want the additional brawn of the 2016. Those drivers will likely now gravitate toward a GMC Yukon or a certified pre-owned version of the outgoing Acadia.