Editor's note: You may want to read more of Autotrader's model vs. model comparison car reviews as well as the 2017 BMW X4 review and the 2017 Mercedes-Benz GLC Coupe review.
Not long ago the thought of a 4-door "coupe" SUV left people scratching their heads. OK, so maybe it still does, but this odd crossbreed has nevertheless flourished, influencing the designs of regular SUVs as well as encouraging the addition of new model entries. The 2017 Mercedes-Benz GLC-Class Coupe and 2017 BMW X4 are two of these, so let's take a look at each to see where each excels and where it might fall short.
2017 BMW X4
The X4 is essentially a BMW X3 compact crossover SUV that has had its roof lowered and rear cargo area significantly chopped to create a "coupe" roofline and body shape. For 2017, it has a slightly different model lineup than the X3, as it features a sportier and more powerful M40i model in place of its sibling's range-topping xDrive35i. And although the X3 and X4 share a base "28i" 4-cylinder engine, the coupe-ified version is only available with all-wheel drive. See all 2017 BMW X4 models available near you
2017 Mercedes-Benz GLC-Class Coupe
As the name implies, this "coupe" model is based on the more traditional Mercedes GLC-Class compact SUV. It's new for 2017. Like the X4, the GLC Coupe has a lower roof and a sloped roofline, but its model lineup aligns with that of its sibling. See all 2017 Mercedes-Benz GLC-Class models available near you
Reliability
The X4 and GLC-Class in general are so new that there isn't sufficient reliability data for a definitive comparison. Historically, however, the GLC's Mercedes GLK-Class predecessor enjoyed better reliability ratings than the X4's mechanically identical BMW X3 sibling — typically, the latter has gotten worse as it gets older than 5 or 6 years.
Fuel Economy
For the most part, these two competitors are even on the fuel economy front. The BMW X4 xDrive28i model returns 20 miles per gallon in the city, 27 mpg on the highway and 23 mpg in combined driving, whereas the Mercedes-Benz GLC300 Coupe returns 22 mpg city/27 mpg hwy/24 mpg combined. The tables flip with their respective high-performance variants, but the slight difference remains. The AMG GLC43 Coupe returns 18 mpg city/24 mpg hwy/20 mpg combined, while the X4 M40i outdoes it at 19 mpg city/26 mpg hwy/21 mpg combined.
Performance
Performance from both of these SUV coupes is excellent, and effectively equal on paper, though the Mercedes may feel a smidge stronger due to its greater amount of torque. Both come standard with 2.0-liter turbocharged 4-cylinder engines and all-wheel drive. The GLC300 produces 241 horsepower and 273 lb-ft of torque, while the X4 xDrive28i counters with 241 hp and 260 lb-ft. Expect class-leading acceleration from both, achieving 60 miles per hour from a stop in the mid-6-second range.
The "me-too" trend continues with their performance variants. Both have 3.0-liter turbocharged 6-cylinder engines, though in different configurations (inline for the BMW, V6 for the Mercedes). The X4 M40i is good for 360 hp and 343 lb-ft of torque, while the AMG GLC43 produces 362 hp and considerably more torque at 385 lb-ft. Both BMW and Mercedes indicate roughly equal 0-to-60 times in the upper-4-second range.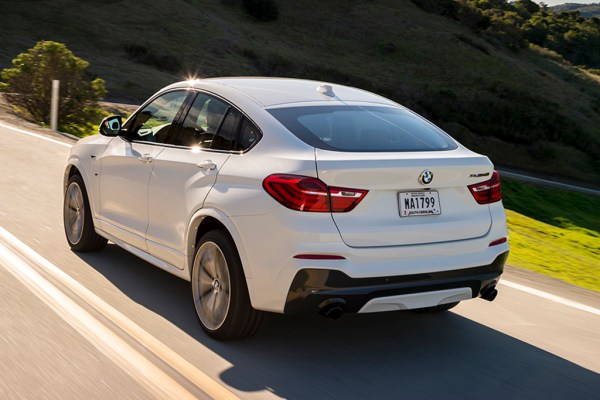 Safety
Like other Mercedes, the GLC300 comes with more standard safety features than most other cars on the road, period, let alone the X4. Beyond the typical front and side airbag coverage common to the BMW, the GLC comes standard with a driver knee airbag, a forward-collision warning system, automatic braking and a driver-inattention warning system. Both cars come standard with automatic collision notification plus other emergency communications technologies and can be equipped with optional blind spot monitoring and lane-departure warning systems. The BMW is also available with a forward-collision warning and auto-brake system, while the Mercedes can be enhanced with an upgraded version of the technology.
Neither car has been crash-tested by a third party (including the regular Mercedes GLC), but the BMW X3 received a top 5-star overall crash rating from the federal government.
Technology
The GLC's standard COMAND interface can overwhelm with its multitude of redundant control options, which includes a knob controller, a mouselike touch pad, voice controls, buttons on the steering wheel and buttons on the dash. There's also a level of complexity within the dash-mounted center screen's menu structure that confuses more than did earlier versions of COMAND. This isn't exactly a deal-breaker (more like an occasional head-scratcher), but in the end, BMW's iDrive is easier to comprehend. At the same time, it too has its own layers of complexity, and like the Mercedes, you can't get it with Apple CarPlay or Android Auto.
On the other hand, we've found the GLC's advanced safety tech to be more advanced than the X4's (not to mention it has more standard features). Mercedes' adaptive cruise control and partially automated steering system are better at easing the driving load when stuck in traffic or while on long highway journeys.
Interior Space
If you're considering either of these SUV "coupes," know that you'll be losing the boxier, more versatile cargo hold of an SUV. Really, what you're left with is a large trunk: 17.3 cu ft. with the GLC and an almost equal 17.7 cu ft. in the X4. They're literally equal with their back seats folded: maximum space is 49.4 cu ft. for both. However, that represents a much greater decline for the X4 compared to its traditional X3 sibling (63.3 cu ft. maximum) versus the GLC (56.5 cu ft. for the regular model).
Things aren't so equal in the back seat, however, as the Mercedes has a clear advantage. While both technically provide enough headroom for someone taller than 6 feet, the BMW only achieves this by lowering its back seat to an uncomfortable level. The GLC's back seat doesn't feel compromised, though it's certainly less airy than that of its regular-roofed sibling. As such, the GLC Coupe retains far more of its practicality.
Value
You should also know that you'll be paying considerably more for less vehicle. The X4 xDrive28i starts just north of $45,000, while the comparable X3 xDrive28i is around $41,000. Nearly the same disparity exists between GLC300 body styles, which do cost a few hundred dollars more than the X4. Both cars come standard with a handful of comfort and convenience features that are optional on the other, but the GLC's additional safety equipment more than erases its slight price premium over the BMW.
The GLC43 hadn't been priced at the time of this writing, but we expect it to command a similar price premium over the regular GLC43. As such, expect it to be in the same ballpark as the X4 M40i's price tag of around $59,000. Again, the two cars should be similarly priced, but the BMW comes standard with leather upholstery, whereas the GLC comes with an admittedly convincing blend of simulated suede (Dinamica) and leather (MBTex).
Autotrader's Advice
As you can see, these two models are remarkably similar on paper. However, our nod would go to the Mercedes. It has a less compromised interior, more standard safety features for the money and a driving experience that can be every bit as involving and pleasurable as the BMW's. We also think it looks a bit better — especially on the inside, where the GLC possesses class-leading design and quality.