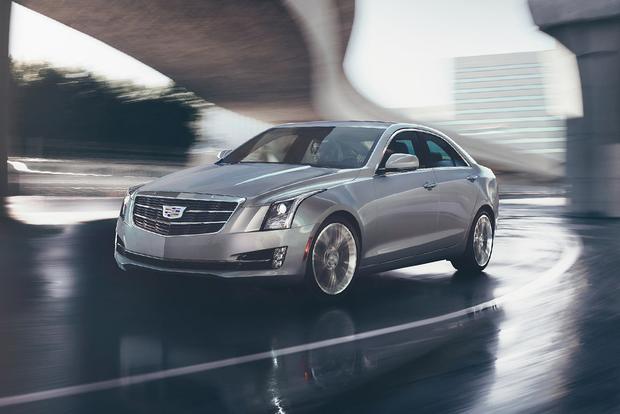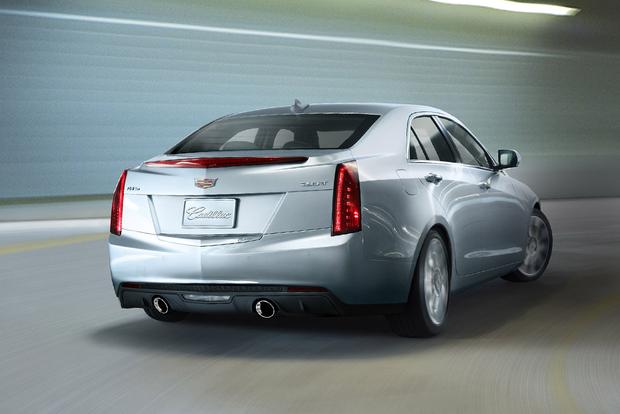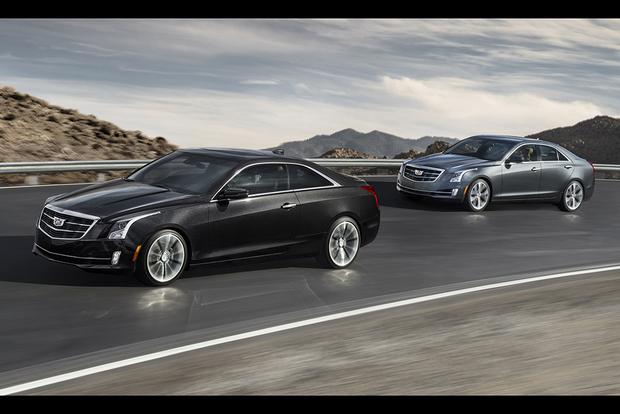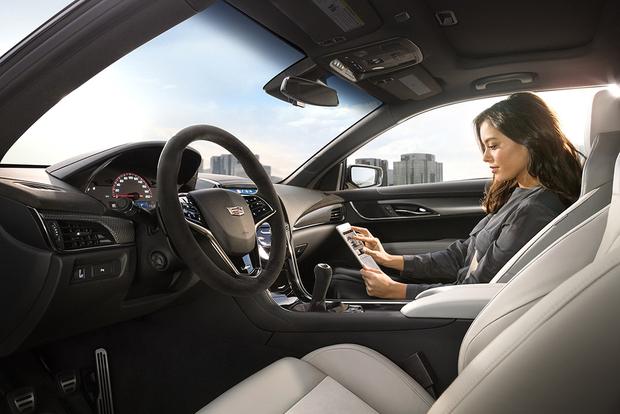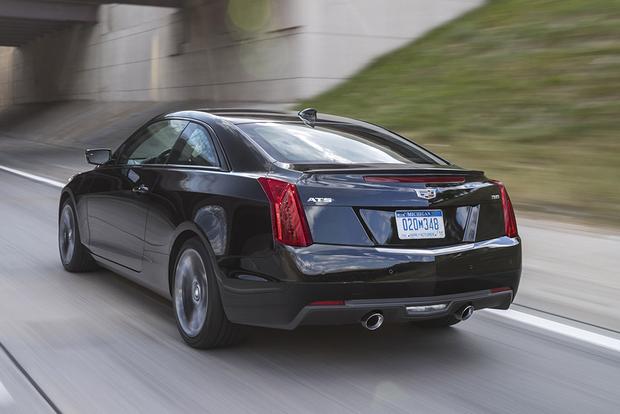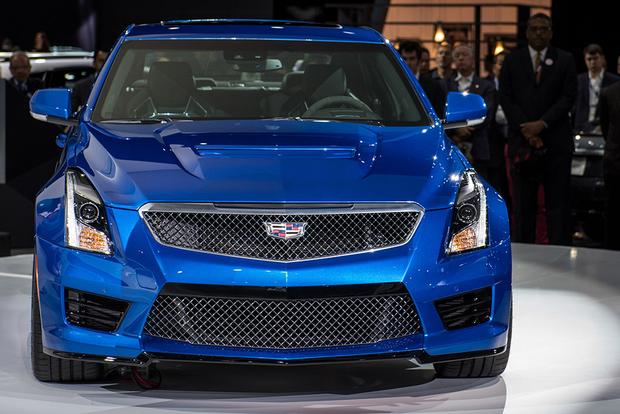 The name Cadillac may be associated with big-car luxury and comfort, but the 2017 Cadillac ATS most definitely defies that convention. It is a sport sedan first and foremost, a driver's car intended to outdo the most athletic sedans from Germany with a chassis tuned on that country's famous Nurburgring circuit -- the very place where the world's best high-performance cars are tested and fine-tuned. For those looking for a sport sedan to engage and occasionally thrill, the ATS should definitely be considered.
Admittedly, though, it does fall a bit short as a luxury car compared to its competition. It's quite small, for one, offering considerably less back-seat room than the BMW 3 Series or Audi A4. Its ride is also on the firm side, its turbocharged engine is unrefined and its interior quality falls short of the class best. However, it is available with an abundance of technology and all the premium extras one expects as price tags raise. The ATS Coupe also stands out with its tasteful, nicely proportioned styling, while the high-powered ATS-V boasts performance on par with that of the vaunted BMW M3. So the ATS probably won't be for everyone, but it'll definitely hit the sweet spot for many.
What's New for 2017?
For 2017, the base ATS sedan now comes standard with the 2.0-liter turbocharged engine, bringing an end to the undesirable old 2.5-liter 4-cylinder. The CUE tech interface is also now standard on every ATS, along with Apple CarPlay and Android Auto. Trim-level structure and content have also been altered.
What We Like
Genuinely sporty handling; signature Cadillac styling; improved CUE infotainment system
What We Don't
Limited rear legroom; tight trunk; unrefined turbocharged engine.
How Much?
$34,600-$63,700
Fuel Economy
The ATS now comes standard with a 2.0-liter turbocharged 4-cylinder (dubbed 2.0T) that produces 272 horsepower and 295 lb-ft of torque. The 2.0T is offered with rear- or all-wheel drive and with a manual or automatic transmission. With the automatic and rear-wheel drive, fuel economy is 22 miles per gallon in the city, 31 mpg on the highway and 25 mpg in combined driving. It returns essentially the same with all-wheel drive, but the manual knocks off 2 mpg combined.
Interestingly, opting for the 3.6-liter V6, which produces 333 hp and 285 lb-ft, doesn't come with a substantial fuel economy penalty, instead returning 20 mpg city/30 mpg hwy/24 mpg combined with rear-wheel drive and the automatic. Optional all-wheel drive lowers estimates to 19 mpg city/27 mpg hwy/22 mpg combined. A manual is not available with the V6.
Topping the ATS range is the high-performance ATS-V, which offers a twin-turbocharged version of that 3.6-liter V6 making 464 hp and 445 lb-ft of torque. While the ATS-V can only be had with rear-wheel drive, it's offered with a 6-speed manual or 8-speed automatic transmission. The manual returns 16 mpg city/23 mpg hwy/19 mpg combined, while the automatic reaches 17 mpg city/25 mpg hwy/20 mpg combined.
Standard Features & Options
The 2017 Cadillac ATS sedan and coupe are available in four trim levels: the base ATS, Luxury, Premium Luxury and Premium Performance. The high-performance ATS-V is effectively a fifth trim level.
Base-level ATS models ($34,600 sedan; $37,600 coupe) offer 17-inch wheels, a rearview camera, keyless start, dual-zone automatic climate control, 6-way power front seats, leatherette vinyl upholstery, OnStar with 4G LTE Wi-Fi, a 10-speaker Bose sound system, three USB ports, the Cadillac CUE electronic interface, Apple CarPlay and Android Auto.
Stepping up to the ATS Luxury ($38,400 sedan; $41,400 coupe) adds navigation functionality to CUE plus leather upholstery, heated 10-way power front seats with memory settings, a heated steering wheel and a split-folding back seat.
The Premium Luxury ($44,000 sedan; $47,000 coupe) gains the standard V6 engine, LED running/accent lights, a sunroof, automatic wipers, xenon headlights, sport seats and a suite of accident-avoidance tech (forward-collision warning, blind spot monitoring, lane-departure warning and rear cross-traffic warning systems).
The Premium Performance ($47,000 sedan; $49,500) adds 18-in wheels and tires, a magnetically controlled adaptive suspension, a limited-slip differential, a power-adjustable steering wheel and a head-up display. It is the only ATS, apart from the V, to not offer all-wheel drive as an option.
The ATS-V ($60,700 sedan; $62,900 coupe) is for the most part equipped like a base ATS, though it does offer an abundance of performance-enhancing elements, a standard magnetically controlled suspension, parking sensors, leather upholstery, heated power sport seats and power-adjustable wheels. Other optional equipment is available through option packages along with a variety of further performance-enhancing features. Indeed, most of the nonperformance content found in upper ATS trim levels is available on lower ones.
Safety
The 2017 Cadillac ATS comes with stability control, a rearview camera, 4-wheel anti-lock brakes with an available Brembo performance upgrade and eight standard airbags (front, front-side, front-knee and full-length side-curtain). Rear thorax airbags are optional.
Depending on trim, the ATS also offers a laundry list of electronic driving aids, including radar-based forward-collision alert, automatic braking in case of driver negligence, lane-departure alert, a blind spot monitoring system and rear cross-traffic alert.
In National Highway Traffic Safety Administration crash tests, the ATS sedan earned a perfect 5-star overall rating. Better yet, it also earned five stars in all three tests: frontal, side and rollover. The ATS has not yet been fully crash-tested by the nonprofit Insurance Institute for Highway Safety.
Behind the Wheel
From behind the wheel, there's just not a bad apple in this barrel now that the old naturally aspirated base engine has been put out to pasture. Every 2017 ATS was designed from the ground up to handle like a sports car. Steering response is crisp and direct, while body control is remarkably precise. The manual-transmission ATS 2.0T with its standard limited-slip differential is a real hoot, especially with the optional magnetically controlled adaptive suspension aboard. And although the V6-powered ATS is available only with an automatic, it nevertheless ups the driving fun further.
At the same time, ride quality is pretty good -- especially with those magnetic dampers -- but it's not as supple as what you'd get in rival luxury sedans. The ATS definitely skews toward the sporty side of the spectrum, which might not be to everyone's liking. The 2.0T engine is also a bit coarse and unrefined in feeling and sound, lacking the sophistication demonstrated by most competitors. Of course, unlike some of those competitors, you can get the ATS with a V6, which corrects that problem.
As for the ATS-V, we've only had the chance to take a short drive. But it feels -- and sounds -- absolutely ferocious, providing a clear alternative to high-performance rivals such as the Mercedes C63 AMG and BMW's M3 and M4.
Other Cars to Consider
2017 BMW 3 Series -- The 3 Series still has a leg up on Cadillac in the powertrain department, and it's also offered as a wagon, a coupe or a convertible (the latter two of which are known as the 4 Series). But we think the two go toe-to-toe in most major areas.
2017 Jaguar XE -- Like the ATS, the XE is a great choice for those who put "fun to drive" at the top of their priority list. With its terrific steering and suspension tuning, plus a thrilling supercharged V6, it's a great performance choice.
2017 Mercedes-Benz C-Class -- The C-Class is the benchmark for luxury in the segment, offering a beautifully made and amply equipped interior. Unlike some baby Benzes from the past, this one looks and drives like a real Mercedes.
Used Cadillac CTS -- If you like the ATS's looks, performance and interior but need more space, consider the larger CTS. Prices are higher, though, so you may have to consider a used model.
Autotrader's Advice
We think most ATS shoppers will be happiest with the turbocharged ATS. It's powerful, fuel-efficient and available in numerous configurations. Plus, it's cheaper than adding the V6. As for trim level, we actually think the base model is now well-enough equipped to meet the needs and wants of most buyers -- although the Luxury trim's added leather heated seats may make the step up worth it.