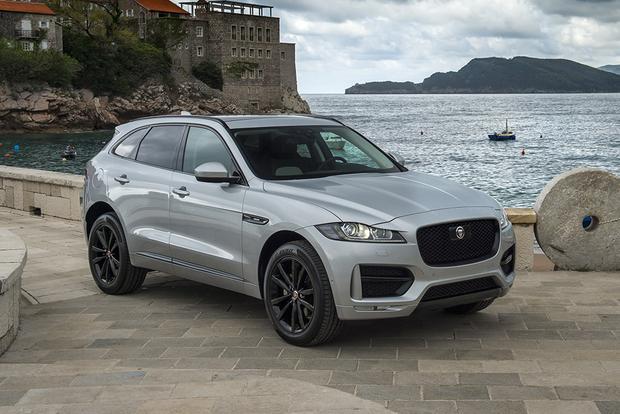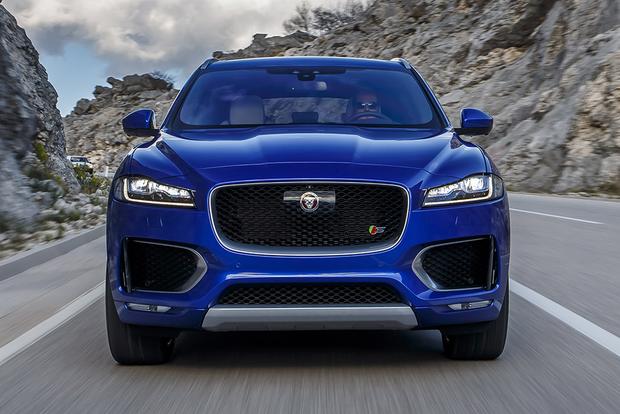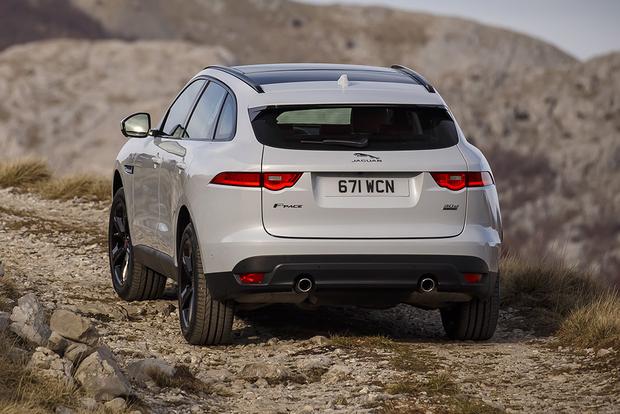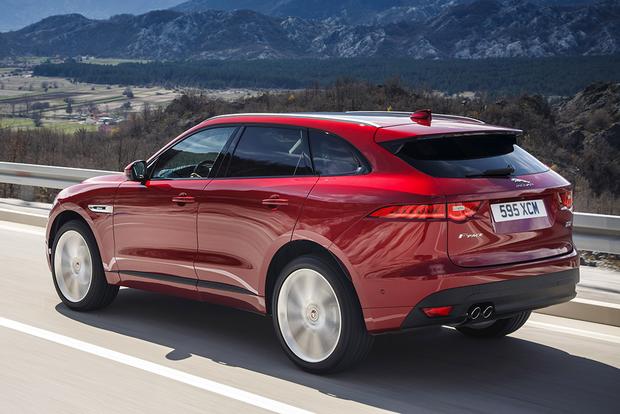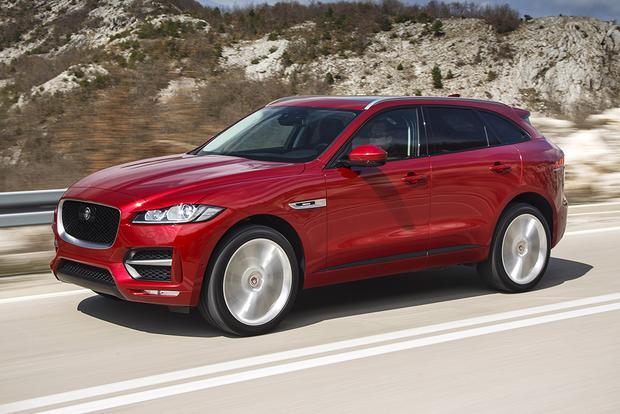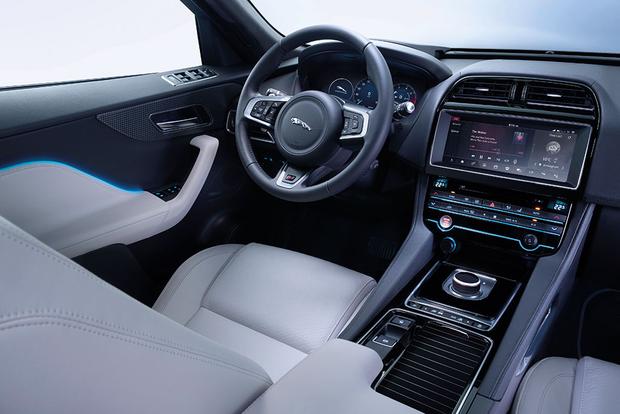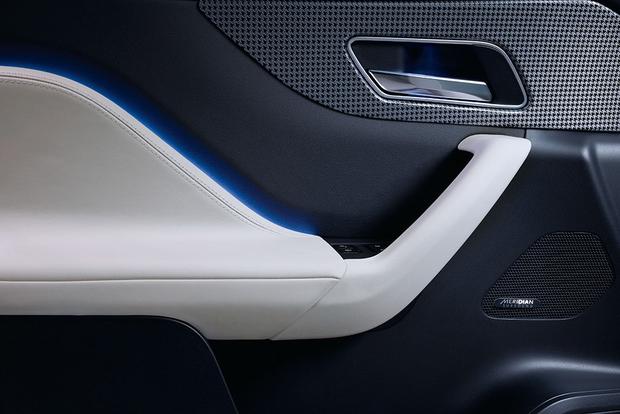 If you're looking for information on a newer Jaguar F-Pace, we've published an updated review: 2019 Jaguar F-Pace Review
The 2017 Jaguar F-Pace represents a departure for this famed British marque, but it's a road everyone seems to be going down -- the road to Crossover City. Even companies with great reputations for making sedans and sports cars are coming out with SUV crossovers, because that's what the customer wants.
That isn't a complaint. We can always appreciate a high driving position and the ability to lift toddlers into child seats easily because we don't have to bend down so much. If anything, the fact that more companies are making crossovers and delivering the qualities for which this class of vehicle is renowned heats up the competition, and the buyer is the real winner.
That's what has happened with the F-Pace, an all-new premium model. Jaguar has its own approaches to things like styling and handling. That fact is apparent just by looking at the F-Pace; you're reminded of it again when you get behind the wheel.
You'll have to decide for yourself whether it's a beauty or a beast, but the F-Pace has a recognizable Jaguar character to its styling. It also avoids the boxiness that afflicts the crossover genre while still delivering decent practicality. We'll go deeper into the driving aspect below, but here's one crucial piece of information: The F-Pace uses a lot of aluminum in its construction, including body panels and suspension parts. This use of lightweight metal keeps the center of gravity fairly low, which brings a benefit to the chassis.
The F-Pace is based on the same architecture as the XF midsize sedan, but Jaguar sees its new addition as a rival to compact crossovers like the Audi Q5 and the BMW X3.
What's New for 2017?
The F-Pace is completely new.See the 2017 Jaguar F-Pace models for sale near you
What We Like
Styling; supercharged V6 engines; excellent road manners; passenger and cargo space
What We Don't
Some cabin materials lack the typical Jaguar classiness; rearview camera not standard in the entry-level trim
How Much?
$41,985-$57,695
Fuel Economy
The base engine (in 20d versions) is a turbocharged 2.0-liter 4-cylinder diesel developing 180 horsepower and 317 lb-ft. The Environmental Protection Agency (EPA) doesn't have any consumption estimates yet; Jaguar anticipates the F-Pace's miles-per-gallon average will rate in the high 20s.
Higher up the pecking order (in 35t and S versions) is a supercharged 3.0-liter V6. The 35t model generates 340 hp and 332 lb-ft of torque. The S model has the same amount of torque, but power ouput is boosted to 380 hp. The EPA estimates 18 miles per gallon in the city, 23 mpg on the highway and 20 mpg combined for both versions.
Every F-Pace has an 8-speed automatic transmission, and all-wheel drive is standard.
Standard Features & Options
The 2017 Jaguar F-Pace comes in base, Premium, Prestige, R-Sport and S trim levels. The S is the only version to have the more powerful V6; the others can come with the diesel or the 340-hp V6.
The base F-Pace 20d ($41,985) has the diesel engine. However, to call this version "basic" is to do it a disservice. A power lift gate is standard, along with 18-inch alloy wheels, a panoramic sunroof, keyless ignition and entry, dual-zone climate control, a leather-wrapped steering wheel, 8-way power-adjustable front seats, faux-leather upholstery, rain-sensing wipers, LED running lights, a self-dimming rearview mirror, Bluetooth, a 380-watt/11-speaker audio system, USB, HD Radio and an auxiliary audio input.
Premium ($45,195) comes with 19-in alloy wheels, memory settings for the driver's seat, a rearview camera and self-dimming, power-folding side mirrors.
Prestige ($49,695) adds real leather upholstery and heated/ventilated front seats with 4-way power adjustable lumbar, heated rear outboard seats, a heated windshield, a heated and power adjustable steering wheel and front and rear parking sensors.
R-Sport ($54,895) rolls on 20-in alloys and incorporates a blind spot monitoring system, lane-keep assistance, forward-collision mitigation with automatic braking, sportier front seats, fog lamps and headlights with automatic high beams.
S ($57,695) brings the more powerful V6 into the engine bay and adds an adaptive suspension.
When specifying the 340-hp V6 35t, the base model starts at $43,385, with trims the same as the 20d.
As is usually the case, much of the standard equipment in the higher trims is available at extra cost in the less-expensive variants. Many safety features are only obtainable with the top trims, however. Other options include 22-in wheels (which will have a negative effect on ride comfort), quad-zone automatic climate control, navigation, a 10.2-in touchscreen, a 825-watt/17-speaker surround-sound system, a Wi-Fi hot spot, a power recline function for the rear seats, a perpendicular/parallel self-parking function and a heads-up display that is laser-based rather than LED, so drivers can wear polarized sunglasses and still be able to read it. Prestige, R-Sport and S trims also offer a TFT/LCD instrument display.
The most newsworthy option, though, is the Activity Key. It's worn on the wrist and looks like a fitness gadget. It's also waterproof and shockproof, so you can wear it while surfing, rock climbing, etc. This piece of tech, which conveniently doesn't need a battery, lets you leave the usual key in the vehicle -- you lock the vehicle by placing the Activity Key on to the J of the Jaguar badge on the tailgate.
Cargo space with the rear seats in place is 33.5 cu ft., increasing to 63.5 cu ft. when they're folded down to create a flat trunk floor. Both of those figures have an edge over the Q5 and X3. The mat in the F-Pace is carpeted on one side and a washable rubberized surface on the other. Maximum towing capacity is 5,290 pounds.
Safety
The F-Pace has not yet been crash-tested by the National Highway Traffic Safety Administration or the Insurance Institute for Highway Safety.
It's something of a shame that a rearview camera is optional for the entry-level model, but the F-Pace does include full-length side-curtain airbags in its array of standard safety features. The more advanced stuff, such as adaptive cruise control and road-sign recognition, is optional in the higher trims.
Behind the Wheel
Space for people in both the front and the rear is excellent. In a subtle stroke of clever design, the F-Pace is slightly wider than the XF sedan on which it's based. The payoff is generous shoulder and hip room and a really stable road stance.
We mentioned earlier that the F-Pace has some typical Jaguar traits. One of them is a chassis that is composed and poised but not in the least bit jiggly or harsh. The lowish center of gravity certainly helps, even despite an elevated driving position and a relatively generous ground clearance of 8.4 inches. That figure is good to know should you want to take your F-Pace crossover for some mild off-roading. Jaguar's sister company, Land Rover, has also contributed a little expertise in the form of All-Surface Progress Control, which is like a slow-motion cruise control for when things get tricky underfoot.
Handling is further enhanced by Jaguar's Torque Vectoring by Braking system, which will subtly apply the brakes to one or some wheels to maintain the desired line through a corner. This is a crossover with the talents of a sport sedan. Should Jaguar ever want to create a bona fide high-performance version, it has an excellent base on which to build.
Other Cars to Consider
2017 Audi Q5 -- The Q5 is pleasant and appropriately premium, but it's not the newest crossover on the block.
2017 BMW X3 -- The X3 is superb to drive, well-packaged and extremely practical, if a little pricey.
2017 Lexus NX -- This luxury crossover has great build quality, but it's not that inspiring to drive.
2017 Mercedes-Benz GLC-Class -- The new generation is based on the excellent C-Class sedan platform. It's classy, slightly understated and well-equipped for the price.
Used Porsche Macan -- Jaguar benchmarked the F-Pace against the Macan when tuning its suspension. When new, the Porsche is more expensive, but a recent certified pre-owned version is absolutely worth checking out.
Autotrader's Advice
Go for the supercharged V6. It suits the F-Pace's character far better than the diesel version. And although 380 hp is fun, 340 hp is good enough for most of us. The Prestige trim is sufficiently well-equipped and priced competitively when rivals are specced to a similar level. Find a Jaguar F-PACE for sale