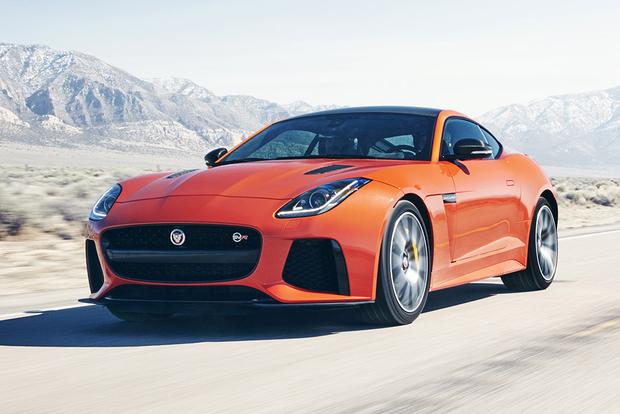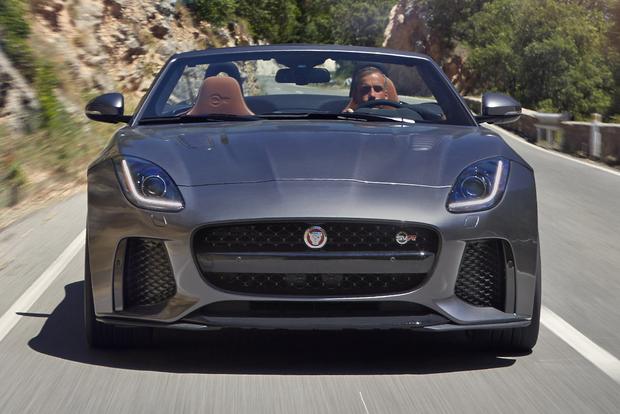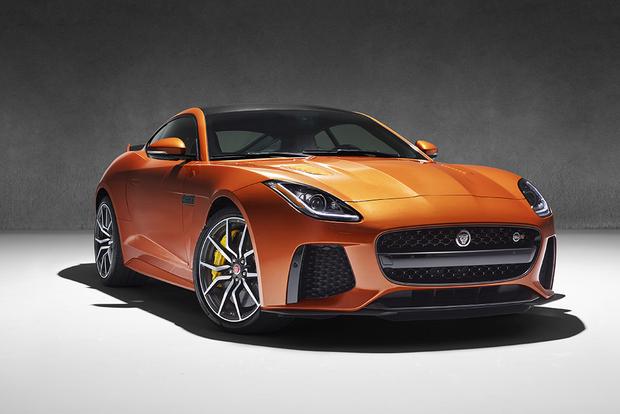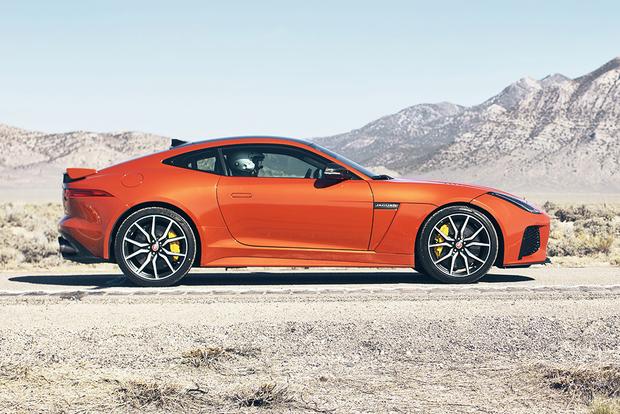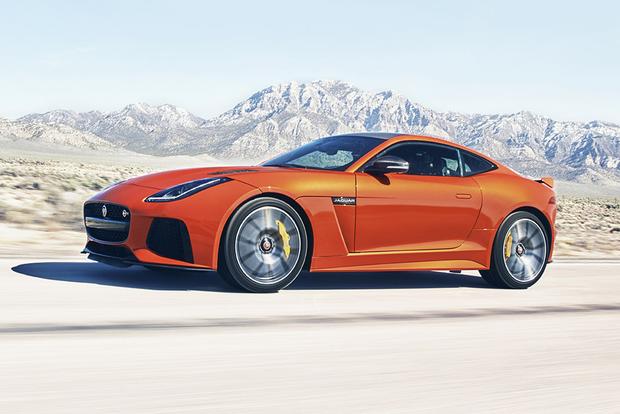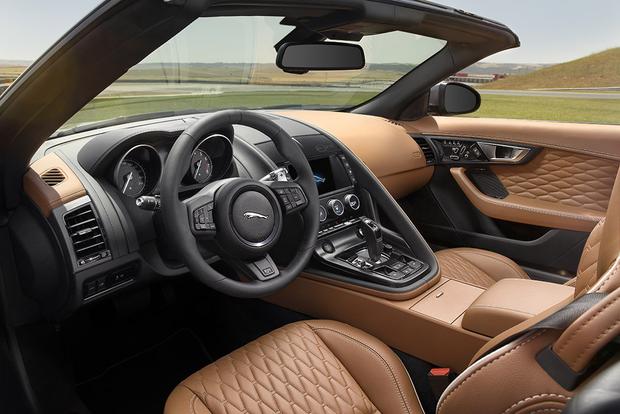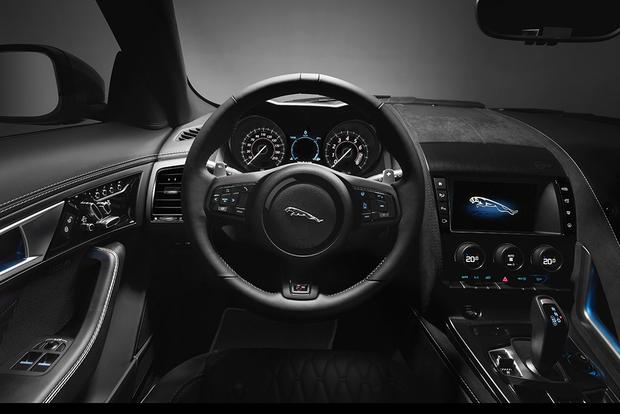 Drive the 2017 Jaguar F-TYPE luxury 2-seater sports car and it's easy to discern how accomplished it is. But think about this vehicle for a few moments longer and its deeper talents emerge.
The design challenge of being an up-to-date machine while still being recognizably a Jaguar has been addressed and won. The suspension tuning was probably just as demanding: It must exhibit the supple comfort of a Jaguar while also being poised and precise. Job done. The acceleration should be wild, the exhausts should trumpet. But there must also be an element of civilization. Target achieved. This kind of car is a "heart" purchase, yet it needs to appeal to the "head" as well. There should be some visceral old-school thrills, but also some fresh technology -- especially in the safety department. Missions accomplished.
The F-TYPE performs all sorts of balancing acts. Despite such conflicting demands, there doesn't seem to be any area where there's any detrimental compromise. And there's still some interesting Jaguar heritage that almost seems to hover in the background. Some people might complain about cabin size or trunk size, but who cares? This is a sports car, not a Camry.
Okay, one gripe. Apart from the start button (which pulsates red), the dashboard holds a little less visual interest than the rest of the car. But overall, the F-TYPE richly deserves to be placed among the best of its kind.
What's New for 2017?
The range is stretched a bit, with the base model becoming less expensive and a new top model arriving: the SVR.
What We Like
Strong acceleration in any model; epic supercharged V8; highly capable handling; luxurious interior; a real head-turner
What We Don't
New manual transmission a nice idea, but not always great in the real world
How Much?
$62,395-$126,945
Fuel Economy
Entry-level F-TYPE models have a supercharged 3.0-liter V6 rated at 340 horsepower and 332 lb-ft of torque. According to the Environmental Protection Agency (EPA), this engine returns 20 miles per gallon in the city, 28 mpg on the highway and 23 mpg in combined driving. That's with the 8-speed automatic transmission and rear-wheel drive. With the 6-speed manual, it's 16 mpg city/24 mpg hwy/19 mpg combined.
The S models get a boosted version of the same V6 for 380 hp and 339 lb-ft. Fuel economy drops slightly, to 19 mpg city/27 mpg hwy/22 mpg combined (rear-wheel drive/automatic transmission). All-wheel drive pushes that to 18 mpg city/26 mpg hwy/21 mpg combined; the rear-drive/manual transmission combination returns 15 mpg city/24 mpg hwy/18 mpg combined.
The all-wheel-drive-only F-TYPE R has a supercharged 5.0-liter V8 developing a mighty 550 hp and 502 lb-ft of torque. Fuel economy is 15 mpg city/23 mpg hwy/18 mpg combined.
The F-TYPE SVR is even mightier, with that same V8 tuned to generate 575 hp and 516 lb-ft of torque. It achieves the same gas consumption as the R.
All fuel figures apply to both coupe and convertible versions.
Standard Features & Options
The 2017 Jaguar F-TYPE is available as either a 2-seat convertible with a power-retractable fabric top or a 2-seat coupe with a glass roof. Both versions come in base, Premium, S, R and SVR trim levels.
The base F-TYPE ($62,395) starts with 18-inch alloy wheels, bi-xenon headlights, LED accent lights, an automatic power rear spoiler, steering-wheel-mounted paddle shifters, a sport exhaust with center-mounted dual tailpipes, rain-sensing wipers, leather/suede-effect fabric upholstery, 6-way adjustable seats, a power-adjustable steering wheel (tilt-telescopic), a self-dimming rearview mirror, an engine start button, an 8-in touchscreen infotainment system, navigation, a USB slot, HD Radio, satellite radio and a 12-speaker/770-watt Meridian audio system.
The Premium ($67,795) coupes come with a panoramic sunroof. Both body styles gain adaptive headlights, keyless entry, 14-way seats with driver's-side memory, and power-folding mirrors.
The R ($106,395) gets the supercharged V8, 20-in wheels, a sport exhaust with quad tailpipes (and a button to open up the sound), upgraded brakes, an electronic torque-vectoring limited-slip differential, dual-zone automatic climate control, leather upholstery, heated sport seats, and rear parking sensors. The coupe has a power tailgate.
The new SVR trim ($126,945) has the boost in power, plus a titanium exhaust system, a deployable rear spoiler, front parking sensors, blind spot monitoring with rear cross-traffic alert, a rearview camera, quilted stitching on the leather-covered seats, and a faux suede headliner.
Options include a heated windshield, a carbon-fiber roof for the coupe and a pricey but strong carbon ceramic braking system in the sportier trims. Equipping the model with active safety features like blind spot monitoring with rear cross-traffic alert and a rearview camera means going for the optional Vision pack.
The convertible's top takes 12 seconds to go up or down, and it can operate at speeds of up to 30 mph.
Trunk space is at a premium in the convertible, measuring just 7 cu ft. The coupe is only marginally more accommodating, at 11 cu ft. Oh well -- who wants to play golf when you can drive this?
Safety
The F-TYPE comes with standard stability control, 4-wheel anti-lock disc brakes, rollover hoops behind the headrests (for the convertible) and four airbags (front and side).
The F-TYPE hasn't been crash-tested by the National Highway Traffic Safety Administration (NHTSA) or the Insurance Institute for Highway Safety (IIHS).
Behind the Wheel
The dashboard and controls seem relatively plain, but the quality of the materials is good. And everything seems to be well put together. It might be an idea to opt for the cool-looking sport seats. The optional extended leather trim also adds character, especially when an adventurous color is chosen.
Acceleration is strong in any version. That said, it's hard to imagine anyone forgoing the supercharged V8 for any reason other than a financial one. This is one of the best engines in any car, delivering tremendous power with a stirring soundtrack. Flooring the V8's throttle at around 60 mph is a peak experience. The V6-powered versions are perfectly capable and have the slight advantage of less weight up front, but the F-TYPE feels incomplete without that V8.
On winding roads, the F-TYPE is less involving than Porsche's best (but Porsche's best is the absolute best). It is, however, unquestionably a world-class sports machine with stunning ability, and high-speed stability is superb. In normal circumstances, the all-wheel-drive system favors the rear wheels to preserve a sporty feel. On a twisting road, slippery surfaces or a race track, the system can send 50 percent of torque to the front wheels for optimum grip and traction. Jaguar says torque vectoring results in the perfect line when entering a corner and all-wheel drive provides the perfect line when accelerating out.
As hydraulic power-steering systems are being replaced by electric versions (and there are several good reasons why -- fuel economy being one of them), old-school types bemoan the lack of feel coming up to the hands. In many cases, you might as well be twirling a video-game controller for all the apparent connection there is to the front wheels and the road. But the F-TYPE's system does not suffer from numbness. This is how good it is: You don't even think about it. You're too busy enjoying the drive.
An offered manual transmission is unusual for a Jaguar but not unusual for a sports car. It's fun to a point, yet the automatic has paddle shifters for driver involvement and has the added advantage of being easier to deal with in heavy traffic. Don't beat yourself up if you go for the automatic transmission -- you're just being modern.
Other Cars to Consider
2017 Chevrolet Corvette Stingray -- The Corvette is comparable in many respects to the V8-powered F-TYPE models and costs much less.
2017 Porsche 718 Boxster -- Updated for 2017. For pure driving enjoyment, it doesn't get much better than this. However, there's no engine in the Boxster's portfolio to match the F-TYPE's V8.
2017 Porsche 911 -- The larger 911 competes closely with V8-engined F-TYPE models in both price and performance.
Used Aston Martin V8 Vantage -- Sensational looks. It's an entry-level model but still feels incredibly special.
Autotrader's Advice
If the V6 is sufficiently powerful, then at least get the extra safety equipment. And it's probably worth going for the automatic transmission instead of the manual. It will make life easier and no doubt help with resale values down the line.