Editor's note: You may want to read more of Autotrader's model vs. model comparison car reviews as well as the 2017 Jaguar XE review and the 2017 Audi A4 review.
We've already compared the 2017 Jaguar XE to the BMW 3 Series and Mercedes-Benz C-Class, so now it's time to see how it fairs against the remaining German entry-level luxury sedan: the 2017 Audi A4. Both the Jag XE and Audi A4 are new cars for 2017, having been designed from the ground up and completely overhauled, respectively. Let's take a look to see which might be a better choice for you.
2017 Jaguar XE
The 2017 XE is an all-new entry-level luxury sedan, though it does share componentry with the bigger XF sedan and F-PACE SUV.
2017 Audi A4
It may be hard to tell by looking at it, but the 2017 Audi A4 was completely redesigned for 2017. Styling is subtly more chiseled on the outside, but more notable is the interior, which is far more modern in terms of both design and tech features. It's also more spacious. Finally, a new engine stands out for being available in two guises: one for maximum fuel economy and another that trades some efficiency for compelling performance.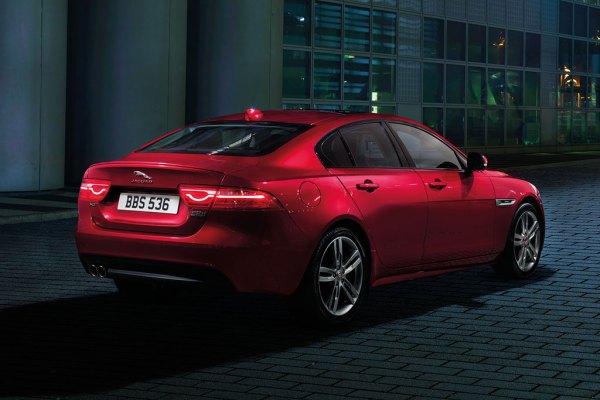 Reliability
Reliability data for the just-released XE is nonexistent, while overall Jaguar data is rather thin due to its relatively low past sales. Owner satisfaction scores have been quite high for Jaguar, however, and the brand's 5-year warranty is best-in-class.
Similarly, the 2017 A4 is too new to have reliability data, but there's a wealth of information about past model years. More recent model years of its predecessor have been fairly trouble free, but older model years have been plagued with problems — often expensive ones. That's in keeping with Audi's reputation for poor reliability later in a car's lifespan. In other words, if you're leasing, there doesn't seem to be much to worry about. Extended ownership? You may want to consider something beyond these cars to be on the safe side.
Fuel Economy
Once upon a time, Audi was the luxury brand to turn to for superior diesel-fueled fuel economy. Parent company Volkswagen's malfeasance made that impossible in the new A4, so Jaguar's legitimately clean 2.0-liter turbodiesel engine takes the crown here. The Environmental Protection Agency says the XE 20d will return 32 miles per gallon in the city, 42 mpg on the highway and 36 mpg in combined driving, which is fantastic, especially given the engine's ample torque and the XE's dynamic driving experience.
Now, if you're only considering gasoline engines, Audi has a substantial advantage regardless of which of its two 2.0-liter turbocharged 4-cylinder engines you choose. The A4 Ultra returns 27 mpg city/37 mpg hwy/31 mpg combined, while the more powerful all-wheel-drive A4 quattro returns 24 mpg city/31 mpg hwy/27 mpg combined (front-wheel drive raises those figures slightly). The Jag XE 25t can manage only 21 mpg city/30 mpg hwy/24 mpg combined, which, according to the EPA, means you'll spend between $150 and $350 more per year on fuel compared to an A4.
Interestingly, though, the V6-powered Jaguar XE 35t actually gets the exact same EPA estimates as the 25t. We also expect it to be more efficient than the future higher-performance Audi S4. That means that should you be interested in either max fuel economy or max power, the Jaguar is actually the better call.
Performance
Every 2017 A4 comes with a 2.0-liter turbocharged 4-cylinder engine, but there are two different power outputs available. The A4 Ultra, which is only available with front-wheel drive, produces 190 horsepower and 236 lb-ft of torque. That's a very modest output for a luxury sedan, and you should expect it to be one of the slowest cars in the class. We wouldn't be surprised if the diesel-powered Jaguar XE 20d is quicker (180 hp, 318 lb-ft).
The non-Ultra A4 produces a far more potent 252 hp and 273 lb-ft of torque. It too comes with front-wheel drive, but opting for quattro all-wheel drive not only improves foul-weather traction, but acceleration as well. Its acceleration from zero to 60 miles per hour isn't that far off from that of the far more powerful XE 35t. Of course, the 35t's 340 hp and 332 lb-ft of torque will make it feel considerably stronger. It's a superb, smooth engine that makes exciting noises and is very much reminiscent of pricier, V8-powered Jags.
That leaves the XE 25t's turbo 4-cylinder, which produces 241 hp and 251 lb-ft. That's just not that compelling in this segment, and its acceleration is comparatively unremarkable.
Safety
Aside from the typical array of front and side airbags shared with both cars, the 2017 A4 stands out with a standard forward-collision warning and automatic-braking system. Those are optional on the XE, but not every trim level can be equipped with them. Blind spot monitoring, rear cross-traffic alert and lane-departure warning systems are optional on both, while the XE's bundle of safety tech includes a driver-inattention warning system. The A4 counters with rear side airbags as a standalone option.
Neither car has been crash tested by a third party.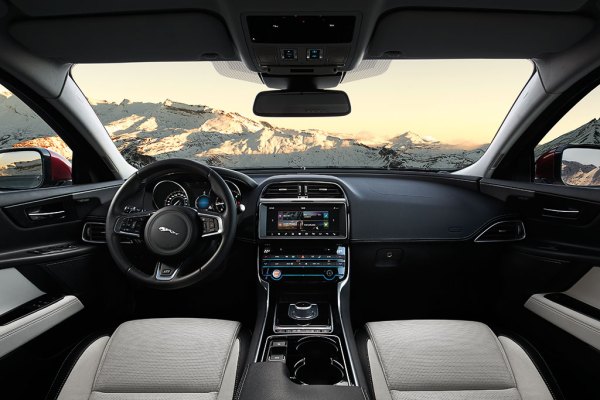 Interior Space and Quality
The Audi A4 wins this by a lot. It has a legitimately spacious interior in which four full-sized adults can fit comfortably, whereas the XE's back seat is cramped. Virtually no one aside from a child in a booster seat could fit behind a tall driver. The A4 feels like a midsize sedan; the XE a compact one.
Quality is radically different as well. The A4 has one of the nicest cabins available at any price, with lovely, interesting materials and a handsome design that manages to be equal parts luxurious and German cool. The Jaguar is a bit blah to look at (a real let-down given the cabins of the gorgeous Jaguar XJ and previous-generation XF), and we were very disappointed with the quality of materials and construction in the XE test vehicle. The dash and doors looked and felt like they belonged in a nonluxury midsize sedan, while there were several squeaks and rattles.
In terms of cargo space, the Jaguar has a bigger trunk on paper, but in practice we found it a bit narrow and not that much more useful than the A4's.
Technology
The XE offers a choice of touchscreens. The optional InControl Touch Pro is the one to get, as it has an especially wide 10.2-inch touchscreen, quick processing and the ability to pinch and swipe as you would on a smartphone. Its audio controls are a bit convoluted, but in total, it works better than the comparatively antiquated standard 8-in InControl Touch system.
The Audi A4's MMI interface comes standard with a button-and-knob control setup on the center console and a dash-top screen. It may be harder to figure out than the Jag's, but once you do, you may like it better. It can also be enhanced with Audi's new Virtual Cockpit, which replaces the gauges with a display screen that brings vital information closer to your line of sight. So the Audi may be harder to figure out, but it's ultimately more sophisticated.
It's also available with more tech toys. Every A4 comes with Apple CarPlay, Android Auto, and two USB and SD card ports, while the Virtual Cockpit and Google Earth navigation displays are optional. The XE has the USBs but can't match any of the others. Audi's available adaptive cruise control is also more sophisticated than the XE's, as it features steering assist that allows for part-autonomous driving when on the highway or in stop-and-go traffic.
Driving Experience
Score one for the Jaguar here, which is arguably the most rewarding sport sedan in the segment. This is especially true when equipped with the 35t engine and the highly recommended adaptive suspension. Quite simply, the XE provides a best-of-both-worlds scenario of superb handling and a comfortable ride, along with exceptional steering. The A4, by contrast, is quite capable of going quickly on a back road, but it doesn't really communicate with or involve the driver in a way that engages or entertains.
Value
Really, it comes down to those engines again. When it comes to getting the best fuel economy or performance for your money, the Jaguar XE should definitely be considered. You can get into the 340-hp 35t model for $41,700, which is only about $2,000 more than a comparably equipped A4 quattro. That's a great deal for a big engine. Similarly, the XE 20d is less than $2,000 more than a basic A4 Ultra.
Otherwise, the A4 Ultra and XE 25t have literally the same base price, and despite the many advantages of the A4 noted above, the two cars remain similarly priced as equipment is added.
Autotrader's Advice
If you're looking for a true driver's car, the Jaguar XE 35t is the one to get, but we'd recommend paying extra for the R-Sport model to get its improved interior quality. The 20d diesel model is also quite compelling. Otherwise, the 2017 Audi A4 is the all-around better car.