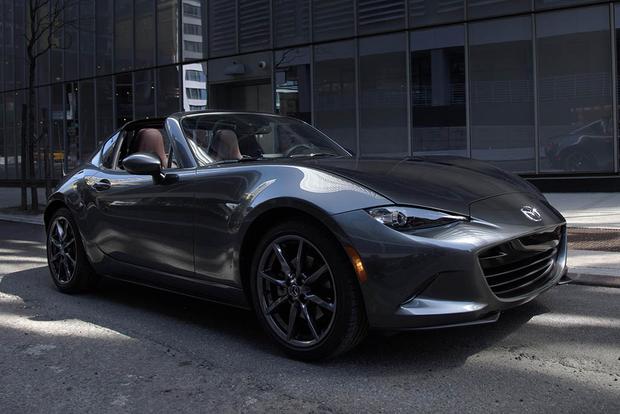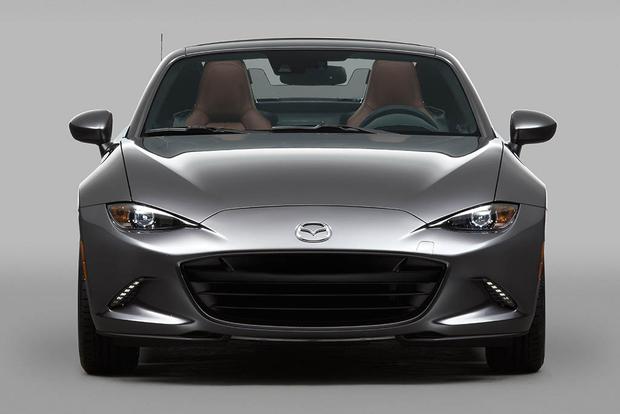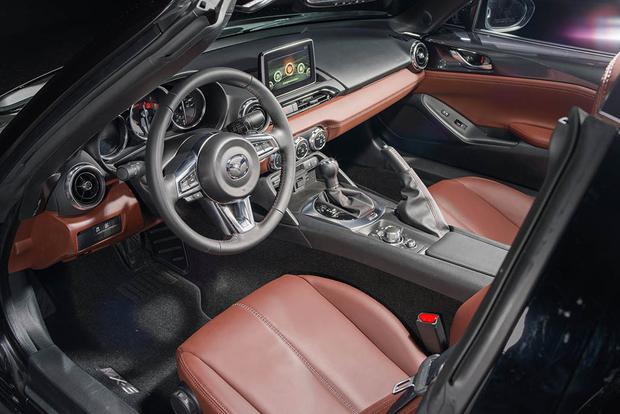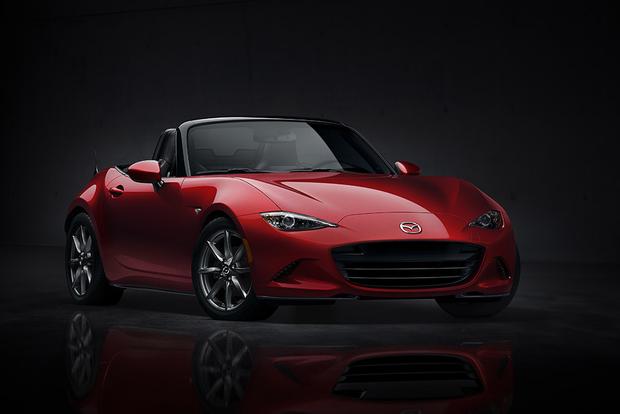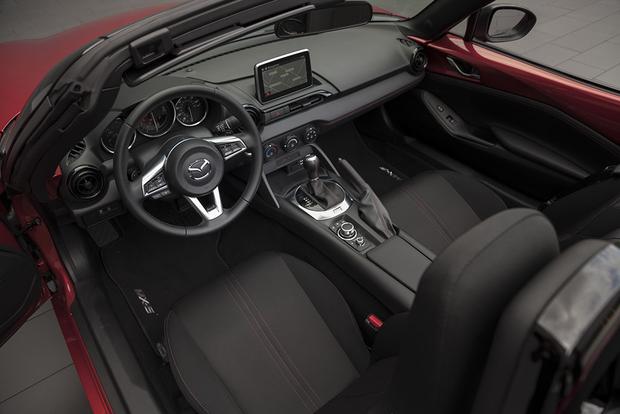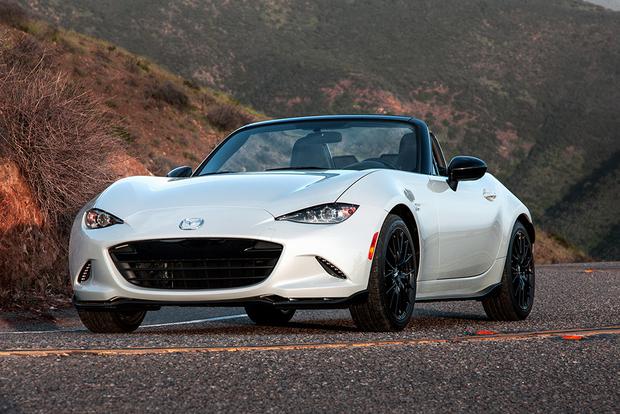 If you're looking for information on a newer Mazda MX-5 Miata, we've published an updated review: 2019 Mazda MX-5 Miata Review
Last year's complete redesign breathed new life into Mazda's mini roadster, and now the 2017 Mazda MX-5 Miata gets even better. Debuting this year is the MX-5 Miata RF, featuring a retractable hardtop that disappears into the trunk in just 13 seconds. Both models feature near-perfect 50/50 weight distribution, modest power flowing through a superb manual transmission, and go-kart-like handling. Being a 2-seat, open-air roadster, the MX-5 isn't big on frills, but it does provide a comfortable cockpit (provided you're no taller than 6 feet), head-turning styling and a price tag that no other car in the class can match.
What hasn't changed from the original design is the easy-to-open convertible top, the tiny trunk and the rather low seating position. But for the money, you'll be hard-pressed to find a better machine to soak up the sun and enjoy the long way home than the 2017 MX-5 Miata.
What's New for 2017?
A new RF retractable-hardtop model joins the MX-5 Miata soft-top. The RF will include a special Launch Edition limited to 1,000 units. All MX-5 Club trims gain blind spot monitoring and rear cross-traffic alert. See the 2017 Mazda MX-5 Miata models for sale near you
What We Like
Stunning design; one-handed top operation; precise manual gearbox; excellent handling; modern interior; good on gas
What We Don't
Snug seats; still not comfortable for anyone over 6 feet tall; tiny trunk; dash-mounted screen washes out in sunlight; awkwardly shaped passenger footwell
How Much?
$25,750-$35,760
Fuel Economy
Mazda equips the MX-5 with a 2.0-liter 4-cylinder engine good for 155 horsepower and 148 lb-ft of torque. This might not seem like much power, but in a car that only weighs 2,381 pounds, it's more than sufficient.
Environmental Protection Agency fuel economy estimates for the 6-speed manual are 26 miles per gallon in the city and 33 mpg on the highway, while the 6-speed automatic with manual paddle-shift controls comes in at 26 mpg city/35 mpg hwy.
Standard Features & Options
The 2017 MX-5 Miata comes in three distinct trims: Sport, Club and Grand Touring, the latter two trims also available with a retractable hardtop. All come standard with a 6-speed manual but offer a 6-speed automatic with manual shift control as an option.
The MX-5 Sport ($25,750) brings 16-inch alloy wheels, a sport-tuned exhaust, front and rear stabilizer bars, dual power mirrors, a manual soft-top with a glass rear window and defroster, power windows/mirrors/door locks, remote keyless entry, an AM/FM/CD stereo with six speakers and a USB port, Bluetooth, cruise control, a tilt wheel, a leather shift knob and parking-brake boot, and a trip computer.
The MX-5 Club ($29,635, soft-top; $32,390, hardtop) with the manual transmission adds Bilstein shocks, a limited-slip differential, shock-tower bracing and an induction sound enhancer. Opting for the automatic transmission deletes the above-listed equipment. Common standard equipment regardless of transmission includes 17-in dark gunmetal alloy wheels, a front air dam, a rear-lip spoiler, Bose 9-speaker audio, blind spot monitoring, rear cross-traffic alert, the Mazda Connect infotainment system, a 7-in color touchscreen, a console-mounted multifunction controller, satellite radio and HD Radio, and upgraded interior seating with red stitching.
Optional on the Club is the Brembo/BBS package, which adds Brembo front brakes with red calipers, 17-in BBS wheels, an aero kit and advanced keyless entry.
The MX-5 Grand Touring ($30,900, soft-top; $33,455, hardtop) deletes most of the Club's performance upgrades and adds auto-on/off headlights, an auto-dimming driver's-side mirror, heated side mirrors, rain-sensing wipers, leather seating, automatic climate control, navigation, heated front seats, adaptive front headlights with auto high-beam control and unique alloy wheels. Standard safety equipment includes a blind spot monitoring system, rear cross-traffic alert and lane-departure warning.
Models equipped with the automatic transmission also come with Mazda's advanced keyless entry and starting, which is optional on manual models.
There are no other factory options for the MX-5, but numerous dealer add-ons are available to choose from.
Safety
The MX-5 comes standard with 4-wheel anti-lock disc brakes, electronic traction and stability control, and a tire-pressure monitor, plus front and side-impact airbags.
To date, neither the government nor the independent Insurance Institute for Highway Safety has crash-tested the 2017 MX-5 Miata.
Behind the Wheel
The 2017 Mazda MX-5 Miata sits low, has a snug interior and doesn't require a whole lot of power to deliver a whole lot of fun. Under the hood, there's a 2.0-liter 16-valve 4-cylinder engine with variable valve timing that's tuned to produce 155 hp and 148 lb-ft of torque. In a new-car market that's mad about hp, those numbers don't seem all that impressive. However, in the manual version, which weighs 2,332 pounds, or the automatic version (2,381 pounds), 155 hp feels just right. The MX-5 accelerates briskly and always seems to have power on tap when you need it. The 6-speed manual transmission and buttery clutch deliver precise, quick shifting. The available 6-speed automatic transmission comes with paddle shifters, and the top-two cogs are overdriven.
The real strength of the MX-5 isn't its engine or transmission -- it's the setup. Much of the weight of the MX-5's engine is behind the front axles, with the goal of centralizing weight, which results in better balance. With mass and weight distributed equally from front to rear and from side to side, handling becomes much more precise and predictable. The MX-5 is very easy and fun to drive at any pace.
Although we understand everyone is moving to large, fixed touchscreen infotainment displays, we have mixed emotions regarding the infotainment setup in the MX-5. The screen is large and bright but sometimes gets washed out by the sun, and the touchscreen function only works when the car is still. Once in motion, you have to use the awkwardly placed controller to toggle through screens. We also noticed that when in navigation mode there's no sidebar to show what's happening with the audio, meaning you have to toggle back and forth through screens to make song or station changes.
Other Cars to Consider
2017 Fiat 500 Abarth Convertible -- The 500 Abarth offers a retractable soft roof panel in place of a folding top, a usable rear seat and a bit more power.
2017 MINI Cooper Convertible -- The MINI Convertible also has a rear seat, two optional turbocharged engine options, and more technology and safety features. The MINI's cloth top can also be partially opened to act like a targa roof.
2017 Nissan 370Z Roadster -- This 2-seat sports car is larger and heavier than the MX-5, but it also has nearly twice the horsepower. However, the 370Z costs more than an MX-5 (by as much as $20,000, depending on the model).
Used Porsche Boxster -- A 2012-2015 Porsche Boxster offers more power and better performance pedigree, plus a more comfortable (and quiet) cockpit.
Autotrader's Advice
If you're just looking for a fun, sporty convertible, the base Sport trim is really all the car you'll need. As all three trims use the same engine/transmission, performance enhancements only come in the form of improved handling and braking with the Club trim's Brembo package. Audio fanatics should note that the MX-5's audio setup is not easy to upgrade with an aftermarket system, so if you want great sound, you'll have to opt for the Bose system in either the Club or Grand Touring. Find a Mazda MX-5 Miata for sale