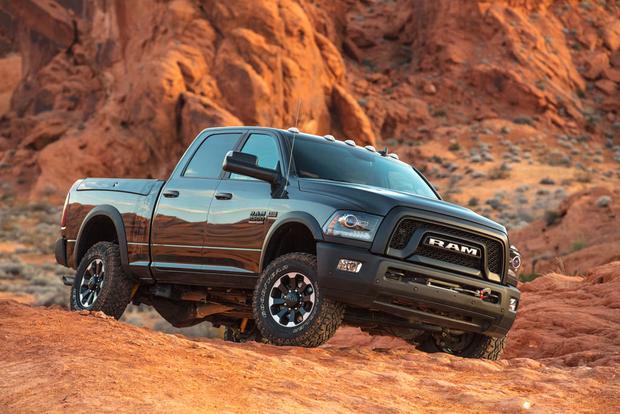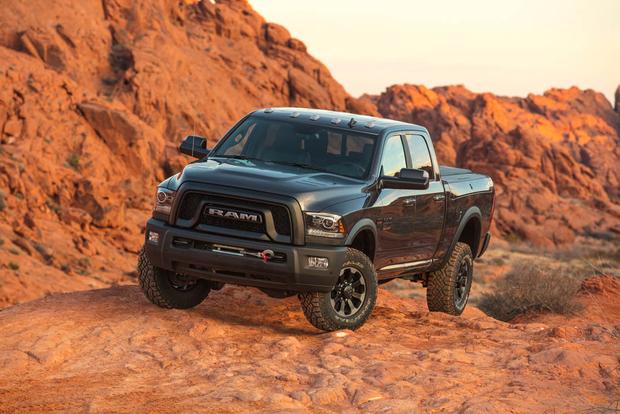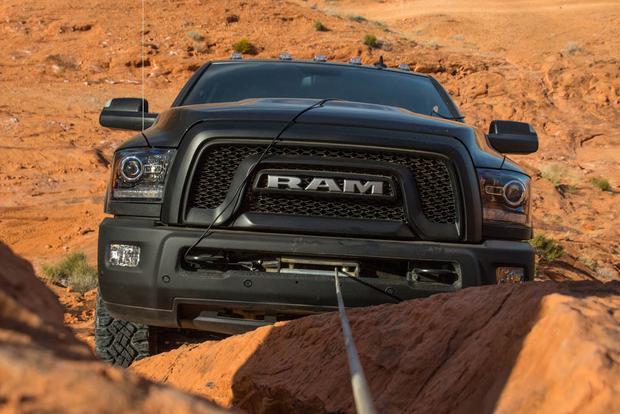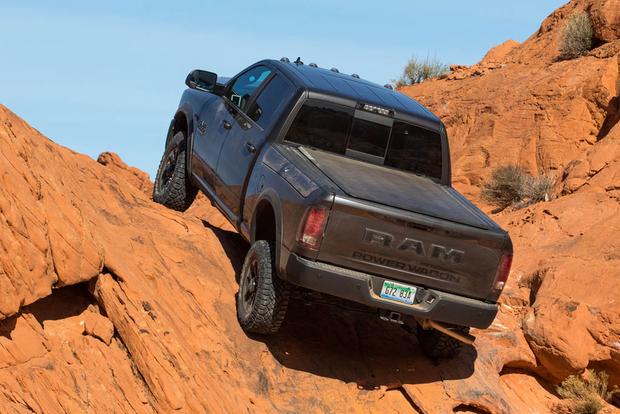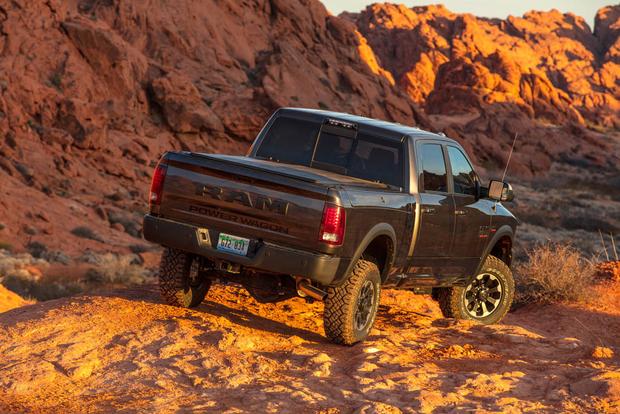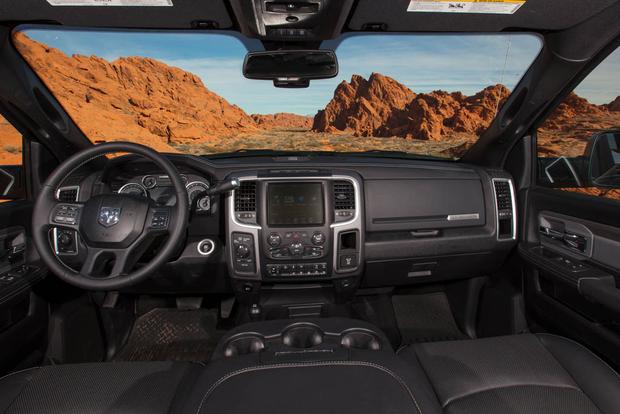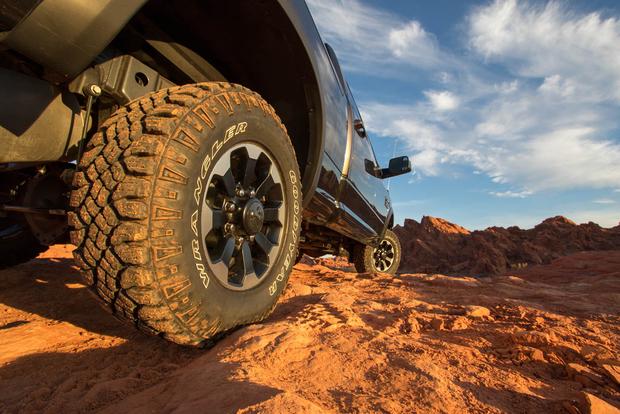 You almost have to be outside the 2017 Ram Power Wagon to fully appreciate its immense capability. Inside, when perched high above it all, you pretty much point it where you want to go or towards whatever mark a spotter indicates is prudent. Some gingerly applied throttle and steering later and, voila, you've traversed whatever boulder-strewn mountainside you've decided to ascend. The ventilated seats are on, the satellite radio's playing Outlaw Country, and there's really not a lot of drama.
But on the outside, oh boy. You'll suddenly realize that over the same bit of terrain, one of the Power Wagon's immense 33-inch front tires is stuffed into its wheel housing atop a boulder while the other is seemingly a full fathom below, feverishly gripping its own dust-strewn terrain. A similar situation is occurring out back, but with one wheel toeing inward and the other acting as if nothing is otherwise amiss. You also can't avoid being awed by such a massive thing making its way up a rugged mountainside as if it were, well, a ram.
They've Rid It of 'Dragon's Vomit'
The Power Wagon is the most off-road-capable version of the heavy-duty Ram2500, available only as a Crew Cab and with the 6-foot-4-inch bed. Mechanically, it's unchanged from the version sold last year, but for 2017 it receives a thorough restyle that adopts many of the same styling elements as the Ram 1500 Rebel, the most off-road-capable version of Ram's half-ton truck.
Primarily, this includes the controversial new Ram Rebel grille in place of the traditional cross-hair grille found on the rest of the Ram 2500 lineup. The grille is blacked out to match the new, rugged powder-coated bumpers, plus equally black fender guards, rocker paint, 17-in wheels and new "Power Wagon" decals located aft of the cab. At the rear, enormous Ram Power Wagon emblems (also in black) ensure that nearsighted bystanders will still be able to tell what you're driving.
It's a tough look, but it's actually quite tasteful and certainly cool. It also replaces the previous Power Wagon's rather garish and dated styling flourishes, which included red accents in the cross-hair grille, an abundance of chrome, and absurd bed decals that Ram's designers had taken to calling "Dragon's Vomit." Really, the whole truck looked like something made for a Hulk Hogan movie.
At the same time, there's also a Tradesman variation that essentially applies all the Power Wagon's hardware to the regular 2500 Crew Cab body style. Think of it as the stealth Power Wagon. It's a good choice if you prefer a more traditional look or a lower price tag ($44,000 versus $51,700).
With either variant, and as before, a standard Warn winch with 90 feet of cable and a 12,000-pound capacity resides every-so-sleekly behind an opening in the bumper. A red tag still calls attention to it, but there's something about the new black powder-coated bumper that makes it seem even more integrated. It's operated by a control button (think the buzzer on Jeopardy!) at the end of a wire that you plug directly into the winch.
The interior also gets a slight update, but it does not feature the red trim flourishes found in the Rebel. Instead, everything is black apart from the alloylike trim around the center stack, and the new design flourishes are pretty much restricted to the seats. Standard trucks come with a sturdy seat fabric featuring a treadlike embossed pattern that mirrors the standard-fit Goodyear Wrangler DuraTrac tires. Leather-equipped trucks lack this but do share the "Power Wagon" stitched into the front seats' inner bolsters. There are also additional padded, wrapped and stitched surfaces for 2017.
Just How Much Power Is In That Wagon?
The Power in its name is satisfied by its standard 6.4-liter V8, which produces 410 horsepower and 429 lb-ft of torque. Though optional on other 2500 trucks, it's been uniquely calibrated for the Power Wagon, including a relaxed throttle response and an idle speed increased by 100 rpm when 4-wheel-drive Low is selected. This is to enhance control and limit unwanted abrupt inputs when rock crawling.
Even with all that power, though, the 2017 Ram Power Wagon is still a heavy-duty truck that crushes the scales at 7,000 pounds, and we wouldn't exactly call acceleration brisk. Capable and tow-ready most definitely, but this isn't a Ford Raptor. And, if you're wondering why the 2500's diesel option isn't offered, its inclusion would here necessitate an intercooler that would need to occupy the same space as the winch. Sounds like a fair trade-off.
A 6-speed automatic transmission sends power to a 4-wheel-drive system featuring High and Low gearing selected by a traditional, floor-mounted shifter. It's easy to operate and there's something so much more satisfying about pulling a lever to drop a 4x4 truck into Low than turning a knob or pressing a button. Its placement does give every Power Wagon the 3-person front-bench layout, though the floor console and lap-only belt would mean a rather unpleasant and precarious journey for hypothetical passenger No. 6.
Alright, So What Can It Do?
A column transmission shifter draws attention to the area normally occupied by the electronic rotary shifter found in other RAMs In its place are the controllers for a pair of Power Wagon exclusives. The more prominent is the control knob for the front and rear locking differentials, which really only need to be called into action over especially severe terrain.
The pair of buttons below, however, is likely to be used more often and is by far the rarer of the two features. These control the Power Wagon's Articulink front suspension, which features an electronically controlled disconnecting sway bar. When in place -- automatically when traveling above 18 mph -- the sway bar maintains obligatory body control, but when disconnected, it allows the front axle to move independently of the truck's frame and significantly increases wheel articulation.
It's a difference we could clearly see when Ram showcased Articulink's capabilities on a 20-degree ramp -- it numerically works out to a ramp travel index (RTI) of 510 versus 423 -- as well as out on the Logandale Trail system in the Moapa Valley outside Las Vegas. It was here that the Power Wagon displayed the wildly differing wheel movements described above. They quite simply would not be possible without the disconnecting sway bar, and we wouldn't have been able to traverse the same terrain. Also helping was a significantly greater approach angle (33.6 degrees versus a standard 2500's 21.8) and a sky-high ground clearance of 14.3 inches (up from 12).
In the back, though, the Power Wagon maintains Ram's heavy-duty 5-link coil spring suspension -- a segment-exclusive feature that provides better articulation over off-road obstacles, superior control on road and a substantially better ride everywhere you go. Indeed, on the highway drive out to the Moapa Valley, the Power Wagon displayed the same sort of smooth ride we've come to expect from Ram free of the jittery and jarring body motions indicative of the rigid leaf springs found on every other heavy-duty truck.
Indeed, the fact that this hardcore off-roading machine doesn't beat you up away from the trails is ultimately one of its most impressive attributes. Sure, the off-road tires are loud on the highway and the steering is kindly described as "vague," but if you're looking for something to pull double or triple duty as an off-road plaything, weekday companion and/or trailer-towing workhorse, it's hard to think of anything better.
To gain access to this information, Autotrader attended an event sponsored by the vehicle's manufacturer.