475-hp, 3-row SUV
The ultimate muscle SUV
Loud and quick
When we first heard that there was even such a thing as the Dodge Durango SRT 392, our first reaction was "Why?" On the surface, we have to admit, that a high-performance SUV with a 475-horsepower 6.4-liter V8 and Brembo brakes seems kind of ridiculous. Really, what's the point? But then you get a look at the Durango SRT's $63,000 base price you realize that this brawny SUV is no more or less pointless than a Land Rover Range Rover Sport Supercharged, a Porsche Cayenne Turbo or a Mercedes-Benz AMG GLE 63. All of these are over $100,000. In fact, a base Cayenne with a turbo V6 is $3,000 more than the SRT Durango. We're not saying the Durango SRT and the Porsche Cayenne are equal, they're not. But when you remove brand cache, the comparison makes a bit more sense, especially from a performance standpoint. In fact, for the price of a new Cayenne Turbo, you could buy the Durango SRT with a few options AND get a really clean, low-mileage used Porsche Cayman or a vintage Chevrolet Corvette then still have some money left over.
Why We Got It
The whole idea of a Dodge SRT 3-row SUV is intriguing. Can you really have it all? The basic premise is that this version of the Dodge Durango would allow you to have a useful family car but also get the muscle car bug out of your system. OK, maybe that's true. Even Dodge would admit, this SUV isn't for everyone. If you're seriously considering a Lexus, the 2019 Dodge Durango SRT probably hasn't even come up in conversations or your search results.
The main reason we wanted to spend a little quality time with this hot rod Durango is to see if it can live up to our expectations in terms of everyday usefulness. We have no doubts about its performance credentials. Dodge has literally reinvented themselves as a performance brand, selling cars that do three things really well — frighten the neighbors, chew up drag strips and cruise down memory lane.
Our Durango SRT
The Dodge Durango SRT is surprisingly luxurious. We opted for a few extra comfort items that bumped the price up. First, we got "Demonic Laguna Red leather trim performance seats" for an extra $1,595. The Uconnect with navigation and an 8.4-in display is standard on the Durango SRT, but we did check the box for a 19-speaker Harman Kardon audio speaker system with subwoofer. That's an extra $995. A power sunroof is another $1,295. We also got the second-row console with a storage box, that costs $595. Blind-spot monitoring and rear cross-traffic alert are $395 and our Durango has the Technology Group for $2,395. This package includes adaptive cruise control, forward collision warning with active braking intervention, and lane departure warning.
Total price is just a bit over $72,000 although there seems to be a fairly significant incentive in certain regions to that price might be even lower. In the Southeast, there's $4,500+ price reduction.
Here are some options we didn't get — big dual stripes running the length of the car, that costs an extra $1,200. We like the idea of a simple but tough-looking SUV a lot more than one with big stripes that seem to be shouting "HEY, LOOK AT ME!" A single-disc CD player is $495 and there are various packages like a lightweight performance package that deletes the third row of seating, this is a no-cost option. For $2,500 you can get an upgrade inside with carbon fiber accents, as well as the one option most SUVs have, a rear-seat DVD player with two seat-mounted screens, that's $1,195. Finally, you can get a towing package for another $1,195.
Initial Impressions
Wow! That's our initial impression. If you love the roar of a 392 cu in. HEMI V8 (6.4-liter), but have to pull carpool duty also, this is the exact right car for you. In fact, if you even know what "cubic inches" are and have a few kids, you might like the Dodge Durango SRT better than most SUVs. It's also a way to get a very quick performance-oriented SUV with three rows of seats for a fraction of the price you'd pay with a European luxury brand. We're looking forward to putting it to use every day. Find a Dodge Durango for sale
---
Ownership Update – 10/23/19
by Brian Moody
Now that I've been driving the Durango SRT for a few weeks, I have some more concrete impressions. First, it's surprisingly nice inside. The touchscreen and most controls are essentially the same as what you'll find in any Durango. Most shoppers will gravitate toward the Durango R/T because of its combination of "good enough" performance, cool sound and useful demeanor. So while the SRT version of the Durango sounds uncivilized, the interior is actually very comfortable thanks to features like heated and cooled front seats, a big touchscreen to run Apple CarPlay or XM Radio and easy-to-fold second- and third-row seats. I wish all SUVs and minivans had seats that are as easy to fold up and down as those in the Durango.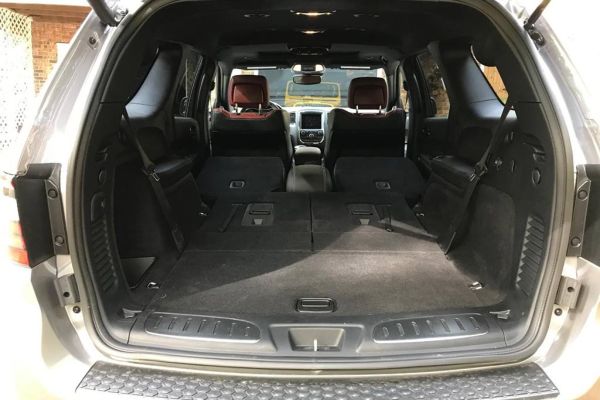 Those folding second- and third-row seats mean the Durango SRT is both quick and useful. I hauled some stuff to the dump, carried my daughter's bike to the shop for a repair and took five other adults to dinner the next night. At first, I was thinking of the Dodge Durango SRT as kind of silly. However, in everyday use, it's the perfect combination of fun and functional.
I'm not sure my neighbors are thrilled with the sound of the exhaust when I leave for work at 6 a.m… Find a Dodge Durango for sale
---
Ownership Update – 11/18/19
by Tommy Flanagan
At first glance, the 2019 Dodge Durango SRT appears to be one of the most impractical SUVs on the market. What's the sensibility of a 475 horsepower SUV in the first place? But once you take a closer look, the Dodge Durango SRT actually makes perfect sense.
For the muscle car enthusiast that wants a Challenger but also needs a family vehicle that can take the kids to school or pick up groceries at the local farmers market, the Dodge Durango SRT isn't a compromise — it's a winning combination of practicality and functionality. With three-row seating, there's plenty of room for your kids, as well as the neighbor's kids, for a ride to class. And, with an 8,700-lb towing capacity, it won't have any problem hauling your boat to the lake or your Viper to the track. Or, you can leave the Viper at home and just take the Durango.
Performance
The 2019 Dodge Durango SRT is powered by a 6.4-liter HEMI V8 that cranks out 475 hp and 470 lb-ft of torque. This 5,500-lb SUV is quite spirited and can scurry from 0 to 60 in only 4.4 seconds, and it can sprint the quarter mile in a mere 12.9 seconds. And how many SUVs have you seen that have seven driving modes as well as launch control? These drive modes give the driver more control by adjusting key components, such as suspension, shift points and stability control. They also help with towing by adjusting the all-wheel-drive system and trailer sway control. In snowy conditions, the system sets the transmission to start in second gear to minimize wheel slippage and the AWD system adjusts to a 50/50 distribution.
Here's what sets the Durango SRT apart from the other "sport" SUVs out there. For starters, there's launch control. This system helps the driver attain maximum straight-line acceleration. It's basically a form of traction control that helps lessen tire slip when launching the SUV. The Durango SRT is also equipped with Performance Pages. This is an app accessed from the Uconnect touchscreen that allows the driver to observe performance statistics in real time. Criteria such as engine power, engine torque and steering angle are all recorded by the system. A 0-to-60 timer, quarter-mile timer and brake-distance timer are also included in Performance Pages.
The Numbers
On a recent road trip, I averaged from 17.5 to 19 miles per gallon on the highway. This is in line with the EPA's rating of 19 mpg. These numbers were achieved by setting the adaptive cruise control at speeds between 70 and 75 mph. The Durango SRT's HEMI engine also has a multiple displacement system that deactivates four of the engine's cylinders to help with fuel economy. More good news is that the Durango SRT does not require premium fuel.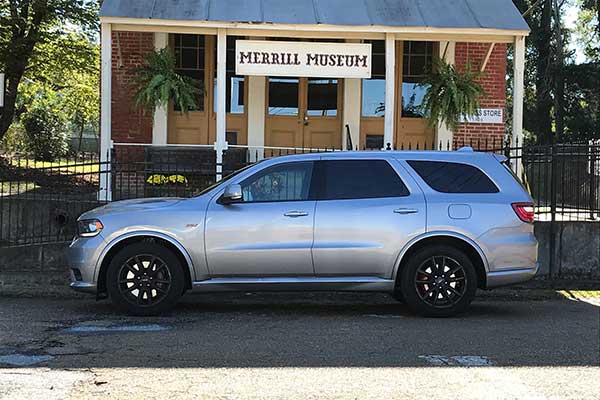 The Verdict
Our long-term 2019 Dodge Durango is a winner in my book. It's an anomaly that deviates considerably from what you would expect in an SUV. I'm hoping to get a lot more time behind the wheel before it leaves our fleet. Yes, I like it that much. Find a Dodge Durango for sale
---
Ownership Update – 12/11/19
By Ben Cheney
While we were driving our long-term 2019 Dodge Durango SRT, on two separate occasions, the Uconnect screen refused to turn on. The radio would play through the speakers, and if you pushed on the screen knowing where the functions would be, they would still work. The screen just would not turn on. If you put the transmission into reverse while the Uconnect screen wasn't working, the screen would flicker on for half a second before the rear camera would turn on. With the Durango back in park or drive, the screen would again go blank. Turning the car off and on again had no effect on it. Only time appeared to help, in that it would work as it should the next morning.
This appears to be a common issue, according to a Google search. I tried doing a soft reboot I found on an enthusiast forum, but that didn't work.
The reason this was such an issue for me is that so many functions of the vehicle are controlled through this standalone screen. Find a Dodge Durango for sale
---
Ownership Update – 1/9/20
By Rob Nestora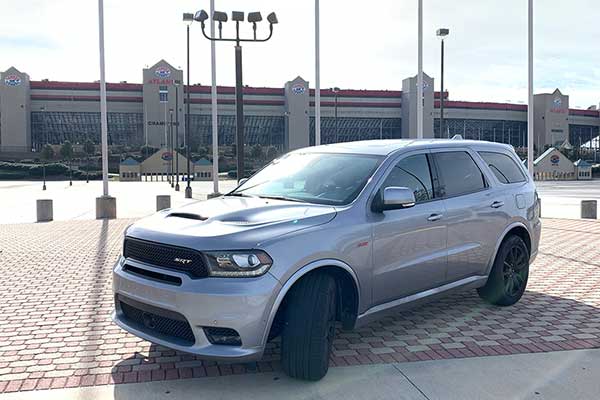 I've spent the last month or so tooling around in the awesomely powerful 2019 Dodge Durango SRT, and despite my predisposition to smallish vehicles, I have to say I've enjoyed my time behind the wheel. That's not to say the Durango is a perfect full-size SUV, but it does ooze machismo like no other vehicle I've tested recently. I mean, let's be honest, it's a massive performance SUV with an oversized V8 and a ferocious engine note — if that doesn't scream "Badass!!!" to you, frankly few things will.
Touchy, I See
While the power of the Durango is awe-inspiring, it comes with a neck-snapping price. If you're a driver with a heavy foot, much like myself, you and your passengers will likely be subjected to highly aggressive acceleration virtually every time you step on the gas. Now while that doesn't sound like something that should get old, it does. The jerky acceleration has given my wife motion sickness on occasion and caused our 120-lb Mastiff to now refuse to enter the vehicle. That being said, the power and sound of the engine under hard acceleration is nothing short of glorious, despite my spouse now requiring a chiropractic adjustment after being stuck with me in stop-and-go traffic.
Pain at the Pump
To paraphrase Peter Parker's late Uncle Ben, "With great power comes great responsibility" and the Durango is no exception to this adage. The responsibility in question, however, is a financial one stemming from the incredibly low miles per gallon I've been averaging in the SRT SUV. Overall, my mean fuel economy has been right around 10.7 mpg — that's less than the stated fuel economy of a Lamborghini Urus. Of course, my heavy foot and usual commute in city traffic certainly aren't helping with this dismally low number, but given the fact it is 2020, I sort of expected an mpg number in the teens, at least. Couple this with the 24.6-gallon fuel tank and the necessary weekly trips to the gas station start to add up to a decent car payment alone (see below for how we finally figured out how to use "Eco" mode for more economical everyday driving).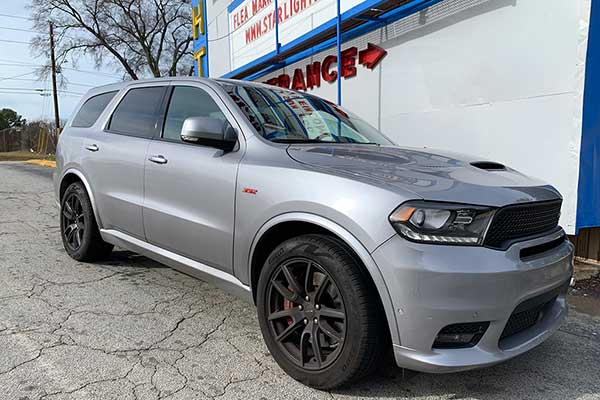 Room for 6
The 2019 Dodge Durango SRT certainly has plenty of interior space, but despite the large dimensions, there's only seating for six passengers. This is because there's a captain-chair-like setup in the second row for seating and a small 2-seat third row. Ingress and egress seem to be easy enough though, as my septuagenarian parents and in-laws had few issues getting in and out after a recent family dinner date. Both rows of seats flip down quite easily and allow for plenty of cargo space, just in case you need to stow large items, and the automatic rear tailgate is a great feature to have when trying to stash groceries with your hands full of bags from the local Kroger. Find a Dodge Durango for sale
---
Ownership Update – 2/5/20
By Rob Nestora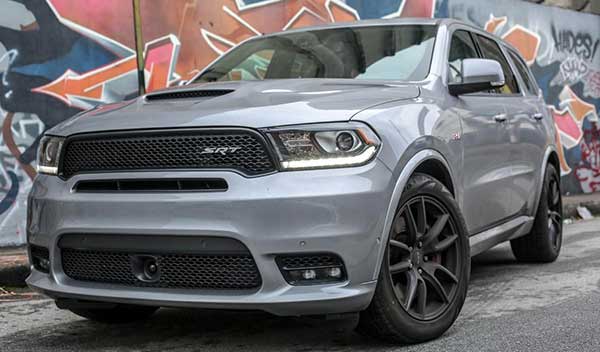 After a little over a month and a half behind the wheel I had the opportunity to take our beast of an SUV, the 2019 Dodge Durango, in for its first service trip. I chose the closest Dodge dealership — that being Landmark Dodge Chrysler Jeep Ram in Chamblee and made a service appointment for the following day right around lunch.
I've been to several different dealerships for service visits over the last few years and Landmark ranks up there among the best in service experiences. All of the staff members I encountered were friendly, knowledgeable and engaging, and the facilities were modern and clean as well. There was a modern coffee maker similar to the one we have in the Autotrader offices, which was a bit of a treat as the coffee it makes is always quite tasty. There was a quiet room for customers needing no distractions as they worked or read, and another waiting area with a television. With the Durango being worked on, I grabbed a cup of coffee and a comfortable seat where I could watch TV for a bit.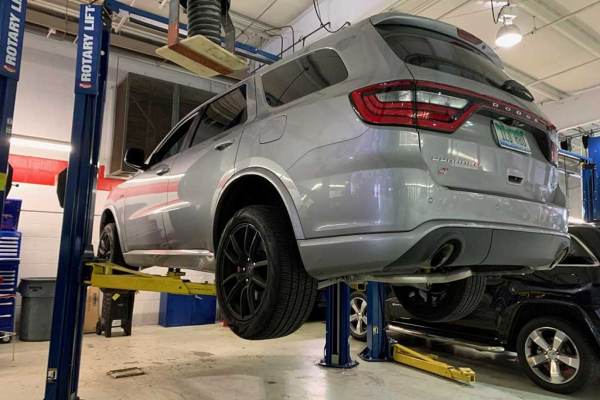 In addition to the friendly service, the team at Landmark also seems to work quickly. I was handed the keys to the fully cleaned 2019 Dodge Durango in a little over an hour. The service visit included an oil change, tire rotation and a multi-point inspection (along with the complimentary car wash) coming to a grand total of $156.17 — not too bad for a performance SUV with a monstrous V8. Find a Dodge Durango for sale
---
Ownership Update – 3/4/20
By Rob Nestora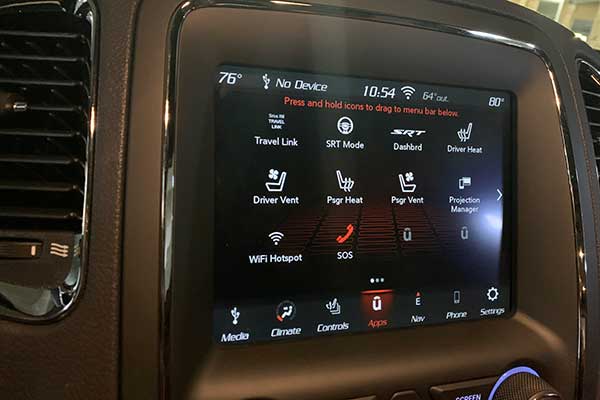 My time behind the wheel of our 2019 Dodge Durango SRT is coming to an end after 3 months of muscling around the metro Atlanta area, and to be honest, I'm a little sad to pass the keys to another team member. The Durango has become one of my favorite long-term vehicles given its all-wheel drive, ample cargo and passenger space, and that glorious engine note. That's not to say there isn't room for improvement, but when's the last time a full-size SUV made your heart skip a beat?
Drive mode selectors have become fairly common in both performance cars and their not-so-sporty stablemates. Usually this is somewhere near the steering wheel or gear selector, allowing the driver to dial in the right amount of chutzpah or opt for more miserly fuel consumption. The Durango SRT places the ability to select drive mode within the SRT functions inside Uconnect, which isn't the most intuitive location for this functionality to reside. On the bright side, there is a good amount of granularity when it comes to customizing how you want the Durango SRT to perform, along with a bunch of performance-focused apps to assist in getting the best jump off the line or clocking your 0-60 time.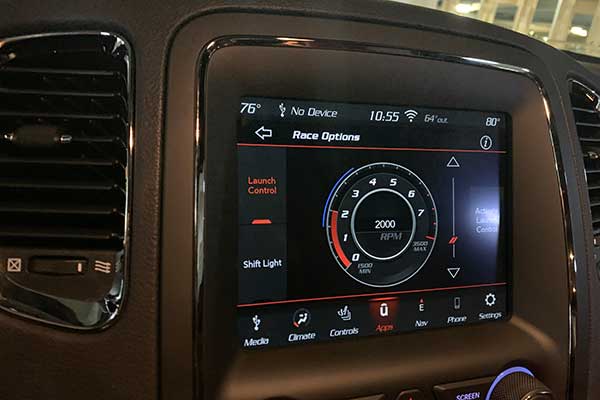 In a prior update I complained about the sensitivity of the Durango SRT's gas pedal and ensuing whiplash-inducing acceleration. Little did I know that within the infotainment system was the ability to select an ECO mode for the transmission. This small adjustment has a large effect, making the Durango SRT more user-friendly and slightly better when it comes to MPG. My wife no longer gets motion sickness when we're driving around town, and I don't have to fill up quite as often. However, I do wish the drive mode selector was somewhere that was easier to get to, rather than buried within Uconnect.
Overall, I really like the Uconnect interface, but that's not to say it doesn't have its issues. In the past, the infotainment screen has failed to function after turning on the vehicle. Given the level of sophistication on modern cars like the Durango SRT, some degree of temperamental-ness is to be expected. Last year, we had a Kia that did the same thing three times in a one year period. Each time, the system reset itself and came back on. Is that acceptable? For most, it probably is. To date, there have been two separate instances where this has occurred with the Durango, albeit both having happened over 5 months ago and we haven't had the issue since. Other than those two occasions, we have yet to experience any recent issues with the infotainment system and our local dealer says it's working properly. At one point, we said Uconnect was the best in-car infotainment system you could get.
One thing worth noting, Chrysler just gave a presentation featuring Uconnect 5 – the newest version of that software. That will show up first in the 2021 Chrysler Pacifica minivan – with more processing speed, a revised layout, and better features it will be worth checking out on future versions of Dodge and Chrysler vehicles. Find a Dodge Durango for sale
---
Ownership Update – 5/4/20
By Rob Nestora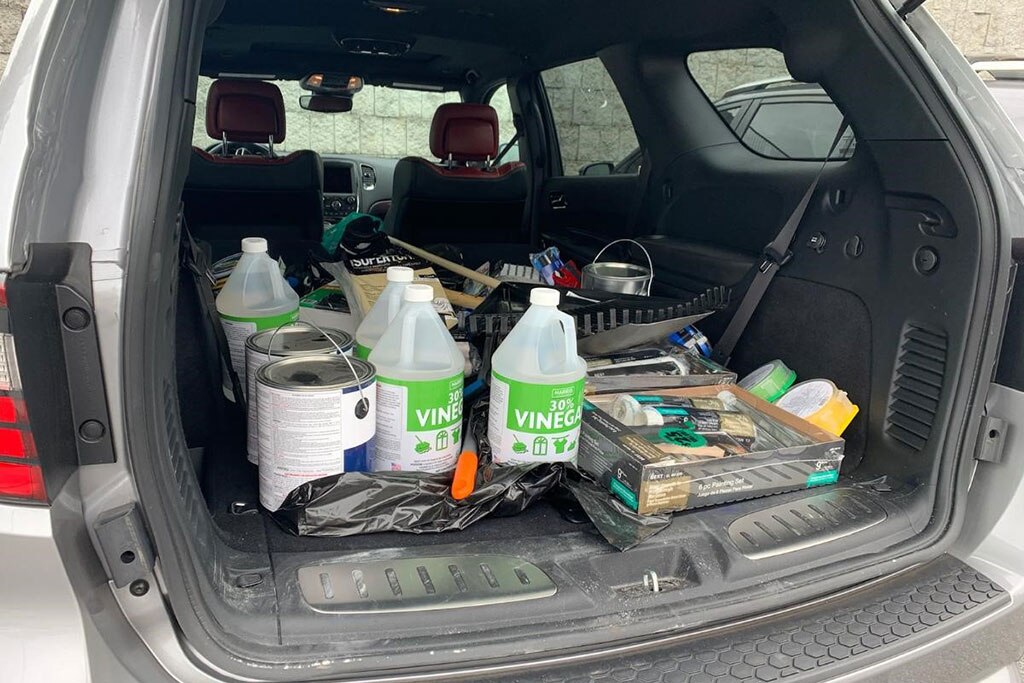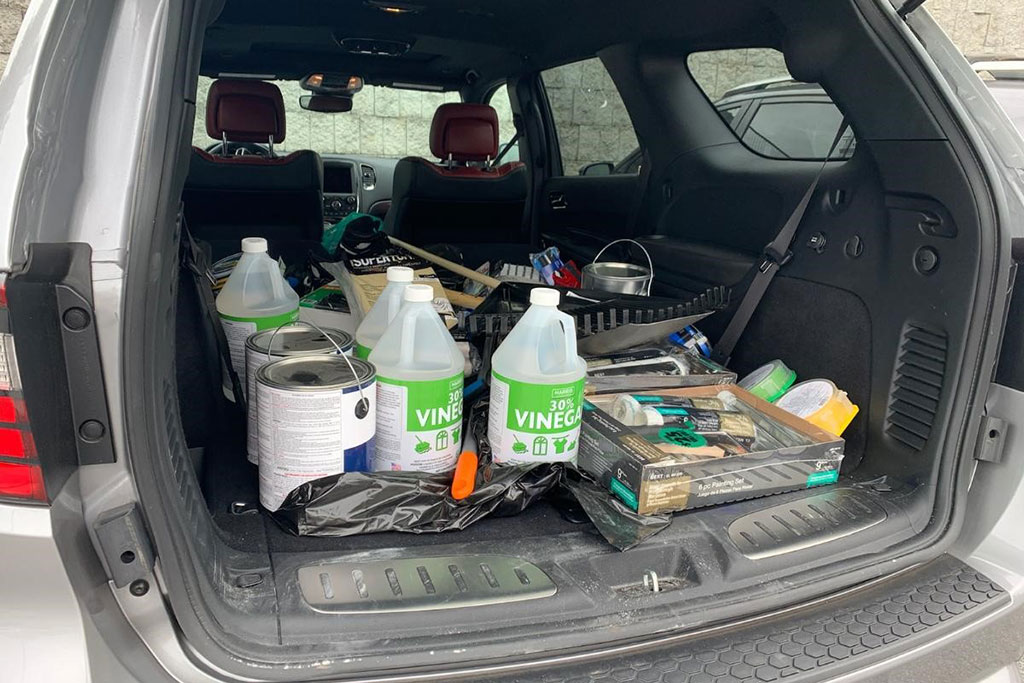 While I thought I was giving up the keys to our 2019 Dodge Durango SRT at the end of March, as it turns out I would have the massive SUV a bit longer than expected. Not that I'm complaining, the Durango has been loads of fun and incredibly useful as I transition from my apartment to a new house a few miles away. And while I initially couldn't wrap my head around who would buy a monstrous performance SUV, I now completely understand the allure.
Space
I recently bought a new house in an adjacent neighborhood thanks to the incredibly attractive interest rates currently available(FYI this applies to vehicles too!), but instead of doing a massive move in the span of a day, we used a smaller box truck to move the large furniture and the Durango to shuttle the rest of our things to the new house. The Durango has 84.5 cubic feet of cargo space with both rows of seats folded down which translates to fewer trips back and forth for odds and ends. It also makes runs to Home Depot that our Altima could never match in a million years. The sheer utility of the Durango is fantastic, and it's a wonderful compliment to a vehicle that hits 60 from a stop in 4.5 seconds.
Sensitive Tech
Most of the time I like to drive with the more advanced safety features turned on, unless they are getting in the way of my intended purpose. One of these features is lane keep assist, which adds torque to the steering wheel when it senses that you've strayed from your lane. Occasionally, the system can be a bit too sensitive, and in turn, an alert sounds and displays a message stating that I need to put my hands on the steering wheel, even when they are already there. It's a minor annoyance but one that reoccurs with a fair bit of frequency. Still, it's done nothing to dissuade me from thoroughly enjoying the Durango. Find a Dodge Durango for sale
Ownership Update 7/2/20
By Brian Moody
Our time with the Durango SRT is about over. One thing we really didn't address is Durango's audio system. We opted for the upgraded Harman Kardon system and that adds an extra $995 to the price. The Uconnect with navigation and an 8.4-in display is standard on the Durango SRT.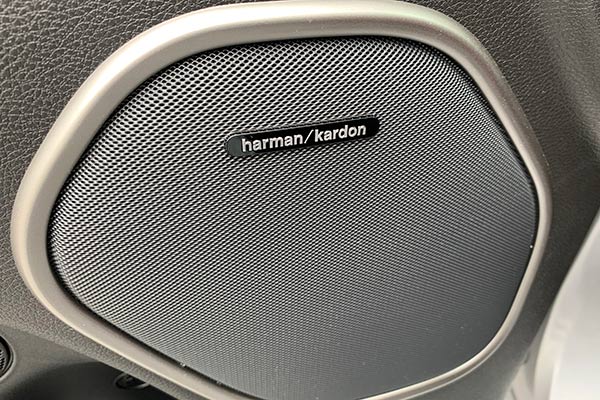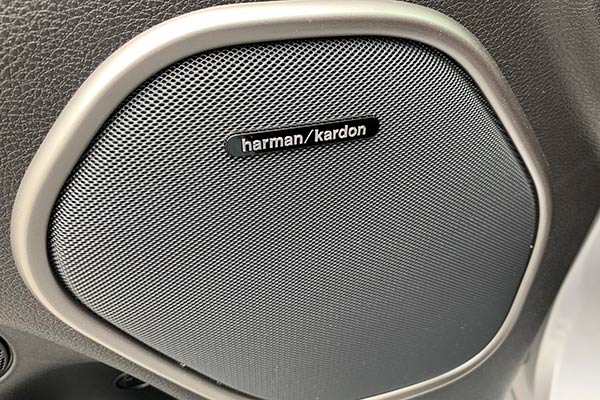 The bottom line is, the upgraded sound system is worth the extra money but don't expect Mark Levinson (in Lexus vehicles) style sound. The optional system is good for 825 watts and that sound is pumped through 19-speakers with a subwoofer. The sound is a lot like the SRT Durango itself, not super-refined but definitely loud. There's good bass and Dodge engineers made good use of the Durango's spacious interior. There's an immediacy to the overall sound profile that suits certain kinds of music better than others. If you're frequently listening to Metallica or Foo Fighters, it's just about perfect. However, if you're more of a Brahms or Motown fan, the standard 9-speaker system might be better for you.
Thankfully, you don't need to get the fire-breathing Durango SRT to get the upgraded sound system. It's optional in the tamer Durango R/T and Citadel trim levels.