Affordable, long-range electric vehicles are gradually showing up at your local auto mall. Then again, it depends on what you mean by "affordable." Chevrolet kicked the party off in 2016 with the Bolt EV. That's roughly a $40,000 car before tax credits. Now, less than three years later, there are several models from which to choose. Spend just a bit more, and you can even get into a basic Tesla Model 3. Nissan's Leaf Plus is also notable.
The new Hyundai Kona Electric and the redesigned Kia Soul EV are in the "approaching affordable" category. Both are well over $35,000. Both are made by the same Korean parent company. Both share vital components. The Kona Electric and Soul EV are similar vehicles but with a much different exterior look. The Soul looks urbane and sexy, the Kona looks rugged and SUV-ish. Both should have a range of over 250 miles. Hyundai estimates the Kona range is better than 250 miles. With the Soul EV, we're kind of guessing because that EV has been delayed until 2021.
Quick Facts
Kona offers an estimated 258 miles of range on a single charge
Kona recharges in 9.5 hours using a 240-volt home charging station
Both cars have the Same EV drivetrain
Kia's Soul EV has Four-stage regenerative braking system with stop-and-hold capability, providing one-pedal driving capability
Kia Drive Wise suite of ADAS is standard
2020 Hyundai Kona Electric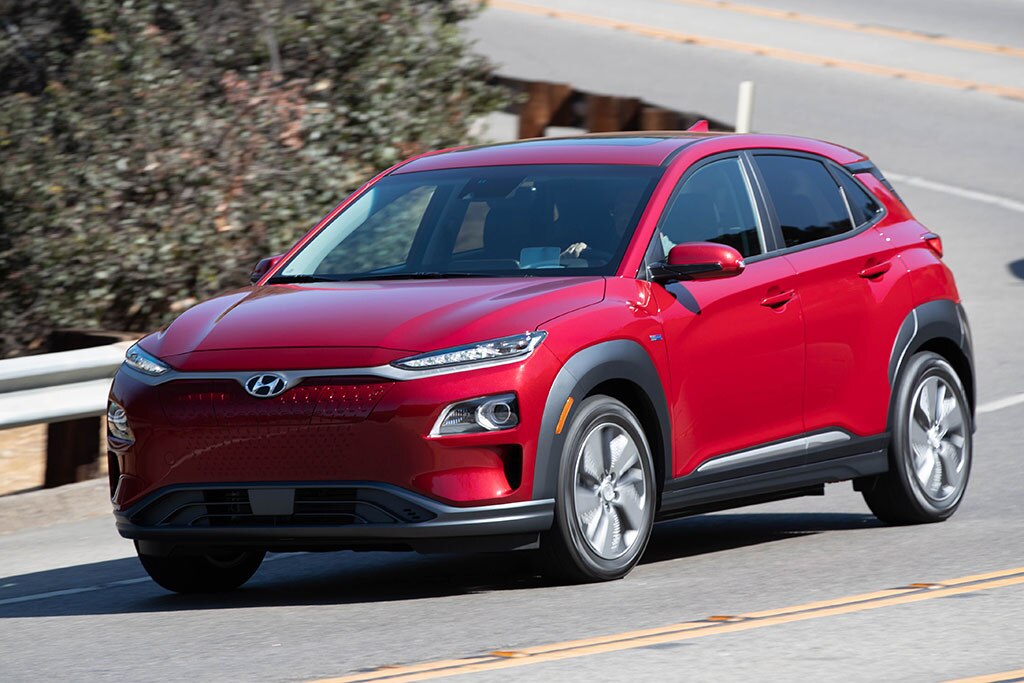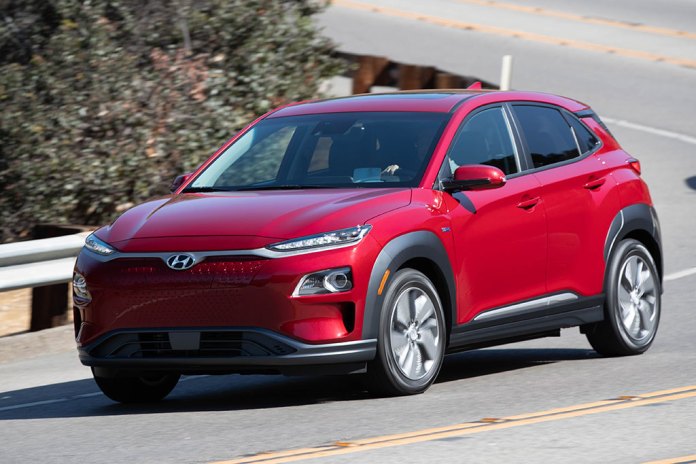 Base Price: $36,950. / Read our 2020 Hyundai Kona Review

What We Would Change: The price.
Overview: Based on the impressive Kona subcompact crossover SUV, the Kona Electric is both practical and fun to drive.
What's new for 2020: The Kona Electric remains mostly unchanged. There is a new battery warmer to help battery performance in cold weather and Ultimate models get a larger touch screen.
Features and technology: Hyundai sells the Kona Electric in three levels of trim, which likely gives it some pricing flexibility to meet a broader array of budgets. They include the SEL ($36,950), Limited ($41,400), and Ultimate ($44,900). By upgrading to Limited trim, you'll get the following features in addition to the SEL trim's standard equipment – LED headlights with automatic high-beam operation, power sunroof, leather upholstery, Wireless smartphone charging, and Safety-programmed automatic up/down front windows. Choose the Kona Electric Ultimate, and this EV is further equipped with rear parking assist sensors, rain-sensing wipers, 8-inch touchscreen, ventilated front seats, premium audio, navigation, and adaptive cruise control among other features.
What does the future hold: The lowest-priced Kona Electric is $37,000. We expect prices to drop very slowly over the next 5 years or so. As that happens, the Kona will easily be one of the best small EVs around. See the 2020 Hyundai Kona EV models for sale
2021 Kia Soul EV
Base Price: around $35,000 / Read our 2021 Kia Soul Review

What We Would Change: We'd like to see it arrive sooner than 2021.
Overview: The redesigned Kia Soul EV is a much better electric car than the original. It also retains its iconic design theme, which results in excellent passenger and cargo space. (Kia)Kia plans to offer the redesigned Soul EV in two trim levels: Standard and Designer Collection.
What's new for 2021: The updated Soul EV will have a next-generation infotainment system with available 10.25-inch display and UVO Link service (1-year free trial period). It also has the same drivetrain as the Kona and that means 201 hp which is a sizeable jump compared to the previous version of the Soul EV.
Features and technology: As this article was written, Kia had not set prices for the new Soul EV. No doubt, they will be competitive with the Kona Electric.
By choosing the Designer Collection version, the Soul EV adds the following features to the standard specification – LED fog lights, gloss black outside mirrors with integrated turn signal indicators, two-tone paint, faux leather seating, 8-way power driver's seat, leather-wrapped and heated steering wheel, premium audio, wireless phone charging, and rear parking assist sensors.
What does the future hold: We expect really good range and that the Soul EV will the the more stylish alternative to other EVs like the Bolt and Leaf. The range should be around 250 miles. See the 2021 Kia Soul models for sale
Kona Benefits: There is plenty to like about the Hyundai Kona Electric, from its slick look to its enjoyable driving dynamics. Here are the best things about the Kona Electric in comparison to the Soul EV: Hyundai offers available leather in the Kona Electric Limited and Ultimate, while Kia installs simulated leather in the Soul EV Designer Collection. It has 258 miles of range, a lifetime battery warranty, a slightly quicker 100 kW DC fast charge time, a little more ground clearance to accentuate it's more "SUV-like" attitude, rain-sensing wipers, and "cooled" or ventilated front seats
Soul EV Benefits: Based on preliminary features and specifications, the redesigned Kia Soul EV is a big improvement over the previous version. In addition to its equally charming personality, these are the best things about the new Kia Soul EV – Cube-shaped exterior results in more interior room for people and cargo, available leather upholstery is simulated, rather than real (a benefit to some, but a drawback to others), standard rear USB port, the adjustable regenerative braking system with four settings, paddle shift operation, and one-pedal driving capability, and an available 10.25-inch touchscreen.
Hyundai Kona Electric vs. Kia Soul EV. Which is Better?
Kia still needs to finalize the new Soul EV's driving range estimate and price. it is safe to assume that both will be close to the Kona Electric. Given that, the main benefits of buying the Kia include greater interior room, one-pedal driving capability, and an optional widescreen infotainment system.
Those unique qualities do not outweigh what the Hyundai Kona Electric brings to the table. Unless the Kia can ultimately beat it, the Hyundai delivers impressive range, a lifetime battery warranty, and a lengthy 3-year free trial period to nearly all Blue Link subscription services. All three of these standard features can help to set your mind at ease.
Now add useful features like seat ventilation, rain-sensing wipers, drowsy driver monitoring plus the fact that you can get a Kona right now, and the Hyundai is our pick between these two appealing EVs. Find a Kia Soul for sale or Find a Hyundai Kona for sale