Likely the best three-row SUV you can get
New "Nightfall" version looks cool
The largest Kia yet
Built in the USA
It's hard to give Korean automaker Kia a ton of credit for the Kia Telluride. In theory, V6-powered, 3-row SUVs aren't exactly a new idea — even Kia has had the Sorento for many years now. However, in practice, the new 2020 Kia Telluride redefines what a luxurious family SUV can be. The ride, handling, engine, interior packaging and overall look are all that exactly right combination.
Why We Got It
Kia is an automaker and brand on the rise. In recent years, virtually everything they've produced is either good or great in some way. The Optima is surprisingly attractive and refined, the rear-wheel-drive Stinger is amazingly athletic, the Sorento SUV is good-looking and refined. This line-up leaves Kia without a large 3-row SUV, although they do have a great (if underpromoted) minivan, the Sedona.
So the Kia Telluride is an answer to the question many new car shoppers were asking: "Is there a Kia larger than the Sorento that's not a minivan?" Until now, the answer was no.
Enter the Telluride. One reason we think the Telluride is a must for new car shoppers is the striking look. When we saw the Telluride at the auto show and collectively said "That looks awesome," we knew we wanted to get behind the wheel. The sub-$35,000 base price also had us intrigued. We know that a nicely equipped Telluride will easily be $40,000 or more, but with such a low starting price, we wonder if the higher trim levels can look and feel as plush as the Mazda CX-9, the Toyota Highlander, the Nissan Pathfinder or the Ford Explorer, a few three-row SUVs we think are very good.
Our Telluride

We actually opted for one of the priciest versions of the Telluride you can get, the SX ($41,490) and added some options as well. All-wheel drive is an extra $2,000. We also added the SX Prestige Package for another $2,000. This package includes rain-sensing wipers, a head-up display, premium (looks like suede) roof liner, nicer leather than what's found in the EX package, and heated and ventilated second-row seats. With this package, we really wanted the rain-sensing wipers. Additional options include carpeted floor mats for $210 and lighted kick plates for an additional $310.
One thing we didn't really like about the ordering process is the fact that you have to get painted black wheels if you opt for the top-of-the-line SX model. Most buyers will like this, but we kind of wanted the more traditional silver-looking wheels. If you feel the same way, I bet the dealer will swap you in some circumstances.
The SX does offer a few more amenities versus the EX. The SX has second-row captain's chairs for a total seating capacity of seven. If you need 8-passenger seating, get the EX. The SX also has a 360-degree parking camera, metallic trim around the exterior windows, 12-way power seats (versus the 10-way on the EX), a 10-speaker Harman audio system, a dual sunroof and a few other upgraded details. The SX is the more luxurious SUV, but the EX is about $4,000 less expensive. The total for our Telluride SX AWD with options is $47,000. If that sounds like a lot, price any 3-row crossover SUV with leather seats and at least one sunroof. You'll get to $45,000 pretty quickly.
Initial Impressions

So far, we're very impressed with the 2020 Kia Telluride. It's an excellent 3-row, family-friendly SUV — maybe even the best there is. The ride and handling are excellent with a smooth quiet ride that offers just enough firmness to be fun but with enough cush to feel comfortable on the highway. There's also plenty of power, and above all else, the thing looks incredible. One practical feature that's worth its weight in gold is the collapsing second-row seating, which makes getting in and out of the third row easy. If you have school-age kids who can, for the most part, let themselves in and out of the car, the second-row captain's chairs are the way to go.
The Telluride is an all-new car, so we're hoping it has all the excellent reliability we've seen in other Kia vehicles. We're looking forward to the ownership experience of the new Telluride and throwing everything at it that comes with everyday life. Find a Kia Telluride for sale
---
Ownership Update – 2/5/20
By Brian Moody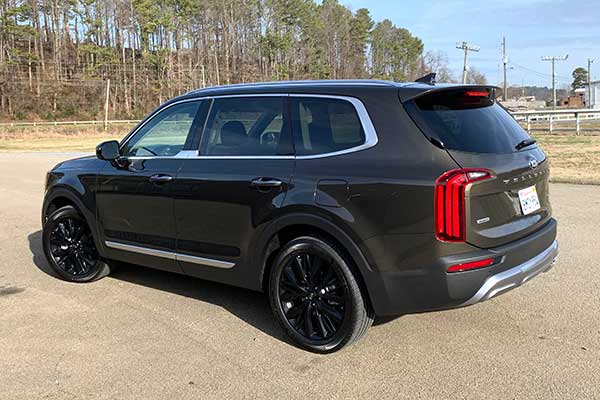 One of the things the Kia Telluride is great for is cargo carrying. If you're shopping for a three-row SUV, you're probably most concerned about carting around people — and the Telluride is really good at doing just that. Both second- and third-row seats are spacious enough. But fold those seats down and you get 87 cubic feet of cargo space — about as much as the new Ford Explorer. With just the second row folded down, you get nearly 50 cubic feet, and 21 cubic feet with both the second- and third-row seats in place. For reference, one cubic foot is about the same size as a small moving box or 1 ft tall, 1 ft deep and 1 ft wide. Most of us don't think of our cargo in terms of cubic feet, but it's still a helpful guide.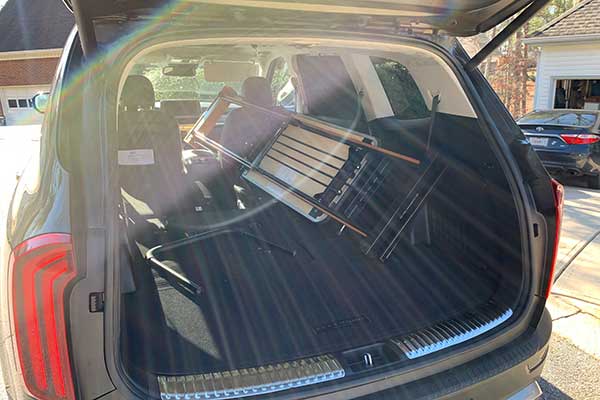 My family recently bought a used Pilates machine. It's about 6 feet in length and that fit nicely inside the Telluride's cargo area. And that's kind of the point with cargo carrying capacity — the Kia Telluride is good at carrying both cargo and people. Minivans do this better than most other vehicles but the Telluride does it with a lot more style. For me, the real selling point with the Telluride is its flexibility, look and comfortable interior. I have an open mind but this new Kia is the king of three-row SUVs. Find a Kia Telluride for sale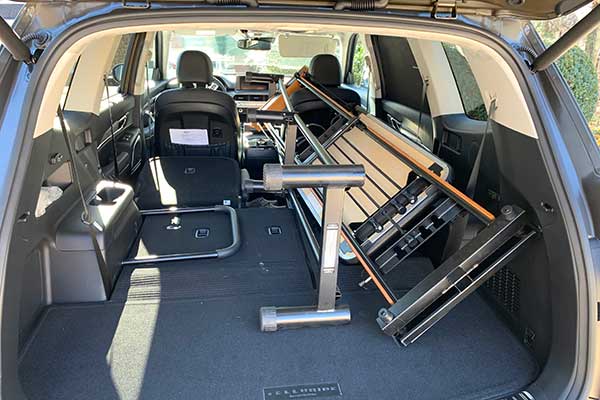 ---
Ownership Update – 4/15/20
By Brian Moody
Like many of you, we've been staying home and not really venturing out much. When I parked the Kia Telluride in my driveway, I expected it wouldn't be used for some time. Turns out, I have used it quite a bit but in some unconventional ways.
Grocery Run
First, my family has used the Telluride to get groceries and supplies. It does that quite well — the split-folding third-row seat is especially nice, not because we have so much to carry but because leaving part of the seat up can help minimize the food — eggs, bottles, cans, laundry soap containers — from sliding around too much.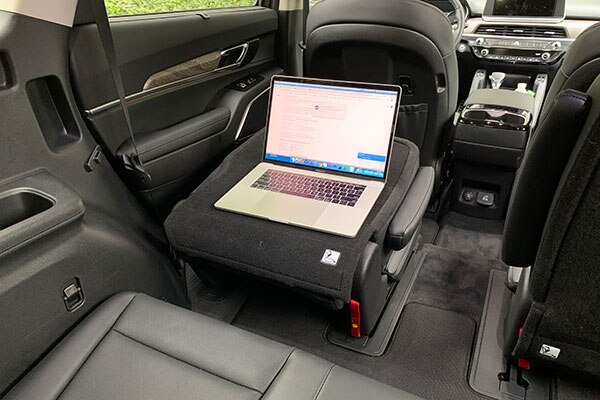 Mobile Office
Second, I've used it as a mobile office. When both kids are home and there are virtual school lessons, Facetime with grandpa and/or friends and the TV is going, it can be hard to find a quiet place in the house to work. I keep seeing social media posts about people watching movie marathons to kill time. Who are these people? I don't have more time, I have less — and I have a harder time separating work from family life. OK, maybe I have more time on the weekends.
The one solution I've found is sitting in the Kia Telluride in the third-row seat and propping my laptop up on the folded second-row seat in front of me. It's quiet and comfortable. This is really the only way I can work or write while at home.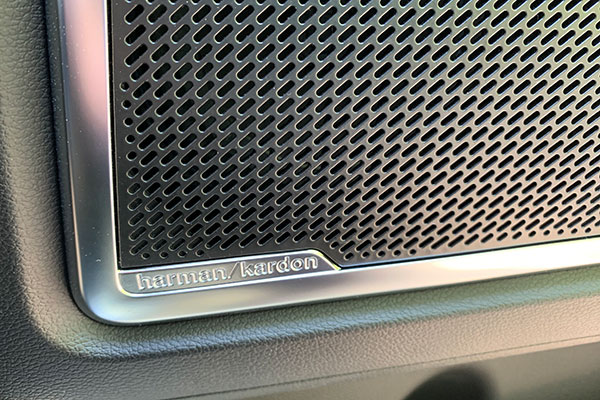 Escapism
Another use for the Telluride is just pure escape. Occasionally we will take a family drive around the neighborhood, giving us somewhat of a "back to normal" feel. Also, I will sit in the driver's seat and just listen to Spotify. Lately, Spotify has been killing it in terms of my "suggested" lists of songs. Two little exceptions: The bands Waterparks and Paramore are not "Punk." Sorry, dudes.
The audio system in the Telluride SX is a 10-speaker Harman Kardon system. This includes a center speaker, an 8-inch subwoofer and Clari-Fi, which is a trademarked feature from Harman that electronically fills in missing bits of compressed music. Yes, it really works. The result is that music from every source sounds really good — yes, even satellite radio.
I'm not racking up the miles but the car is being used. I'm glad it's comfortable enough for whatever life throws at me. Find a Kia Telluride for sale
---
Ownership Update – 5/7/20
By Tara Trompeter
In the midst of self-isolating with my family of four, I was offered the keys to Autotrader's long-term 2020 Kia Telluride, one of the hottest three-row SUVs on the market today. I've been so excited to get my hands on this car, as it's one that my family would actually consider buying. Of course, I don't have too many opportunities to drive around these days, since our past few months have been filled with virtual learning, Zoom conference calls and an endless online search for Lysol spray. Needless to say, when my kids found out I was getting the Telluride for a few weeks, they were thrilled for something new and different.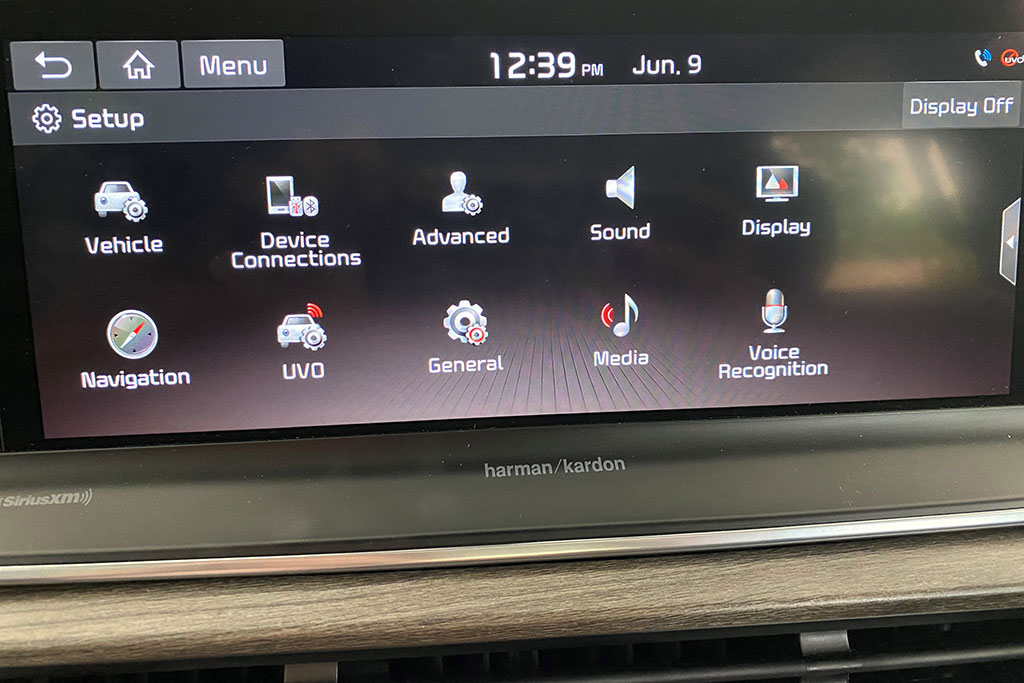 One of the most important aspects to consider when buying a car these days is the Bluetooth connection. How quickly and easily does your phone pair to the vehicle? How intuitive is the process? At Autotrader, we always tell prospective car buyers to test drive the technology by pairing your phone before purchasing. That's why the very first thing I do when I step foot into a press car is to connect my phone via Bluetooth. I was pleasantly surprised when I got into the Telluride and saw the "Setup" button beneath the SUV's beautiful 10.25-inch infotainment screen. Even for the most technologically challenged among us, it was totally intuitive once you pressed that "Setup" button, as it took you to a screen that included an icon for "Device Connections." I followed the prompts and was connected in seconds. Easy peasy!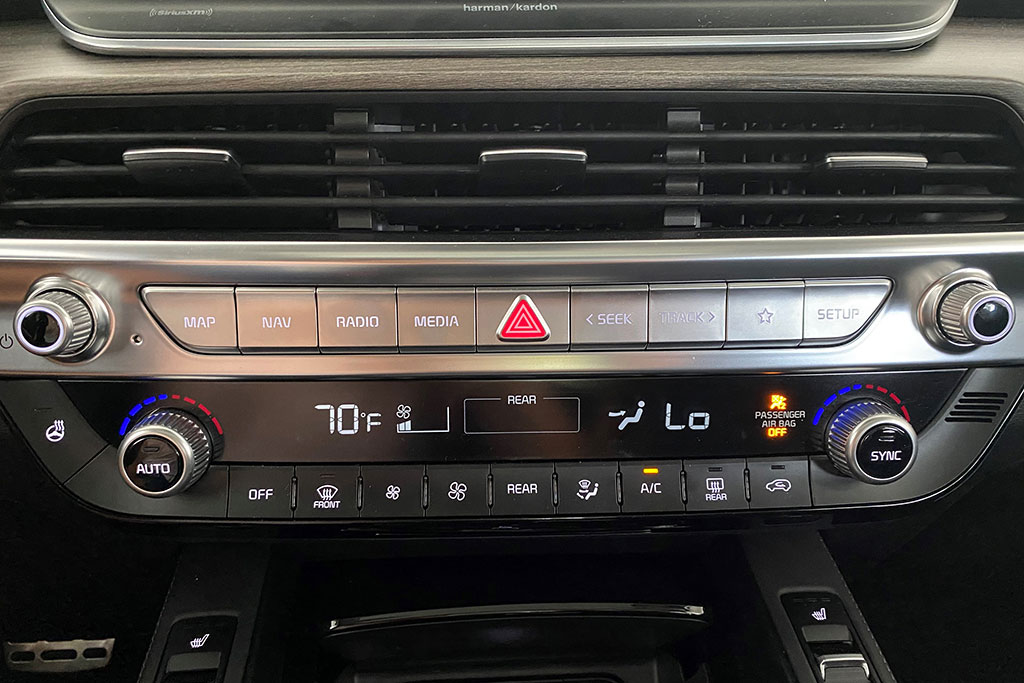 Since I didn't have a USB/phone cord handy when I picked up the Telluride, I wasn't able to connect to Apple CarPlay – but that was ok since it gave me a chance to use the Telluride's steering wheel controls to make a few calls (those controls don't work when you're connected to Apple CarPlay). I'm happy to report that the system understood every command perfectly, which is not always the case. I can't tell you how many times I've said "Call Mom" only to have the car begin to dial my uncle Tom or an old colleague named Bob. Insert facepalm emoji here. Thankfully the Telluride's system works well and isn't overly sensitive.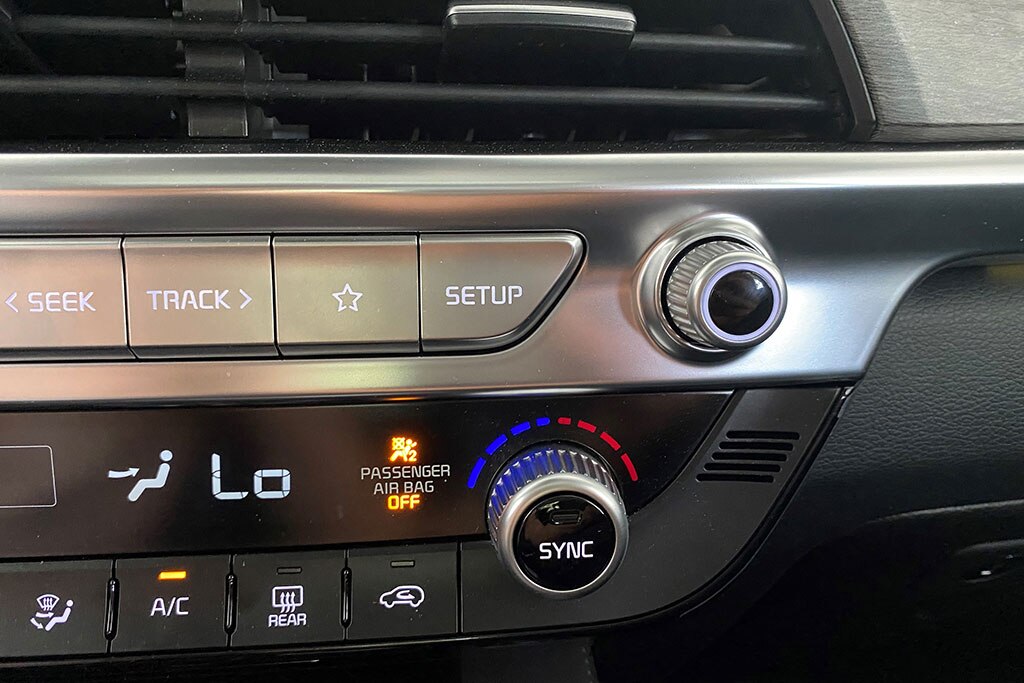 In the weeks ahead, I'm looking forward to spending more time in the Telluride, especially with my 6 and 9 year old kiddos. They are by far the toughest critics of our press cars. Find a Kia Telluride for sale
---
Ownership Update – 6/3/20
By Tara Trompeter
"Mommy! This car is SOOO cool!" That was the reaction from my 6 and 9 year old kids when they stepped into our long-term 2020 Kia Telluride for the first time. I have to admit, I was a little surprised that they thought so, considering it's lacking the rear-seat infotainment some of our previous press cars (like the Chrysler Pacifica and Honda Odyssey) have had. I was glad they loved it so much though, as the Telluride is one of my very favorite family SUVs on the road today – and since I could see us getting one someday, it helps that my kids already like it!
So, what do they like about it? Here are a few direct quotes:
"I like that the chairs lean back." The second-row captains' chairs recline, making for a pretty comfortable ride for the littlest passengers (and for the big ones too).
"I love the seat warmers and cool warmers!" Ummm, I think she meant cooled seats, but we'll give her a pass. Those are coming in quite handy these days, since the June temps in Atlanta are no joke.
"It's really big and it's such a pretty color." I guess it does seem big to a 9 year old, but that makes it just right for Mommy. I think the Telluride is a great size for a family SUV, with a roomy cabin (including a decent-sized third row when my kids aren't leaning as far back in the second row as they possibly can) and ample cargo space. As for the color, Dark Moss (a deep greenish-black shade) is definitely unique compared to everything else on the road.
"I like that there are so many cupholders." It's the little things, right? During quarantine, we've managed to acquire a ridiculous number of Simple Modern straw tumblers and insulated Yeti cups (don't ask). My kids love the fact that there's plenty of room for each of them to have two cupholders of their very own in the back.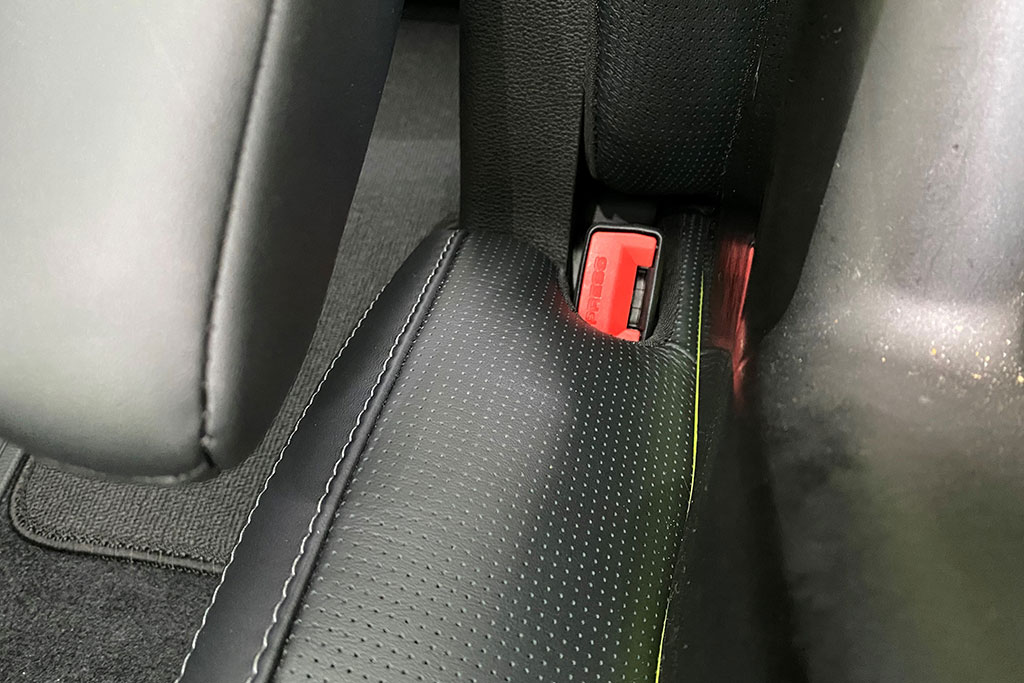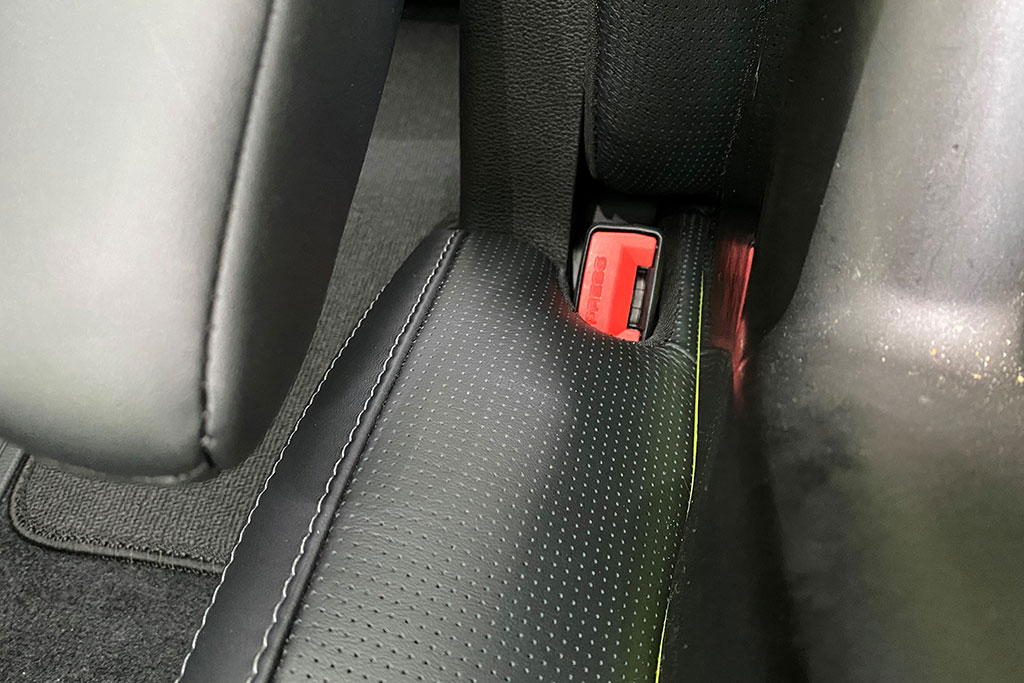 One thing I don't love is how challenging it is for my 6-year-old son to buckle his own seat belt. He's in a high back booster, which threads the car's seat belt through the top of the booster seat, across his chest and lap. Unfortunately, the seat belt receptacle doesn't come out quite far enough for his little hands to push the belt into it. He usually doesn't have a problem buckling his own seat belt, so I definitely see this as a design flaw.
Other than that, this great-looking, feature-filled SUV has been a big hit with this family. Can't wait to take it on the road in the months to come.
Ownership Update 7/20/20
By Brian Moody
I recently took a road trip to Florida to pick up a relative. If driving instead of flying is the new thing, the Telluride makes it a really easy pill to swallow. Prior to the trip, I had been driving various other cars, SUVs, trucks, some expensive some not. The reason for saying this is that I kind of cleared my mind of the Telluride. Even so, as soon as it got in it and drove away, I instantly remembered what makes this 3-row SUV so amazing. It just feels solid, it's quiet and has exactly the right features.
On the trip, I used the Telluride's "Smart Cruise Control" which is, essentially, a brand name for adaptive cruise control. Adaptive cruise control will "see" cars ahead and maintain a safe distance automatically no matter what speed you have your cruise control set to. Even better is Kia's Highway Driving Assist which works like adaptive cruise control but adds steering and lane-keeping functions. The car won't let you take your hands off the wheel for more than a few seconds but the feature can clearly automate most of the driving functions.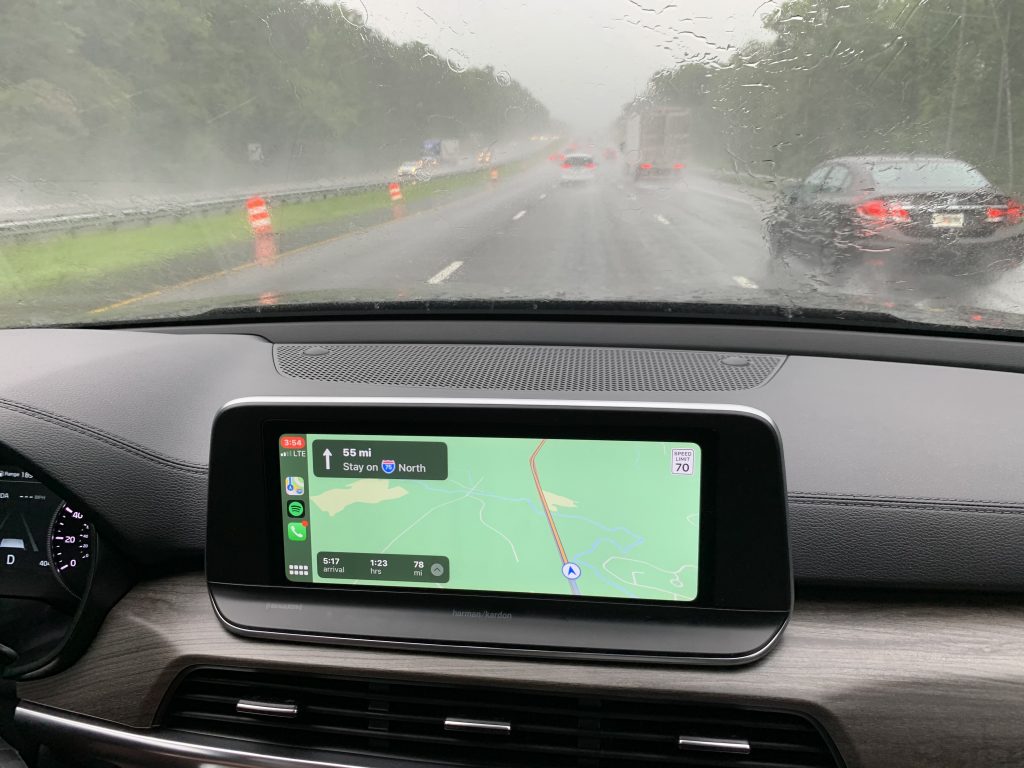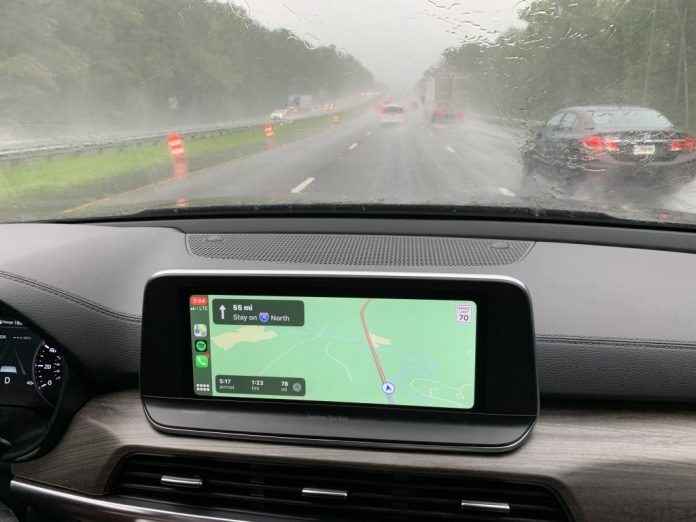 During a really heavy thunderstorm in Florida, I was happy to have some of these features automated – it made me worry less. In some cases, the car could "see" better than I could. It's a convenience feature but also a safety feature.
Ownership Update 8/21/20
By Brian Moody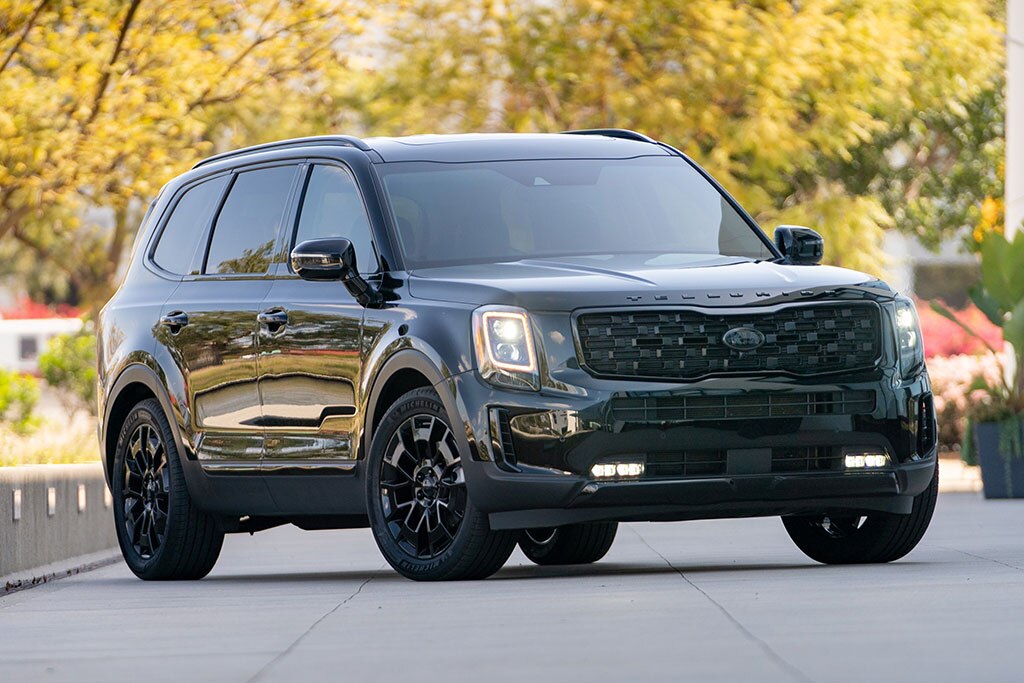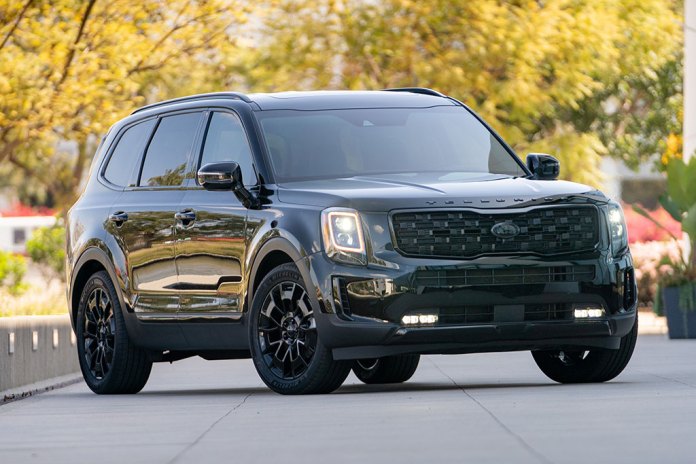 When the Night Falls…
One of the "cons" for the Telluride, I believe, is the fact that you have to get black-painted wheels with the top trim level – the SX. I just like the more traditional metallic color for big wheels. Well, I might be alone in this opinion because Kia just went all-in on the "painted black" theme. Like a Rolling Stones song, Kia sees a three-row SUV and wants to…, well, you know. It's called the Nightfall edition and is available on all-wheel-drive versions of the Telluride EX and SX. The Nightfall version of the Telluride includes gloss black exterior trim, black finish 20″ wheels, black grille, black trim rings around the headlights and fog lights, and special darkened Kia logos. Also, the style of those wheels is different than the gloss black wheels of the Telluride SX. Looks cool, right?
Ownership Update 9/30/20
by Rob Nestora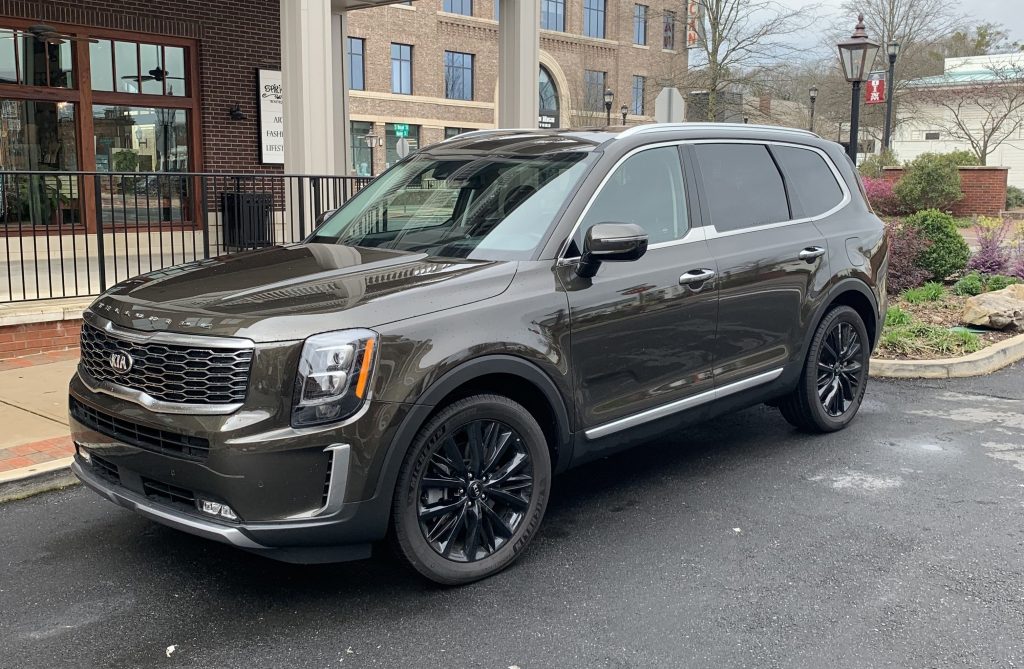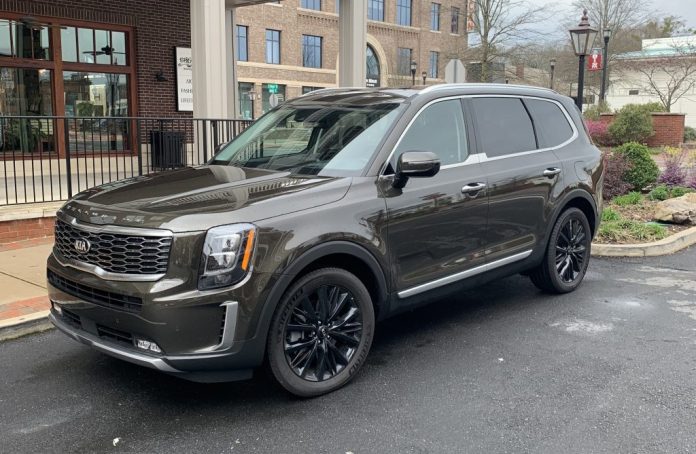 Road Trip
I recently had the opportunity to take our 2020 Kia Telluride on a longer than usual road trip to the Hudson Valley all the way from Atlanta, clocking in at just under 1000 miles each way. Extended drives like this one can definitely be challenging, but the Telluride offered plenty in the way of comfort and convenience features to make the trip more than tolerable.
Adaptive cruise control has become a must-have feature for road trips, in my opinion, since it takes so much stress off the driver in what is basically a marathon of automobile travel. Additionally, lane-keeping assist is another great feature to have during a long drive as it keeps your vehicle in your lane while driving which also reduces stress and adds another layer of safety. During my tenure at Autotrader, I've taken several road trips in different long-term vehicles, but the Telluride has the best adaptive cruise control I've experienced yet on a road trip. It isn't too sensitive, applying excessive brake force when a car switches into the lane you're driving in; rather it seems much more mellow and well-engineered. It's almost as if it can sense what's going on nearly as well as a human driver, thanks to its various sensors, cameras, and technological gadgetry. Also, the lane-keeping assist isn't always over correcting or unnecessarily chiding you to put your hands on the steering wheel when they are already there. Well-designed tech like this is hard to find, and a great addition to the Telluride.
The Kia Telluride's range is also noteworthy and a great bonus to have on a long trip. I was able to stretch each tank of gas over 420 miles without having to refill. Due to this exceptional range, I was able to maximize my time on the road instead of wasting time with unnecessary gas breaks and junk food purchases. I mean, hey, I like HoHos just as much as the next guy, but I'd rather get to my destination quicker than it takes me to add another inch to my waistline. Find a Kia Telluride for sale
Ownership Update 10/30/20
by Tara Trompeter
Recommending the Telluride
One of the most rewarding parts of my job as Managing Editor for Autotrader is the opportunity to make vehicle recommendations to personal friends as a result of my exposure to lots of different cars. My recent experience with our long-term 2020 Kia Telluride has been overwhelmingly positive, leading me to recommend it wholeheartedly to the dad of my daughter's best friend when he asked for some advice a few weeks ago. I was thrilled when he called back a few weeks later to let me know that not only did he go test drive a Telluride after I suggested it, but he ultimately purchased it on the spot!
His initial requirements were three rows, a decent cargo area, captain's seats, an excellent warranty and great value for the money. In the highly competitive midsize SUV segment, that could describe quite a few different vehicles. While I have always loved the Honda Pilot and Toyota Highlander, my experience over the past two months toting my kids around in the Telluride has made it obvious that Kia's three-row offering has set a new bar for midsize SUVs. It's just SO. GOOD. Performance? Check. Great warranty? Check. Safety? Check. Technology? Check. And the fact that it looks amazing doesn't hurt either.
I wasn't surprised that my friend ended up buying the Telluride, but he was — he said he never would have thought to consider it had I not recommended it. Given the demand that already exists for this SUV, something tells me the word is getting out.