Big improvements for 2020
Most tech-packed Subaru yet
Excellent SUV alternative
Turbocharged XT models are best
Has a CD player (really!)
The 2020 Subaru Outback's formula is pretty simple: It's a wagon-based crossover that offers most of the benefits of a large SUV but with the everyday comfort of a sedan. The Outback has more off-road abilities than most other car-based crossover SUVs — I've driven an Outback on roads many miles from civilization and pavement and have seen firsthand just how much abuse the car can take. That combination of tough and comfortable is why Subaru has recently seen record growth.
Why We Got It
The Outback is all-new for 2020, and we're hoping that the improvements will shine in daily life, not just on the way to our favorite Lake Tahoe ski resort. Subarus remain popular with people who live in the Northeast, the Northwest and anywhere snow is common. That makes sense, but Subaru seems intent on building and selling Outbacks that work just as well in everyday situations — like commuting to work or getting groceries. In the past, the trade-off for Subaru's ruggedness was a sort of spartan interior and some clunky tech solutions. That seems to have changed for 2020, so we're looking forward to using the Subaru Outback in everyday situations where passenger comfort might be more important than a robust all-wheel-drive system.
We also wonder whether the Outback, in its upper trim levels, can look and feel as plush as the Mazda CX-9, the Toyota Highlander or the Nissan Pathfinder — although the Outback lacks a third-row seat. In spirit, the Outback's real competitors might be more like the Honda Passport and the Jeep Cherokee.
Our Outback
When we ordered our Outback, we opted for the priciest version we could get. Having previously driven several, we knew we'd want one of the XT models. The XT on the Outback indicates that it has a turbocharged engine — 260 horsepower versus 182 hp for the nonturbo Outback. The base Outback starts at about $27,000. The lowest-priced XT version starts at about $34,000. There is some overlap in the turbo and nonturbo pricing, though. For example, you can get an Outback Touring without the more powerful turbocharged engine for about $38,000. The Touring includes many luxury and comfort-oriented features, such as super soft Nappa leather and a huge 11.6-in touchscreen.
The lowest-priced XT is the Outback Onyx Edition XT, which combines the powerful engine with more rugged features, such as 2-mode all-wheel drive and a water-repellent interior.
In the end, we opted for the best of both worlds — the turbo XT and the Touring. The result is a $40,000 Outback, not an uncommon price for a nicely equipped crossover SUV.
The 2020 Subaru Outback Touring XT is loaded with practically every feature that can be loaded onto a Subaru, minus the tough-looking blacked-out wheels and trim that come standard on the Onyx Edition. The Touring XT includes that 260-hp engine, plus other comfort and convenience items, such as a heated steering wheel, Nappa leather seats, a sunroof, a moonroof, an 11.6-in touchscreen, heated front and rear seats, a 12-speaker Harman Kardon audio system with a CD player, a rearview parking camera, a 180-degree front-view camera and Subaru's Driver Focus system, which detects and alerts drivers to distracted driving. A center console-mounted CD player is optional on lower trim levels — it adds $399 to the price — but comes standard on the Touring.
We chose an Abyss Blue Pearl Outback with the Java Brown Nappa Leather interior. There are no add-on packages available because most features are already included. We did get one standalone option: a wireless phone charger for an additional $245. Total price: $40,950.
Initial Impressions
The Outback Touring XT is probably the plushest Subaru that's ever existed. The 2020 model is new, and many of the improvements are subtle but noticeable. If you're getting an Outback or a Subaru Legacy, get the turbo XT model. The engine is smooth and powerful, and it gives the car a nice, high-end feel. It's also really quick.
The interior of the Touring is a serious high point. Before you spend $45,000 on any near-luxury crossover, check out the Outback Touring.
The 2020 Subaru Outback is an all-new car, so we're hoping that it has the excellent reliability we've seen in other Subarus. We're looking forward to the ownership experience of the new Outback and to seeing how it handles the good, the bad and the ugly of everyday life. Find a Subaru Outback for sale
---
Ownership Update – 5/20/20
by Brian Moody
If I hear one more person say "new normal" I'm going to eat an entire jar of Jif in one sitting just to give in to the inevitable cruelty of life. That, or I'm going to purposely watch a whole episode of the Bachelor. Actually, the peanut butter sounds much more reasonable. One thing I have actually done to feel normal is to sit in the car for 30, 40, 90 minutes just listening to music.
Trading Spaces
Turns out, the perfect companion for this is my 17-year old son. To really get under his skin, I tell him "Everyone your age only likes Katy Perry." Truth is, we have different musical tastes but he can appreciate a good song, a well-crafted hook, or a compelling performance regardless of genre. He's introduced me to Dua Lipa, Charlie XCX and DREAMCAR and has embraced some of my new and long-time favorites like The Shins, Best Coast and Marvin Gaye.
The backdrop for all this is Autotrader's long-term 2020 Subaru Outback. The car arrived in the midst of "stay at home" so there weren't many chances to drive it. I have been grocery shopping MANY times in the Outback but most of my time behind the wheel has been at the helm of a stationary car with an amazing sound system.
Audio Chops
It's a Harman Kardon system that's part of the Touring trim level on the 2020 Subaru Outback. The sound quality is spectacular with perfectly reproduced highs, sharp but deep lows and crossover tuning that is near perfect. There are 12-speakers powered by an 8-channel class D amp with the equivalent of 576 watts of power. There's a crispness to the sound that approaches the high-bar of Lexus' Mark Levinson system. In addition, the system includes Harman's Clari-Fi Technology that actually restores and corrects compressed music. Yes, it really works.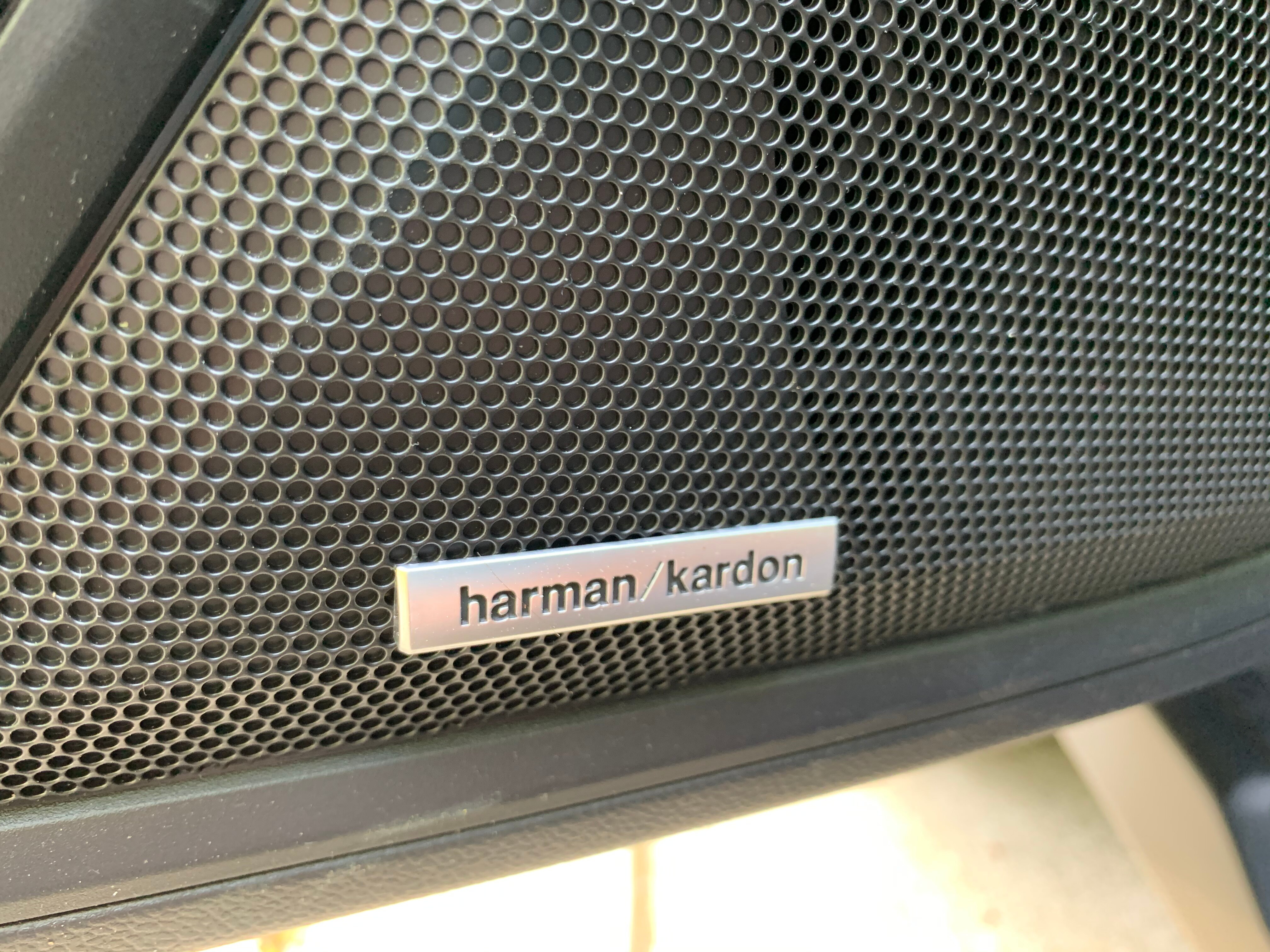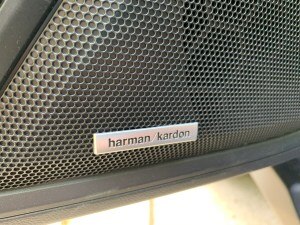 A bit more about Clari-Fi — modern audio sources are compressed for convenience. You can't get 64G of music on a device the size of a wallet without some compromises. Most of us have accepted the trade-off. For me, satellite radio and its limited bandwidth is where that trade-off isn't always worth it. Clari-Fi fixes that by using math to virtually "replace" missing information.
There are certain automotive brands that truly seem to get the importance of great music and good sound. Acura, Audi, Genesis, Land Rover, Lexus, and Volvo are a few of my favorites. Add Subaru to the list. The Harman Kardon Premium Audio is standard on Outback Limited, Touring, Limited XT and Touring XT.
---
Ownership Update 6/20/20
By Brian Moody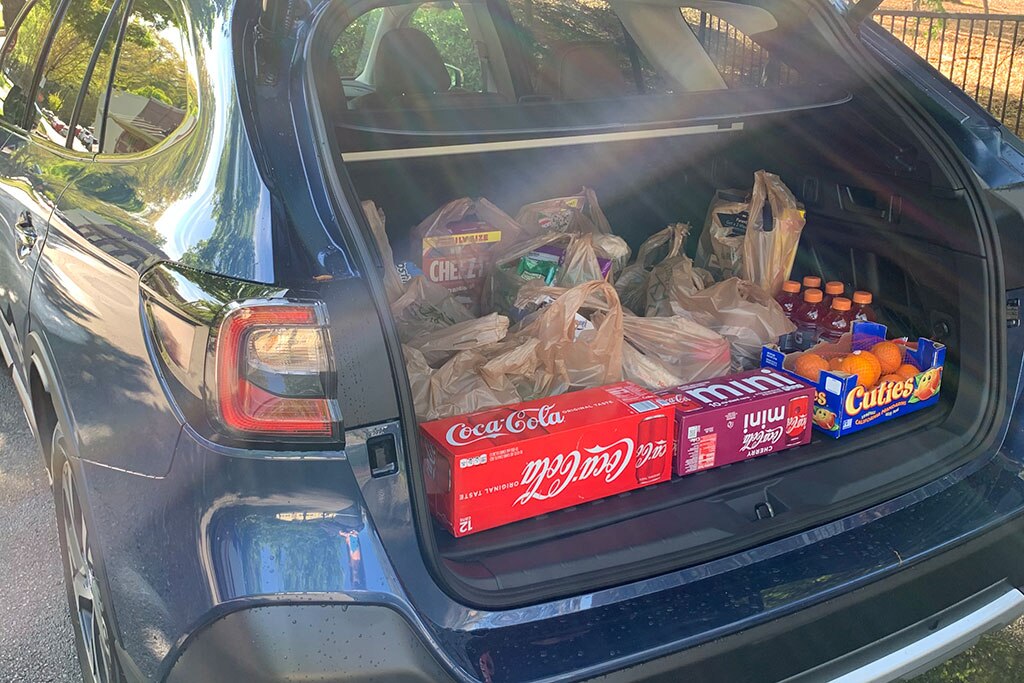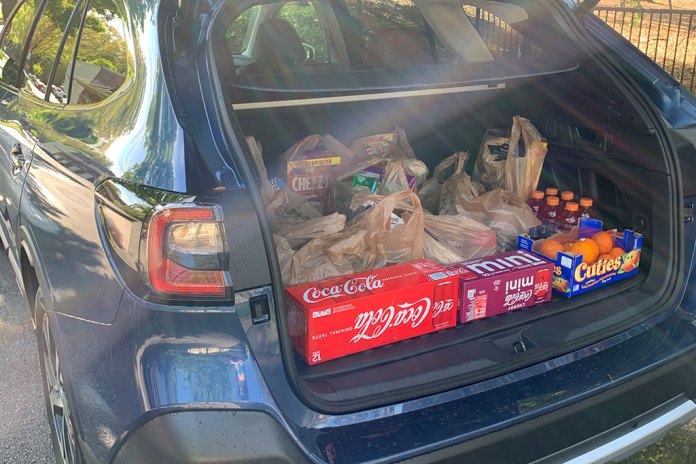 With many business and office buildings closed, I've been using the Outback as an around-town errand-runner. It works well in that capacity. The seats are supportive and comfortable and features like the rear cargo cover, all-weather cargo liner power rear door make this new Outback easy to live with every day.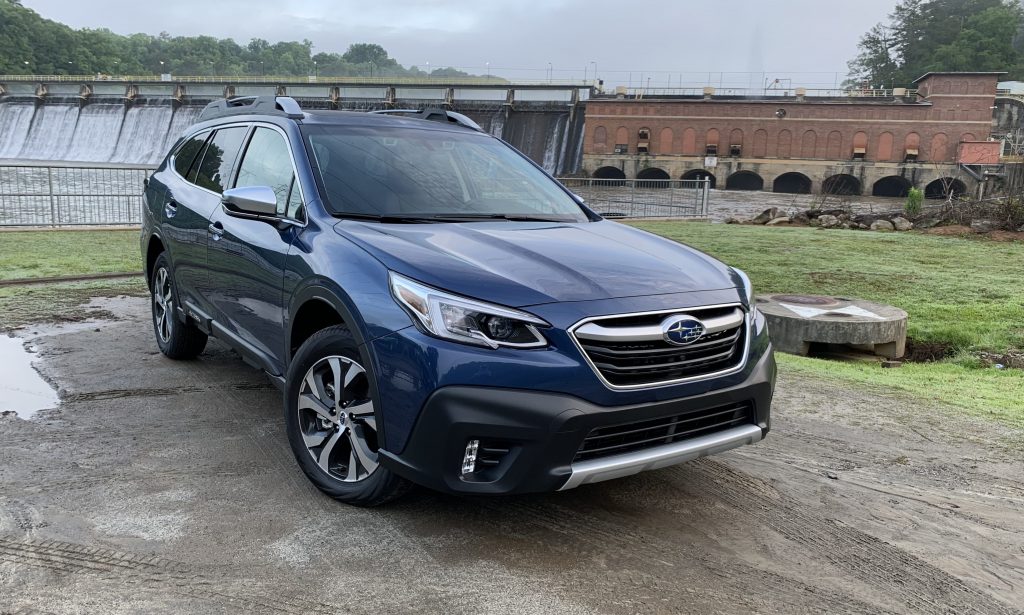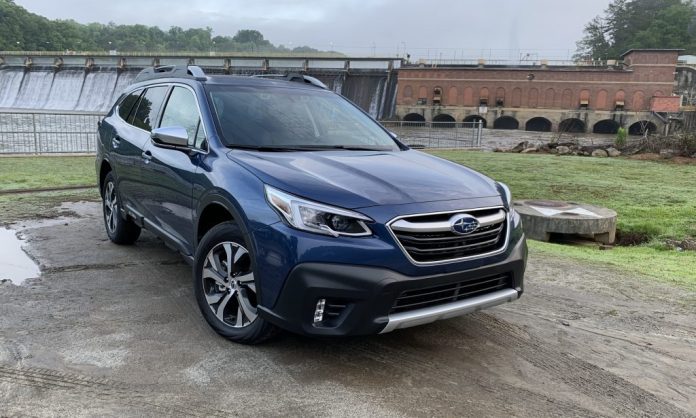 I also decided to take in a little "in-town" nature – the car is in use in Atlanta and even though I live in a very suburban area, there are many little dirt roads and gravel trails. While none are all that aggressive or challenging, I'm not sure I'd want to use a minivan or small sedan to get to some of these "remote" places. This combination of urban, suburban, and rural type roads is perfect for the Outback – the all-wheel drive and decent ground clearance of the Outback adds an extra level confidence.
---
Ownership Update 7/19/20
By Brian Moody
I finally got the Outback out on the open road. A friend offered an otherwise empty vacation rental for free so we jumped at the chance to get out and get away without any crowd interactions.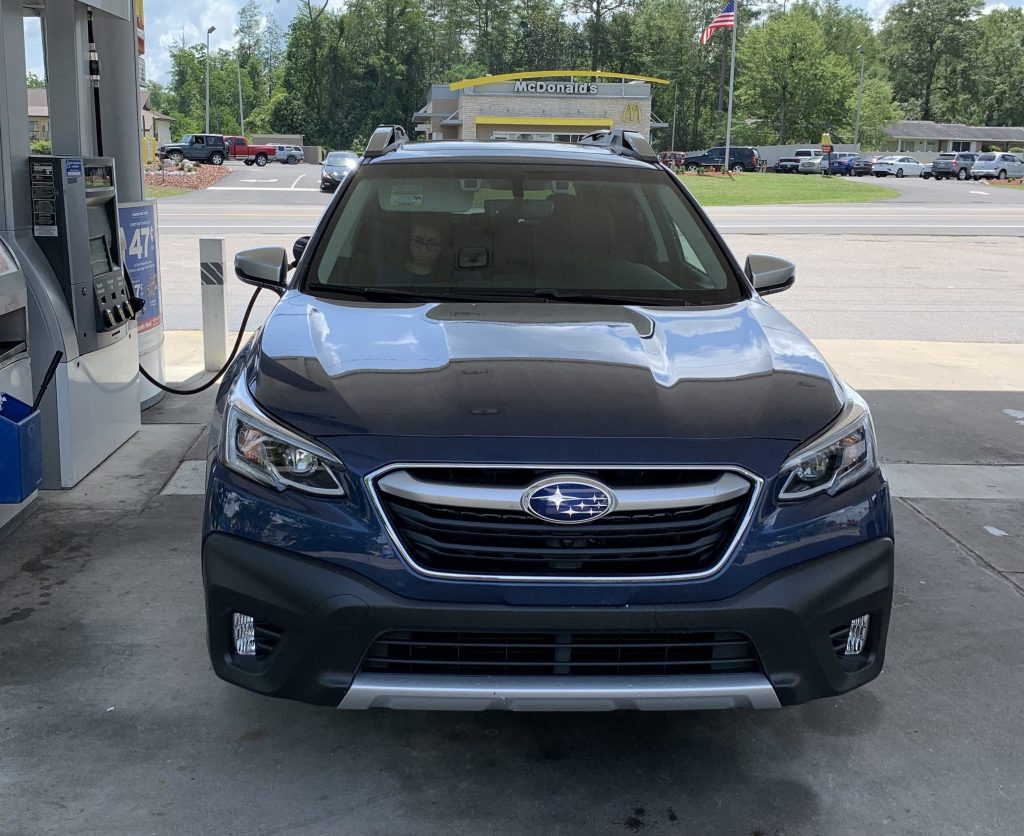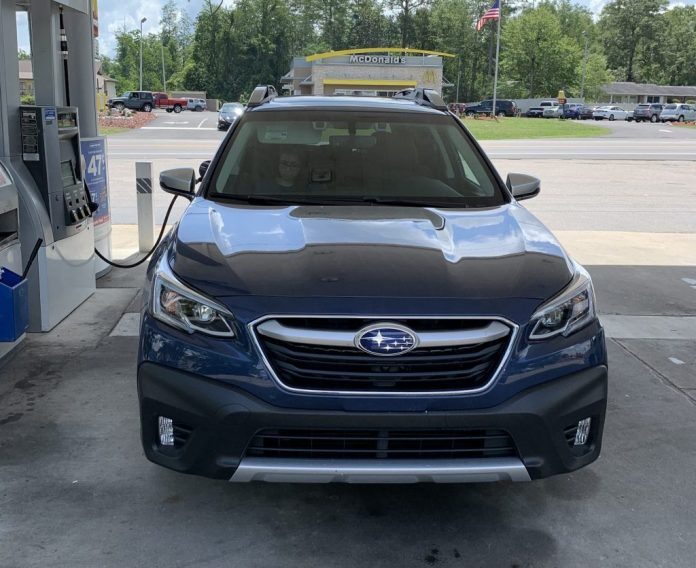 Subaru's EyeSight system works well. The adaptive cruise control feature was put to use a lot on our 5-hour drive. One thing I don't like, the system beeps every time it "sees" a car up ahead. Adaptive cruise control works by setting the car's speed but then slowing down automatically if the car ahead is going slower than the set speed. I don't know why it has to beep. I couldn't figure out how to turn it off.
One thing I noticed right away – this has to be the quietest Subaru the company has ever made. There's very little road noise and the CVT with the turbo engine is well-paired. You can hear a bit of mechanical noise at low speed while accelerating but it's not intrusive at all.
During the trip, we average 32 miles per gallon on the highway, that's 2 mpg better than the EPA estimate for our car. We have the more powerful XT model which is turbocharged.
---
Ownership Update 8/18/20
By Brian Moody
Thanks to software like Teams, Zoom, and Facetime, I haven't been actually commuting to work. To add a sense of normalcy, I've started to take a drive around my local area, often stopping at places I used to drive by. Out of the way sushi place, random dirt road abandoned strip mall – now, I stop at them all. The sushi place was really good.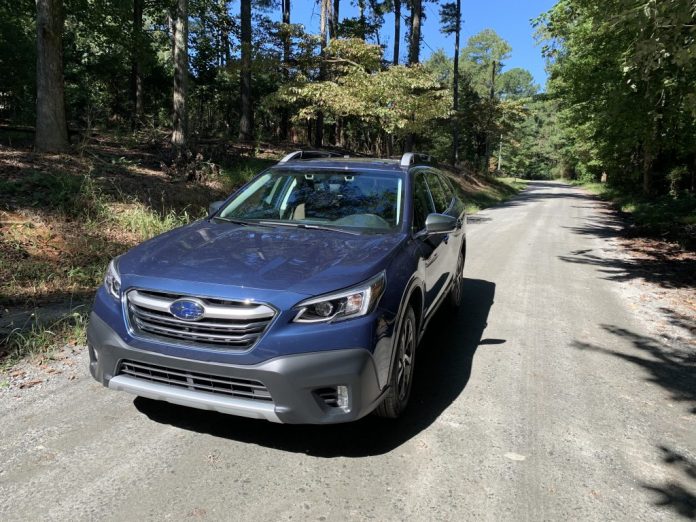 Certainly, the Subaru Outback's 7.8-inches of ground clearance and all-wheel-drive are designed to handle more than broken cement parking curbs and gravel roads. Still, I like knowing that wherever I go, chances are, I won't get stuck.
---
Ownership Update 9/22/20
By Brian Moody
We recently took the Outback on a road trip. Rather than drive to a car wash, I decided to wash it by hand. it's a good thing to do once in a while, it really helps to get to know the car when you first buy it. Also, these days, it feels kind of therapeutic.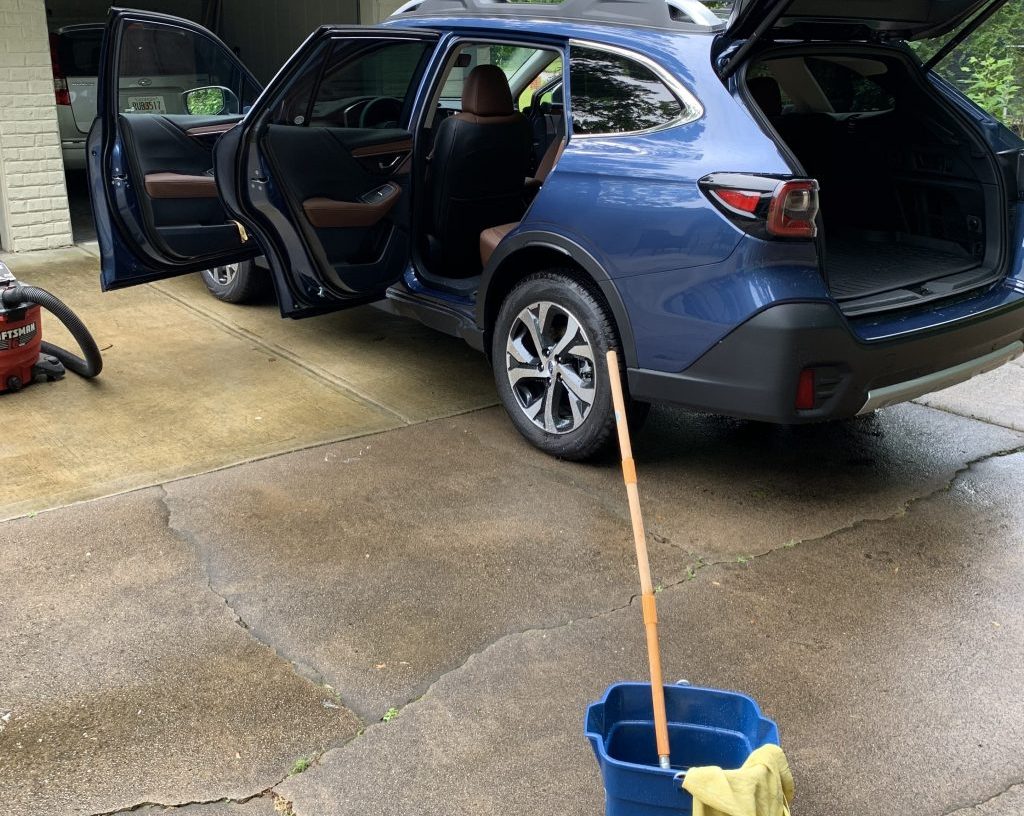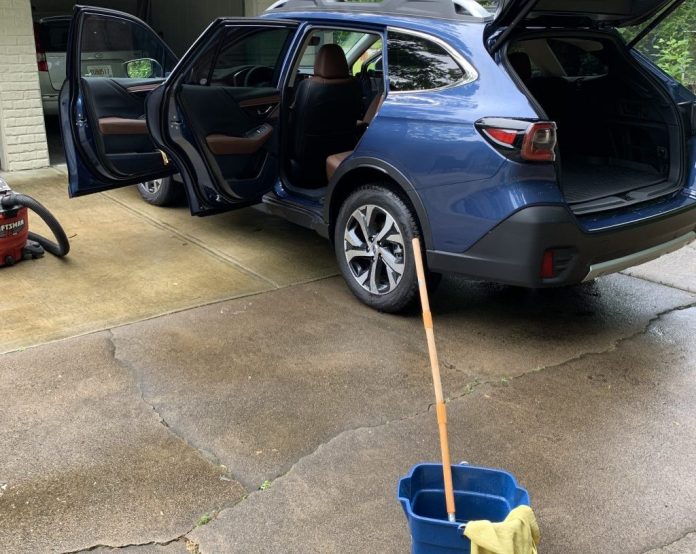 One little thing – with the car's elevated ride height (think small SUV rather than a wagon) plus the large roof rails, it's hard to reach the top. It's definitely a step-ladder situation. Not that I especially like a clean Subaru – other than the WRX, Subarus seem to be in their natural state when they're dirty. Still, it's a good-looking car and has matured over the past decade to be something more premium than other, similar vehicles. Find a Subaru Outback for sale
---
Ownership Update 10/24/20
By Rob Nestora
I've had the 2020 Subaru Outback for a few weeks now and it's becoming more difficult to be critical of this thing; it's just so remarkably well rounded. From the well-appointed interior to the peppy power plant, to the bevy of tech and safety features equipped on our model, the Outback continues to shine as an example of what modern cars can and should be.
Interior
The interior of the Outback is a standout, with its attractive brown leather seats garnering your initial attention upon stepping into the vehicle. There's something about the chocolatey brown of the leather that just oozes class and sophistication, like elbow patches on a tweed jacket. The seats aren't just great to look at, they're plenty comfortable too offering power adjustment, cooling, and heating elements for the more extreme shifts in climate.
I'd be remiss if I didn't mention the well-designed and ample touchscreen in the middle of the dash, which offers all of the obligatory functionality you would expect from a modern infotainment system. The operation of the infotainment proves to be as responsive and aesthetically pleasing as any system I've tested to date.
The Drive
Behind the wheel, our Outback does not suffer from the lack of chutzpah that affects some of its smaller stablemates. The 2.4-liter turbo-four supplies 260 horsepower, which allows for more than enough acceleration when you need it. That's not to say that the experience is perfect as the transmission feels a bit punchy at times, providing bursts of acceleration somewhat unexpectedly. I tend to appreciate the experience, other drivers, however, may not.
Looking Forward
In the coming weeks, I look forward to testing out the various safety features in the 2020 Outback, such as adaptive cruise control, lane-keeping assist, and the DriverFocus technology. If past is prologue, though, I'm sure this Subaru will do nothing short of impress. Find a Subaru Outback for sale
---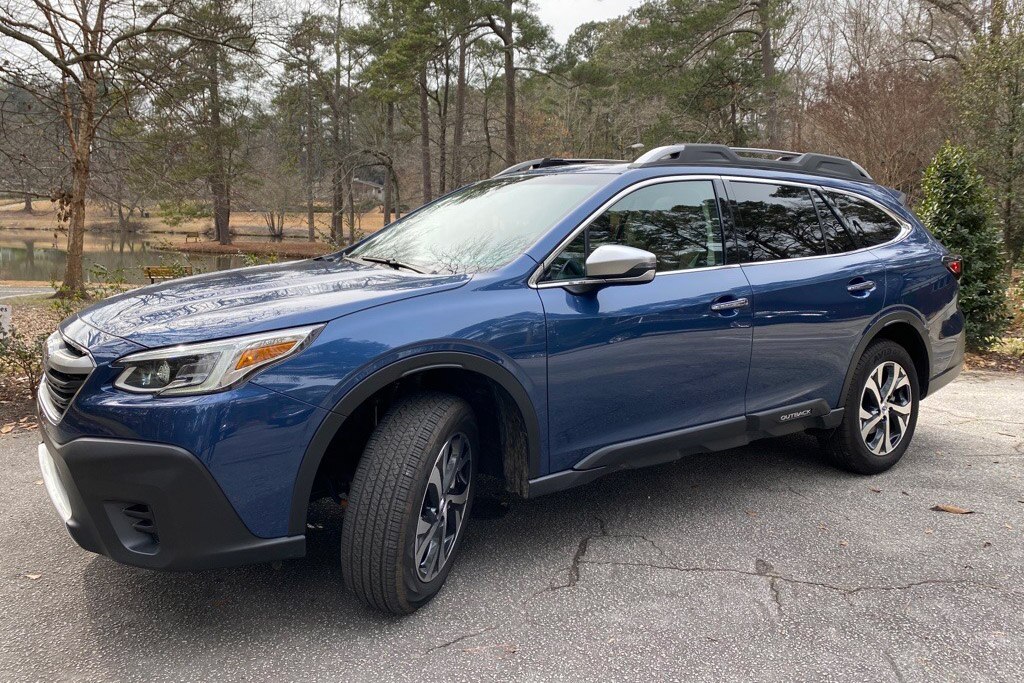 Ownership Update 1/19/21
By Renee Valdes
First Impressions
The Subaru Outback easily stacks up to other crossovers on the market. With a spacious 5-passenger interior and nearly 78 cubic feet of cargo space when the back seats are down, I can see that this vehicle could meet the demands of buyers, even a small family. However, the Subaru Outback doesn't offer a third row. For that, you need a Subaru Ascent.
Unfortunately, I couldn't test the car for its interior space and exterior roof rack capacity for outdoor gear, including camping gear. It's simply too cold outside right now to do so in the South. Instead, I took the Outback Touring to the supermarket and drug store twice, the bank, a craft store and a few other establishments. Because I hit several stores at once, the haul fit nicely in the hatchback no problem. The car met this mom's approval.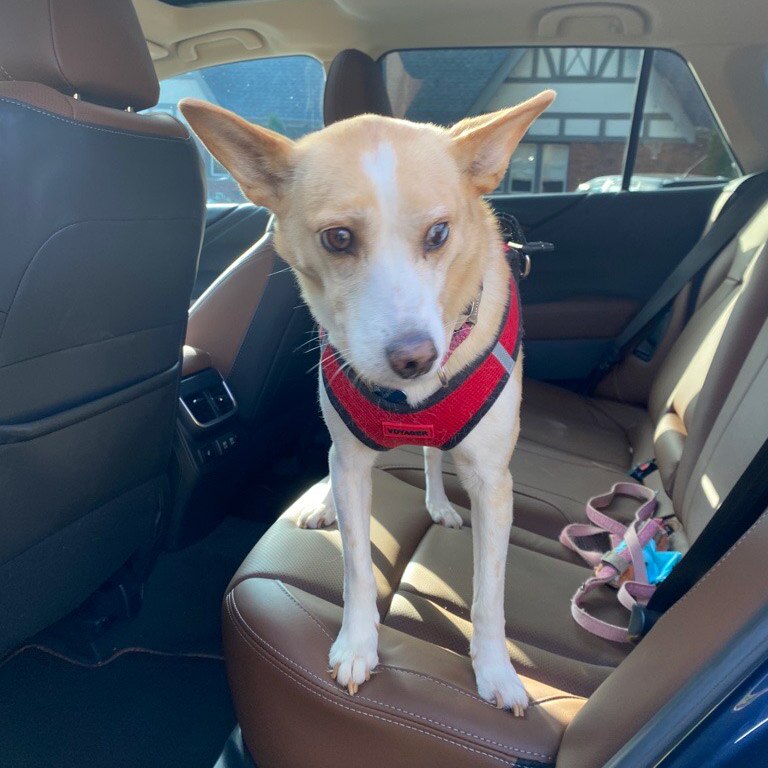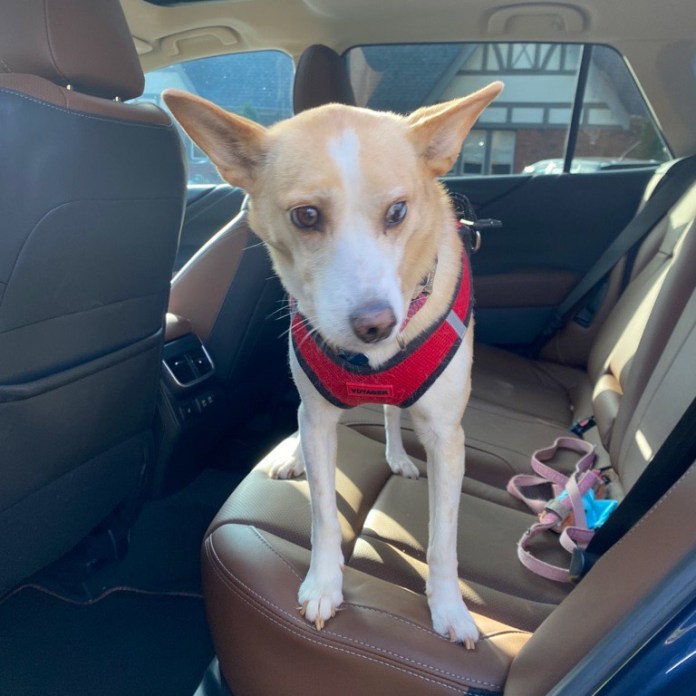 The Outback got dog approval, too. Our pup, Jojo, loved that the Subaru sits lower than our current SUV. Jojo, a 9-year-old Basenji mix, jumped in with ease. When we were done with our walk and the ride, the leather seats cleaned up easily enough.
Overall, the Subaru Outback takes in-town and interstate driving well, living up to its 26 MPG city and highway average. The Subaru Outback's safety features, including the lane departure and sway warning system, blind-spot detection with rear cross-traffic alerts, also won me over. I can see how these safety features are a hit with drivers.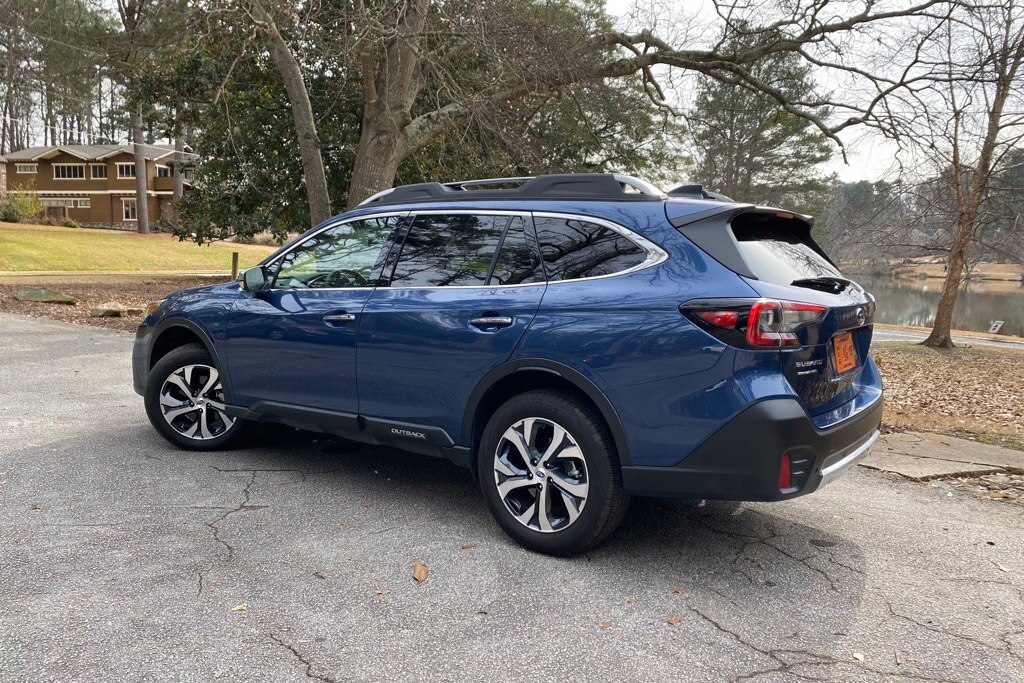 What I Like
On a particularly frigid day with temperatures below 35 degrees Fahrenheit, the comfortable and soft leather seats got toasty in no time. That's a big plus because, in the south, we're not accustomed to prolonged periods of near-freezing weather.
And when the seats got too hot, no problem. The cooling function regulated the temperature, bringing me back into a comfort zone.
Another plus – The big font on the dashboard multimedia system. It was like a giant iPad and it's easy on aging eyes with its readability. Soothing callouts during navigation keep you on track, too.
As other drivers rave about the trunk lock button, I will, too. Really, it just gets me giddy. This button puts the power of closing the trunk and locking the entire car at your fingertips.
For 2020 models, the vehicle lock button only comes on Outbacks with the power liftgate. So, that's the Limited, Touring and Onyx.
What I also discovered by accident: The Subaru Outback's keyless access also allows the driver to lock all doors with a hand swipe even when others have yet to exit the car. Now that's magic for a mom knowing that the car is already locked up when your too-slow teen takes his time exiting the Subaru, while you've moved on to the errands at hand.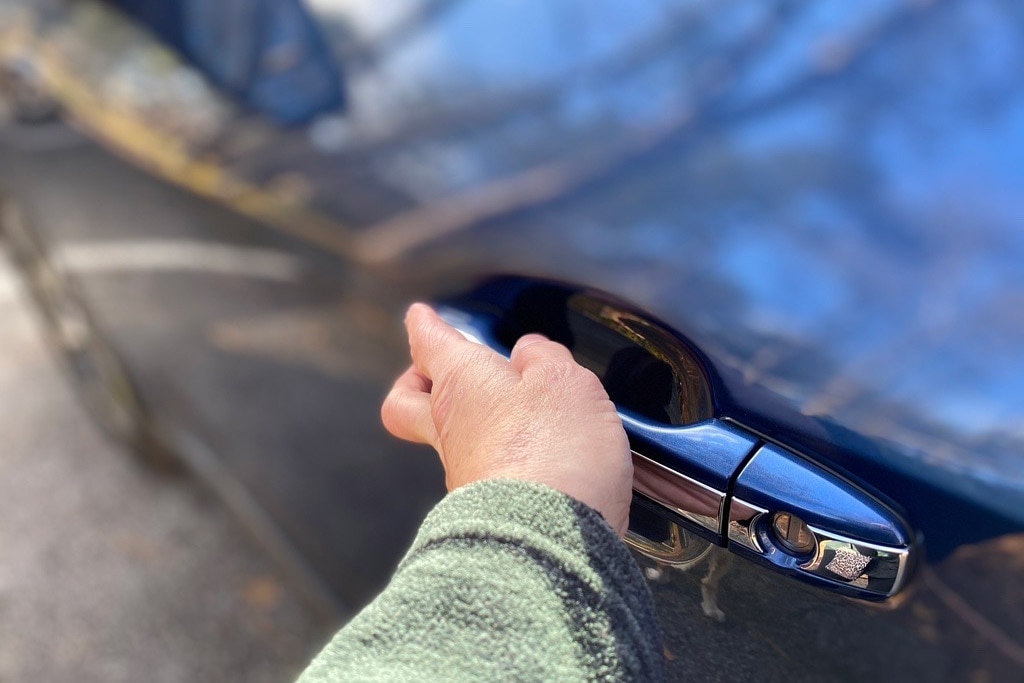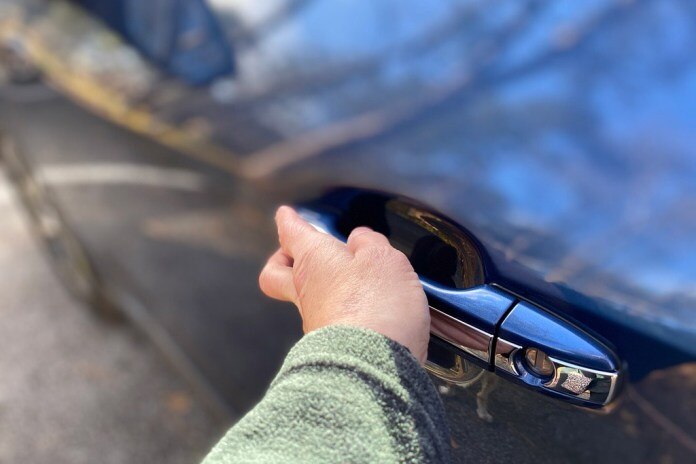 What Takes Time
The high-tech nature of the Subaru Outback takes some getting used to. There's a lot of pros to keeping your precious cargo safe.
By the third day of use, I started getting accustomed to some of these features. Though finding time to read a car manual isn't my idea of fun, I took to thumbing through the safety features section in the guide. I needed to understand what it brings to the safety table and learn how they work.
After all, as protector-in-chief of the family, I need to know how the car will perform in the event of any mishaps, or worse yet, a serious accident.
Once I signed up as a driver, the EyeSight Driver Assist technology recognized me each time I entered the car. It kept me focused on driving, not on trying to manage directions or picking up my mobile phone to find out why I didn't type the right directions in the system in the first place. You see, the Subaru will not let you navigate – and discourages phone use for texting — unless the driver pulls over or inputs directions or a text at a stoplight or during any other complete stop. That's a big plus.
I can see how this would be a big benefit after you learn how it works. This is especially so when younger, inexperienced drivers get behind the wheel with all the temptations that electronics bring.
The Subaru also provides the speed limit on highways and interstates and provides names of roads, which is super helpful.
Be prepared for the alarms- another feature that takes time to get used to. At first, I had no idea why the car was sounding the alarm chimes. Eventually, I realized that when you accidentally cross a solid line outside of a lane, the lane departure alert dings so you get back to your lane. While testing this feature for sensitivity, I learned that the Outback doesn't always recognize when you're just trying to avoid cars parked on the side of a residential road.
The bottom line: The car's features keep you engaged and safe. In the end, isn't that what matters?
Final Word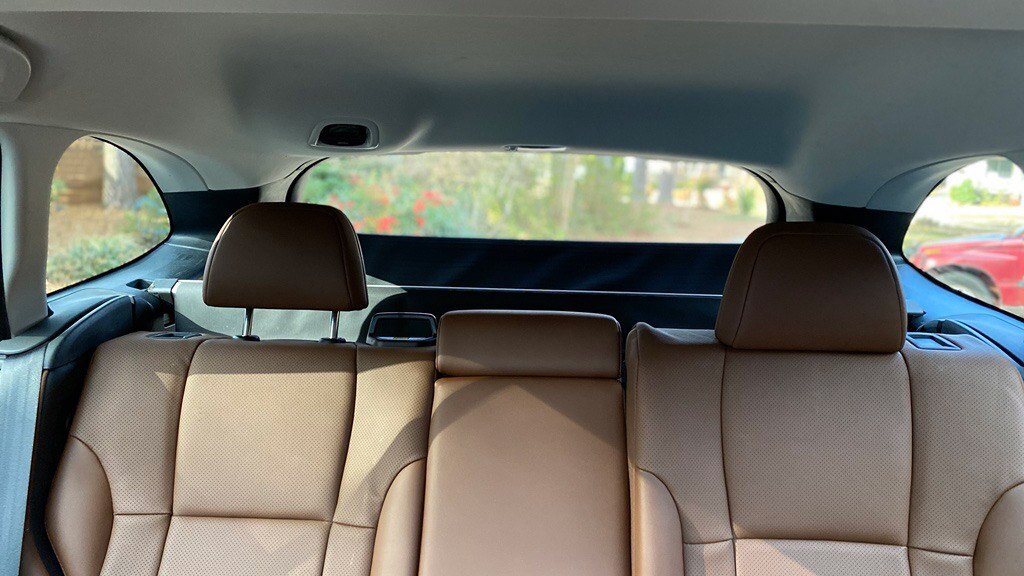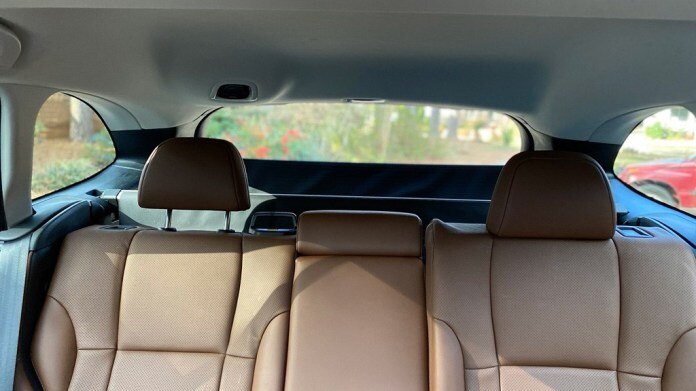 When I first picked up the car, the cargo cover was halfway across the trunk space. It blocked the view. Make sure before you get going to always have the cargo cover either fully engaged or fully off its track so it doesn't get in the way of seeing out of the back of the car.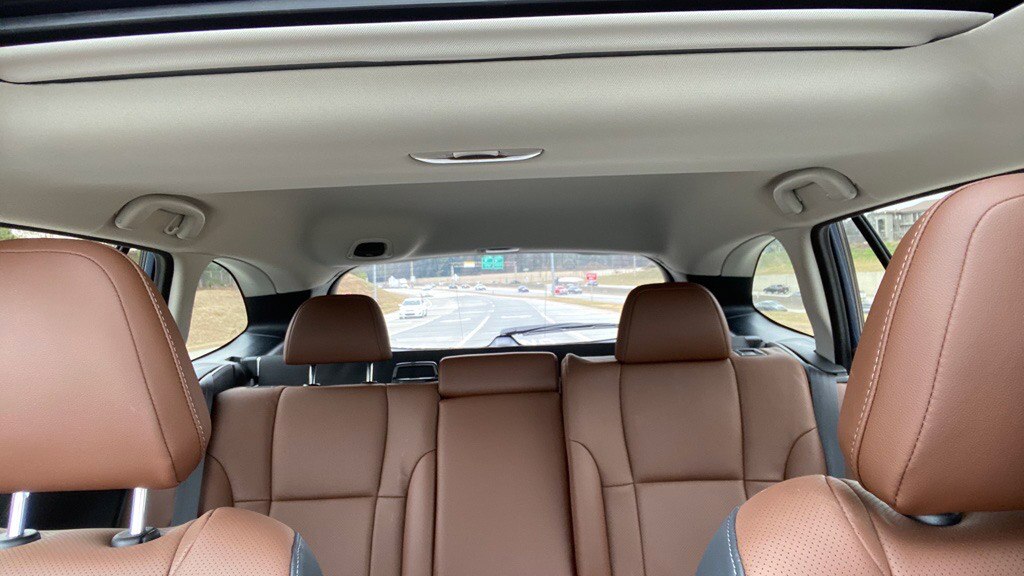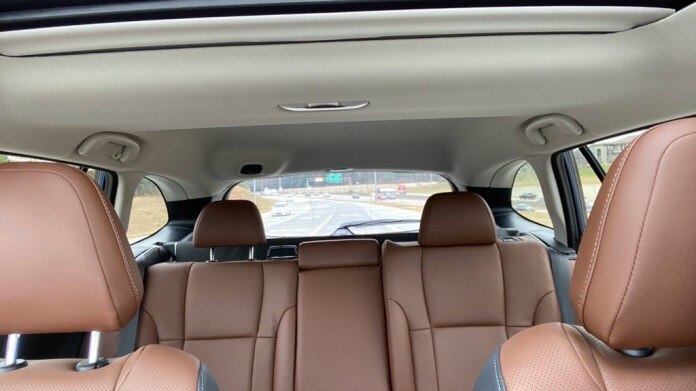 Overall, this car makes you want to take it on a pleasure ride to some outdoor destination, especially during the pandemic. If only I had a bit more time. I definitely would do that.
Just turn on the premium Harman Kardon audio system and enjoy the ride. Find a Subaru Outback for sale