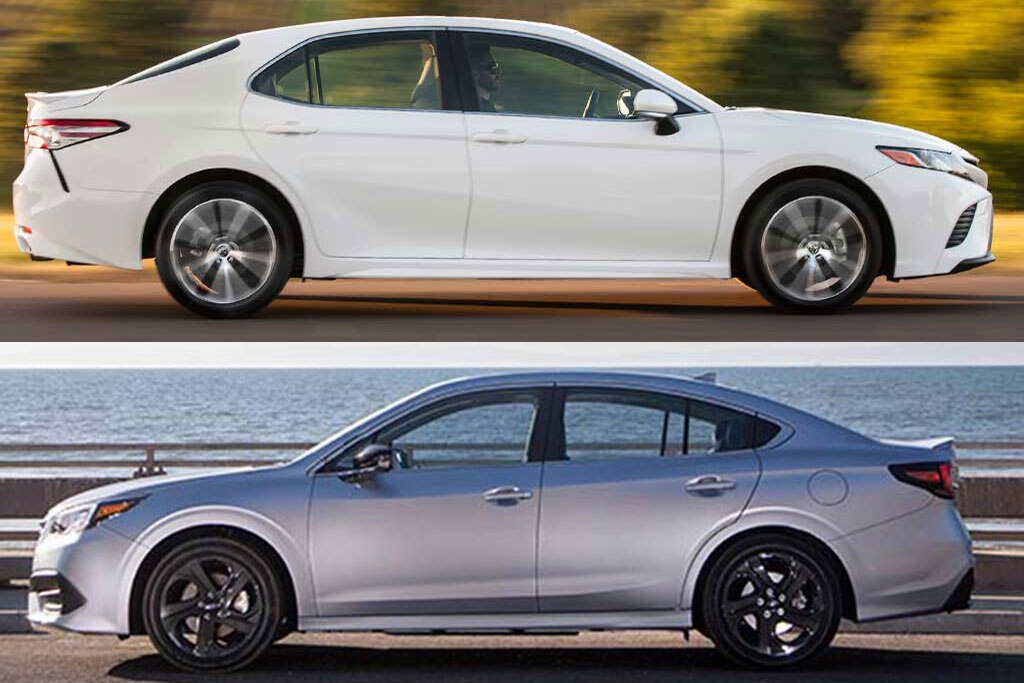 The 2020 Subaru Legacy is all-new.
The 2020 Toyota Camry gains optional all-wheel drive.
Both vehicles earn the Insurance Institute for Highway Safety's Top Safety Pick+ awards.
Two of the most trusted midsize sedans on the market are the 2020 Toyota Camry and Subaru Legacy. The Camry is the segment sales leader and has been on sale in its current generation since the 2018 model year. It's offered in a variety of flavors, from the humble 4-cylinder to the efficient hybrid to the performance-oriented V6 TRD model. Four-cylinder models also gain available AWD for 2020. The Legacy prioritizes all-weather capability through its offering of standard AWD and also places a high priority on safety. Below, we'll compare the Camry and Legacy in a number of categories to help you understand which might be the better buy for you.
Exterior
The Camry wears bolder exterior styling than the Legacy. Its front end features lots of curves, including a wide, broad grille with lots of horizontal slats on non-sport models, while SE, XSE and TRD models get a unique front bumper with lots of vents and angles, making for a more aggressive look. Other exterior features available on the Camry include black wheels and a contrast black roof. The Legacy has great proportions. While the Camry has a long, sloping rear roofline and a short trunk lid, the Legacy has a more traditional sedan profile. It wears a trapezoidal grille up front and charming taillights at the rear. There's just not much else to say. Optional black wheels are about as sporty as it gets with the Legacy. See the 2020 Toyota Camry models for sale near you or See the 2020 Subaru Legacy models for sale near you
Interior
While both vehicles' interiors prioritize functionality, the Camry's feels a little more inspired than the Legacy's. The Camry's center stack is an asymmetrical shape and is tilted slightly toward the driver's seat, making for a more driver-centric cockpit. The Legacy has a flatter, more geometric dashboard. The Camry gets a 7-in infotainment screen as standard, though most trims get a larger 8-in unit. The Legacy's calling card is its massive 11.6-in center infotainment screen, which is included on all but the base model.
In terms of 2nd-row legroom, the Legacy offers 39.5 inches to the Camry's 38 inches. Both vehicles have 15.1 cu ft. of cargo volume.
Mechanicals
The base engine on the 2020 Toyota Camry is a 2.5-liter 4-cylinder putting out 203 horsepower and 184 lb-ft of torque. An 8-speed automatic transmission comes standard. With front-wheel drive, the 4-cylinder Camry is rated at 29 miles per gallon in the city, 41 mpg on the highway and 34 mpg in combined driving. Adding AWD results in a not insignificant hit of about 3 mpg all around.
The Camry's V6 is a 3.5-liter unit rated at 301 hp and 267 lb-ft of torque. The Camry V6 comes exclusively with FWD. The EPA rates the non-TRD Camry V6 at 22 mpg city/33 mpg hwy/26 mpg combined. TRD Models take a 1 mpg hit to their combined figure.
The Camry hybrid pairs a 4-cylinder engine with an electric motor and puts out a total of 208 hp. The Camry Hybrid LE is rated at 51 mpg city/53 mpg hwy/52 mpg combined, while Hybrid SE and XLE models return 44 mpg city/47 mpg hwy/46 mpg combined.
All non-hybrid Camrys make use of an 8-speed automatic transmission. Like most hybrids, the Camry Hybrid gets an electronic continuously variable transmission.
The base engine in the Legacy is a 2.5-liter boxer 4-cylinder that puts out 182 hp and 176 lb-ft of torque. Fuel economy comes in at 27 mpg city/35 mpg hwy/30 mpg combined. Upper trims get a turbocharged 2.4-liter 4-cylinder that puts out 260 hp and 277 lb-ft of torque. The turbo is rated at 24 mpg city/32 mpg hwy/27 mpg combined. The Legacy comes standard with AWD and a CVT.
One big takeaway here is that while the Legacy offers AWD on both of its powertrain options, only the Camry's base 4-cylinder engine can be optioned with AWD. The more powerful Camry V6 is still FWD only.
Features & Technology
The Camry and Legacy both come standard with Android Auto and Apple CarPlay compatibility. Additionally, the two vehicles both offer a sunroof, heated and ventilated front seats, wireless charging, premium audio and more. Only the Camry is available with a surround-view camera system.
The Camry's TRD performance model packs a stiffer suspension, a TRD exhaust, upgraded brakes, increased structural bracing, bigger wheels, a rear spoiler and some other aesthetic bits.
Both the Legacy and Camry earn a coveted Top Safety Pick+ award from the IIHS for their nearly flawless crash test performance. The Legacy and Camry both come standard with active safety features like automatic emergency braking, radar cruise control, lane-keeping assist and automatic high beams. Naturally, blind spot monitoring and rear cross-traffic detection are available on most trims as well. As far as sedans go, the Camry and Legacy are two of the safest options out there.
Pricing
The base price of a 2020 Toyota Camry is $25,250, while a fully loaded V6 XLE or XSE model comes in at just under $40,000. The 2020 Legacy starts at $23,645 and reaches about $37,000 in fully loaded form. Keep in mind here that the Legacy offers standard AWD. The Camry charges about $1,300 for AWD.
Conclusions
This is a tough one. For starters, these two vehicles are about the same size, have nearly identical safety ratings and both offer AWD. That said, only the Legacy offers its more powerful engine with AWD, and it's more likely to stand out in a crowd when compared to the Camry, which is one of the most popular vehicles on American roads. On the other hand, the Camry offers more in the way of choice. Its V6 engine makes more power than the Legacy's optional turbo, and its performance-oriented TRD model is essentially an FWD sport sedan. Additionally, the Camry's Hybrid model returns an extremely good fuel economy, while the Legacy doesn't offer a hybrid at all. When it comes down to it, determining which of these things matters most to you will help to determine which of these vehicles is a better fit for your needs. Find a Toyota Camry for sale or Find a Subaru Legacy for sale