Car News
AutoTrader's Top Green Dream Cars
Welcome to the future. We've finally arrived at a time in history when cars that are good for the environment can also be the objects of our desire. With that theme in mind, the AutoTrader contributing writers closed their eyes and each of them came up with their own green dream car. So, here's to more of the drivin' of the green.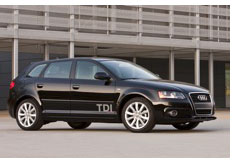 The dream-come-true story here is the 2.0 turbocharged direct inject clean diesel engine. The Audi A3, a five-door compact sedan, produces 20 percent fewer carbon emissions than a gasoline engine and meets the emission standards of every state. With a mpg of 30-city/42-highway, the engine puts out 140 horsepower and 236 lb-ft of torque. FYI, Audi is no stranger to green diesel engines.
The company has built and sold more than five million cars with TDI clean diesel engines since 1989. All told – beyond the eco edge – this sporty wagon has plenty of pluck. And don't expect anything less than luxury. Owners can opt for dark brown walnut wood, piano black or titanium interior touches (if the standard aluminum inlays don't soothe their fantasies). There is also the option of six-step heated front seats or a bangin' BOSE stereo system with 10 speakers and a six-channel amplifier. If you can embrace the newer, cleaner diesels, the Audi A3 TDI a wide-awake eco dream.
– Holly Reich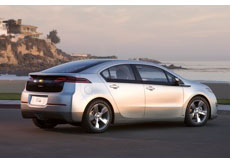 A dream car can be any number of things. For some only a big V8 will do, for others something Italian with a removable top might do the trick. For a growing number of people, a dream car is something that will get you from A to B while leaving as little impact on the planet as possible. Chevrolet took a unique approach on the design of the Volt. It's so unique in fact, that Chevrolet says it belongs in it's own category of car, separate from electric cars and traditional hybrids.
Instead of using and engine and an electric motor to drive the wheels, the Volt primarily relies on its electric motor. This makes the car more similar to the all-electric Nissan Leaf than it does a traditional hybrid like a Toyota Prius. The Volt's gasoline motor comes into play when the batteries run dry. If this were to happen in any normal electric car, the owner would be forced to find a charging station and start the process of recharging the batteries, which can take anywhere from 40 minutes to 10 hours for a full recharge. The Volt, however, gets around this by using its gas engine as a power generator, re-charging the batteries so you can continue your journey.
– J. Mark Sternberg
Rolls-Royce ePhantom Ghost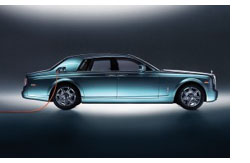 St. Patrick's 'moment' was some 1,500 years before Charles Rolls and Henry Royce got together. We think, however, he would have appreciated both their hard work and professional commitment. Some one hundred years later, Rolls' obsessive attention to silent operation takes its logical turn with the recent introduction of an electric-powered Phantom, the 102EX. At this point it's only a test concept, but with the technical backing of Rolls-Royce's owner, BMW AG, the engineering spec should be as first rate as its execution.
The donor vehicle, of course, is one of the most substantial platforms dedicated to personal transport, with a weight of over 5,500 pounds propelled by V12 power. The U.S. EPA rates the Phantom as one of the world's thirstiest, but even if fuel were to rise to $10/gallon, we doubt that the average Phantom owner would complain. So, while others might look to the plug-in Prius or diesel-powered Golf, I'll take the ePhantom, a shamrock-green lapel pin and a modestly chilled pint of Guinness.
– David Boldt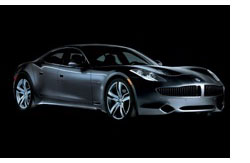 Here's some Irish good luck to go with the wearin' o' the green: a fuel-sipping extended-range plug-in hybrid that is stylish, fast and priced appropriate to its market segment. Henrik Fisker achieved notability for his superb BMW Z8 and Aston Martin DB9 designs, but he may achieve lasting fame for the car bearing his own name, the Fisker Karma.
This four-door luxury coupe has the lines to compete with the Maserati Quattroporte, the comfort to compete with the Mercedes S-Class, the handling to compete with the Audi A8, the acceleration to compete with the Jaguar XJ and the efficiency to compete with the Toyota Prius. That's actually an exaggeration: the Prius isn't nearly as efficient as the Karma.
– Dan Carney
I understand the criticisms against the CR-Z, it's not a true sports car and the Prius gets better fuel economy. Leave it there and you'll miss the point. The Honda CR-Z is by far the most fun you can have while driving an affordable hybrid. It's quick enough to be entertaining and efficient enough to proudly park in front of Whole Foods. Plus, it looks great inside and out.
The exterior is a combination of modern and just plain different; some have likened it to the long past but much loved CRX. A comparison that's merited thanks to the CR-Z's sassy personality and $21,000 price tag for the EX model. The Honda CR-Z is one of the few green cars that leave an impression on your heart and not just your mind.
– Brian Moody
Is it the sexiest looking Mercedes? Not by a long shot. Is it the greenest? Yes. The Mercedes-Benz B-Class F-Cell, which is a zero-emission crossover, is one of the most environmentally friendly car options currently in production. The vehicle runs on electric power (produced from a chemical reaction between oxygen and hydrogen), which is fed to the electric motor, with water as the only by-product. The smooth ride is a vast improvement to the original hydrogen vehicles.
It can travel 240 miles on a tank and has a top speed of 106 mph. The lease price of $849/month includes the price of hydrogen fuel (not bad for a Benz and fuel). This sporty four-door is a tease, however, and only available in limited numbers in California, where there are refueling stations (and more on the way). Those in a rush will appreciate that it takes only three minutes to gas up. Once it tests out successfully (which it undoubtedly will) and filling stations become more prevalent, the rest of the country can dance with this green beauty as well. Mercedes-Benz estimates the F-Cell will be available for purchase in 2015, so dream about it until then.
– Meg Hemphill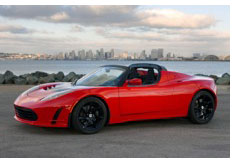 Although many manufacturers have dabbled with many different electric car ideas, it was a small California startup that finally brought the futuristic technology into the real world. Tesla developed its iconic Roadster while SUVs were still big business, betting that someday we'd need to cash in on the bright future offered by the electric car. Of course, they were right – and while many automakers are now playing catch-up, the Tesla Roadster will go down in history as an early pioneer of the electric car.
But we love the Tesla Roadster for more than just its innovation. We love its sexy lines, which assured us that the electric car doesn't have to look like a toaster oven. We love that it goes, stops, and turns like a purebred sports car, proving that it is possible to go green and have fun doing it. We love that with a range of 200 miles on a single charge, you don't need to make many compromises. And we even love Tesla's eccentric founder, Elon Musk, who never let his dream of an electric car die, even as his fortunes dwindled. The Tesla Roadster is an easy choice as one of our favorite green dream cars.
– Jeffrey Archer
Porsche 918 Spyder Plug-In Hybrid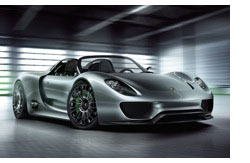 While there are plenty of examples of how green can be cool, luxurious and ultra-fast, none are presented in such a lust-inducing package as the Porsche 918 Spyder plug-in hybrid. With a 0-60 mph time of under 3.2 seconds, a top speed of 198 mph and a fuel economy of up to 78 mpg, the 918 Spyder is enough to make this performance-enthused eco-geek's head explode. And if that weren't enough, after charging up from a wall outlet the 918 Spyder can even travel 16 miles on battery power alone.
Although it started life as a concept, Porsche showed off a working 918 Spyder at the 2010 Pebble Beach Concours and says they will build a limited production run starting in 2013. By combining blistering performance and amazing fuel economy into one of the most appealing silhouettes to ever grace the face of the earth, The Porsche 918 Spyder is the ultimate green dream machine.
– Nick Chambers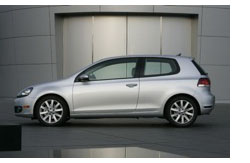 The Volkswagen Group's turbocharged 2.0-liter clean diesel engine is already on many green drivers' radar. Our favorite application, though, is in the 2011 VW Golf TDI. This car has a fine mix of classy touches, such as build quality and overall style, a tactile sport suspension, and a fabulous amount of punch lingering under the right foot. The crucial ingredient is 236 pound-feet of torque.
Diesel engines are renowned for their longevity. No hybrid-type batteries, so no harmful nickel mining and no battery packs to recycle at the end of their useful life. In the meantime, VW claims 30 mpg in the city (admittedly not that great when compared with a Prius) and 42 on the highway. However, it's not difficult to achieve more than 44 mpg highway consumption with careful driving. Also, with 600 miles on a full tank – and diesel fuel more readily available than an electric charging station or a hydrogen pump – there's no such thing as range anxiety. The VW Golf TDI is low-emission, low-cost, high fun-factor driving without the punishment.
– Colin Ryan
The advanced engineering and technology behind each these green vehicles will lay the groundwork for a future of lower fuel consumption and longer ranges. What could be a better dream-come-true?