When lovebug season hits the Southern states, you'll want to prepare your vehicle for these annoying bugs.
Most Florida and Gulf Coast residents are familiar with swarms of pesky lovebugs and the big nuisance they cause twice each year.
You can protect your car with a little bit of preventive action. This will help reduce the effects of driving into these bothersome bugs. Read on to learn how to prepare your vehicle for lovebug season. We'll give you tips for cleaning their splattered eggs and body parts from your car before they leave a stain.
What are Lovebugs?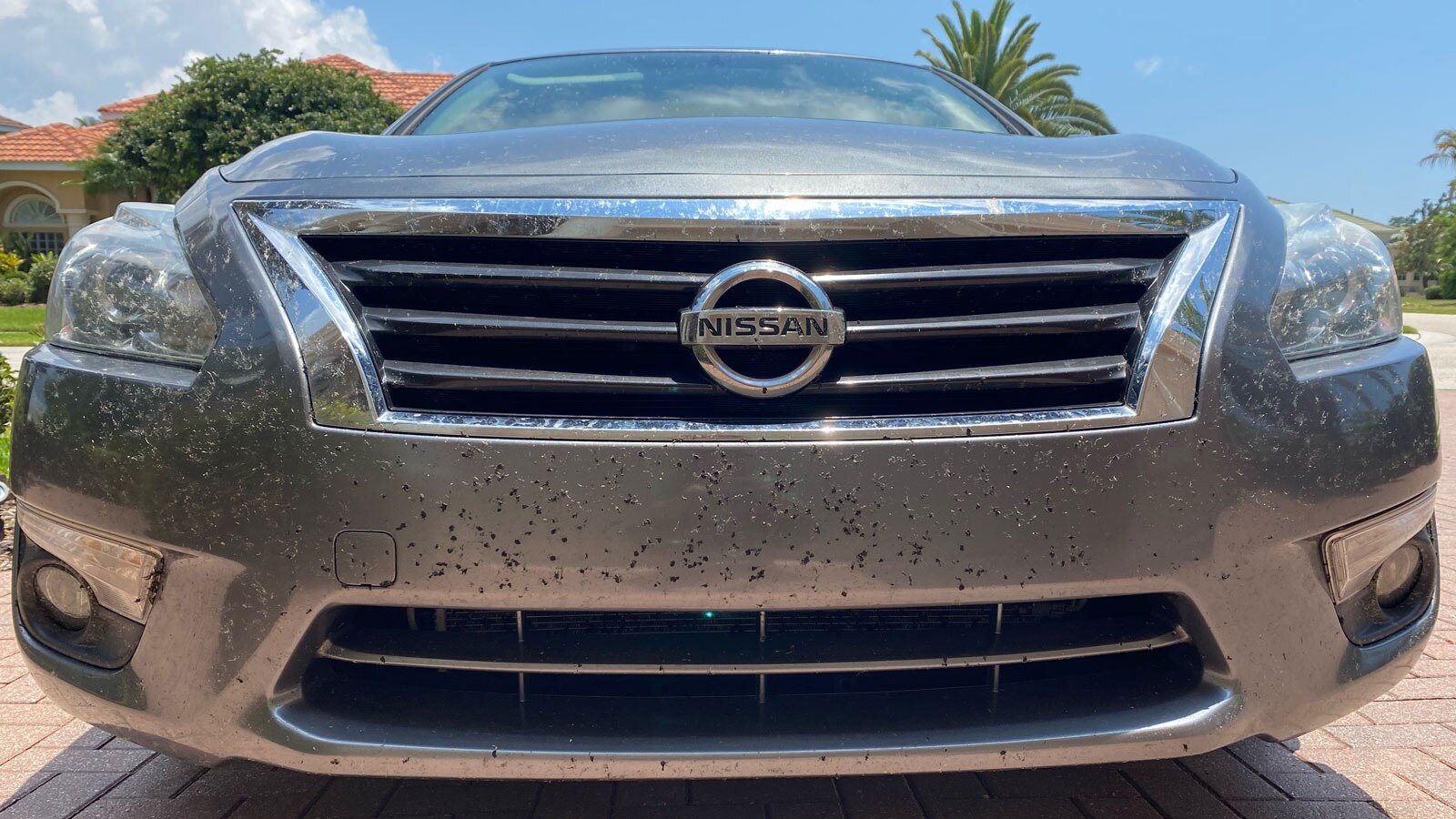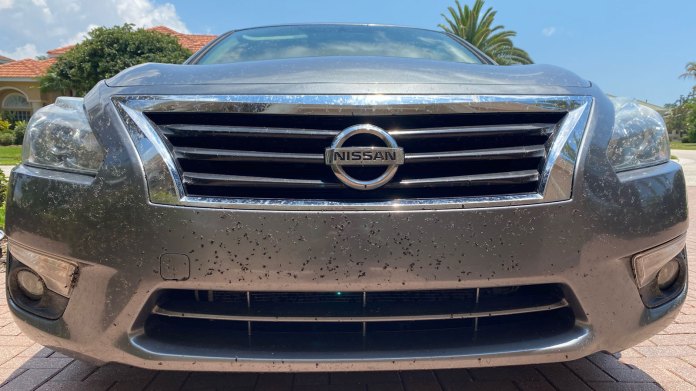 This species of fly doesn't bite, sting, or threaten crops. Instead, frustration comes from an abundance of black and red fly bodies being smashed on car windshields, grilles, headlights, and hoods during lovebug mating frenzies.
Lovebug season can create an immediate traffic hazard. That's why you will want to prepare your car for the swarms of lovebugs. Many crushed lovebugs will obstruct visibility for drivers. If left to accumulate, the amount of lovebug remains covering the car's grille might cause the engine to overheat because of reduced airflow. And if the bug body parts do not get cleaned quickly, a car's paint can be damaged by blotches of acidic lovebug guts.
RELATED STORIES: 6 Simple Spring Car Care Tips
Wax and Divert
Millions of mating lovebugs swarm along highways in Florida and other southern states during four-week mating seasons twice each year — one in April to May and another in August to September.
The timing and size of the swarms depend on the weather. Even off-peak seasons can produce a significant amount of this invasive species that can be unavoidable when driving.
Here are steps you can take in advance to prepare your car for lovebug season.
Wash and wax your vehicle before lovebug season begins. A coating of wax adds a protective layer between your car's paint and the acid from the lovebug guts. Applying a thorough coating of wax gives you a little more time to remove the splatters before the finish is damaged. Maintain the wax throughout the season.
Consider fitting the hood of your vehicle with an air deflector or bug guard. It could help divert some of the flies. Plastic bug shields for car hoods are available through auto parts retailers. While they won't keep every little fly from colliding with your car, they can catch or change the course of enough of them to reduce the amount of lovebug mess from sticking to the car's paint and glass.
Use a bug screen or protective netting across the front end of your car to keep lovebugs away from the engine's air intake. Temporary mesh netting found at automotive supply stores is simple to install and a good solution for keeping insects out of the car's grille. Clean the mesh regularly during lovebug season to ensure proper airflow.
Clean Lovebug Mess Promptly
Researchers say lovebugs are drawn to the irradiated exhaust fumes from automobiles. Hot engines and the vibrations of vehicles also may contribute to their attraction to highways.
Whatever the reason, it can seem impossible for the turnpike and interstate highway drivers to avoid lovebugs after they've taken flight during daylight hours in mating season.
When you have a run-in with lovebugs in Florida or anywhere in the southern United States, it's essential to quickly and adequately take care of the splatters. Debris on your headlights and windshield can reduce visibility. Letting the lovebug body parts and egg mass fester in the sun increases the acidity and can etch the car's paint.
Use These Tips for Cleaning Your Car
You'll want to prepare your vehicle for lovebug season by avoiding any use of washer fluid and wipers to remove them from your windshield. The splatters are likely to turn into icky goop smeared across the glass.
Instead, travel with a container of water and use a squeegee to scrape off the remains. Read on for more tips.
Use a high-pressure washer or a hose with an adjustable nozzle to spray off the bulk of the lovebug mess from the car's finish.
Soak clumps of debris with water to soften larger blobs. Tackle tough spots with a dab of baby oil to loosen the residue on the front of your car. If available, automotive cleaning products for bug and tar removal – and even simple dishwashing liquid – can be effective for getting rid of dried-on gunk from lovebugs.
Scrub using microfiber cloths or a soft netted sponge to wash away the dried lovebugs. You can also use a clay bar, which removes baked-on bugs. Clay bars for cars use a resin-like putty solution that can remove harmful dirt from paint. Some DIYers choose moistened dryer sheets to help rub lovebugs from car surfaces.
Wash the car after removing the smashed lovebugs from the front bumper, grille, and side-view mirrors. Apply wax to help prevent the bugs from sticking. It will protect the surface from staining.
Advancements in new vehicle finishes can help reduce the problem of bugs damaging car paint. For example, you could consider a ceramic coating or other car protection film for your vehicle. You'll be glad for the extra layer of paint protection.
However, if you don't remove the bug masses after a period of time, your car's finish could end up stained or otherwise harmed. In that case, an automotive detail shop might be able to help. Their technicians will likely have the tools, products, and skills needed to restore paint imperfections caused by lovebugs.
If you wondered whether or not car insurance will cover lovebug paint damage, it will not. Even with full coverage, lovebug damage is considered cosmetic damage.
Car warranties also do not cover this type of damage.
Related Car Maintenance Stories: