Completely by accident, I have a pair of 1993 Cadillac Allantes leaking identical puddles of oil in my garage. I had no intention of ever buying an Allante, let alone a matching pair with the same notorious Northstar V8 from the last year of production, but somehow, here they sit. Even worse, I traded off one of my rarest, most special vehicles to own a pair of these goofy things. When they first arrived, I was seriously questioning my sanity, but what's even more crazy to explain is how the Allante got built in the first place.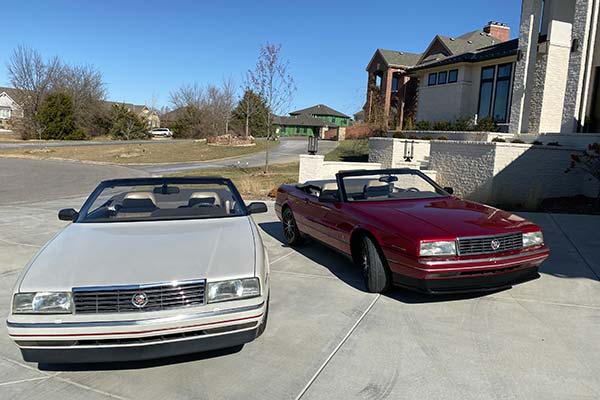 The word Allante may sound a quaint little town in the Italian riviera, but it literally came from nothing. The closest resemblance to any word that I can find is alante (with one L) in Spanish, which translates to English as forward. Even the marketers at General Motors admitted the name came from nothing. More specifically, they boasted about selecting Allante from a list of 1700 names randomly created by a computer. This is really strange, obviously, but the origin of the name is just the start of the weirdness with the Allante.
In the 1980s, General Motors wanted to build a 2-seat convertible to rival the Mercedes SL and Jaguar XJS. GM, being one of the largest companies in the world with unlimited facilities and resources at their disposal, decided the best way to get started was asking the Italians for help. More specifically, they sought out legendary Italian design house Pininfarina to not only design the body but also build it in their facilities. Once completed, the bodies were shipped via 747 cargo plane to the United States, where they were mated to a front-wheel-drive-based Cadillac chassis and sold at Cadillac dealers. Obviously, this production process was ridiculously expensive and explains the staggering original MSRP of nearly $60,000. Adjusting for inflation, that's well over $100,000!
Apparently, Cadillac thought the Allante was special enough to justify all of this trouble and expense, but the car wasn't very well-received. The blocky styling from Pininfarina wasn't their best work, especially in comparison to other styling icons that made them famous like the Ferrari Daytona and Alfa Romeo Spider. Still, the main complaints didn't stem from the Italian part of the Allante. Rather, the Cadillac front-wheel-drive-based platform wasn't well-suited for a sporty 2-seat convertible as well as the heavy, underpowered V8. To summarize the Allante succinctly, it was the Olive Garden of cars.
Typical of GM during this era, the interior quality wasn't the best as well, and the soft top operation might be the dumbest convertible setup ever invented. Dropping the convertible requires a combination of buttons to operate a series of electric motors. One button drops the top while the other release the latches and tilts away the front of the top. Despite all of this electrical complication, Allante owners are still required to get out of their car and manually move the top into the boot. Truly, the only person that would enjoy the chore of this exercise is Doug DeMuro, just because of how weird it is.
Cadillac did try to fix some of its mistakes in the final model years of production, first by upgrading the interior, and, later, the powerplant. 1993 was the only year to receive the 300-horsepower Northstar V8 engine before the Allante was discontinued, which brought much-needed performance, but history would end up labeling the Northstar as one of the worst-engineered engines in human history. Poor head bolt design resulted in stripping of the aluminum threads in the block and widespread head gasket failures. Thankfully, both of my cars seem to have avoided this fate, but both have leaks from their oil pans, which requires removing the engine to fix, along with numerous other issues.
While the Allante was considered a failure by many, there were over 20,000 examples built during their seven-year production run and plenty of nice, low-mileage examples are available for purchase for under $10,000. Unfortunately, mine are neither nice or low-mileage, which makes them virtually worthless. Still, I managed to stumble into two of these cars in what is probably my dumbest trade deal yet.
I receive a lot of emails from viewers wanting to buy my cars, which is weird because the experiences I normally have should scare people away from buying them. One of the exceptions, though, was my 1966 Imperial Crown Convertible, which I bought in California for $22,000. After shipping the beautiful car home, it really didn't need much work to fully sort this well-kept vintage land yacht. With less than 1,000 convertibles built and probably less than 100 still in existence, finding another one isn't easy. After posting a video about my Imperial, I received many emails from people wanting to buy the car from me, but I turned them all down. Then I got an offer that I really should have refused.
A viewer from Ohio really wanted my Imperial but also wanted to offload a pair of Allantes he bought from an older couple selling everything to live out of an RV. He sent some photos and a few details about the cars, along with an offer of $18,000, plus the pair of Allantes. I was amused at the idea but wasn't too serious about it, so I countered with a $20,000 difference. He immediately accepted and before a computer could help me come up with 1700 reasons for me to say no, my Imperial was gone and two Allantes had magically appeared.
So I now own these double-fail twins for next to nothing, but despite their good overall cosmetic condition, they are also worth next to nothing. I was thinking I would keep one and sell the other, but I can't decide which car I like less or hate more. Both have qualities that attract me as well as traits that give the same unsettling feeling in my stomach as the aftermath of a Tour of Italy dinner at the Olive Garden. I'm guessing the estimates from my mechanic to repair these cars will be the deciding factor. Find a Cadillac Allante for sale
MORE FROM OVERSTEER:
Autotrader Find: 2015 Aston Martin Vulcan
Video | My Lamborghini Gallardo Has Been Broken For the Past 6 Months
Autotrader Find: Low-Mileage 2002 Isuzu Axiom