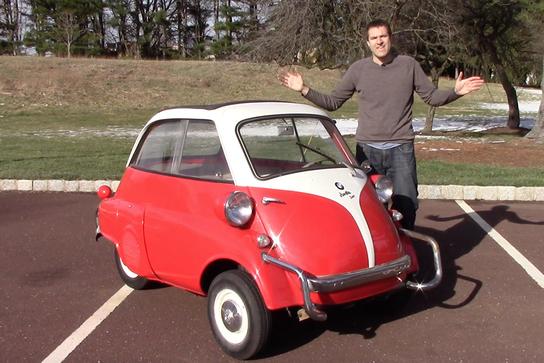 I recently had the chance to drive a BMW Isetta, which is far and away the strangest automotive driving experience I've ever had. It's also the weirdest BMW ever manufactured. Nonetheless, it was thrilling, and I seriously enjoyed it, right up until it broke down while it was trying to climb a hill.
Let's go back to the start. I borrowed the Isetta in question from a reader named David, who is among the biggest car enthusiasts I've ever met while reviewing cars. In his personal collection, David owns everything from a Range Rover Classic to a Ferrari 456 to a BMW M4 GTS -- and he also runs a dealership here in the Philadelphia area called Automobili Limited, which primarily deals in upscale European cars. David lives cars and he works cars. He also has a BMW Isetta.
The main reason David has the Isetta, I think, is that he's a BMW enthusiast. He told me that he saw the Isetta come up for sale locally a little while ago, and he decided it was a weird BMW he had to have. So he got it, and then he sent it off for a mechanical overhaul, and he's barely driven it since. Then I told him I wanted to drive it, and he laughed -- and the next thing I knew, a few days later, I was standing next to a vehicle whose door also includes its windshield.
Yes, the door is the windshield. And the weird Isetta quirks go SO FAR BEYOND just that. For instance: The steering column is attached to the door, and it folds away when you open the door for easier access. There are two seats, but no trunk. Instead, storage is primarily limited to a little pouch on the door probably large enough for one single bottle of contact lens solution. While early Isetta models had just 12 horsepower, the one I drove is a later model with a huge power bump: It has 13 horsepower. The climate control system is actually just a vent that pours hot air somewhere near your feet. And the entire Isetta weighs just 750 pounds. If I really wanted to, I think I could pick it up.
So, you might be wondering, why did BMW make this car? BMW, manufacturer of the Z8, and the M3, and the M5, and a wide range of rather indistinguishable luxury sport-utility vehicles. How did they get roped into this thing? Did they lose a bet?
Well, here's what happened. Back in the 1950s, German laws stipulated that you could drive ultra-tiny microcars with just a motorcycle license, rather than a full driver's license. Meanwhile, an Italian company called Iso created the Isetta -- and then promptly became bored with producing it, as they instead wanted to focus on building a sports car. BMW saw an opportunity and bought the tooling for the Isetta from Iso, quickly adding a popular microcar to their lineup. Back then, it made sense.
Today, it no longer makes sense.
This became apparent from the very first mile I drove in the Isetta, when I was struggling with the choke and also the gear lever, which is positioned on the left of the driver and rather difficult to figure out whether you're in first, or second, or reverse, or even if you're in gear at all. Within just a minute of getting behind the wheel, the Isetta died once, and then it died again. Even when I was in the right gear, it was dying. I was having serious trouble.
Eventually, however, things improved -- and I got the little guy moving. But then I was faced with a bigger problem: the Isetta's sheer absurdity. For one thing, the Isetta absolutely shouldn't be driven on the same roads as modern cars by anyone who values their human life. It has no seat belt, not that you'd really benefit from having one: the Isetta is two full feet shorter than a smart fortwo, and it's built with 1950s engineering techniques. Worse, actually: 1950s Italian engineering techniques. You'd be killed if you were driving an Isetta and you collided with an iPhone.
Then there's the speed. The Isetta doesn't have a 0-to-60 time because the Isetta doesn't do 60. I got it up to 40, but I think those were kilometers per hour -- largely because I was celebrating my arrival at 40 at precisely the same moment as the Kia Sorento behind me put on its emergency flashers to warn other drivers it was following a slow-moving hazard. To me, it didn't seem slow. It seemed like I was qualifying for LeMans. The car was shaking, the engine was loudly working at full tilt, and I think the only way I could've felt closer to the road is if I was lying down on a skateboard. I admit I was a little nervous, but I was also openly laughing -- at the car, the acceleration, the appearance, the size of the cabin. It's impossible to drive an Isetta with a frown.
And that's about the time I reached The Hill.
This particular hill was a rather tall hill, and I knew it was going to be an issue the moment I saw it in front of me. Normally, when I'm driving my everyday car, I don't pay a lot of attention to hills. I just instinctively push my foot down a little more, and the car goes up the hill, and I am probably thinking about Peanut M&Ms. Not in the Isetta. In the Isetta, I saw The Hill, and I almost immediately started yelling, insisting the Isetta would make it, trying to convince the Isetta it could do it, shouting out "COME ON, ISETTA!" like George Clooney in "The Perfect Storm" as his ship was getting battered by waves the size of minor league baseball stadiums.
Unfortunately, the Isetta's fate was the same as Clooney's: it died. I got about three-fourths of the way up The Hill, the engine cut off, and the whole thing was over. I assume it happened because the Isetta's fuel system is gravity-fed, and the hill was just a little too steep to continue delivering fuel. Later, I realized I should've tried going up the hill in reverse. But that didn't occur to me, and the Isetta clearly wasn't going to restart with any amount of coaxing, or pushing of the gas pedal, or twisting of the key, or messing with the choke.
And so, on a regular Monday morning, while you were sitting at your desk, working on Microsoft Excel, finishing up a report for your boss, I was stranded on a hill somewhere in suburban Philadelphia, in a BMW Isetta, on a narrow shoulder, staring behind me while coasting downwards in neutral and silently hoping nobody would hit me.
Eventually, I got to the bottom of the hill and David came to the Isetta's rescue in his Range Rover Classic, thereby giving me an accolade: I now believe I am the only person in human history who has ever ridden in a BMW Isetta while it was being towed behind a Range Rover Classic.
So what's my final verdict on the Isetta? It is the single most bizarre vehicle I've ever driven; a car that partially feels like an automobile (the pedals and steering wheel were surprisingly normal and intuitive) and partially feels like someone put a wheeled bubble around your garbage disposal. I've seen Isettas in car shows, and at automotive events and on TV (where it was, after all, Steve Urkel's car in "Family Matters"), and I've always wondered what they're like to drive. The answer is: Just as quirky and weird as you'd expect -- and absolutely certain to make you grin from ear to ear. As long as you're driving on a flat surface.