I regularly get emails from viewers hoping I'm stupid enough to buy their basket-case cars. I've always politely declined these often suicidal purchases — but I couldn't resist this 1993 Lexus ES300 with the very rare 5-speed manual offered by a man named Dan for only $200. For some reason, I thought it was a good idea to attempt driving this car — which I was told had been sitting for years — 300 miles from Columbia, Missouri, back to Wichita. Unfortunately, when I arrived in Columbia to see the car, it was obvious this Lexus stood no chance of making it back home its current condition.
Despite the flat tires and the ridiculous amount of bird poo splattered all over the car, I was thrilled that my 4-hour drive yielded a car that actually existed. I was a little worried Dan may be luring me with a rare car at a very low price just so he can kidnap me and force Doug DeMuro to pay a ransom — which I know he wouldn't pay. As it turned out, I never actually got to meet Dan, as he lives far away. This ES300 actually belonged to his father-in-law, who quit driving a few years back and recently entered a nursing home. Apparently, he bought it new, and took excellent care of this Lexus over the decades — but it had been sitting for years. I agreed to purchase the car sight-unseen, and Dan drove it to a friend's business so I could pick the car up in his absence.
The body shop was kind enough to help me air up the flat tires — but they were in no condition to make the 300-mile trip. The owner of the shop recommended a tire store a few miles down the road — and after spending $400 on a new set of rubber and an oil change, the ES was ready to hit the road. I was shocked by the overall condition of the car, which I suspected would clean up well — and it seemed mechanically sound. Still, I couldn't help but worry whether I would make it home in this aging luxury car I barely knew.
A lot of people like to call the ES300 a rebadged Camry — but this generation ES was quite different from its truly rebadged predecessor. The ES300 is longer and wider than a Camry, with a completely different design inside and out. It's also heavier than a Camry, thanks to its larger size and the asphalt insulation put in the floor to cut out road noise. The Lexus ES300 came standard with a V6 putting out an unremarkable 185 horsepower — and the interior, while leather-trimmed and fitted with a wood center console crafted by the Yamaha piano company, doesn't seem very luxurious. For me, what made this Lexus worth buying was the 5-speed manual transmission, which was only made for a few years — and is an extremely rare find.
Despite my anxiety, the Lexus effortlessly made the 300 miles home without a single problem. The only issues I have to contend with are rusted brake rotors and dead needles in the instrument cluster. The drivetrain was smooth and silent, and all the accessories worked — including the cassette deck, in which the previous owner left a Beach Boys greatest hits album inside for me to enjoy during the ride home. I wasted no time getting my new prize to my detailer as soon as I arrived back in Wichita — and the following afternoon, I picked up my dramatically transformed car.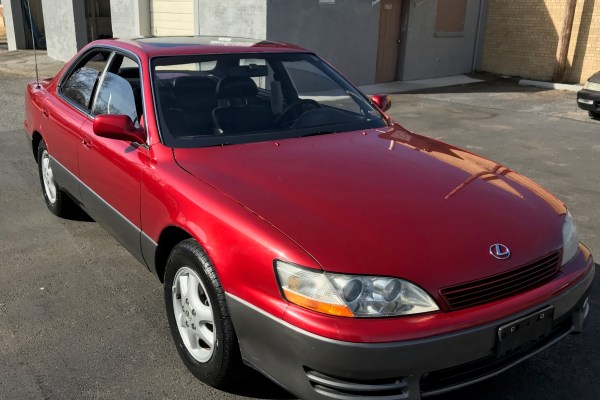 The bright red metallic paint really came alive with the bird droppings removed and a quick buff — while a quick shampoo and leather conditioning inside revived the interior as well. I was shocked at how nicely this car turned out– and I'm now a little confused as to what I should do with it. I initially planned to use it for some beater bash event like the Gambler 500, but this car is way too nice (and rare) for that. So I guess it will become a part of the collection (or the hoard), depending on whether you view this lifestyle of mine as unhealthy. What's wrong with one more? Find a used Lexus ES 300 for sale
Tyler Hoover went broke after 10 years in the car business and now sells hamburgers to support his fleet of needy cars. He lives in Wichita, Kansas.
MORE FROM OVERSTEER:
There Is a Batmobile Tumbler For Sale on Autotrader
The Hyundai Galloper Was a Rebadged Mitsubishi Montero
Video | I Bought the Cheapest Chevrolet Corvette Z06 In the US