A little while ago, Mercedes-Benz sent me a new 2019 G 550 to drive for a week. When it arrived, I did the responsible thing to do with a G-Wagen and took it to Moab for a full off-road shakedown.
Equipment
Like the version that preceded it, the new G has full-time 4-wheel drive (4WD) with a real 2-speed transfer case with low-range off-road gearing. While a rigid solid axle remains in the rear, gone is the solid front axle from the outgoing model, replaced by a modern independent front suspension. This causes the G to sacrifice slightly on off-road capability in exchange for dramatically improved on-road ride quality and handling, and Mercedes is quick to point out that the new independent setup actually comes with more travel than the old solid axle. The G also still comes with three locking differentials for the center, rear and front diffs (a locking front diff is pretty uncommon — the only other new production vehicles to offer it are the Jeep Wrangler and Gladiator, the Ram 2500 Power Wagon, and the Chevrolet Colorado ZR2).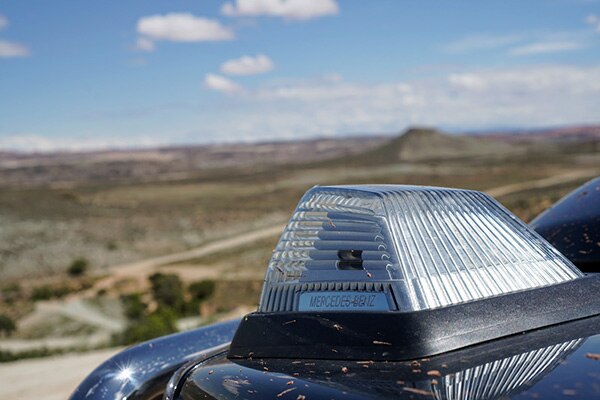 Given that this is a $135,000 luxury truck, the G-Wagen doesn't flaunt childish Fox or Multimatic-branded shocks like lesser off-roaders. But that isn't to say that the G's factory suspension isn't impressive, and its adaptive dampers handle the terrain with the same level of poise the G exhibits on the pavement.
Unfortunately, the G-Class is only available from the factory with street-oriented all-season tires — no all-terrains are offered. Given this thing's exceptional off-road equipment though, rubber is really its only shortcoming. Swap in a set of all-terrains (and maybe some smaller, more durable wheels) and the G is ready to tackle just about any terrain you're willing to subject it to.
Oh yeah — among all this off-road talk, I almost forgot to mention the G's powerplant, which is certainly worth discussing. Under the G 550's trapezoidal-shaped hood is a 4.0-liter twin-turbo V8 putting out 416 horsepower and 450 lb-ft of torque, paired with a 9-speed automatic transmission. Whether on-road or off, this thing hauls, and its exhaust roars from its exit points just ahead of the rear wheels.
Geometry
The G doesn't offer any fancy traction systems like crawl control or different terrain modes — it doesn't even have dedicated hill-descent control. Instead, it relies on simple geometry and brawn to propel it through uneven rough terrain. The 2019 Mercedes-Benz G-Class comes with 9.5 inches of ground clearance — a marginal improvement over the old model, but an impressive figure nonetheless — along with approach, breakover and departure angles of 30.9, 25.7 and 29.9 degrees, respectively, all of which are as good as or better than the outgoing model. On top of all that, the G can handle some serious angles, with Mercedes quoting an ability to climb a 45-degree incline, and scale side slopes of up to 34 degrees. And if you're really insane, the new G has a fording depth of 27.5 inches, although I wouldn't recommend testing that out.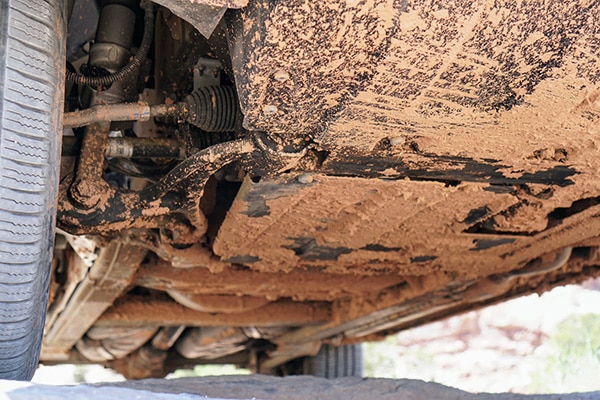 If you must test fording depth though, know that the G has water sensors along with a secondary air intake under the hood located well above the main one, which is in the grille. When the vehicle senses that it's driving through water, it closes the main intake in the grille and pulls air in through the upper one to ensure that it doesn't flood itself. Still, probably don't test this, unless you want to own a $150,000 paperweight.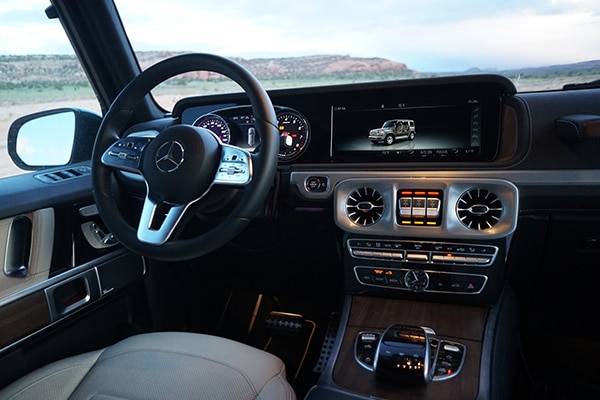 Driving
Before even getting into specifics, just driving a G-Wagen off-road in a place like Moab was surreal. Here I was behind the wheel of one of the most ostentatious SUVs on sale today in the off-road capital of the world. This is the stuff dreams are made of.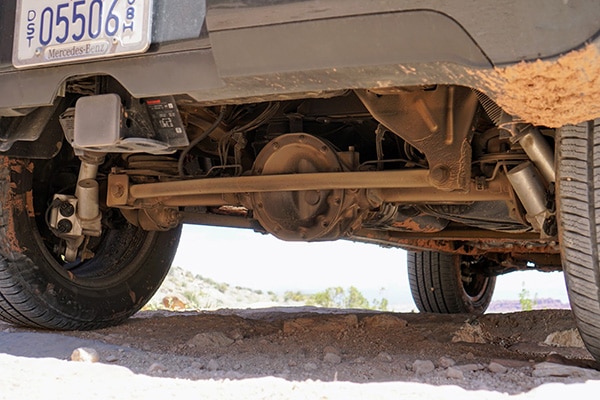 The first thing I noticed about the G once I set off on unpaved terrain was just how pliable yet supportive its suspension is. While its shock absorbers wear no branding whatsoever — they're literally just silver tubes — the G eats up bumps just as well as a Tacoma TRD Pro and the like, which speaks just as much to the aptitude of Mercedes' engineering team as it does to the lack of substance behind the brightly-colored and loudly-branded shocks you find on those more mainstream off-road trucks and SUVs. (For what it's worth, the understated Toyota Land Cruiser comes to mind here as well — no distracting cobranding, yet excellent performance off-road).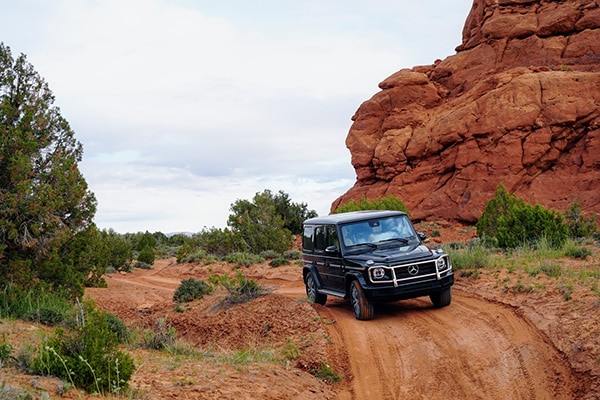 On top of that, having three locking differentials in a vehicle like this is absolutely ridiculous. My G carried a sticker price of just under $135,000 and it was pretty much a base model. Taking one of these things into a scenario off-road where you'd need a locking front diff would mean risking thousands of dollars worth of damage. I hate to repeat a cliche so commonly used in relation to the G-Wagen, but no owner is actually going to do that. At least not on purpose. Still, fewer things in the automotive world make me happier than the G-Wagen and its absurdly unnecessary degree of off-road capability.
One other thing: While I was barreling down a dusty Moab dirt road with the La Sal Mountains in my rearview mirror, I was coddled by some of the most amazing seats in the auto industry. The G's front thrones are capable of heating and cooling at the same time, have extendable thigh bolsters, offer like a dozen different types of massages and have adjustable active bolsters that grip you in turns — turn left, and the right bolster sucks into your side to compensate for the g-forces that pull you toward the outside of the turn. There's configurable LED ambient lighting, a suede headliner and open pore wood. In a vehicle with a locking front differential.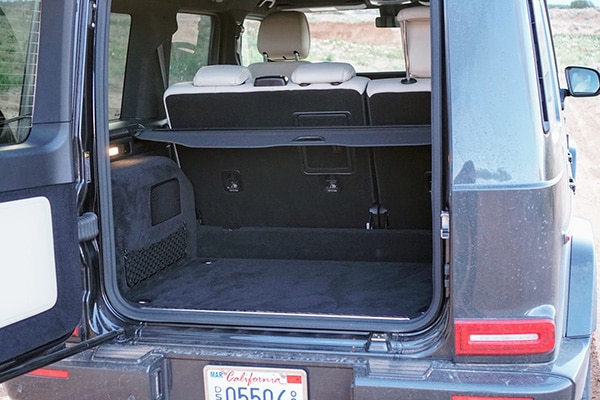 Part of that though is what limits the G — it's impossible to justify testing this vehicle's limits given that even the slightest error is likely to result in at least four figures worth of damage. Beyond that, the G is still pretty compromised as an off-roader. While many, myself included, have visualized turning a G-Class into the ultimate overland vehicle, in reality, this thing is small, offering 20% less cargo space than a Toyota 4Runner. Thanks to an awkward, tiered load floor, you can't put the seats down and sleep comfortably in it, and its interior lacks the storage and durability that you want out of a utility vehicle. So while it does come with mounting points for a roof rack in its roof, and despite its utilitarian image, the G comes in well behind more mainstream vehicles when it comes to the kind of functionality you want out of an overland rig.
Verdict
When it comes down to it, I know I'm not the only off-road enthusiast who's dreamed of owning a G-Wagen purely for its off-road capability. That said, a week with the vehicle kind of served to reinforce the notion that the grass isn't always greener on the other side, or maybe in this case, the more expensive thing isn't always better. But while I'd discourage you from longing for the day that you can buy one on the used market to use as a camping rig, the G is still an engineering marvel. It's got a fantastic engine, it's steeped in military heritage, and it's loaded with old-school off-road features that make it an utter joy to drive off-road. Taking a G-Wagen to Moab was certainly a bucket list item for me, and cruising along some of the most picturesque off-road trials in America behind the wheel of this Austrian-built behemoth was nothing short of euphoric. The G-Wagen is powerful and domineering while also being excessive and flawed, and that's what makes it special. Find a Mercedes-Benz G-Class for sale
Chris O'Neill grew up in the Rust Belt and now lives in Salt Lake City, Utah. He worked in the auto industry for a while, helping Germans design cars for Americans. Follow him on Instagram: @MountainWestCarSpotter.
MORE FROM OVERSTEER:
Video | The Volvo S60 Polestar Is a Swedish Sport Sedan
Video | The C5 Chevy Corvette Z06 Is the Ultimate $25,000 Sports Car
Autotrader Find: 1999 Aston Martin V8 Vantage For $650,000