The 2020 Honda Pilot and 2020 Dodge Durango are technically both mid-size SUVs, but they might not be equal in the eyes of all consumers.
Quick Facts
The Honda Pilot is Honda's largest crossover.
The Dodge Durango is a large mid-size SUV with excellent towing capacity.
2020 Honda Pilot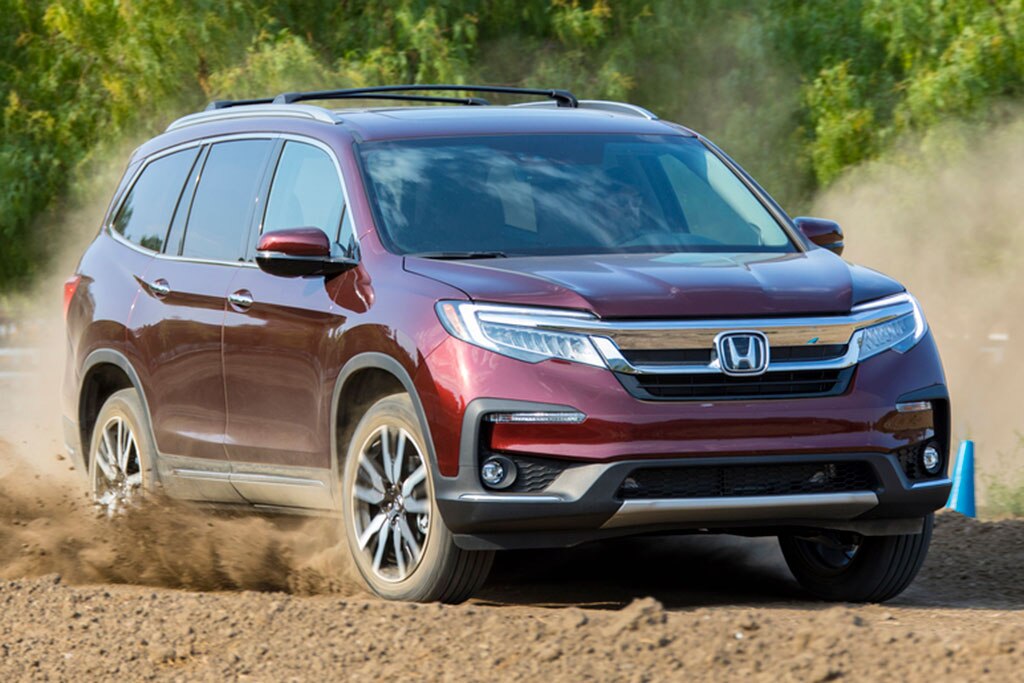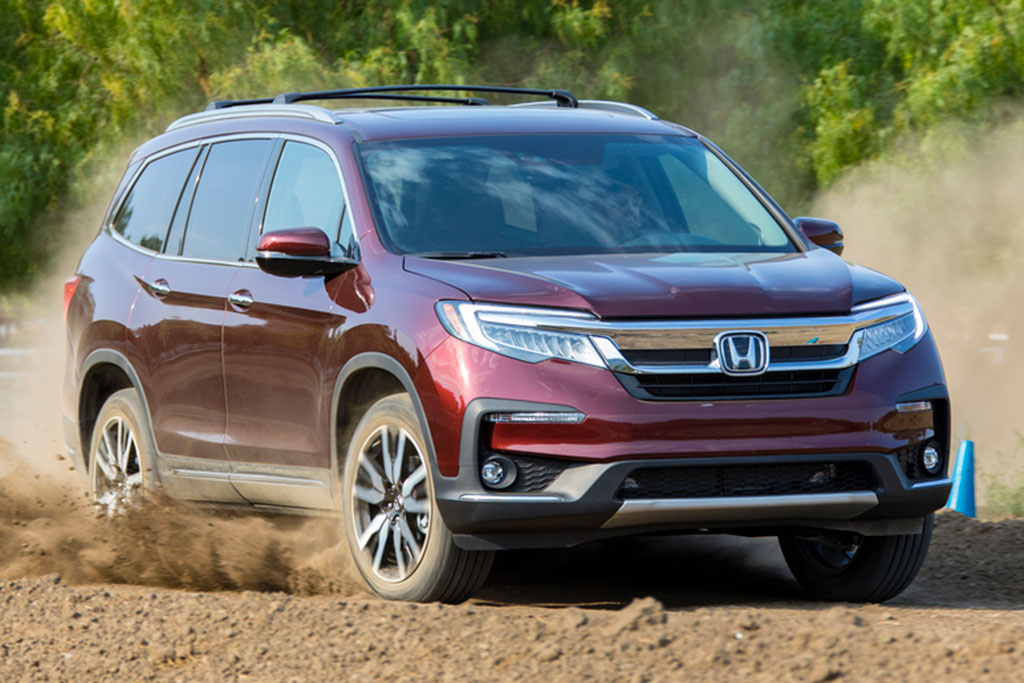 Base Price: $31,550/ Read our 2020 Honda Pilot Review
What we like: Roomy and highly versatile cabin. Smart storage compartments. Smooth ride. Features are a great value.
What we would change: Lackluster exterior design means you won't be turning many heads in a Pilot. The safety features can also leave a bit to be desired.
Overview: The 2020 Honda Pilot offers 3 rows of seating and a comfortable interior. Under the hood is a 3.5-liter V6 providing adequate power in the way of 280 horsepower and 262 lb-ft of torque. The drive behind the wheel is uncommonly smooth bt somewhat disconnected, though most Pilot shoppers aren't necessarily looking for an engaging behind the wheel experience.
What's new for 2020: The new Black Edition is available in the top trim level which ads black wheels and other black accouterments to the Pilot.
Features and technology: The 2020 Honda Pilot offers a cleverly designed cabin with up to 109.2 cubic feet of cargo space. The lone powerplant, the 3.5 liter V6 provides adequate power but won't be winning any drag races in the foreseeable future. When equipped with Honda's torque-vectoring all-wheel drive, the Pilot's handling is greatly improved as power sent to each wheel is varied to create maximum grip. Honda's suite of advanced safety features, called Honda sensing is standard and includes adaptive cruise control, lane-keeping assist, and forward collision alert with automatic braking.
What does the future hold: The 2021 Honda Pilot receives a slight refresh, so a new generation might still be a few years down the road. See the 2020 Honda Pilot models for sale near you
2020 Dodge Durango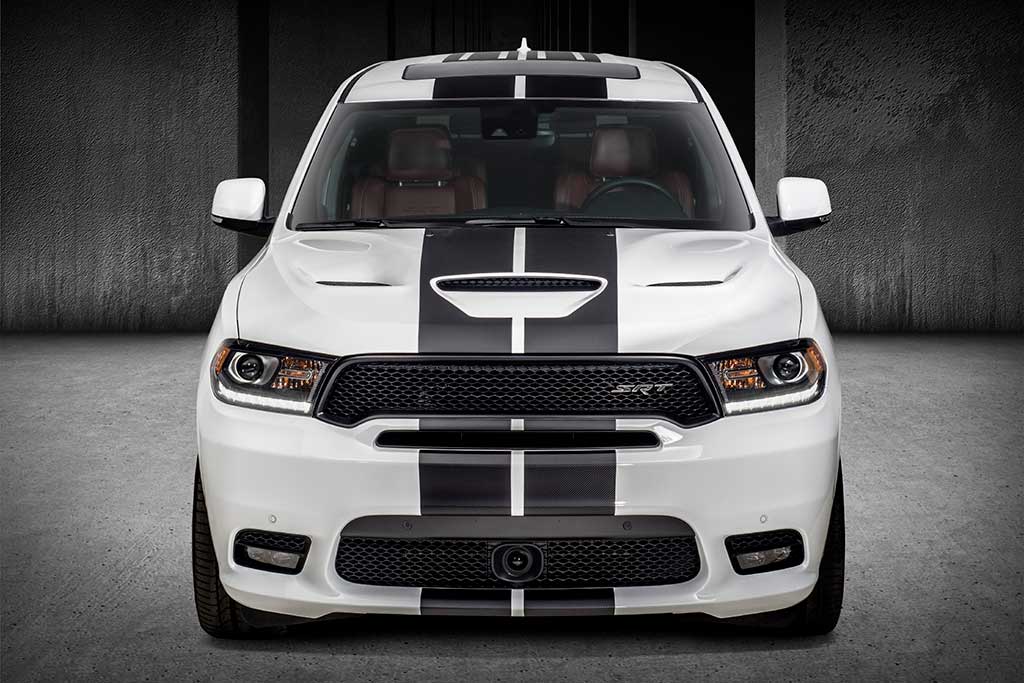 Base Price: $31,990 / Read our 2020 Dodge Durango Review
What we like: The Durango's robust tow rating better than most crossovers. Easy access to third row. Powerful SRT trim level.
What we would change: It's easy to fall in love with the exhilaration of the high-powered V8, but that power comes at a cost in the form of poor fuel economy. The V6 is better when it comes to MPG, but the performance just isn't there. Other areas for improvement would be the uninspired interior and more of the desired safety tech across all trim levels.
Overview: The Durango oozes machismo, much like most of its Dodge siblings, and delivers thrills galore via its SRT trim level. V6 as well as V8 powerplant are offered, as well as a choice of several AWD systems depending on trim. If you're looking for an SUV that can tow serious weight, the Durango is a great choice.
What's new for 2020: The Durango comes into 2020 virtually unchanged.
Features and technology: The Durango comes standard with Apple CarPlay and Android Auto on the base trim level. Optional equipment includes, but is not limited to blind-spot monitoring with rear cross-traffic alert, second-row captain's chairs, a towing package, plus a rear entertainment system that features two screens, a Blu-ray player, and an HDMI port.
What does the future hold: The Durango gets a midcycle facelift for 2021, as well as the edition of a long-awaited Hellcat trim level featuring Dodge's infamous 707-hp powerplant. See the 2020 Dodge Durango models for sale near you
Pilot vs. Durango: Strengths Comparison
Honda Pilot Benefits: Honda reliability. Better tech features. Solid fuel economy.
Dodge Durango Benefits: More aggressive design and more interior space. Virtually unmatched towing prowess. Incredible performance trims.
Pilot vs. Durango: Which is better?
The Durango is no doubt the cooler of the two, but the Pilot walks away with this one in terms of practicality. Honda's bulletproof build quality and the all-around usefulness of the Pilot make it a smart buy and a superior choice for consumers. One note — shoppers in search of a large mid-size SUV with ridiculous power, guttural engine note, and style that turns heads should certainly consider the Durango SRT; but for everyone else, the Pilot is your winner. Find a Honda Pilot for sale or Find a Dodge Durango for sale