Sometimes, a name just works. Such was the case with the Chevrolet Trailblazer, which dates back to 1999 but has been rekindled in a different light.
Though not a historic nameplate in the way Cherokee was for Jeep when they revived it a few years back, the Trailblazer badge deserves an in-depth look. Let's zip back in time to see where this name came from and how we got to today's high-personality, low-cost SUV.
Digging Deep: The Original Chevrolet Blazer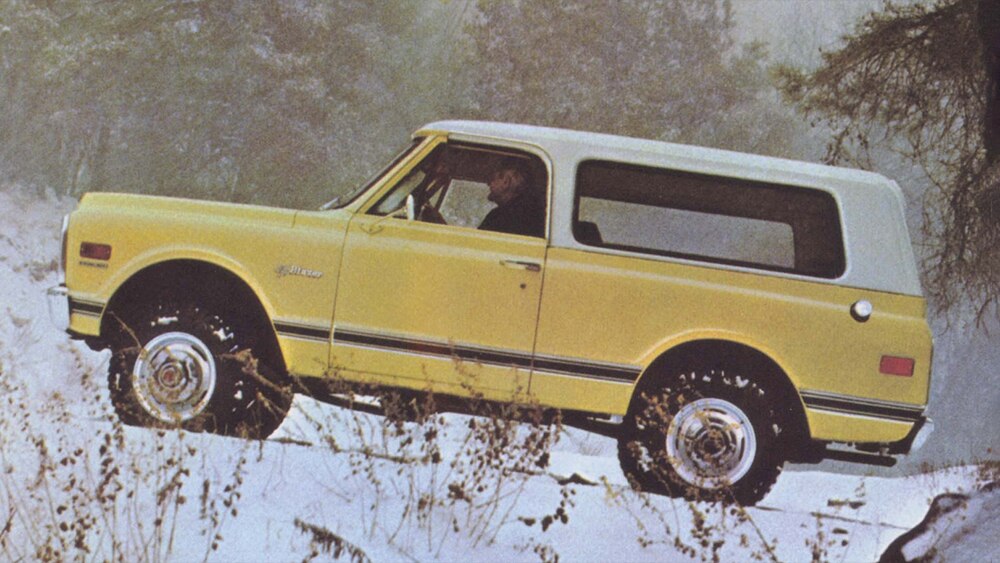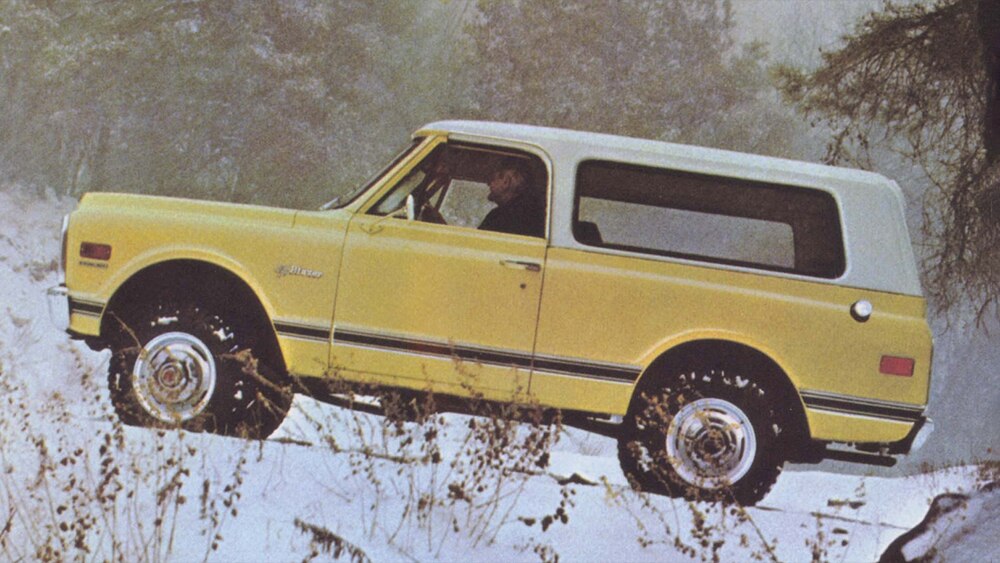 The current Trailblazer can trace its family tree all the way to 1969 when Chevrolet, eager to offer a rival to the Ford Bronco and the Toyota Land Cruiser FJ40, boxed up a version of its pickup truck, tossed a rear bench seat in to allow the entire family to go for a cruise and called it Blazer. GMC followed up with its own version called Jimmy a year later.
Chevy's original Blazer was a solid, durable truck from an era where an AM radio was considered a plush touch. (Fun fact: only a driver's seat was standard equipment initially; shoppers paid extra for additional seating.) The Blazer more or less stayed the course for another 25 years, finding a base of outdoorsy buyers eager to take advantage of its impressive utility.
Then, in the early 1980s, a smaller but still plenty truck-like vehicle arrived also bearing the Blazer name. Confusingly, Chevy dealers had two Blazers: the smaller S-10 Blazer that stretched just 170 inches between its bumpers and the K5 Blazer that was more than a foot longer.
The bigger Blazer was reworked for 1992, and it eventually spawned today's Chevrolet Tahoe (and GMC Yukon) SUVs when it sprouted rear doors for improved passenger hauling in 1995.
Branching Off, in a Smaller Way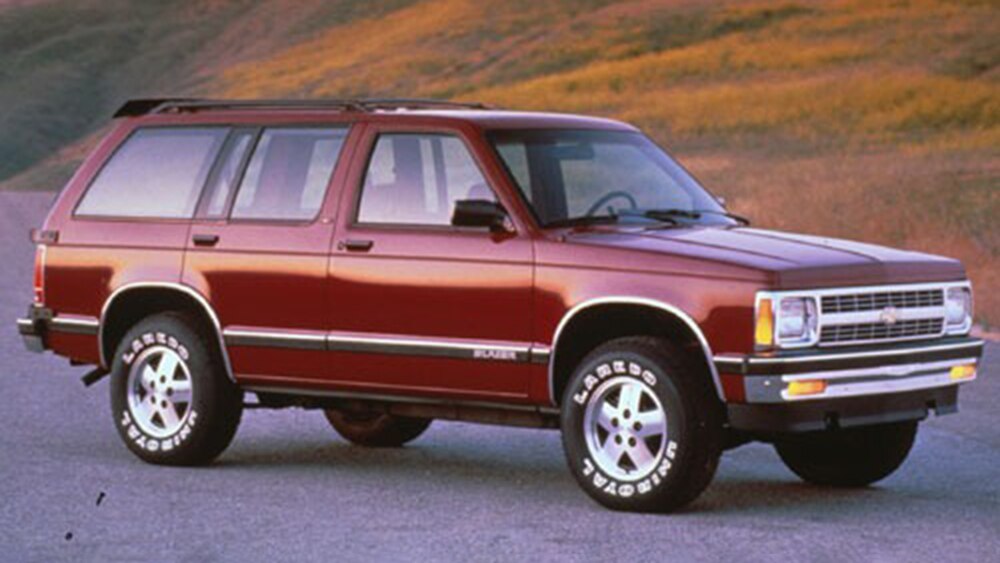 The smaller Blazer — the S-10 — that we more accurately consider the predecessor to today's Trailblazer. Chevy wasn't first to the game with a small, city- and country-friendly four-door SUV (that foresight belongs to the 1984 Jeep Cherokee), but its 1991 arrival coincided with the original Ford Explorer. A rework for 1995 brought rounded styling with sporty proportions.
By 1999, though, the Blazer was starting to show its age against fresh-faced competitors such as the Jeep Grand Cherokee and Nissan Pathfinder. To spruce things up, a new TrailBlazer trim package (note the capitalized "B") brought special gold touches outside, special wheel designs, and two-tone leather upholstery with outdoorsy logos embroidered on the headrests and door panels. The package built on the range-topping LT, and while it didn't quite bring the Blazer up to Range Rover levels of decadence, it did at least breathe some life into a dated model — and it tested the waters for a new name.
A couple of years later, Chevrolet lifted the TrailBlazer name and applied it to a redesigned SUV that stretched about 9 inches longer and offered considerably more muscle from a new 6-cylinder engine. Chevy's new 2002 TrailBlazer was big news, especially since the old Blazer (which actually stuck around as a budget option for a few more years) rode on circa-1982 underpinnings.
The new model was fresh but still decidedly trucky beneath its busy styling. A separate frame and a solid rear axle gave it decent off-road and towing ability. Chevy took it more upscale with a new LTZ trim level costing around $38,000 fully equipped. That put it on par with a contemporary Jeep Grand Cherokee Limited or Toyota 4Runner Limited.
A year later, Chevy slipped its big 5.3-liter V8 under the TrailBlazer's hood as an optional extra. That V8 made plenty of sense in a new version called EXT that stretched a hefty 16 inches longer and offered three rows of seating.
Headline-grabbing news back in 2006 was the TrailBlazer SS, which took the big SUV in a decidedly performance-oriented suspension. Chevy did more than just shoehorn a 395-horsepower V8 under the hood; the TrailBlazer SS could muscle its way around a corner fairly well, too, thanks to a lowered suspension and 20-inch wheels wrapped in sticky tires.
The TrailBlazer was part of a huge family that included the Buick Ranier, GMC Envoy, Isuzu Ascender, Oldsmobile Bravada, and Saab 9-7x. While there's a lot we can say about GM's obsession with badge engineering as it approached its bankruptcy, it is a neat trivia fact that a single plant in Ohio built almost identical vehicles for American, Japanese, and Swedish brands.
By 2009, though, the TrailBlazer was decidedly out of step with an SUV market that had gravitated strongly toward more car-like models, trading rarely-used 4-wheeling ability for on-road comfort and handling. Chevy replaced the TrailBlazer, at least to a degree, with the larger Traverse — a remarkably forward-thinking SUV that offered Tahoe-rivaling interior volume with far better fuel economy and handling.
The TrailBlazer name was discontinued for the U.S. after 2009, though an SUV aimed primarily at South America and Southeast Asia carried it on until last year.
Trailblazer Rebirth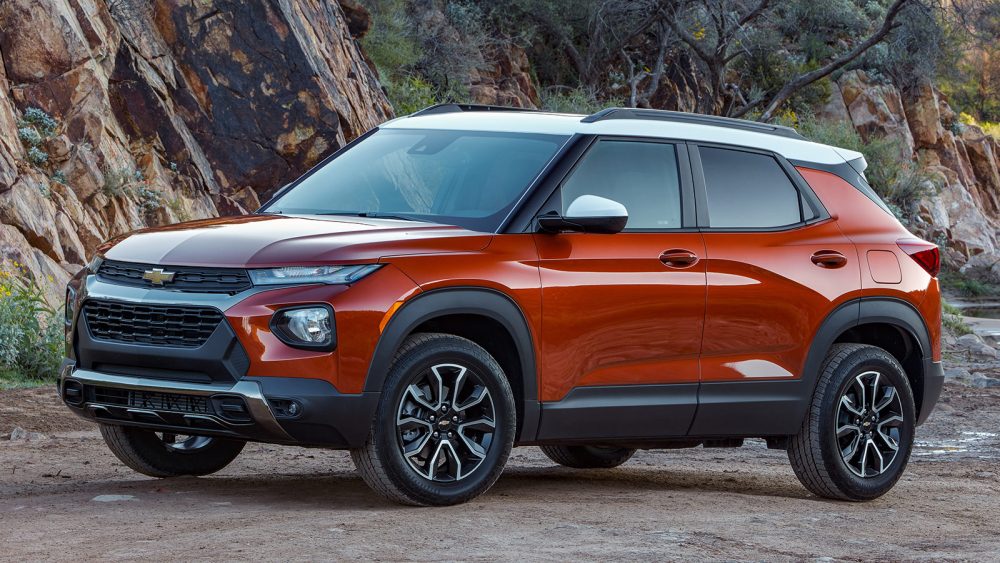 With the SUV boom in full force in the late 2010s, Chevrolet sought to shift its lineup away from sedans and hatchbacks and almost fully into SUVs. Today's Equinox is sized about where the S-10 Blazer would have been had it evolved. But what Chevy lacked was desirable smaller models.
Enter the Trailblazer, which bowed for 2020 with decidedly sharp styling inspired by — you guessed it — the larger Blazer.
This time, though, the Blazer has been recast in a crisp suit, a city slicker SUV sharing bones with the Equinox but designed to attract a style-conscious, urbane driver. The Trailblazer (no capitalized B this go-around) takes some of that flavor but scales it down to a smaller, more affordable package.
The latest Trailblazer comes with turbocharged 3-cylinder power and a price of around $20,000 for a base front-wheel-drive version. Loaded up, it'll set you back about $33,000. That's a big spread, and it illustrates the wide lineup Chevy offers.
Even base models have tech previous TrailBlazer (note the capitalized B is back) models could only have dreamed about: touchscreen infotainment with Apple CarPlay and Android Auto compatibility, automatic emergency braking, and plenty of airbags. See Chevrolet Trailblazer models for sale
Related: