Overview
When the Porsche Cayenne was launched four years ago enthusiasts cried blasphemy. Porsche should not build sport-utilities, they said, Porsche should build sports cars. But buyers won the vote. Cayenne had what they needed in a five-passenger SUV: more cargo space than a sedan, off-highway capability, and impressive towing capacity.. They found the Cayenne technologically advanced and remarkably fast, as Porsches are supposed to be. So, they wondered, why all the hand wringing?
Cayenne's balance of style, performance, and sport-utility virtues were compelling, and it quickly became a success story for the small manufacturer of legendary sports cars. When Porsche launched Cayenne as a 2003 model, executives said they hoped to sell 20,000 of the SUVs a year. Clearly, these projections were conservative. Last year, Porsche sold more than 50,000 Cayennes. More than 150,000 have been sold in the past four years. Now, redesigned for 2008, sales of the new version have taken off, and overall Porsche sales in the U.S. hit record levels the summer of 2007. The Cayenne has been a boon for Porsche's financial planning. Its ongoing success smoothes over wildly fluctuating sports car sales, which tend to follow the consumer confidence index. Cayenne's success is helping Porsche do what enthusiasts want: develop and build great sports cars. Enough hand-wringing already.
For 2008, the Porsche Cayenne has been significantly improved, and Porsche is calling it a second-generation version. We can report the driving dynamics of the 2008 Cayenne models are substantially improved over the high bar set by the previous models. This was accomplished by using the latest technology and high-quality engineering and manufacturing. Porsche Stability Management has been enhanced, Dynamic Chassis Control is available, and there's a new Sport mode available for all models and powertrains.
Each of Cayenne's three available engines is bigger and substantially more powerful for 2008. Benefiting from direct fuel injection, each engine is more fuel-efficient, as well, though on the window stickers it's a wash due to more stringent EPA test procedures instituted for all 2008 vehicles.
Grabbing headlines is the 2008 Porsche Cayenne Turbo, boasting 500 horsepower and 516 pound-feet of torque from its new twin-turbocharged 4.8-liter V8 and capable of propelling this SUV from 0-60 mph in just 5.1 seconds. It's faster and more dynamic than the previous Cayenne Turbo.
But the bigger gain, in our view, is with the entry model, which comes with a new 3.6-liter V6 that produces 290 horsepower and 283 pound-feet of torque, capable of propelling it from 0 to 60 mph in less than 8 seconds (and in 7.5 seconds when equipped with the standard six-speed manual transmission).
The popular Cayenne S gets more power, as well, serving up 385 horsepower and 369 pound-feet of torque from its new 4.8-liter V8.
More important than the new engines (though less useful for bragging rights) are advances in active safety: An available system called Porsche Dynamic Chassis Control nearly eliminates body roll, or lean, in turns, improving handling, comfort, and active safety, while providing enhanced off-pavement traction. A Cayenne going flat-out through a fast corner with this system looks like it's on rails. A Cayenne without this system struggles to keep up, heeled over and moving around in the turn. Porsche Dynamic Chassis Control includes active anti-roll bars, which are designed to compensate off pavement, as well. All Cayennes come with Porsche Stability Management, Trailer Stability Control, off-road ABS, and other technologies that make drivers look like heroes.
Braking has been improved for 2008. Massive new brakes were developed by Porsche to reduce fade, the tendency of brakes to lose effectiveness in repeated hard use. This is important when descending long mountain grades.
We found the 2008 Porsche Cayenne enjoyable to drive, smooth, stable, responsive. It inspires confidence and we felt comfortable driving it right to and beyond grip levels on a gravel road. It's easy to control and predictable and always behaves as expected.
Model Lineup
The 2008 Porsche Cayenne lineup features three models: Cayenne ($43,400), Cayenne S ($57,900), and Cayenne Turbo ($93,700).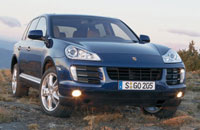 All models come standard with full-time all-wheel drive with a high and low range. All come with a six-speed Tiptronic S automatic transmission, though the V6 is also available with a six-speed manual.
Cayenne comes with a 3.6-liter V6 (that produces 290 horsepower, 273 pound-feet of torque). Leather seating with 12-way power adjustment comes standard, along with titanium interior trim; manually controlled climate control with charcoal and micro-particle cabin filtration; heated retractable exterior mirrors; multi-function trip computer; 12-speaker stereo with CD; air conditioned glove compartment; cruise control; insulated laminated privacy glass; Homelink; immobilizer anti-theft alarm; and an electronically latching power tailgate. Optional for 2008 is natural Chestnut Brown leather upholstery in a two-tone combination with black nappa leather.
Cayenne S gets a 4.8-liter V8 (that delivers 385 horsepower and 369 pound-feet of torque). Cayenne S adds automatic climate control with dual front-passenger settings and a 350-watt, 14-speaker Bose stereo.
Cayenne Turbo features a twin-turbocharged version of the V8 (rated at 500 horsepower and 516 pound-feet of torque). The Turbo comes standard with an adjustable air suspension with Porsche Active Suspension Management (PASM). The Turbo model also upgrades with heated front and rear seats, a power steering wheel adjustment, and park-assist radar warning front and rear. It's equipped with Porsche Communications Management (PCM), a GPS navigation system with integrated telephone and audio controls, and headlights that turn with the steering wheel.
Options include a push-button Sport mode; PASM ($2,990); wood trim packages ($1,385); front and rear park assist ($990); trailer hitch and ball ($630); and 21-inch wheels. Seat upgrades and a full Smooth Leather package that covers everything from grab handles to the center console in hide ($3,040) are available. Porsche Entry and Drive ($995) allows a driver to unlock and start the Cayenne by pulling the door handle and touching the shift lever, while leaving the keys in his pocket or her purse. XM Satellite Radio is available. Features on upper models are available as options on Cayenne and Cayenne S. Porsche's factory customization program allows buyers to order a Cayenne however they want it, limited only by imagination.
Safety features on all models include Porsche Stability Management electronic stability control, traction control, antilock brakes with off-road capability, and Trailer Stability Control. Six airbags come standard: dual-stage front and side-impact airbags for front passengers, and curtain-style head protection airbags on both sides of the cabin. All five seating positions have three-point belts with pretensioners to instantly tighten them and limit stretching on impact. The front belts also have automatic force limiters, reducing potential for belt-related injuries. New for 2008 is a rollover sensor designed to trigger seat belt tensioners and curtain airbags.
Walkaround
For 2008, Porsche Cayenne was redesigned to present a more aggressive appearance. Its designers wanted to lower the car's visual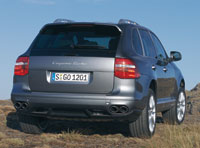 center of gravity.
So for 2008, the headlights were moved farther apart and feature new bi-xenon designs. The air intake was re-shaped, the roof section is three inches longer and a rear spoiler adorns the trailing edge of the roof. The 2008 models benefit from new wheel designs;17-, 18-, 19-, 20-, and 21-inch wheels are available. Aerodynamics are improved for 2008: The 2008 Cayenne slips through the air with a 0.35 coefficient of drag, compared with 0.39 for the first-generation (2003-07) models. New taillights, a redesigned rear bumper cover, a new exhaust system, and a new diffuser setup highlight changes to rear for 2008. The outside mirrors mimic the shape of the tail lights.
Cayenne is easily identifiable as a Porsche with headlights and grillework that resemble that of the 911 and Boxster. The more powerful models have functional design cues indicating higher levels of performance. The Cayenne Turbo is distinguished by larger grilles that increase the amount of air flowing through the engine bay.
The Cayenne is not small, measuring nearly 189 inches in length, with a wheelbase of 112.4 inches. That's about the same length as the current BMW X5 (191.1 inches) and Mercedes M-Class (188.5 inches). Cayenne is 75.9 inches wide, about the same as the X5 (76.1 inches) or a half-inch wider than M-Class (75.2 inches).
In size, Cayenne most closely matches Volkswagen's Touareg, which is no surprise given the two vehicles were developed jointly by Porsche and VW. Engines and other Cayenne components are built by Porsche in Zuffenhausen, Germany, and mated to the Cayenne at an assembly plant in Leipzig. Cayenne, Touareg, and the Audi Q7 share basic structures, though the Audi is stretched for more passenger space. Engine and suspension tuning, styling and all the finish work were the separate responsibility of each manufacturer.
The Cayenne offers near optimal front/rear weight distribution of 52/48 percent, for outstanding handling balance in all circumstances (the weight in most unladen SUVs is more heavily biased toward the front). At least as important, in Porsche's view, is the Cayenne's optimal aerodynamic balance. Aerodynamic downforce on the rear wheels increases with speed, delivering the high-speed stability that has become a Porsche trademark.
Interior Features
Anyone who has spent time in one of Porsche's sports cars will get a familiar feeling in the Cayenne driver's seat. The cabin cues are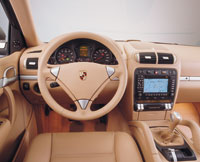 pure Porsche: the ignition switch to the left of the steering column, a tradition dating back to vintage Le Mans starts requiring drivers to run to their cars; the shape and feel of the gear selector; the thick, grippy, steering wheel with the three-spoke hub; the contour of the seats.
Cayenne's instrument cluster is tucked under a single, prominent arch, with two big gauges on either side of a central multifunction display, tachometer on the left, speedometer on the right. This display presents information on audio and trip functions, mechanical operations and ambient conditions. Cruise control and the switch for the wipers are located on stalks on either side of the steering column. The bulk of the switches, including audio and climate controls, are racked in the center of the dash above the center console. These are replaced with a CRT monitor on Cayennes equipped with Porsche Communications Management. A dozen vents throughout the cabin distribute warm or cool air evenly. Big, wide outside mirrors offer good rearward visibility. The steering wheel tilts and telescopes to help ensure a proper driving position.
The Cayenne is not as richly appointed as a similarly priced Range Rover, but it's not supposed to be. The emphasis here is sporting flair rather than traditional luxury. (We like both vehicles for different reasons.) We liked the contrasting stitching on the Porsche seats. The standard leather upholstery is high grade, while the standard metal trim has a brushed finish. The front seats stand out for their balance of support, comfort and adjustment range.
The navigation display screen is one of the largest we've encountered. Called Porsche Communications Management, the navigation system comes with a 6.5-inch display and calculates routes and makes adjustments very quickly. It uses DVDs rather than CDs, allowing for maps for the entire United States on a single disk, rather than several that must be changed from region to region. An optional electronic logbook automatically records the mileage, journey length, date and time, starting point and destination address for every trip made. In addition, buyers can opt for a module that will help you find your way back to your starting point, even if the roads or trails aren't on the system's map. Voice recognition and off-road navigation are available options.
Cayenne transports five adults in reasonable comfort. The rear seat is well contoured, with excellent headroom and decent legroom, even when the front seats are well back in their travel range. Seating for five is something we're not used to seeing in a Porsche, so don't expect the interior volume of a Lincoln Navigator and don't look for a third-row seat because it isn't available.
The rear seatback folds forward in a 60/40 split, and includes a pass-though slot with a ski sack, allowing Cayenne to haul longer, narrow items inside without flattening or messing up the rear seat. A cargo net keeps grocery bags and other items from sliding around during travel and a retractable shade-type cover opens and closes over the cargo hold.
Cargo capacity is nearly 62 cubic feet with the rear seats folded down, and nearly 19 cubic feet with the rear seats in place.. The tailgate is two-stage, so either the glass or entire gate can be opened upward, and the electronic latch lets you simply lower the gate to the latch while the electric mechanism pulls it shut. The dimensions of the tailgate opening and load floor allow Cayenne to haul small appliances such as a bar-size refrigerator or a large TV set. With apayload of 1600 pounds, the Cayenne can haul just about anything that'll fit inside without worrying too much about exceeding recommended weights. New for 2008 is a system designed to ease cargo loading and unloading that uses rails and a sliding floor called Storage Space Management.
The 2008 Porsche Cayenne is available with a Panorama Roof comprising four glass panels, three of which slide open under electric power. The massive glass section can be opened either above the first row of seats, the second row, or both rows. A power sunblind is integrated into the roof.
Driving Impressions
The Porsche Cayenne is the rally car of big, heavy SUVs. It drives like a big sports car. Measured against other SUVs, it's hot.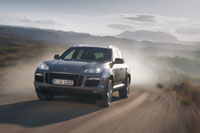 Measured against sports cars, it's quick and it's fast. Handling and stopping are impressive given its mass, but there's no denying that mass. And therefore, the Cayenne not an alternative to a Carrera. For true sports car performance, there is no substitute for the Porsche 911. But among SUVs, the Cayenne hauls. It is a Porsche.
The Porsche of SUVs is what those familiar with the brand probably expect from the Cayenne. If you pay close attention, you can feel most of the mechanical components working, each doing its own job, yet it all blends together in a smooth, synchronous whole. The Cayenne is fast, satisfying and, even in the things it does least efficiently, utterly competent. It stops with more energy and precision that any SUV we can name.
The deep rumble of the exhaust is a reminder you're driving a Porsche. Even at idle, the burble of low-restriction mufflers, the cams and the suck of intake air remind us of the late, great Porsche 928, a V8-powered GT that swallowed chunks of pavement at an alarming rate. This is not your typical SUV, though it can perform the duties of one.
Off-road capabilities are considerable. Though Porsche is best-known for Le Mans and other endurance sports car racing, Cayenne invokes images of the Paris-Dakar Porsche 959s, another area where Porsche triumphed.
We drove a 2008 Cayenne S hard on a gravel road, a 2.0-mile special stage at Continental Tire's Uvalde Proving Grounds west of San Antonio and were impressed with the predictable handling. Hurling the Cayenne deep into gravel corners well past grip limits was met by the system catching the car mid-corner, allowing us to accelerate hard out of the turn and shoot down another short straightaway before diving into the next turn. With so much technology helping us control the car we would have had to work at it to bite the ditch. In short, the Cayenne works phenomenally well on dirt and gravel roads and make its driver look like a hero.
We've also had the opportunity to drive a Cayenne through a muddy off-road course in Spain. This was not a boulder-laden wilderness trail like the Rubicon, but included axle-deep mud and long, steep, low-grip grades. Up, down and across, the Cayenne performed flawlessly. In most cases the onboard electronics did the heavy lifting, and the driver had to simply, lightly, modulate the throttle or brake in low range. When introduced, Cayenne's back country performance impressed even the jaded, and it supported Porsche's assertion that it has more off-road capability than the BMW X5 or Mercedes M-Class, which we've driven in similar conditions. Cayenne has a maximum ground clearance of 8.5 inches, or 10.6 inches with the optional air suspension. It can ford 19 inches of water, nearly 22 inches in the off-road mode with air suspension. The Advanced Off Road Package adds skid plates to protect the underbody and a locking rear differential. We drove a Turbo with these options on the desert sands of Dubai and were astounded by the vehicle's prowess in difficult conditions.
Cayenne's permanent all-wheel-drive system, with its variable-rate center differential managed by multiple clutch plates, is similar to that used on all-wheel-drive versions of the Porsche 911. Cayenne enhances this setup with a low-range set of gears along with a locking center differential for creeping over rugged terrain. Porsche's latest stability and traction-control electronics have been modified for 2008 for improved off-road capability. The all-wheel-drive system can vary the amount of engine power distributed to the front and rear wheels, sending more or less power in one direction depending on available traction and other conditions. The Cayenne has a default power split of 38 percent front, 62 percent rear. It's biased much more to the rear than most SUVs, more closely replicating the rear-wheel-drive characteristics of a sports car.
On the road, the Cayenne handles crisply, but it's no Carrera. Though lighter than the BMW X5, the lightest Cayenne tips the scales at 4,762 pounds. The Cayenne S weighs 4,950 pounds while the Turbo weighs 5,191 pounds (and more than 5700 pounds when fully optioned). All this weight rears its head in transient maneuvers. Cayenne performs lane-change maneuvers better than an SUV, but there's no getting around the physics of all that mass when pushed hard in tight cornering situations. That said, it offers excellent grip in steady state corners, which can be taken quite quickly.
Porsche Dynamic Chassis Control features active anti-roll bars that almost eliminate body roll (lean) in corners. This system makes it easier to control the car when driving hard through corners, improving cornering stability. Porsche Stability Management has new functions for 2008 such as pre-loading of the brake system when needed. A new Trailer Stability Control is available for 2008 designed to improve stability when towing.
The V6 in the standard Cayenne is new for 2008. This 3.6-liter V6 is larger and than last year's narrow-angle 3.2-liter V6. It also features a wider cylinder angle, 15 degrees instead of the previous 10.6 degrees. . The cylinder head is made from a single piece of aluminum and uses Direct Fuel Injection. The exhaust system is new for 2008, featuring low restriction and tuned for maximum torque. The 3.6-liter V6 produces 290 horsepower at 6200 rpm and 273 pound-feet of torque at 3000 rpm. We found the 2008 Cayenne with the V6 enjoyable to drive. It's available with a six-speed manual transmission, which is equipped with a feature called Porsche Drive-Off Assistant that allows a driver to easily set the Cayenne in motion on steep grades; the system automatically maintains brake pressure when the brake pedal is released, then releases the brakes once the driver begins to let out the clutch pedal. For 2008, the manual has been beefed up to manage the increased power of the V6. The manual's shift action is sweet, and the V6 Cayenne delivers adequate acceleration performance. Porsche reports 0-60 mph times of 7.5 seconds and a top speed of 141 mph. The V6 is pleasant to operate, if not as exhilarating as the V8s. Its wide power band gets the Cayenne up to speed in convincing fashion, and the V6 Cayenne actually feels lighter, perhaps better than the V8s, for mundane chores like commuting or shopping, and the V6 model is lighter, by 166 pounds with the Tiptronic, and another 20 pounds less with the manual.
The 4.8-liter V8 that comes in the 2008 Cayenne S generates 385 hp at 6200 rpm and 369 pound-feet of torque at 3500. The V8s are pure Porsche with the latest technology and materials, including a dry-sump lubrication system that allows uninterrupted oiling at extreme angles of operation, either off road or at high lateral loads when cornering at speed on pavement.
We found the Cayenne S offers responsive performance. Porsche says it can accelerate from 0-60 mph in 7.9 seconds. At any speed, the six-speed Tiptronic S automatic kicks down quickly with a jab at the gas pedal and the Cayenne S accelerates like a jumbo jet approaching rotation speed. We're not sure why anyone needs more get-up in a big SUV than the Cayenne S offers, but we're well beyond needs here.
The Cayenne Turbo generates 500 horsepower at 6000 rpm and 516 pound-feet of torque between 2250 and 4500 rpm. The Turbo can accelerate from 0-60 mph in just 4.9 seconds and from 0-100 mph in just over 12 seconds, which we experienced at the Uvalde Proving Grounds. The Turbo hit its top speed of 171 mph there.
Brakes, traditionally a Porsche strong point, are even more powerful for 2008. The Cayenne brakes feature six-piston fixed calipers on the front wheels and four-piston calipers at the rear. Brake discs measure 13.00 inches (330 mm) on all V6 Cayennes with calipers finished in black. The Cayenne S gets even larger 13.78-inch (350-mm) front discs and silver-painted calipers. The Cayenne Turbo gets even larger discs, 14.49 inches (368 mm) in front and 14.09 inches (358 mm) at the rear with red calipers. Porsche designed the Cayenne's brakes for minimal fade on long downhill mountain grades and help it shed speed like a sports sedan. New for 2008 is an off-road ABS feature that should shorten stopping distances on dirt and gravel roads.
On pavement, the Cayenne is smooth, fast, and big. It's not just acceleration or the 171-mph top speed that impressed us, but the high speeds the Cayenne comfortably carries in most circumstances. The steering isn't as quick as that in 911, but its weight and response have a familiar feel. The air suspension keeps it on the stiff side, though it can be manually softened if the driver chooses. It's impressively precise and responsive and its 2.5-ton mass is masked by impressive stability and agility. The Cayenne drives lighter than other big SUVs, including the X5 or M-Class, and speed creep is a constant issue. Almost without realizing it, you can be traveling 120 mph on roads posted 65. Speeds we wouldn't consider in a Chevy Tahoe feel mundane in the Cayenne.
The towing capacity of the Cayenne is impressive. All models are rated to tow just over 7700 pounds.
Fuel economy is not the strongest asset of the Porsche Cayenne due to its considerable weight and performance orientation. Stepping up or down in horsepower does not drastically affect fuel economy nor does switching transmissions. The 2008 Cayenne is rated 14/20 mpg (manual or Tiptronic); Cayenne S rates 13/19 mpg, Cayenne Turbo gets 12/19 mpg. Those figures are EPA-estimated City/Highway miles per gallon under the new, stricter test methods that involve more aggressive driving and use of air conditioning, among other things. None of the Porsche Cayenne models is subject to the Gas Guzzler tax. Premium unleaded fuel, 91 octane or better, is required on all Cayennes. So while you might save $400 a year, or $30 a month, in fuel costs by choosing a V6 over a Turbo, we view choosing among the different engines to be primarily a purchase price consideration. By comparison, the 2008 Volkswagen Touareg with the 10-cylinder diesel is rated 15/20 mpg, while the 2008 Mercedes GL320 CDI diesel rates 18/24 mpg. The 2007 BMW X5 4.8i was rated 15/21 mpg.
Summary
The Porsche Cayenne is the sportiest, best-performing SUV, ahigh-performance machine that will fit a family of five, haul a small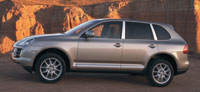 washing machine, tow a large boat and get you through the woods when there's no road. It's a 5000-pound speed-sled that can handle rugged trails. Significant revisions make the 2008 Porsche Cayenne models more desirable than last year's models. Of the three versions, the Cayenne S is our favorite. Cayenne S delivers Porsche performance yet while dodging the higher price of the Turbo.
NewCarTestDrive.com editor Mitch McCullough test drove the 2008 Cayenne, Cayenne S, and Cayenne Turbo in Texas. With J.P. Vettraino reporting from Detroit and Greg Brown reporting from Dubai.
Copyright © 1994-2007 New Car Test Drive, Inc.