A new SUV can be an expensive purchase these days. Even a small crossover can price itself out of many car shoppers' budgets. But buying a used utility or crossover can give you all the same practicality, utility and versatility at a deep discount compared to a new vehicle MSRP. And since SUVs, like trucks, are more durable than cars, you don't have to fear buying one that has high mileage. Here are six used SUVs under $10,000 that are both capable and family-friendly.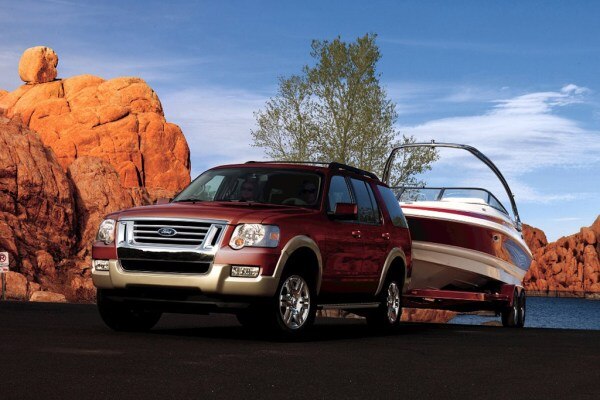 2006-2010 Ford Explorer
As one of the first modern-era SUVs to hit the market back in the early 90s, the rugged body-on-frame Ford Explorer is one of the most recognizable vehicles on the road, and you can find one within a $10,000 budget. The Explorer's cabin is roomy and versatile with a tough yet comfortable look and feel. Features like leather seats, a moonroof and the Ford Sync infotainment system give this interior a premium flair. And the expansive cargo compartment will allow you to haul everything from bags of cement to camping gear to small furniture. There are two engine choices under the hood: A 4.0-liter V6 making 210 horsepower, and a 4.6-liter V8 outputting 292 hp. The V6 pairs with a 5-speed automatic transmission, while the V8 connects to a 6-speed auto. Properly equipped, the V8 can tow as much as 7,300 pounds. The optional 4WD system offers a low-range transfer case to help tread challenging on- and off-road surfaces.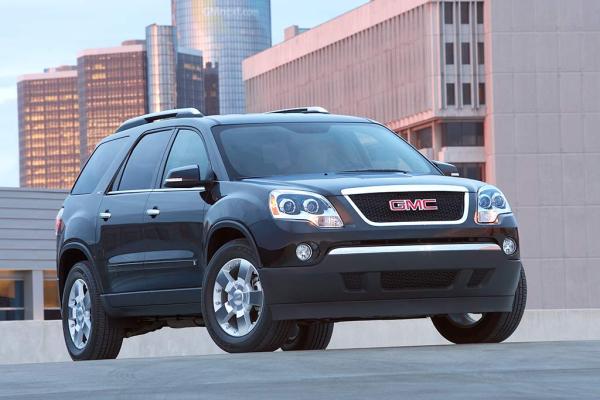 2008-2010 GMC Acadia
Compared to other large crossover vehicles, the GMC Acadia is far more maneuverable and efficient on the road, making it a joy to drive. In many ways, it rides and handles much like a car, thanks to GM's well-engineered and well-known Lambda platform. Inside, the Acadia offers a comfortable cabin with plush seats, making long commutes and road trips fatigue-free. Overall, passenger space is ample and max cargo room is cavernous. The third row is roomy and easy to access for kids. Powered by a strong 3.6-liter V6 making 288 hp, the Acadia feels capable and confident on the road, and with all-wheel drive, this big crossover grants a solid, well-grounded feel, regardless of road conditions. For those who find themselves trailering a boat or camper, the Acadia boasts an impressive 4,000 pounds of towing capacity. For $10,000 or less, there's clearly a lot of value here.
2008-2011 Kia Sorento
For under $10,000 the Kia Sorento offers a lot, starting with a bold and rugged appearance. Within, you'll be impressed with the Sorento's well-appointed cabin, boasting a wide array of convenience features, good quality materials and excellent visibility thanks to its high ride height. The Sorento offers both two- and three-row configurations and plenty of versatility to accommodate people and their stuff. For that reason, the Sorento is perfect for families who like to hit the road but don't necessarily travel lightly. For power, the Sorento comes outfitted with one of two engine choices: A 175-hp 2.4-liter 4-cylinder engine, or a 276-hp 3.5-liter V6. Energy is channeled through either a 6-speed manual gearbox or a 6-speed automatic. The Sorento is available in front-wheel drive and all-wheel drive. The latter offers a locking center differential to improve traction in icy or muddy conditions.
2007-2011 Mitsubishi Outlander
In a vast field of used SUVs, the Mitsubishi Outlander is a surprising but good option, thanks to its aggressive styling and sport-infused persona. Available in four trim levels, the $10,000 or less Outlander offers a nice roster of amenities, as well as premium features such as leather seats, navigation, voice activation and an upgraded stereo system. Overall, the interior is spacious, but the third row can be a bit cramped, even for kids. For that reason, we recommend the 5-passenger configuration of this vehicle. The Outlander is powered by either a 168-hp 2.4-liter 4-cylinder engine that ties to a continuously variable transmission (CVT), or a more spirited 3.0-liter V6 that makes 230 hp and pairs with a 6-speed automatic. Both gearboxes offer manual shift capability for an extra dose of driving fun. The Outlander comes in either front-wheel drive models or all-wheel drive with driver-selectable modes based on road conditions.
Find a Mitsubishi Outlander for sale
2007-2009 Toyota Highlander
The Toyota Highlander is one of the most well-conceived midsize utility vehicles out there. Known for its reliability and refinement, it's no wonder it holds its value so well. But you can still find a very good second-generation Highlander for under $10,000, which is potentially a steal. Inside, the Highlander offers plenty of creature comforts plus 7- and 8-passenger configurations. With both versions, cargo space is ample and made very accessible thanks to a flip-up rear hatch window. The Highlander is powered by one of two engines: A 187-hp 2.7-liter 4-cylinder with 1,500 pounds of towing capacity, and a more robust 270-hp 3.5-liter V6 that can tow up to 5,000 pounds. If you live where winters can be harsh, the Highlander's available all-wheel drive system will give you the stability and surefootedness you'll surely need.