Editor's note: Looking for a new work van? Check out our updated list of the Best Cargo Vans for Your Business in 2018.
Picking the right cargo van can be harder than you think. Although there aren't many models available, they each look surprisingly similar on paper, and it's not like there are many reviews dedicated to finding the right cargo van for business needs. Fortunately, we've listed today's six best cargo vans, and we've explained the various configurations and optimal uses of each van in basic language to make it as easy as possible to understand.
Ford Transit
The Ford Transit is the latest full-size cargo van to join the U.S. market, replacing Ford's outdated E-Series for the 2015 model year. Two versions are available: a regular wheelbase and a long wheelbase, with long-wheelbase models offering standard or extended length options. The Transit is also available in high-roof form for an impressive 81.5 inches of interior cargo height — the best figure in the cargo van segment.
As for engines, the Transit offers three: a 3.7-liter V6 with 266 horsepower, a turbocharged EcoBoost V6 for better gas mileage, and a 3.2-liter turbodiesel 5-cylinder for shoppers interested in towing and hauling the largest possible loads. The Transit — which rivals the RAM ProMaster, Nissan NV and Sprinter — starts around $30,000 with shipping, though top-of-the-line models can easily reach $40,000 when they're fully equipped. Find a Ford Transit for sale
Ford Transit Connect
The newly redesigned Ford Transit Connect is a compact van designed for inner-city businesses interested in a vehicle that emphasizes fuel economy and nimbleness rather than all-out cargo room. In terms of fuel economy, it succeeds: The Transit Connect's standard 169-hp 4-cylinder returns an impressive 21 miles per gallon in the city and 29 mpg on the highway, while an optional 178-hp turbocharged 4-cylinder returns 22 mpg city/30 mpg hwy. Small size is also a strong point, as the Transit Connect is no longer than a midsize Ford Fusion sedan, even in the van's long-wheelbase form.
Unfortunately, the Transit Connect's easily manageable exterior means it isn't huge inside: payload capacity (the maximum weight it can carry in back) is just 1,600 pounds, while towing capacity ends up at 2,000 pounds — figures that remain the same whether you opt for the standard wheelbase (104.8 in) or the 120.6-in long-wheelbase model. But pricing is reasonable, as the Transit Connect starts around $23,000 with shipping. Find a Ford Transit Connect for sale
Freightliner & Mercedes-Benz Sprinters
The Sprinter, available from both Mercedes-Benz and Freightliner, has long been the king of the full-size cargo van realm for shoppers who value a huge cargo capacity over constraints like price and gas mileage. But with the newly available Ford Transit, Nissan NV and RAM ProMaster, does the Sprinter still have what it takes to compete?
In short, the answer is yes. The Sprinter offers two body styles — one with a 144-in wheelbase and one with 170 in — and two roof sizes: standard or tall. Opt for the top-of-the-line Sprinter and you'll get a 76.4-in interior height, nearly 190 cu ft. of cargo space, nearly 3,000 pounds of payload capacity, and a 5,000-lb towing capacity. The Sprinter's only issue is pricing, as its base MSRP of about $36,000 for either manufacturer is well above rivals like the ProMaster and Transit. Find a Mercedes-Benz Sprinter for sale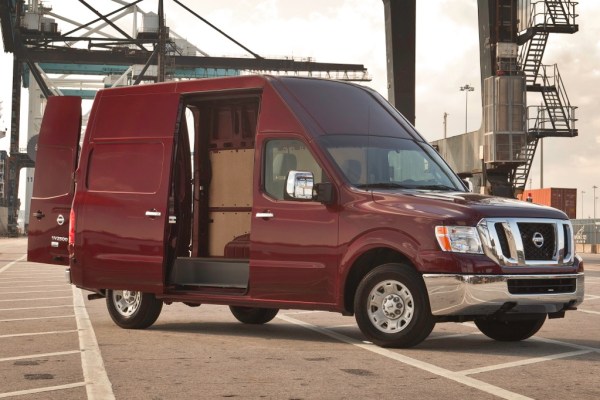 Nissan NV
The full-size, rear-wheel-drive Nissan NV cargo van is based on the brand's Titan pickup. Featuring a 4.0-liter V6 or 5.6-liter V8, the NV is the least technologically advanced — or fuel-efficient — of the latest crop of full-size cargo vans. But it offers alluring pricing that starts around $26,000 with shipping, largely due to its production in the United States.
The NV also offers some big capacities. Due to its pickup truck chassis, the top-level NV3500 van boasts an impressive payload capacity of nearly 4,000 pounds — and there's a whopping 9,500-lb towing capacity, thanks to its optional 317-hp 5.6-liter V8. And while the standard-roof model only offers 55.8 in of interior cargo height, the high roof NV boasts an impressive 76.9 in, tying the Sprinter. If price is a concern but capacity is essential, try out the NV. Find a Nissan NV for sale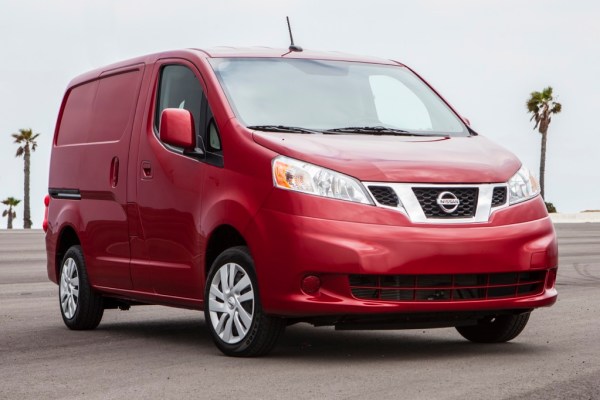 Nissan NV200
Don't be fooled by its name: The NV200 has nothing in common with the larger Nissan NV, except for its status as a cargo van. The NV200 is much smaller, featuring front-wheel-drive architecture and a 131-hp 4-cylinder engine mated to a fuel-saving CVT automatic. The result is 24 mpg city/25 mpg hwy, which is some of the best gas mileage of any new cargo van. And the price is enticing too, as the NV200 starts around $22,000 with shipping.
So what's the catch? The NV200 is small, competing with the Ford Transit Connect rather than full-size vans like the larger NV, the RAM ProMaster or the Ford Transit. Cargo volume is just 122.7 cu ft., and maximum cargo height is just 53.3 in. In other words, this is a van for city dwellers who emphasize size over strength. Find a Nissan NV200 for sale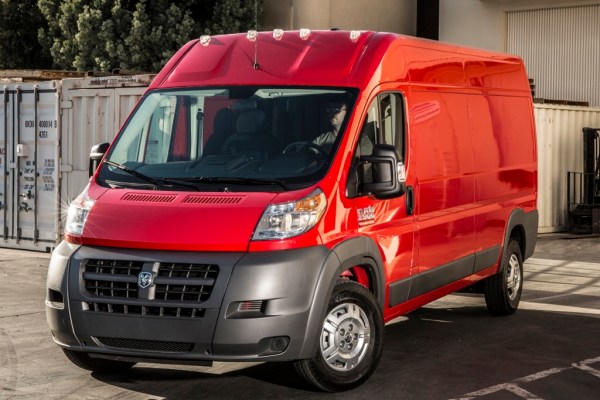 Ram ProMaster
Like most of its full-size rivals, the ProMaster offers three trims: a 1500, a 2500 and a 3500, with the numbers rising based on capability. Pricing for the 1500 starts around $29,500 with shipping, while the 3500 model is in the $36,000 range with shipping — and figures can escalate from there, depending on options.
Fortunately, the ProMaster has what it takes to compete in that segment thanks to two excellent available engines and a huge cargo area. The van's standard powerplant is Chrysler's 280-hp 3.6-liter V6, which boasts a 6-speed automatic transmission, while an optional 3.0-liter EcoDiesel 4-cylinder — great for towing — makes 295 lb-ft of torque. Most importantly, the ProMaster offers an available standing interior height of 76 in, and up to 4,417 pounds of payload capacity. Find a Ram ProMaster for sale