The Jeep Wrangler is an icon. From the original "YJ"-generation that came out in 1986 to the all-new "JL" that was introduced for 2018, there's a Wrangler out there, new or used, at just about every price point. Here, we've outlined six different Jeep Wranglers — new and used for six different budgets.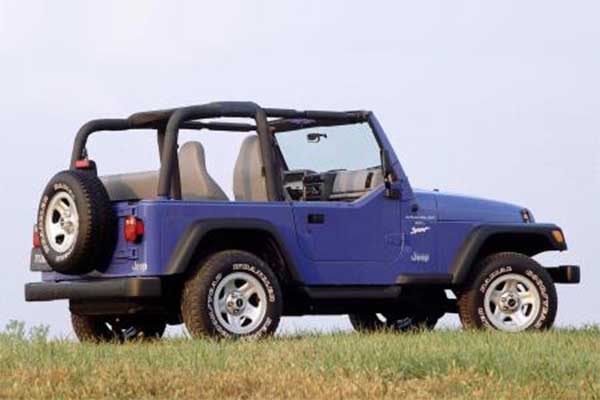 $5,000 – 1987-2006 Jeep Wrangler
Wranglers tend to hold their value extremely well thanks to their endless utility. For this reason, you won't find a ton of options at the $5,000 mark. There are currently only 53 Wranglers listed on Autotrader for $5,000 or less, most of which have high mileage. The majority of these are from the YJ-generation, sold from 1987 to 1995, or the TJ generation, which was sold from 1996 to 2006. Any high mileage used car will show signs of wear and tear and presents an increased potential of mechanical failure. That said, buyers can look for value by identifying used Wranglers from dry-climate regions where rust and corrosion are unlikely to be an issue. Additionally, just because a vehicle has high mileage doesn't mean it hasn't been maintained properly, and often extremely high mileage can mean that a vehicle has been maintained extremely well over the years. Asking about the vehicle's ownership and maintenance history can give you a good read on whether this has been the case. Finally, as always, a pre-purchase inspection is a good investment that will give you both a clearer picture of what's lurking underneath the surface, not to mention some leverage when it comes time to negotiate price. Find a Jeep Wrangler under $5,000 for sale
$10,000 – 1997-2010 Jeep Wrangler
Right now, there are over 500 used Jeep Wranglers listed on Autotrader for around $10,000. Of these, many are nicer TJ models from the 1996-2006 model years, which is a good option for anyone looking for a simple, no-frills vehicle to use over short distances. Buyers wanting something safer and more modern are wise to look to a well-worn JK-generation Wrangler from 2007 to around the 2010 model year. If you come across a JK that's priced so cheaply that it seems too good to be true, keep in mind that it might be a 2-wheel drive model, which was offered through the 2010 model year. Still, there are currently only a handful of these 2-wheel drive Wranglers listed on Autotrader. Additionally, the JK generation introduced the practical 4-door Unlimited model, and there are currently around 30 of these listed for around $10,000.
As far as buying a well-used $10,000 Wrangler goes, much of what we talked about above still applies here — a pre-purchase inspection and some investigation into the vehicle's ownership history can be the difference between making a sound purchase and driving away with a lemon. Find a Jeep Wrangler under $10,000 for sale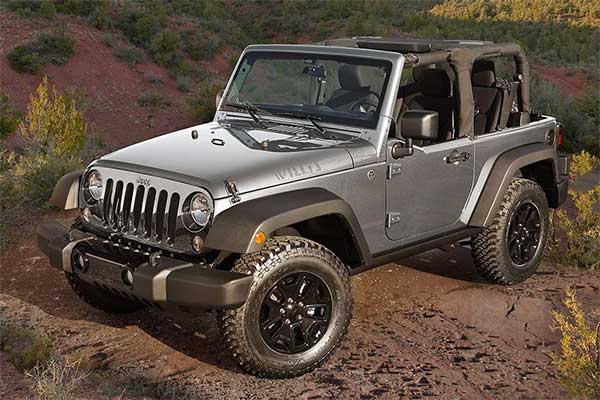 $20,000 – 2007-2018 Jeep Wrangler
If your budget is $20,000, look for a JK generation Wrangler, which was offered from 2007 all the way through 2018, and there are currently over 1,000 to choose from on Autotrader. Note that the JK Wrangler received an interior update for the 2011 model year, and there are currently a ton of these updated models to choose from on Autotrader. It was with the JK generation that Jeep chose to launch the popular 4-door body style, making the Wrangler a far more practical vehicle. Buyers have over 600 2011-or-newer 4-door Wrangler Unlimiteds to choose from. In addition to the mainstream Sport, Sahara and Rubicon trim levels, Jeep offered a bunch of special editions over the lifespan of the JK generation. Whether its low mileage or off-road capability you're after, there's a $20,000 JK Wrangler out there for you. Find a Jeep Wrangler under $20,000 for sale

$30,000 – 2011-2019 Jeep Wrangler
There are two ways to go with a budget of $30,000 to spend on a Wrangler. The all-new JL-generation Wrangler, which came out for the 2018 model year, is a massive improvement over the JK model it replaces, offering better ergonomics, a windshield that's easier to fold down, and doors and tops that are easier to remove. If you're willing to accept a 2-door with a manual transmission, a brand-new 2019 Wrangler Sport is in your price range here, coming in at $28,940 after shipping fees. Another great option is to look for a similar gently-used 2018 or 2019 JL. Thanks to depreciation, you'll likely be able to afford more equipment taking the used route.
Alternatively, if you're after features, doors and capability, consider a used JK Wrangler Rubicon, which offers great off-road features like sturdier axles, a more off-road appropriate 4-wheel drive system, and lockable front and rear differentials. Right now on Autotrader, there are close to 350 2011-or-newer JL Rubicons listed for around $30,000, with both 2- and 4-door options to choose from. Find a Jeep Wrangler under $30,000 for sale
$40,000 – 2019 Jeep Wrangler Sport or Sahara
A budget of $40,000 puts you firmly into brand-new Wrangler territory. For thus sum, expect to find a nicely equipped Sport S model, in either the 2-door or 4-door body style, or a 4-door only Sahara with no options, which rings in at just a hair shy of $40,000, although simply checking the box for the automatic transmission pushes the price to around $41,500. The Sahara introduces luxuries like 18-in wheels, running boards, body-colored fenders and an available leather interior. Find a Jeep Wrangler under $40,000
$50,000 – 2019 Jeep Wrangler Rubicon
Buyers with $50,000 to spend on a Wrangler are looking at a new, top-of-the line, Rubicon model. The off-road oriented Wrangler Rubicon offers locking front and rear differentials, an electronically disconnecting front sway bar, Fox shock absorbers, 33-in all-terrain tire and rock rails, among other off-road goodies. Needless to say, this is probably the most capable vehicle on sale new today. With a starting price of $39,540 for a two door or just over $43,000 for a 4-door, buyers have room for plenty of options like an automatic transmission, LED headlights, steel bumpers, active safety features and a hard top while still remaining under that $50,000 mark. Find a Jeep Wrangler under $50,000