For the last 11 years, the Marvel Cinematic Universe (MCU) has excited both comic and movie fans alike. On April 26th, "Avengers: Endgame" hits theaters and marks the culmination of a storyline that spans 22 feature-length movies and almost 50 hours of total runtime. In celebration of the climax of the epic tale of good versus evil, we've decided to revisit our list of our favorite cars from the MCU and add a few new vehicles that have appeared since our initial publishing of this article. And in the immortal words of Stan Lee, "Excelsior!"
Image courtesy of Honda
Acura NSX — "Avengers"
While only appearing in a few scenes, the Acura NSX is pretty much the only car other than the Audi R8 that we see Tony Stark drive in the entire MCU franchise, which is noteworthy by itself. The NSX was a huge departure from his usual mode of transportation, causing a stir among moviegoers accustomed to Stark's traditional Audi. As it turns out, the car from the film wasn't really a production model, and appeared in the film before Acura even announced the return of the NSX. In fact, the car was actually a first generation NSX with body panels added to give it a more modern style. Despite being an old NSX in disguise, the movie car did give us a taste of what to expect from the new NSX, as it bears a strong resemblance to the 2017 model. It also looks great carrying Tony Stark and Bruce Banner off into the sunset. Find an Acura NSX for sale
Image courtesy of Audi
Audi R8 — "Iron Man"
A list like this would be remiss without including with the oft-referenced Audi R8. First appearing in the original "Iron Man" film in 2008, weapons developer/billionaire playboy-turned-superhero Tony Stark can be seen pushing Audi's stunning supercar in almost every movie he appears in. And why not? If ever there was a car that embodies the brains, style and capability of Iron Man, it's the R8. It's fast and attractive enough to justify a supermodel riding shotgun, but smart enough to deserve a Pepper Potts co-pilot. Find an Audi R8 for sale
Image courtesy of Audi
Audi TTS — "Spider-Man: Homecoming"
The first time out on the open road can be nerve wracking, even if you're a superhero and you're driving an Audi. Peter Parker's first adventure behind the wheel occurs when he "borrows" an Audi TTS from a classmate to intervene in Adrian Toomes' nefarious plot to hijack a shipment of weapons from the Avengers. The sporty TTS is much like Spider Man: Quick and nimble, with the ability to hug the roads like an irradiated arachnid. The TTS even has available blind spot monitoring, or its own "spidey-sense," making for quite an appropriate pairing. Did we mention it's a convertible? Because it's only right for a web slinger to drive a spider. Find an Audi TTS for sale
Image courtesy of GM
Chevrolet Impala SS — "Captain Marvel"
Nick Fury is hands down the baddest fed in the game, so his daily driver has to be equally awesome. And while we're not sure what he floats around in currently (other than a breeze), in the mid 90's Fury's personal whip was none other than the Chevrolet Impala SS. That's right — the gnarly, black, Corvette-engine-powered sedan is what America's Top Spy pushed in his free time. It's no surprise, really, as the Impala's ample interior space and robust horsepower is perfect for road trips with your Kree pals, or chasing Flerken on the weekends. Find a Chevrolet Impala for sale
Image by www.cinemavehicles.com
Ford Econoline — "Ant Man"
Personality and versatility go a long way — much like the 1972 Ford Econoline from 2015's "Ant Man." While the other vehicles on this list might be prettier, quicker and likely in better shape (except for Doctor Strange's Lambo), few had the pluck and versatility of the van owned by Scott Lang's former cellmate and white wine enthusiast, Luis. Whether it's providing transportation to a child's birthday party or used for running digital interference during a caper, the Econoline proves to have as much character as its stellar castmates. Sure, it's not as stylish as Hank Pym's Triumph Spitfire, but it's got moxie. And a horn that plays La Cucaracha. Find a Ford Econoline for sale
Image by Getty
Ford Mustang — "Guardians of the Galaxy 2"
Driven by Peter Quill's deadbeat dad/celestial during his short sabbatical on earth, the Ford Mustang King Cobra 2 oozes retro style for days. After watching Kurt Russell tooling around in the classic 'Stang, it's easy to see why Star-Lord's mom fell for a guy named Ego. I mean, sure, he's a psychopathic demigod, but he is SO cool. And just in case you didn't notice, Quill's ship is decorated eerily similarly to the paint job on the King Cobra 2. Like father, like son. Find a Ford Mustang for sale
Image courtesy of Hyundai
Hyundai Veloster — "Ant Man and the Wasp"
Dr. Hank Pym is best known for his scientific prowess, short fuse, and reducing the stature of human beings to the size of insects. But far be it from the man behind the miniaturizing Ant Man suit to only shrink his apparel. Yes, Dr. Pym diversified his downsizing to include his lab, and a Hot Wheels Rally Case worth of vehicles as well. The crown jewel of the collection? An all-new, tricked-out Hyundai Veloster that was requisitioned by the fast-talking Luis during a high-speed, small-size chase through the streets of San Francisco. Additional features include custom exhaust, a widened stance, and a fiery flame paintjob. Oh, and the ability to shrink and enlarge at will. Now that's what I call a hot hatch. Find a Hyundai Veloster for sale
Image courtesy of Lamborghini
Lamborghini Huracan — "Doctor Strange"
Dr. Stephen Strange, world renowned surgeon and poster child for the perils of distracted driving, pilots the absolutely gorgeous Lamborghini Huracan in the 2016 film bearing his name. Initially, it's easy to resent his arrogance, affluence and extravagant accoutrements (see: Lamborghini) — that is until he manages to steer his Italian supercar off a cliff while reviewing a patient's medical history, nearly killing himself and destroying his career (and Lambo) in the process. Luckily, he was the only one injured and ended up studying sorcery, so it worked out for him. You still gotta feel for the guy, but what he did to that car is unforgivable. Come on Doc, you're better than that. Find a Lamborghini Huracan for sale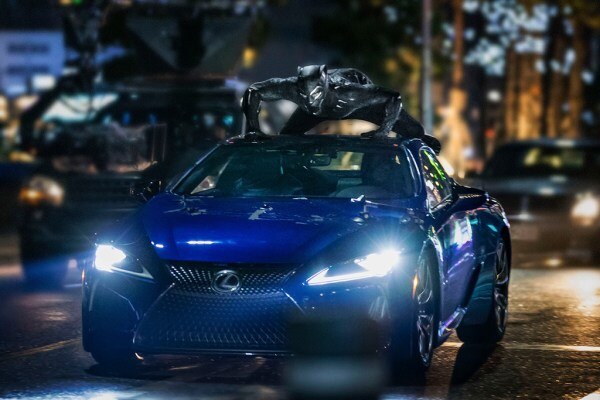 Image courtesy of Toyota
Lexus LC — "Black Panther"
The Lexus LC is the brand new flagship coupe from the luxury automaker, and was featured prominently in the recent blockbuster smash "Black Panther." T'Challa, King and Protector of Wakanda (and current Black Panther) doesn't drive the sleek and powerful LC, but rather rides on the roof while his sister Shuri pilots the Lexus coupe remotely. Riding on the roof is nothing new for Black Panther, as fans might remember him hopping a ride on a Captain America-commandeered Audi SQ7 in 2016's Captain America: Civil War. Seating preferences aside, you've got to give him credit — he's got taste. Find a Lexus LC for sale