The Mercedes-Benz Sprinter is one of the most customizable vans on the planet. What started as a humble work van has grown into so much more — and now, many people love Sprinter vans because they're basically a blank slate that you can turn into whatever you can imagine, from luxury limos to off-road adventure wagons. So today we're going to go over just a few of my favorite custom builds available on Autotrader.
2018 Mercedes-Benz Sprinter 4×4 2500 144" Passenger
We'll start things off with a pretty mild build, all things considered. This 2018 model is all business. It's the 4-wheel-drive model, which is already a great place to start, because a lifted all-wheel-drive van is just a hilariously good time. Then, for a little extra utility, they bolted on a bash bar and roof rack — which, of course, means there's a ladder to climb all the way up to that roof. Other than that, there's a set of Braid wheels and a light bar round out the exterior. Inside, things stay pretty rugged with a rubber floor, but a few concessions are made for luxury with the leather captains' chairs and a pretty fancy entertainment system. This van is listed for $103,000 in Plain City, Ohio. Find a 2018 Mercedes-Benz Sprinter for sale
2019 Mercedes-Benz Sprinter 4×4 2500 144"
If the last van was a little rugged, this one is full zombie assault vehicle. It's got everything except gun mounts, but I might have just missed that in the description. This one, no surprise, is also built off the 4WD platform — since it's no use having all that tactical style if you can't back it up. Now, there's no way I can cover everything that this van has, but I'll try to hit the high points. It's got a dinette set that seats six, with a table made of teak. It's got a pop-up bed on the roof that sleeps two, and another bed in the back. There are 22 gallons worth of water storage, with a water heater and an exterior shower. There are Fox racing shocks, for crying out loud. Basically, if you took the nicest hotel I've ever stayed in, and then taught it to run moonshine, you'd have this van. It's listed by a dealer in Placentia, California, for $179,900. Find a 2019 Mercedes-Benz Sprinter for sale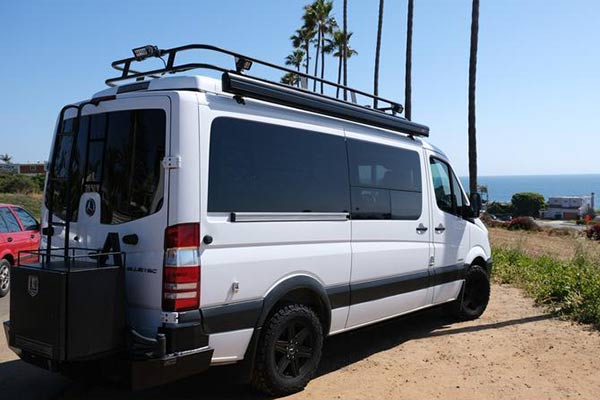 But maybe you want something a little simpler — and something that doesn't cost the same as a moderate Midwestern house. This van is a much more modest build, while still being incredibly practical. This is also our first rear-wheel-drive van, which should also keep things a bit more reasonable. On the outside, you get a roof rack, a ladder, a storage box and an extendable awning. Inside, the rear seats can switch from bench seats, to a dinette set, to a bed. Then, of course, there's a pop-up bed up top. This is just a nice, simple camping and adventure van, offering everything you need with nothing you don't. This van is listed by a private seller for $89,000 in Carlsbad, California. Find a 2014 Mercedes-Benz Sprinter for sale
Not all builds are adventure oriented. Some, like this 2019 model, are all about the good life. This one is the modern interpretation of a party bus, but without the inconvenience of being a bus. It's got lights everywhere, quilted leather seats, a 50-in TV, and a wet bar. The listing is also helpful enough to point out that this is a "perfect first car," and I'd have to agree. It's got plenty of room for Little Timmy to do the family grocery shopping — and with the diesel engine, it should get decent fuel economy. Plus, it will never get lost in the school parking lot. This van is listed for $86,900 by a private seller in The Lakes, Nevada. Find a 2019 Mercedes-Benz Sprinter for sale
2016 Mercedes-Benz Sprinter 2500 144" Passenger
For our final van, I've gone with one that's a bit of a mix between luxury and utility. On the outside, it's got the requisite light bar, roof rack and awning, but it's the inside where things get magical. Now, I know that when building out a vehicle, it's all about optimizing space, and deciding what you need, versus what you can live without. That's why I love this one so much. They shoved a full queen-sized Tempur-Pedic mattress (with massage) in the back, and everything else has to work around that. No roll-out beds or tables that convert into mattresses here. Nope, a just full-on massing adjustable bed. I respect anyone who is that devoted to being comfy. This van is listed by a dealer for $64,950 in Draper, Utah. Find a 2016 Mercedes-Benz Sprinter for sale
Find a Used Mercedes-Benz Sprinter for sale
MORE FROM OVERSTEER:
Here Are the Most Fun Cars Under $10,000 for Sale on Autotrader
Autotrader Find: 2004 Lincoln Town Car Taxi With 622,000 Miles
The Original Jeep Wrangler Unlimited Was Such a Good Idea