Three-row SUVs have become very popular alternatives to minivans over the years. Family-oriented crossovers have been doing their best minivan impressions to try to win over families and a key part of that strategy has been offering one thing that everyone loves about minivans — second-row captain's chairs. Having bucket seats in the second row not only makes the third row a lot easier to access, but it makes the second row a much more comfortable place to be. If there are kids back there, it gives them some much-needed personal space.
In 2020, there are more than 30 SUVs available with second-row captain's chairs, meaning there's a ton of variety for every taste and budget. We've listed them below and lumped together the ones that are mechanically identical or very similar (if we didn't, this would be a very long list).
Here are the many utility vehicles available with second-row captain's chairs for 2020.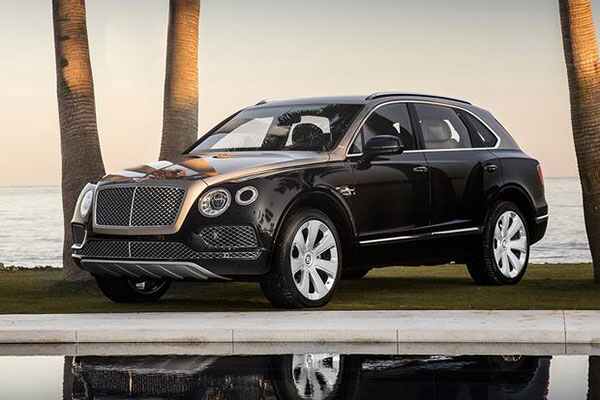 Bentley Bentayga
If you have the budget for a Bentley Bentayga, it's a tremendous SUV that lives up to its prestigious brand reputation and its six-digit price tag. The back of the Bentayga is like the back of a Bentley sedan, which is a very good thing. In fact, it's so nice back there you might want to spend the drive in the back instead of the driver's seat. Find a Bentley Bentayga for sale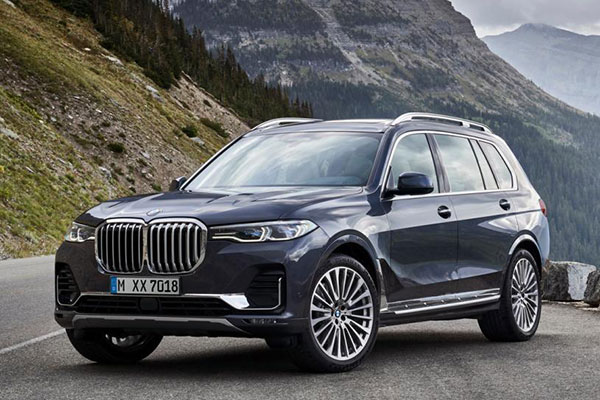 BMW X7
BMW finally got into the big three-row SUV game starting in 2019 and the X7 has all of the virtues you'd expect of a BMW. It has a superb range of engines and an engaging driving experience that might surprise you for such a big vehicle. It has plenty of room and the second row is super comfortable with the optional captain's chairs. Find a BMW X7 for sale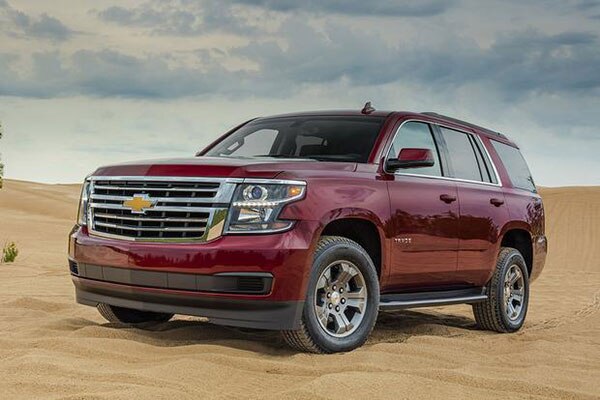 Chevrolet Tahoe and Suburban
GMC Yukon and Yukon XL
Cadillac Escalade and Escalade ESV
The Chevrolet Suburban is the longest-running name in the automotive world having been a trusted family hauler since the 1930s. Since then, it has had several spin-offs within the General Motors family including the smaller-wheelbase Chevy Tahoe, the GMC Yukon and the longer Yukon XL, and the luxurious Cadillac Escalade and the bigger Escalade ESV. The whole gang is available with second-row captain's chairs. Find a Chevrolet Tahoe for sale or Find a Chevrolet Suburban for sale or Find a GMC Yukon for sale or Find a GMC Yukon XL for sale or Find a Cadillac Escalade for sale or Find a Cadillac Escalade ESV for sale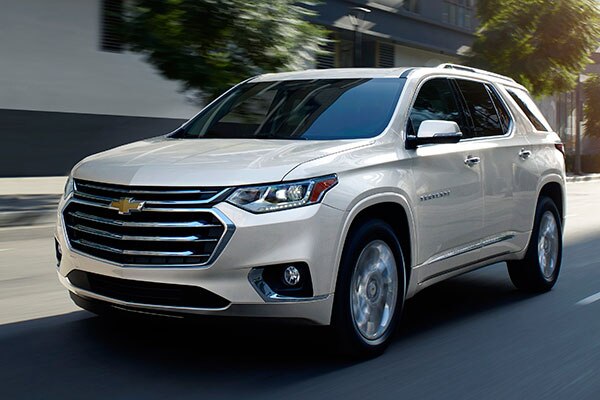 Chevrolet Traverse
Buick Enclave
GMC Acadia
The Chevy Traverse, Buick Enclave and GMC Acadia comprise a trio of midsize SUVs from GM that combine car-like ride quality with almost as much space as a more truck-like full-size SUV. These are three very similar crossovers each with distinct personalities for different kinds of drivers. Find a Chevrolet Traverse for sale or Find a Buick Enclave for sale or Find a GMC Acadia for sale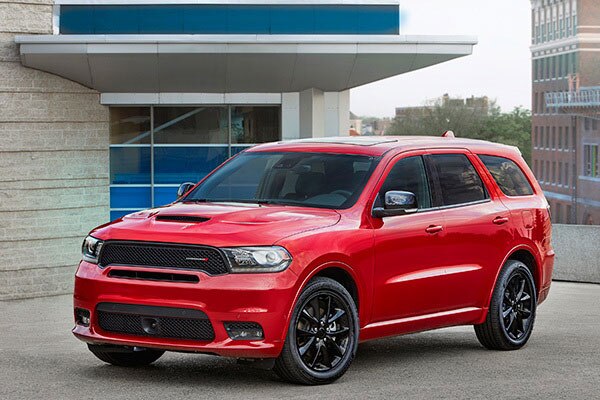 Dodge Durango
The Dodge Durango is one of the more muscular players in the midsize SUV class. Dodge knows a thing or two about minivans and this crossover gets pretty minivan-like on the inside when equipped with second-row captain's chairs. However, you'll never find a minivan with two available V8 engines like in the Durango. Find a Dodge Durango for sale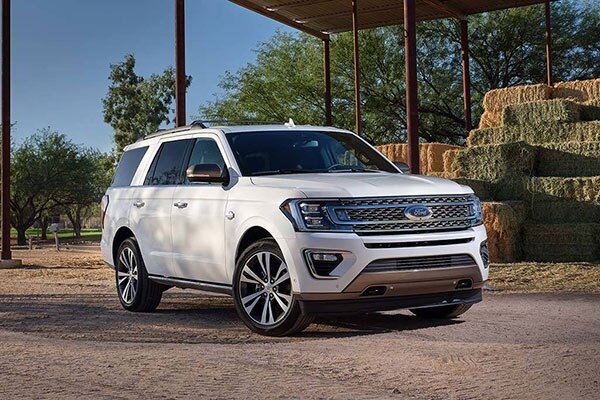 Ford Expedition and Expedition MAX
Lincoln Navigator and Navigator L
The Ford Expedition got a full redesign in 2018 putting it at the top of the full-size SUV class. Its independent rear suspension, super spacious interior and strong EcoBoost twin-turbo V6 engine make it the total package. You can also go for the longer-wheelbase Expedition MAX or if you have a bigger budget and more refined tastes, you can upgrade to the Lincoln Navigator or the longer Navigator L. Find a Ford Expedition for sale or Find a Ford Expedition MAX for sale or Find a Lincoln Navigator for sale or Find a Lincoln Navigator L for sale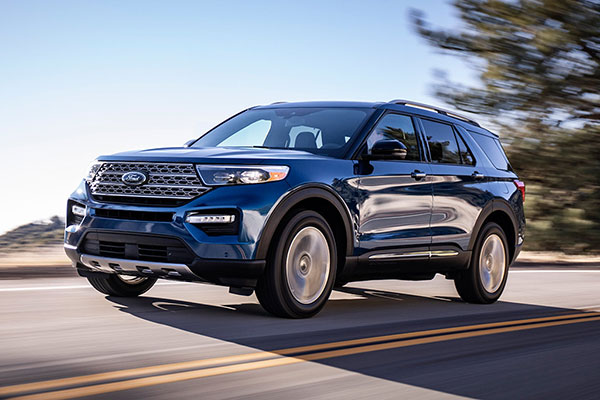 Ford Explorer
Lincoln Aviator
The Ford Explorer is all-new for 2020 with a sporty ST option and an efficient hybrid option giving the new model range a lot of variety. Most trims of the Explorer come standard with second-row captain's chairs, which is nice because that's an expensive upgrade in some of its competitors. The Explorer's luxury counterpart is the outstanding Lincoln Aviator. Find a Ford Explorer for sale or Find a Lincoln Aviator for sale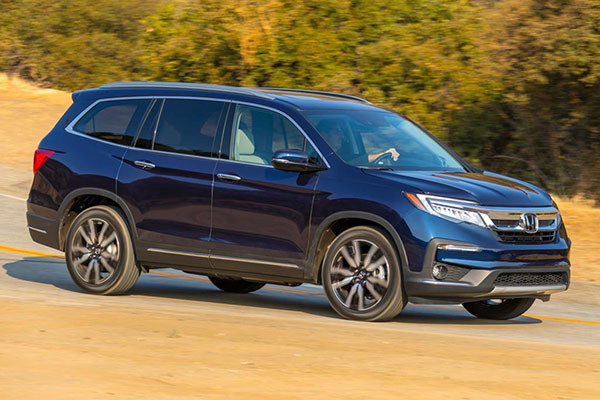 Honda Pilot
Acura MDX
The Honda Pilot is like the Honda Odyssey minivan, but with an SUV body. That's a good thing if you're looking for family-friendly practicality in a midsize SUV. The big difference is that the Pilot is available with all-wheel-drive and the Odyssey isn't. Move up a bit in price and you can get the Acura MDX or its Sport Hybrid variant, which combines exciting performance with great fuel economy. Find a Honda Pilot for sale or Find an Acura MDX for sale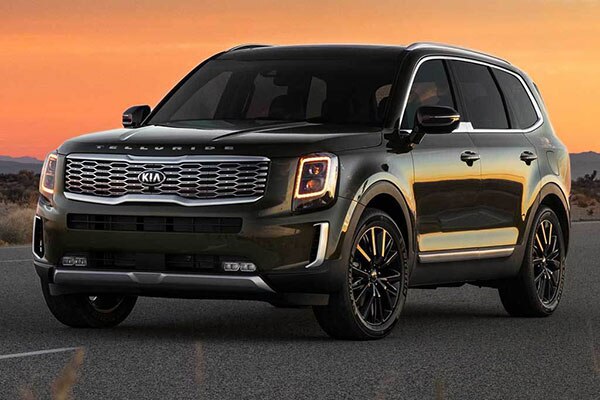 Kia Telluride
Hyundai Palisade
The Kia Telluride and Hyundai Palisade are all-new midsize three-row crossovers for 2020, and they are fantastic. They've quickly brought their respective brands toward the top of this competitive class with stylish exteriors, generous standard technology and roomy, premium interiors with available second-row captain's chairs. Although they share some mechanical components, they are very different. Find a Kia Telluride for sale or Find a Hyundai Palisade for sale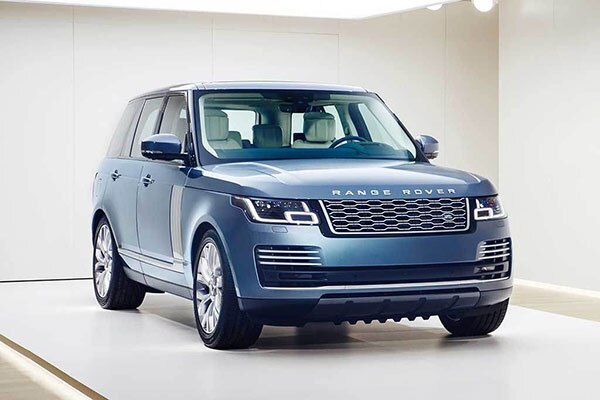 Land Rover Range Rover and Range Rover Sport
The Land Rover Range Rover has long been a standard-bearer in luxury utility vehicles and that reputation holds up in 2020. One of the biggest differences between the Range Rover and the Range Rover Sport is that the Sport model has an available third row of seats and the standard Range Rover does not. They're both supremely comfortable in the back and exude rugged yet elegant style. Find a Land Rover Range Rover for sale or Find a Land Rover Range Rover Sport for sale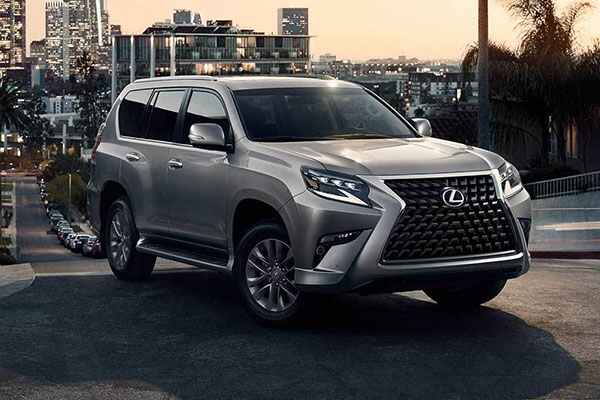 Lexus GX
The Lexus GX is unique in the luxury SUV market for its blend of luxury with off-road capability at a more affordable price point than the likes of Range Rover and Bentley. The third row of seats in the GX is pretty tight and doesn't leave much space for cargo, but the second row is a great place to be with second-row captain's chairs. Find a Lexus GX for sale
Lexus RXL
After years of being a segment leader in midsize luxury crossovers, the Lexus RX is finally available with three rows of seats in the form of the Lexus RXL. But don't get too excited — the third row of the RXL isn't very useful. However, one thing we love about it is its available second-row captain's chairs, which improves an already pleasant experience for second-row passengers. Find a Lexus RX for sale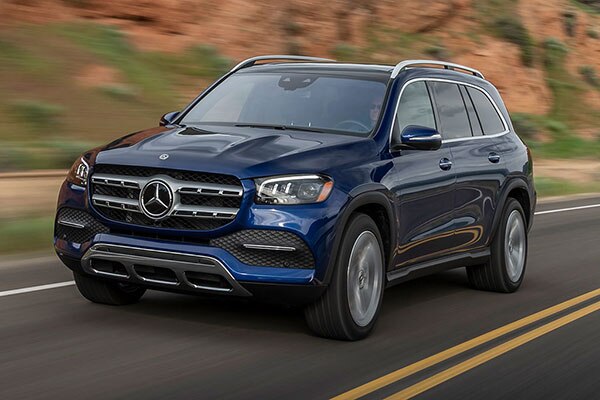 Mercedes-Benz GLS-Class
The Mercedes-Benz GLC-Class is all-new for 2020 and better than ever. This is the most family-friendly Mercedes-Benz SUV with a ton of space, three rows of seats and of course, available second-row captain's chairs for those looking for the height of luxury not just for themselves, but for their passengers. Find a Mercedes-Benz GLS-Class for sale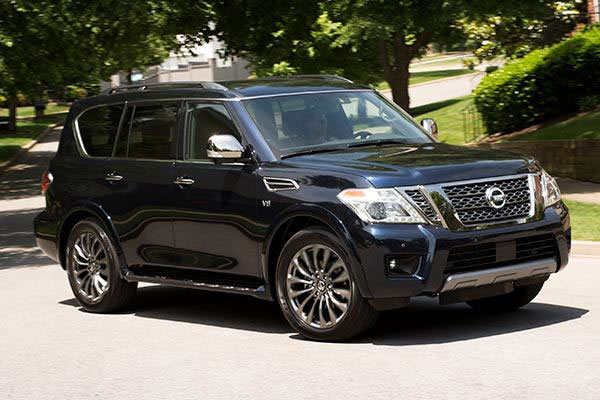 Nissan Armada
Infiniti QX80
The Nissan Armada is an old-school, truck-based full-size SUV with modern style and amenities. This big, V8-powered family hauler has some serious capability and it's great for long-distance road trips, especially for your second-row passengers enjoying the available captain's chairs. This is also an option in the Armada's luxury counterpart — the Infiniti QX80. Find a Nissan Armada for sale or Find a Infiniti QX80 for sale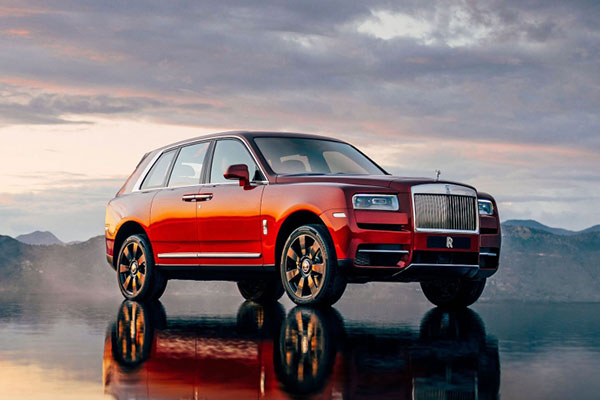 Rolls-Royce Cullinan
The Rolls-Royce Cullinan is the most expensive SUV in the world. As you'd expect from an SUV with such a title, it has available second-row captain's chairs. Spring for what Rolls-Royce calls "Immersive Seating" and you get massaging seats in the back with a champagne cooler or whiskey decanter housed in the rear center console accompanied by either two Rolls-Royce champagne flutes or whiskey glasses. This is an SUV that refuses to be outdone. Find a Rolls-Royce Cullinan for sale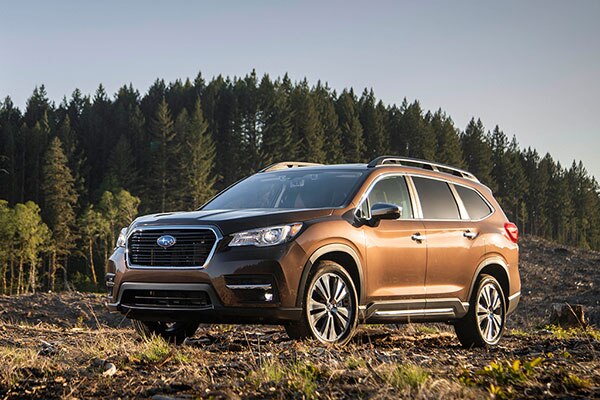 Subaru Ascent
The Subaru Ascent is a roomy three-row family SUV with distinct Subaru charm. That means it has a unique, outdoorsy look and attitude with standard AWD on every trim. The available captain's chairs in the second row make the third row easier to access while making the ride more pleasant for your passengers either going to school or on an off-road adventure. Find a Subaru Ascent for sale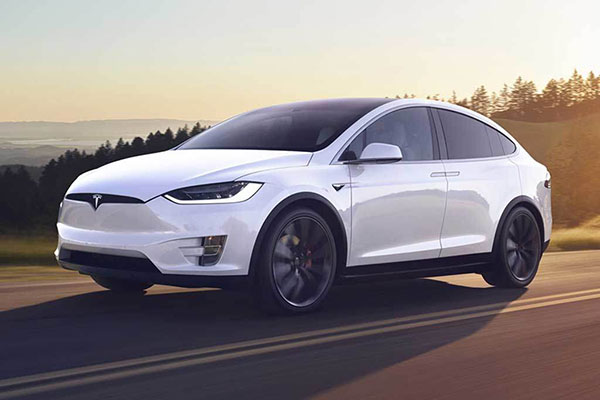 Tesla Model X
The Tesla Model X is an all-electric SUV that comes standard with seating for five and can be upgraded to seating for six or seven depending on whether you opt for second-row captain's chairs. These optional seats are nice and comfortable but don't fold down, which means the six-seat Model X isn't ideal for hauling bulky items. Find a Tesla Model X for sale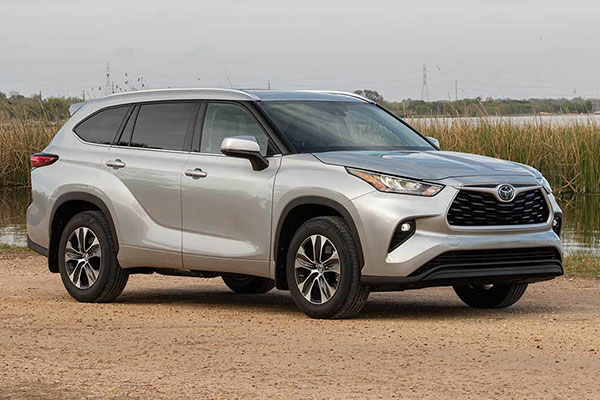 Toyota Highlander
The Toyota Highlander is one of the most trusted family crossovers and it's all-new for 2020. The new Highlander has a new look, new technology and a roomier interior than the outgoing model. Second-row captain's chairs come standard on the XLE, Limited and Platinum trims, and they make the Highlander more comfortable while making the third row easier to access. Find a Toyota Highlander for sale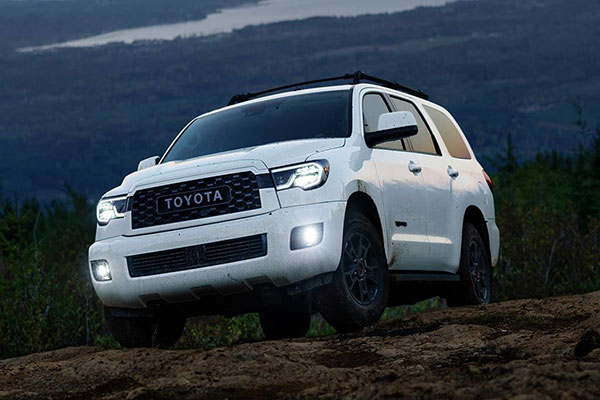 Toyota Sequoia
The Tundra-based Toyota Sequoia is a more truck-like family SUV from Toyota. This one has V8 power and an old-school body-on-frame architecture that makes it distinctly more rugged than the more road-friendly Highlander. You can get second-row captain's chairs with or without a rear center console in the Sequoia. Find a Toyota Sequoia for sale
Volkswagen Atlas
The Volkswagen Atlas has one of the roomiest third rows of any midsize crossover in its class. It's even easier to access when you opt for the available second-row captain's chairs. If you're looking for a minivan alternative with a third row you can actually use, the Atlas is worth checking out. Find a Volkswagen Atlas for sale