Here's a 1993 Isuzu Trooper. Notice anything odd about it? Months ago, when I first learned of the existence of the 2-door Trooper RS, I was dumbfounded. I'd been certain that I knew about every single weird or quirky automobile sold in the U.S. since the 1990s, no matter how low the volume. But yet, here I was, ready to start an argument with some stranger in my Instagram messages who was claiming that a 2-door version of the second-generation Trooper was indeed sold in the U.S. Having never seen one before, I was certain that this was untrue. After a while of digging around on the internet, though, I finally found concrete evidence in the form of a post on an Isuzu forum. There I saw a picture of a 2-door Trooper, and sure enough, it had a U.S. license plate. I was dumbfounded.
Fast forward to a few weeks ago. As I was leaving my apartment one morning, I passed what looked to be a pretty standard early 90s Trooper. It was black with knobby off-road tires, and it was notably cleaner and in better shape than what one might expect of a 25-year-old Isuzu.
As I've now subconsciously programmed myself to do, I couldn't help but count the door handles on its driver's side as I passed by.
One.
Wait, that's it?
Seriously? COULD IT BE??
I looked over my shoulder as it turned down the hill. It was a 2-door! An elusive, 1990s Trooper RS! I made a U-turn in the middle of the street and proceeded to chase it down. The next thing I knew, I was sitting at a red light next to one of the most enigmatic vehicles sold in the U.S. in the modern era. I managed to get a few pictures before we parted ways.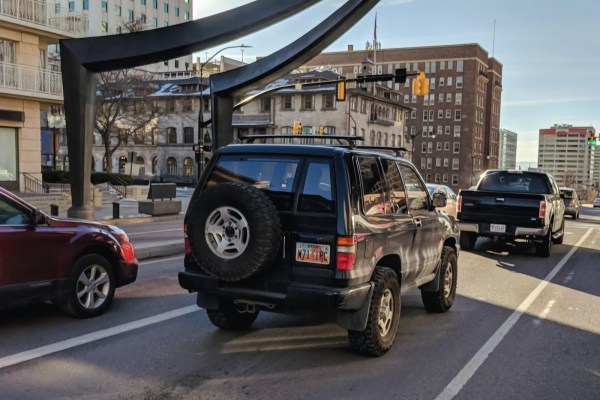 There isn't a lot of information available on the Trooper RS — but after a thorough search, I managed to find an Isuzu forum post by an RS owner claiming that only 1,200 were imported for 1993. Considering that even fewer were supposedly imported for the 1994 and 1995 model years, I'd wager that overall no more than 2,000 2-door Troopers were sold in the U.S. over the model's three years on sale. And here's one of them, well preserved and still on the road 25 years later. It's discoveries like this that keep my car obsession alive. Find an Isuzu Trooper for sale
Chris O'Neill grew up in the rust belt and now lives in Salt Lake City, Utah. He worked in the auto industry for a while, helping the Germans to design cars for Americans. On Instagram, he is the @MountainWestCarSpotter.
MORE FROM OVERSTEER:
Video | This Unknown Hyundai Luxury Sedan Rivaled the Mercedes S-Class
Here's Why You Shouldn't Buy the Cheapest Ferrari You Can Find
Autotrader Find: Mazda Miata Turned Into a 1960s Ford Mustang