Japanese sports cars from the 1990s have experienced a massive resurgence in popularity in recent years. In some cases, they're even more popular now than they were when they were brand new. As a result, it's hard to use the term 'affordable' in reference to any of these Japanese relics, with a few models now commanding upwards of six figures on the used market in the right condition. Below, we'll highlight six desirable 1990s Japanese sports cars listed for sale on Autotrader that represent the current market for their respective nameplates.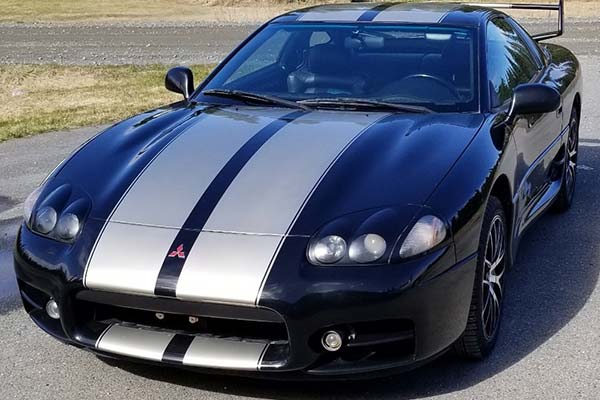 1999 Mitsubishi 3000GT VR-4 – $19,000
Unlike most other 1990s Japanese sports cars, the 3000GT was built on a front-wheel drive platform. That meant if you wanted true performance, you had to opt for the VR-4 model, which came with all-wheel drive. The VR-4 also came with a twin-turbo V6 engine putting out between 296 and 320 horsepower, depending on the model year. By far the rarest of the 3000GT VR-4s is the 1999 model, which is identifiable by its massive rear wing.
Only 287 examples of the 1999 3000GT VR-4 were sold here in the United States, and this 174,000 mile example can be yours for $19,000. Here's the thing though — it's located in Soldotna, AK, which is way out on the Kenai Peninsula, three hours from Anchorage, which means that buying this 3000GT will certainly come with some costs that go beyond its asking price. Find a Mitsubishi 3000GT for sale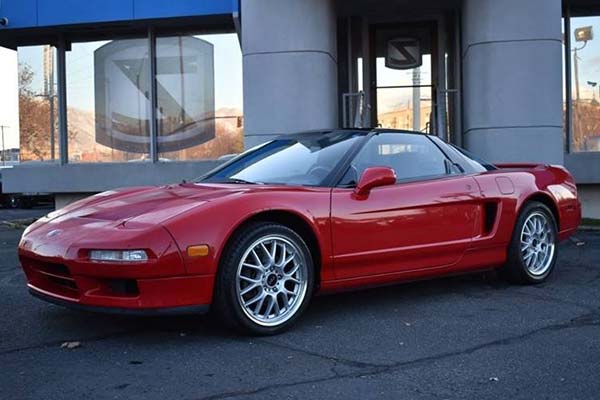 Arguably a 'supercar,' the Acura NSX was positioned slightly above the high-performance offerings of Toyota, Nissan, Mitsubishi, and Mazda during the 1990s heydays of Japanese performance. It counted German and Italian sports cars as its main competitors. With a mid-mounted naturally-aspirated 3.0-liter V6, the NSX put out a modest 270 hp and 210 lb-ft. of torque, but its handling and driving dynamics are what propelled it to legendary status.
NSX prices are on the rise too, with later examples fetching upwards of $100,000 with low miles. This one, a 1992 model located at a dealer in Salt Lake City, UT, comes with 46,000 miles on the odometer and carries an asking price of just under $50k, which, dare we say, actually seems reasonable. Find an Acura NSX for sale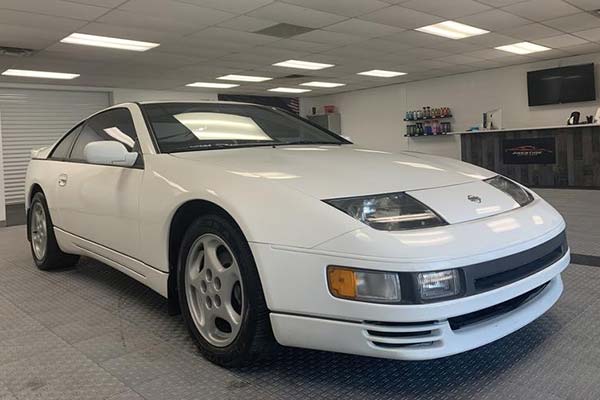 1993 Nissan 300ZX Twin Turbo – $21,500
Nissan's entry into the Japanese sports car wars of the 1990s was the wedge-shaped 'Z32' generation 300ZX. Since the 300ZX isn't nearly as rare as cars like the Supra and the NSX, it's much easier to find a good example at a reasonable price, though maintenance and upkeep will still be a bit more challenging than with an everyday economy car.
Offered from the 1990 to the 1996 model years, the 300ZX was available in 2-seater, 2+2, and 2-seater convertible body styles. Fixed-roof 2-seater models were available in Twin-Turbo form, which are now the most desirable. This stock twin-turbo example is located in Massillon, OH and comes with just 67,000 miles on the clock. The asking price of $21,500 seems reasonable when you consider the average cost of some of its competitors. Find a Nissan 300ZX for sale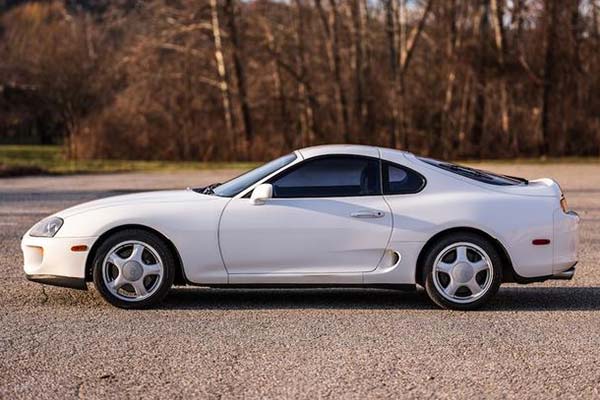 1993 Toyota Supra Turbo – $48,500
Given its rarity and coolness factor, the Supra is leading the charge when it comes to exorbitantly-priced Japanese sports cars from the 1990s. Because just over 11,000 fourth-generation Supras were sold in the US during the 1990s, finding one can be a difficult task, and finding one that hasn't been compromised by careless modifications is even more difficult.
There's also a handful of variables to consider if you aim to buy a used MKV Supra. The first is whether you want a manual or automatic transmission, the second is whether you want an example with a fixed-roof or a removable center roof panel, and finally, whether you want a base or turbocharged model. Naturally, the turbocharged models with the manual transmission are the most desirable, and this one located in Bethel, CT comes with 121,000 miles on the odometer and an asking price of $48,500. Find a Toyota Supra for sale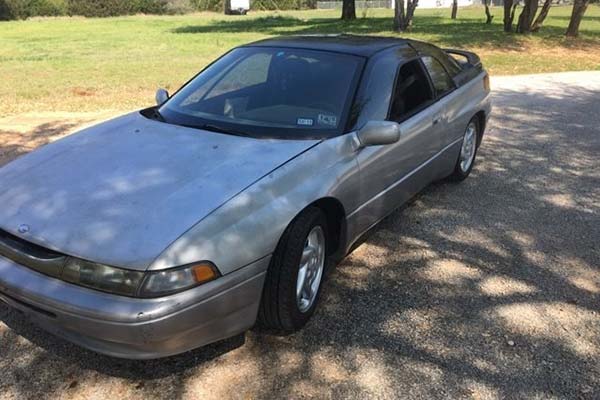 When you look back at the Japanese sports car era of the 1990s, the Subaru SVX sticks out like a sore thumb. It came with just a basic 3.3-liter 6-cylinder engine making 231 hp and didn't offer a performance option. To make matters worse, the only transmission offered was a four-speed automatic, as Subaru didn't have a manual that could pair up with the SVX's engine. While most were offered with all-wheel drive, front-wheel drive was available as well, which made the SVX even less compelling from a performance standpoint. Needless to say, the SVX isn't nearly as desirable as its so-called competitors from the era, but as a result, you can pick one up for dirt cheap. This AWD example located in Whitney, TX comes with 140,000 miles on the odometer and an asking price of just $1,900; making this by far the cheapest route to 1990s Japanese sports car ownership. Find a Subaru SVX for sale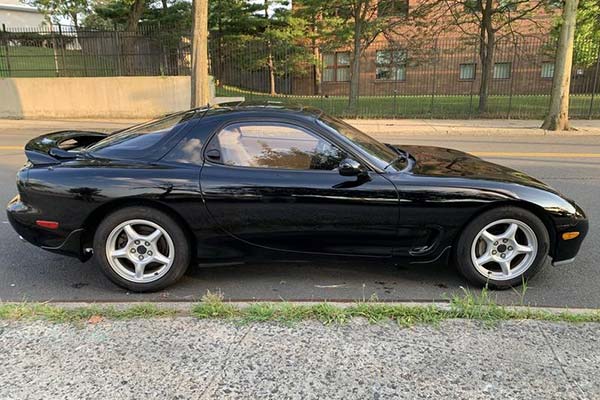 While other vehicles from this era packed traditional six-cylinder engines, the RX-7 used a unique Wankel rotary engine with two turbochargers that put out a total of 252 hp and 217 lb-ft. of torque. Transmission options were a 4-speed auto and a 5-speed manual. The RX-7 is both gorgeous and rare, as only 1,976 examples were sold in the US. Despite that rarity, pricing for the RX-7 hasn't hit the astronomical levels of the Supra or the NSX, and it's still possible to pick one up for the cost of a modern, gently used Miata.
This one is located in Great Neck, NY and has just 55,000 miles on the odometer. It packs the more desirable 5-speed manual transmission and carries an asking price of $27,500. A pro-tip for browsing Autotrader for Mazda RX-7s: Given their rarity and age, the RX-7 is becoming popular with importers who bring used vehicles over from Japan for sale in the US, so when you come across a used RX-7, check to see whether the steering wheel is on the right or left side. If it's on the right side, obviously this is a Japanese market vehicle, which isn't necessarily a bad thing — just know that ownership might be slightly more complicated. Find a Mazda RX-7 for sale