In today's automotive landscape, pickup trucks sell in extraordinary numbers, yet there aren't actually all that many manufacturers marketing trucks in the U.S. market. You've got your big American brands plus a couple of Japanese brands, but the market is really dominated by the Big Three of the ol' U.S. of A. It hasn't always been that way, and you don't have to go too far back in automotive history to find several more pickup trucks in more lineups of smaller brands, and there are plenty of trucks on Autotrader bearing those obscure nameplates that are no longer with us.
Before you start yelling at me in the comments, I'm well aware that some of the brands I'm about to talk about still do, in fact, market pickup trucks in other parts of the world. When I say these are trucks from brands that don't sell trucks anymore, I mean specifically in the U.S. market.
Without further ado, here are six trucks on Autotrader from brands that do not sell trucks anymore … in the U.S.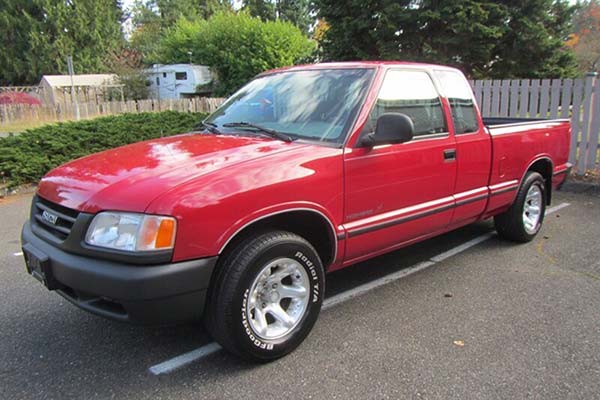 1997 Isuzu Hombre
As of this writing, there are only three Isuzu Hombre models on Autotrader and the one you see here is actually in great shape. It's for sale at Rich's Car Corner in Seattle, Washington, for $3,499 and it has 121,000 miles on the clock. If the taillights of the Hombre look familiar, it's because this Isuzu is a reskinned Chevrolet S-10. However, it's actually based on the Brazilian market S-10, which has different sheet metal than the U.S. version we're used to, but is the same truck underneath. This one is the SX trim which is the nicer of the two trims available for the Hombre, and has luxuries like a tape deck, a tachometer and a sliding rear window. If you've always wanted an Hombre, this might be the cleanest one you see for sale for a while. Find an Isuzu Hombre for sale
2002 Lincoln Blackwood
The Lincoln Navigator was such a hit when it came out in the late 1990s that Ford's luxury brand decided it needed a pickup truck, which would surely be equally popular. The result was the Lincoln Blackwood, and it's the shortest-lived model in the long history of the brand lasting for only the 2002 model year. It was only available with rear-wheel drive (RWD) and had a very weird bed with a power tonneau cover and the floor of the bed was carpeted. The Blackwood was eaten alive by the Cadillac Escalade EXT, which, despite its own weirdness, was more like a normal truck that you could get with 4-wheel drive (4WD). The Blackwood you see here has just under 100,000 miles on it and it's for sale at Donny Mills Auto Sales in Largo, FL for the attractive price of $8,200. Find a Lincoln Blackwood for sale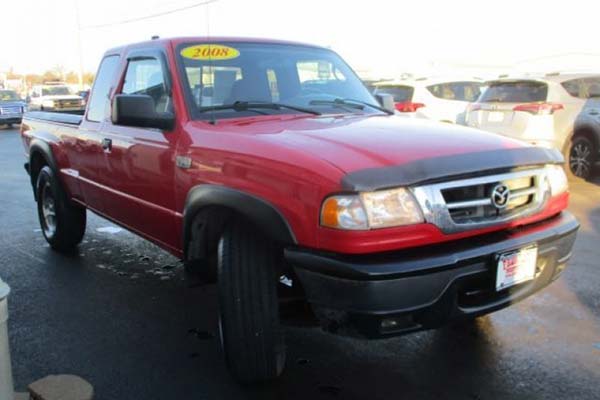 2008 Mazda B-Series
Mazda wanted to keep selling a compact pickup truck in the U.S., but didn't want to keep paying the 25% chicken tax. The solution was to make a deal with Ford to sell Mazda-fied Ford Rangers that were built in Minnesota. Frontier Motors in Middletown, Ohio, has a shocking amount of Mazda B-Series trucks in its inventory. For some reason, there are eight used B-Series trucks sitting on one lot in Ohio, and they're all in great shape. Only one of them has more than 50,000 miles on it. The one you see here is a 2008 model for $12,495, which appears to have been for the Canadian market based on one of the labels on the truck. That means it's a truck sold by a Japanese brand that was built in the U.S. and sold in Canada and at some point made its way back to the States. Find a Mazda B-Series for sale
2006 Mitsubishi Raider
If you think of Mitsubishi in 2020, you probably think of its rather uninteresting lineup of crossovers here in the U.S., but the brand has a long history of building off-roaders. Mitsubishi used to sell the little Mighty Max pickup in the U.S., but like many Japanese brands, it rebadged an American truck to avoid the chicken tax. In this case, Mitsubishi worked with its long-time partner Chrysler to make its own version of the Dodge Dakota called the Mitsubishi Raider. Like the Dakota, you could get a Raider with a V8, which is uncommon for this class. The Raider has an odd aesthetic similar to the Endeavor SUV with flared sides and a front end that was very distinct to Mitsubishi. This Raider is a double-cab V8-powered DuroCross model, which has a lower stance and an aggressive body kit. It's for sale at Dillon Lake Motors in Zanesville, Ohio, for $6,995 and has 131,000 miles on it. Find a Mitsubishi Raider for sale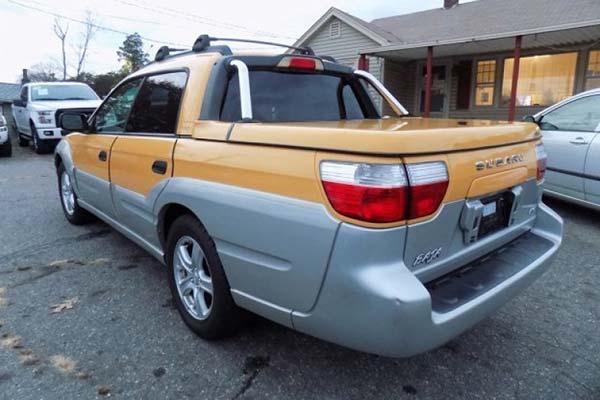 2003 Subaru Baja
You may not consider the Subaru Baja a truck, but I have pretty low standards for what makes something a "real" pickup truck. In my eyes, if it has a truck bed, it's a truck. Yes, even oddities like the Chevy SSR, Honda Ridgeline and this Subaru Baja for sale at Auto Hause of Asheville in North Carolina for just $7,500 with 129,000 miles on the clock. The Baja was actually a pretty simple idea: Take the Subaru Legacy/Outback and give it a pickup truck body. The result just ended up looking really weird. I've chosen to highlight this particular Baja because it's the only one currently on Autotrader that has both of the two things that I think every Baja should have: a manual transmission and yellow paint. I think yellow is the definitive color of the Baja because it really accentuates the weirdness of the body of this very unconventional truck. Also, this one has an aftermarket tonneau cover which just further adds to the weirdness. Find a Subaru Baja for sale
2010 Suzuki Equator
The Suzuki Equator was yet another experiment in rebadging by a Japanese brand. This time, however, it wasn't an American truck that was given new badges and a new name. The Suzuki Equator is based on the Nissan Frontier, and you bet this truck from a brand that hasn't sold automobiles in the U.S. since 2013 is based on the same Frontier that you can still buy brand new today in 2020. In my humble opinion, the Equator actually looks better and somehow more modern than the Nissan it's based on. This Equator is an RMZ-4 model, which is a trim that is named after a Suzuki dirt bike, implying its off-road capabilities, which are actually pretty strong. It's for sale at Crabtree Buick-GMC in Bristol, Virginia, for $10,500 with 122,000 miles on it. Find a Suzuki Equator for sale
MORE FROM OVERSTEER
The Mitsubishi Montero Sport Is the Forgotten Toyota 4Runner Competitor
5 1990s Cars Worth Restoring Currently For Sale on Autotrader
Autotrader Find: 1987 Buick Grand National With 105 Miles