If you spend enough time on the internet, in the car world, you'll start to discover a few commonly misspelled car names. And by "commonly misspelled," what I mean is that very frequently even people who own these commonly misspelled cars do not know how to spell the names of their vehicle. I am serious. People do not know how to spell the names of the cars that they themselves own. It is absolutely unfathomable to me — and yet it's true. So today I'm going to go through the five most commonly misspelled car names for those of you who need a little spelling lesson. And from now on, every single time I see one of these car names misspelled, I'm going to reply with this link.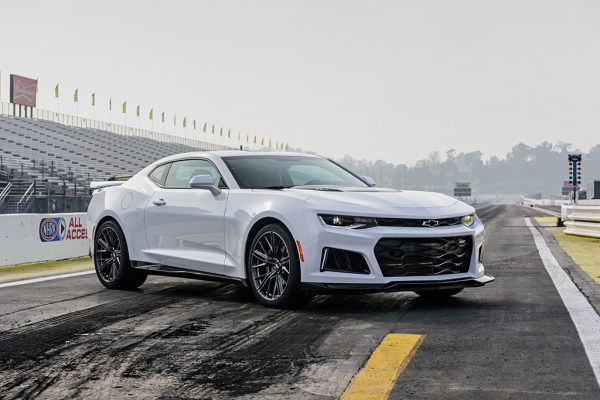 Chevrolet Camaro
Common Misspelling: "Camero"
Ahh, the Chevy Camaro — or, as many online sellers say, the "Camero." The reasoning behind this misspelling makes sense, as the word "Camaro" sounds more like "Cuh – MAR – oh," while "Camero" seems more phonetically correct. But after we've all been around this car for 60 years, after we've seen all the ads, and the appearances in movies, and TV shows, and all the nostalgia and the history around the old ones … shouldn't we know how to spell it? Find a Chevrolet Camaro for sale
GMC Syclone
Common Misspelling: "Cyclone"
The GMC Syclone was one of two high-performance early-1990s GMC vehicles named after weather events. The other, the Typhoon, was spelled normally, but "Syclone" was spelled with an "S" instead of the correct spelling, with a "C." The reason for this is that Ford held the trademark on the word "Cyclone," as it had been a Mercury model produced throughout the 1960s — so GMC couldn't use it, and they modified the word to their liking. I generally give people a pass on this one, since "Syclone" is itself a misspelling — but c'mon, folks. Get it together. Find a GMC Syclone for sale
Infiniti
Common Misspelling: "Infinity"
The car brand Infiniti debuted in 1989, meaning it's been selling us cars for nearly 30 years now. And yet this does not stop people from spelling it "Infinity" with a "y" instead of an "i." In fact, I have friends who work for Infiniti, and they tell me they'll get complaints from their customers — people who own Infiniti vehicles — where the brand name is misspelled. Even though, presumably, at some point, in order to file the complaint, they had to spell it correctly. I realize the word is "infinity," and the car name is a misspelling of that word, but this one is crazy — the brand name is ubiquitous, and it would take 4 seconds to find out the correct spelling. Find an Infiniti for sale
Kia Sorento
Common Misspelling: "Sorrento"
Here's another one where the car spelling is different from the "regular" spelling, which causes people to become highly confused. The Kia Sorento is spelled, inexplicably, with only one "R," even though the city in Italy after which it's (presumably) named is spelled "Sorrento." People seem to have immense difficulty with this change, spelling it the "Kia Sorrento" at every chance they get. In fairness to the people, however, I honestly wonder why Kia didn't just spell it "Sorrento" in the first place. Find a Kia Sorento for sale
Pontiac Aztek
Common Misspelling: "Aztec"
The Pontiac Aztek may sound like it's named after the ancient civilization, but really it's a slight modification — not "Aztec," but rather "Aztek," with a "K." Although I understand why people get this one wrong, too, it upsets me to my very core every time it happens — largely because this car has received so much coverage for its bizarre styling, and its appearance in "Breaking Bad," that I really wonder what you have to be thinking in order to still spell it wrong here in 2017, after you've seen its name in so many places. And now, after this article, you have no excuse. Find a Pontiac Aztek for sale
Doug DeMuro is an automotive journalist who has written for many online and magazine publications. He once owned a Nissan Cube and a Ferrari 360 Modena. At the same time.
MORE FROM OVERSTEER:
Here's What It's Like to Drive a $1.7 Million Porsche 918 Spyder
I Sold the Perfect Car for a Jeep Wrangler Unlimited
Here's What It Cost to Own a 10-Year-Old V12 Mercedes-Benz S600