For 2020 we've had to re-think vacations. I traded a planned trip to Italy for a few days in Moab, UT, and lately, have considered car camping. Now that I'm settled, it is admittedly hard to leave the house, but what if my house had four wheels? While the #vanlife isn't exactly new, the Class B Motorhome niche has exploded in recent years with the introduction of the Mercedes Sprinter van. Sprinters can easily be transformed into various configurations to suit your outdoor lifestyle but there are other full-size vans that will work too. Affordable conversion kits are available to the fabrication friendly, and quite a few companies offer production-line versions of the Ford Transit, Ram Promaster, Nissan NV, and Mercedes-Benz Sprinter campers, in addition to top-of-the-line, fully customizable one-offs for a nice premium. The Mercedes-Benz Weekender is another new choice when it comes to less than large camper/vans.
Why Sprinter?
In recent years, Sprinter vans have become ubiquitous on our roads. Thanks to their low ride height, car-like maneuverability, and with less wind resistance than a traditional box, it's easy to forget about all that stuff behind you when driving. Sprinters are well suited for a variety of tasks, with a turbocharged V6 engine and current 7-speed transmission that is durable and efficient. In 2015, we were introduced to the 4×4 Sprinter, which has widened the appeal even further.
However, Mercedes-Benz and Daimler-owned Freightliner aren't the only ones in the van market. A recent surge in competition from Ford, Nissan and Ram with their own entries in the segment have brought challengers with different advantages worthy of a closer look, all of which are offered at a lower price than the premium starting point for the Mercedes.
Introduced in 2013 and occupying over 30% of the domestic van sales, the Ford Transit is a common sight on our roads today. Available in three lengths with three roof heights, the Ford Transit offers the most interior height amongst the competition at 81 inches. One diesel and two gasoline powerplants are offered on a RWD, or new-for-2020 4×4 platform. With a large dealer network and lower cost of ownership compared to the Mercedes Sprinter, the Ford Transit is now a popular candidate for camper conversion.
From 2003-2010 under DaimlerChrysler, Dodge sold Sprinter vans in the United States as a replacement for the dated Dodge Ram Van, which owes its roots to the 1970's. New ownership for Chrysler meant they could no longer sell Sprinters, instead re-badging the third generation FIAT Ducato (2006- ) as the Ram Promaster for the United States. Although there are many engine options for the Ducato abroad, in the U.S., we receive just one engine and drivetrain for the Promaster — a 3.6L Pentastar V6 sending power to the front wheels only. Admittedly, this is a less advantageous setup for off-road and inclement conditions, but for on-road touring the Ram Promaster has straight, boxy interior dimensions that are easy to tailor to one's needs.
The Nissan NV is the Japanese automaker's first foray into the North American van market. Sharing a platform with the Nissan Titan pickup truck, the Nissan NV's body-on-frame construction affords a greater payload and towing capacity than its unibody constructed competitors. Available only in RWD with a V6 and range-topping 350 HP V8, the NV shares driving dynamics with its pickup truck brethren, unlike the Promaster, Sprinter, and Transit which offer more car-like handling and maneuverability.
The Airstream – $149,990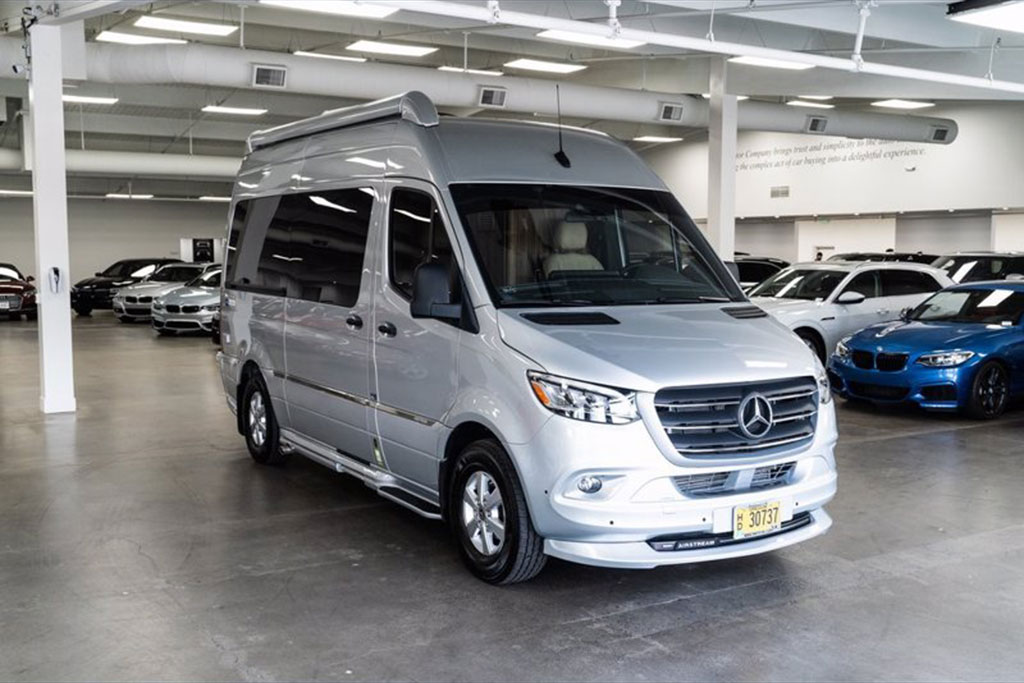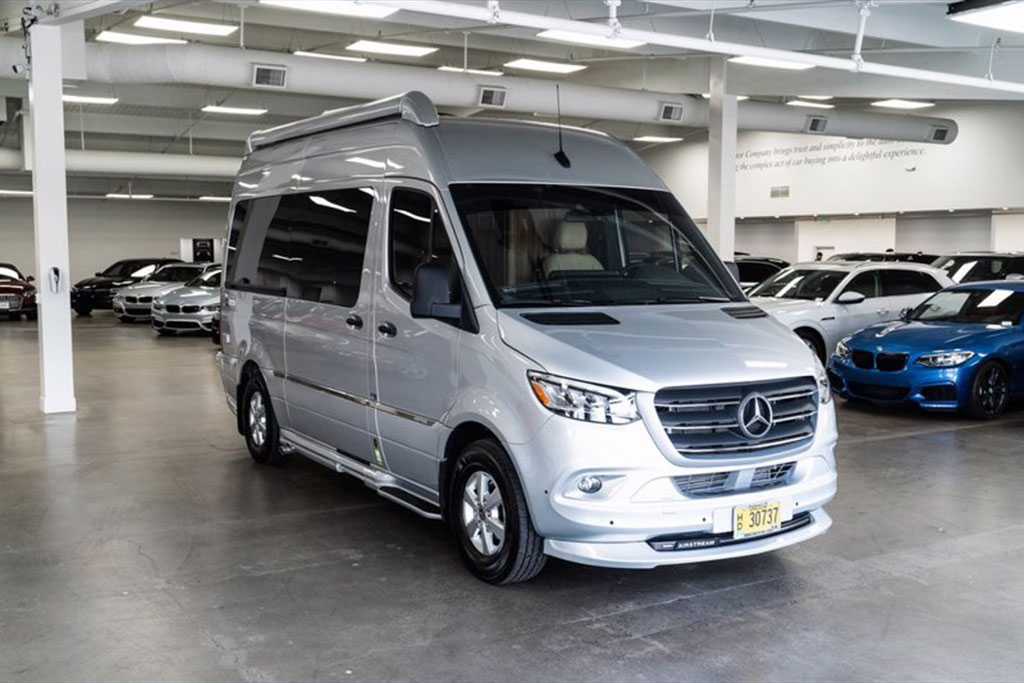 Airstream has been putting their name on iconic aircraft-grade aluminum trailers since the 1920's, and today their trailers are priced between $38k and $150k+, with vintage models selling for top dollar. Airstream also builds RVs on the Sprinter platform like this 2019 Sprinter Airstream Interstate here on Autotrader. Priced a hair under $150k and using the a 144" Sprinter, they loaded all of the amenities into a package that seats four and sleeps two. With some of today's newest tech including parking assistance, lane change, and accident avoidance, this Airstream Interstate is firmly in the 21st century, and with just 3,322 miles on the clock, this Sprinter has seen little use beyond its maiden voyage! Find a Mercedes-Benz Sprinter for sale
The Overlander – $139,000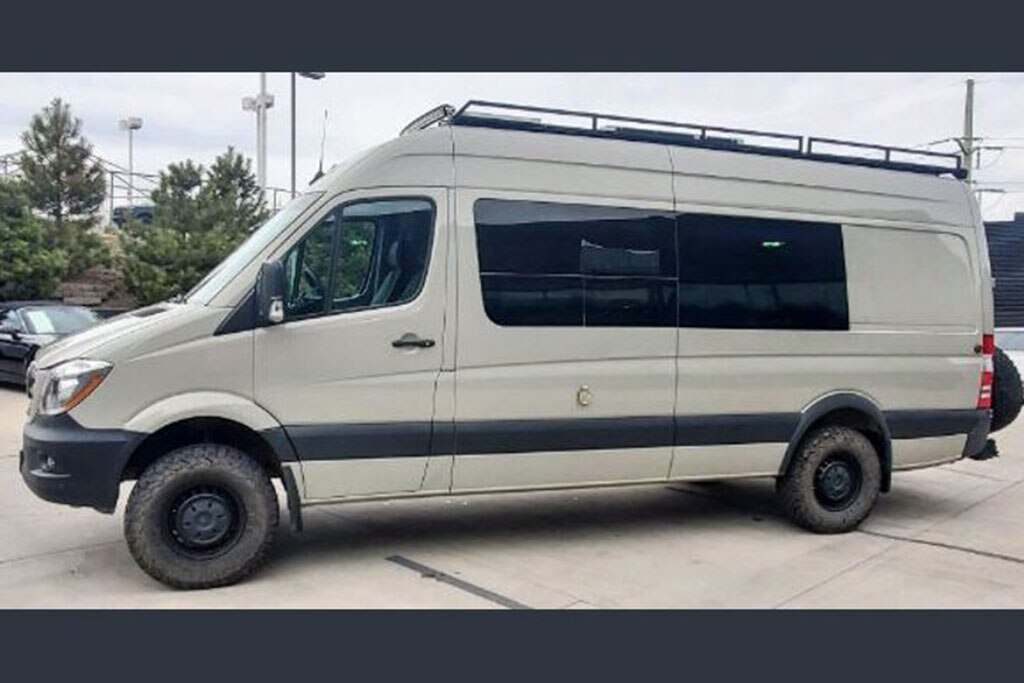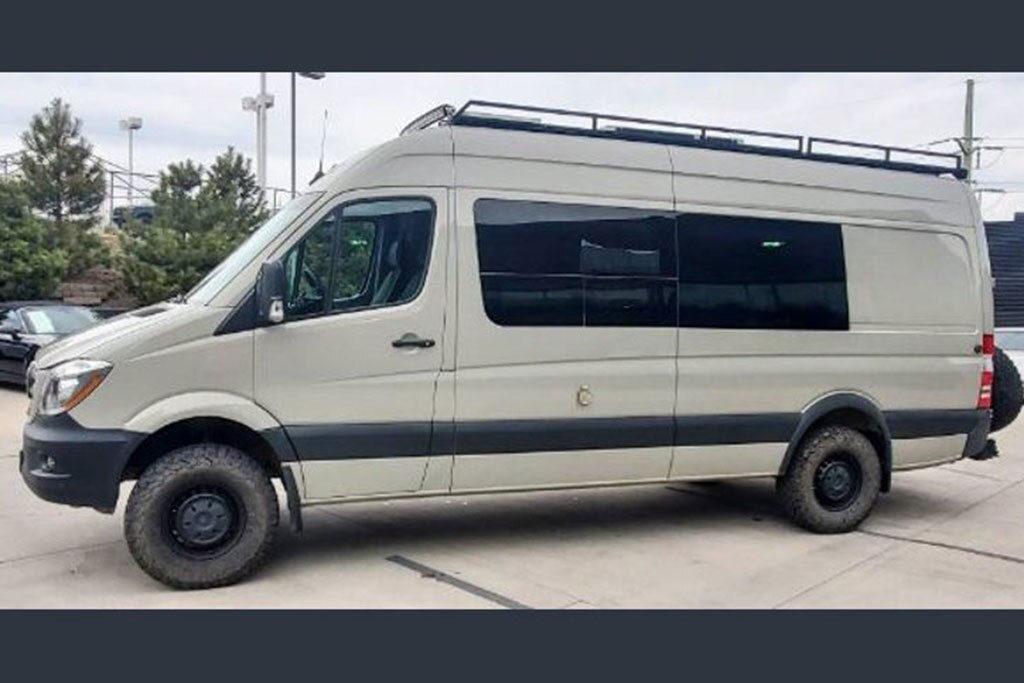 For most of us, a traditional RWD Sprinter is enough for most paved, dirt and graveled road surfaces, but for those who venture off the trail, a 4×4 Sprinter can get you there. Located at Porsche Colorado Springs, this 2017 Mercedes-Benz Sprinter 4×4 2500 for sale on Autotrader has been modified to go anywhere by Alpine Mechanisms, a Colorado-based outfitter. Equipped with wood countertops, dual-gas burners, a refrigerator, water heater and outdoor shower – I'd have no problem calling this my home as I explore the great outdoors. Find a Mercedes-Benz Sprinter for sale
The Mobile Homestead – $64,890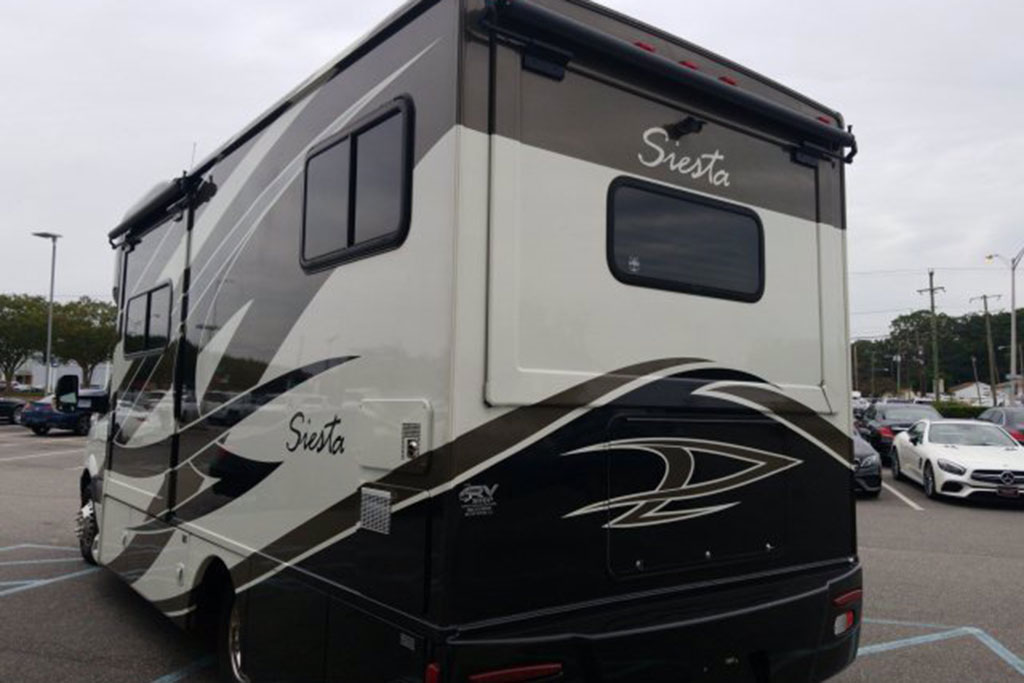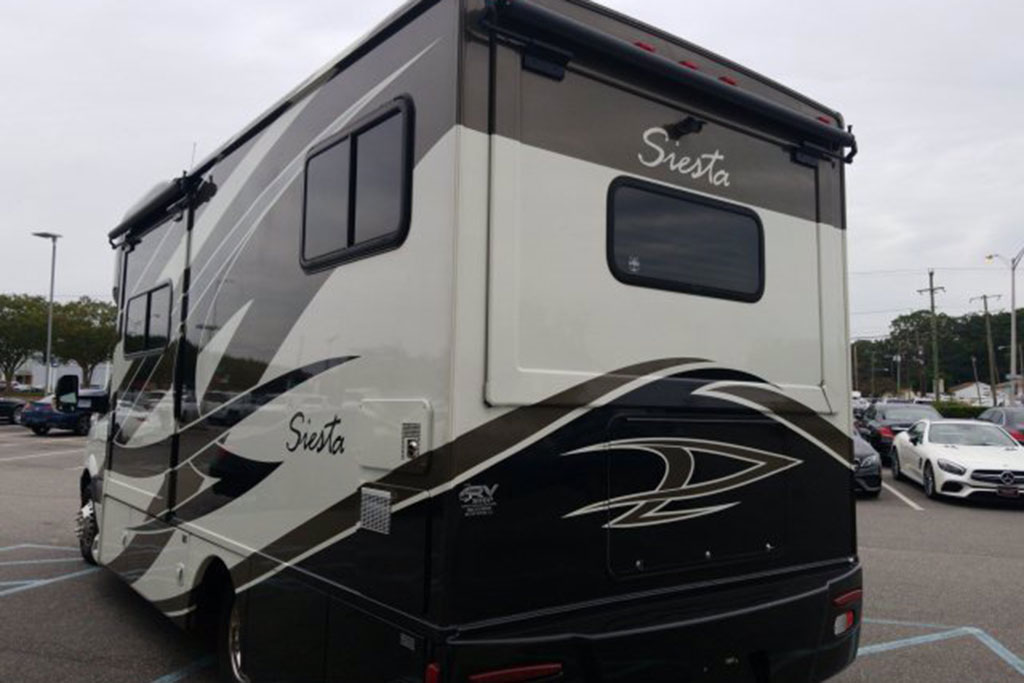 This 2013 Mercedes-Benz Sprinter 3500 170" is appointed in the Classic RV look, complete with wood cabinetry, gas cook-top stove, bathroom with shower, sofa, multiple cots and stand-out graphics. In addition to two awnings to provide some shade, there are extra storage spaces throughout the exterior, along with an entertainment/media center, making this RV is perfect for an extended period of time on the road. With just 28,000 miles on the clock, the adventures are just getting started. This one is located in Virginia Beach, VA and can be yours for $64,890. Find a Mercedes-Benz Sprinter for sale
2019 Nissan NV – $74,000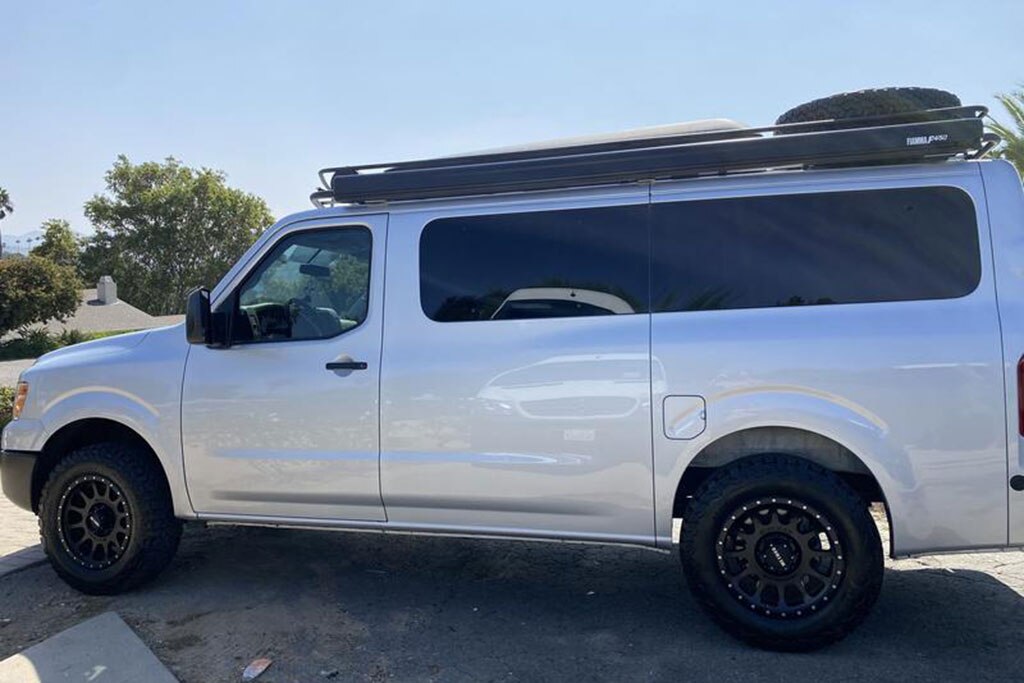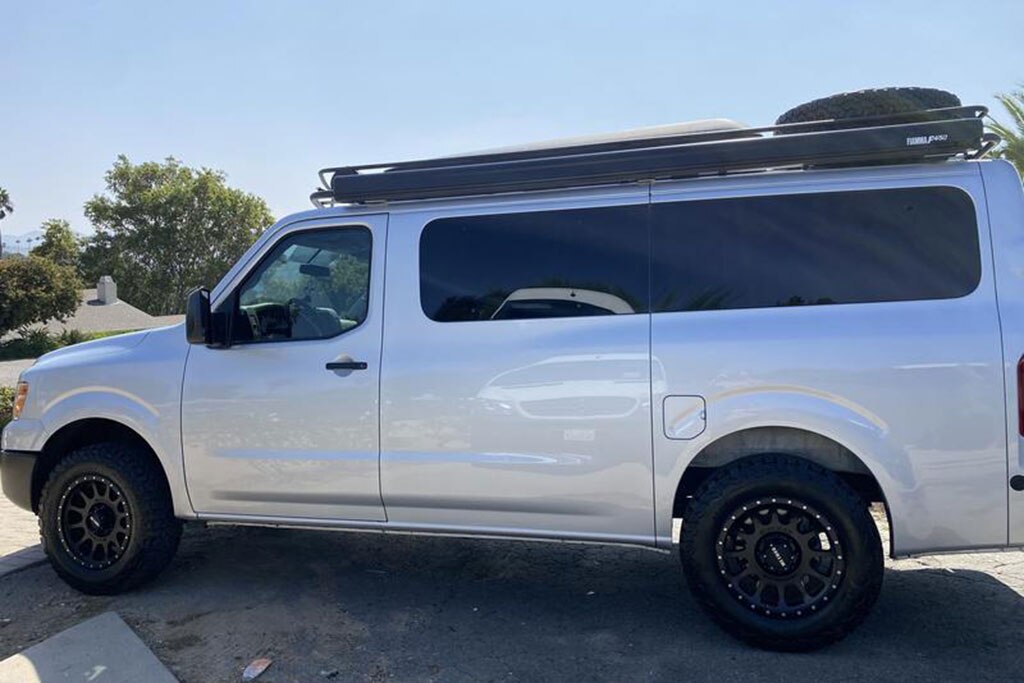 While Sprinters are a popular choice, there are other vans that can work well too. Nissan's NV series is a good example. Starting with a 2019 Nissan NV 3500 SL Passenger Van, this seller has added an aftermarket 4×4 kit and 3" lift for off-road readiness. Additional modifications include cabinetry, a YETI refrigerator, outdoor shower as well as a sleeping platforms on the inside of the van and its roof, where a tent can be installed, amongst with ample space to store gear externally. With just 9,145 miles on the clock, there are few locations unreachable to this barely used, off-road ready camper. Find a Nissan NV for sale
2017 Ford Transit 350 – $59,600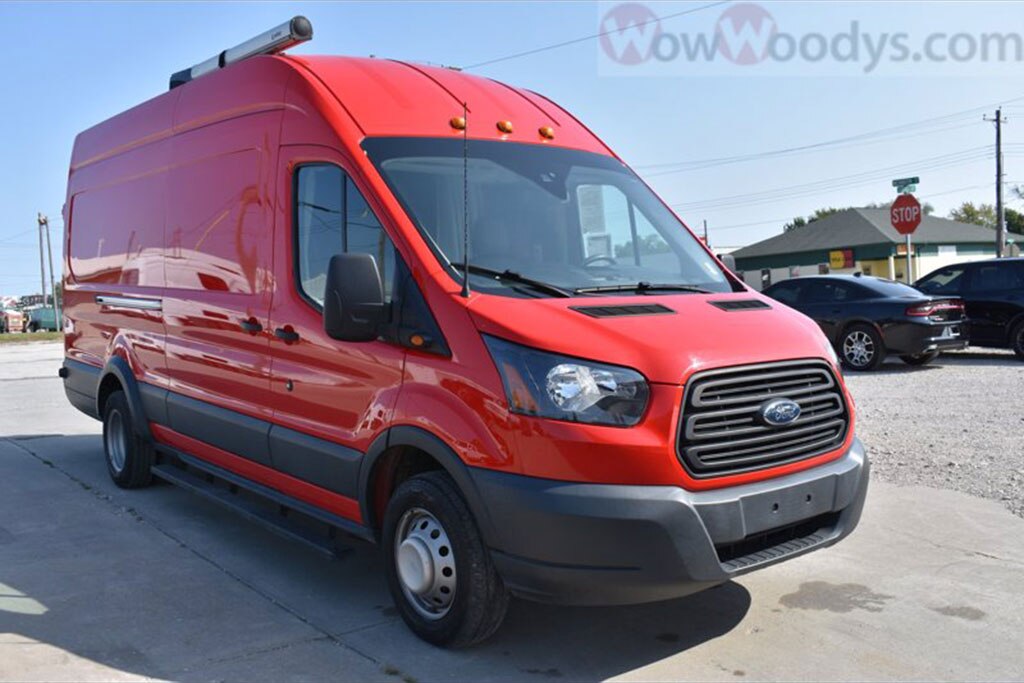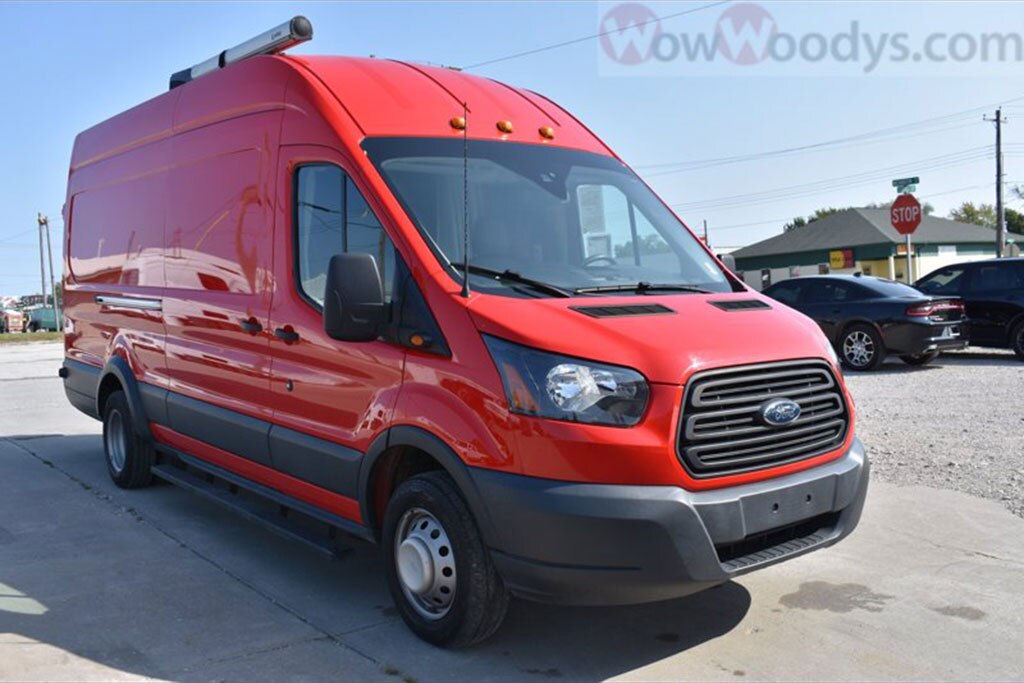 This Race Red 2017 Ford Transit 350 High-roof conversion is fully-furnished with kitchen, bathroom with shower, and bench-style seating able to sleep two. The nicely built bleached wood interior has plenty of storage, and is more than capable of being your home, or home-away-from-home for extended periods of time. With just over 60,000 miles on the odometer, many miles and memories await the new owner of this Ford camper conversion. Find a Ford Transit for sale
2017 RAM ProMaster 2500 – $76,600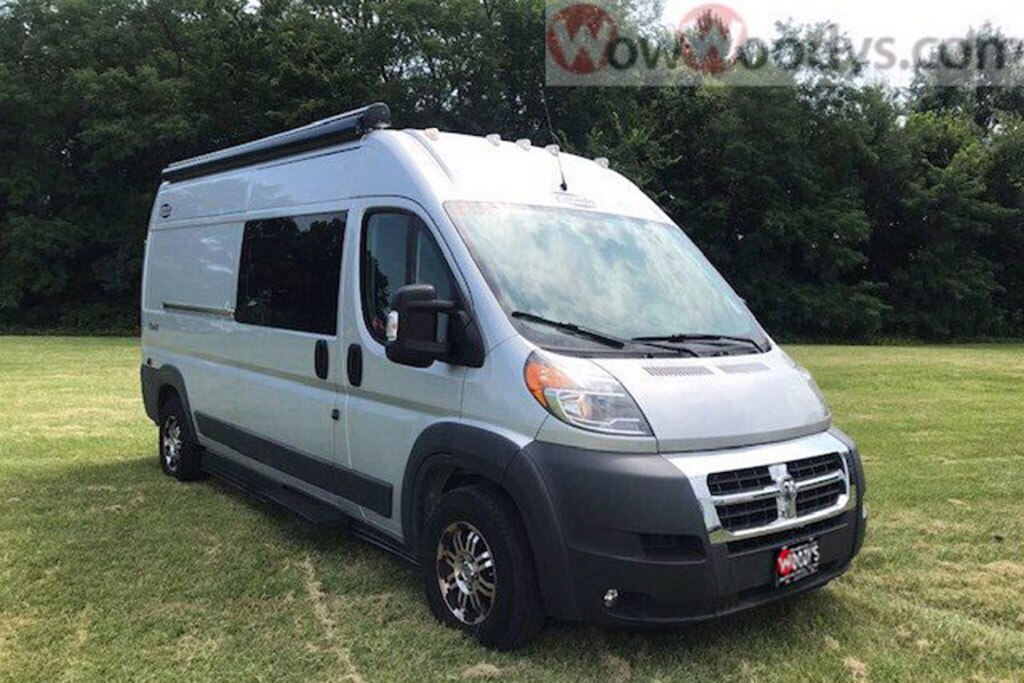 This 2017 RAM ProMaster has been converted by RV outfitter Carado into their Banff model. Using the ProMaster as a platform, a nicely appointed interior with a kitchen, bathroom and shower are featured, with little exterior modification to the long-wheelbase, high-roofed Ram. Having covered just 23,000 miles over three years, this lightly used camper can be yours for $76,000 from a Missouri based RV specialist. Find a RAM ProMaster for sale
Sure, these vans are pricey and may not be in keeping with the minimalist idea of hitting the road. If your budget is more like $200 and not $100,000, check out Luno. They have lots of gear specifically designed to make your car into a comfortable (as close as possible) camper without having to pay a second mortgage.