It was recently announced that a 2017 Chevrolet Corvette Grand Sport will pace the Indianapolis 500 this year. This is the 14th Corvette to do the job, and the 10th in the past 15 years. Their drivers have ranged from Hollywood actors to professional athletes to … Guy Fieri. Let's take a look back at the 14 Corvettes that have kicked off one of the most famous races in motorsports.
1978: 25th Anniversary C3 Coupe
In 1978, former Indy 500 champ and Motorsports Hall of Fame of America inductee Jim Rathmann paced the race with a two-tone C3. It had a black and gray paint job that reminds me of Chevy trucks from the 1990s — along with red lettering marking it as the official pace car.
1986: C4 Convertible
Who better to drive one slow lap around a track than former fastest man in the world Chuck Yeager? This one looks like they forgot until the last second to make it a pace car. It's just a yellow C4 with black lettering on the sides that reads "official pace car."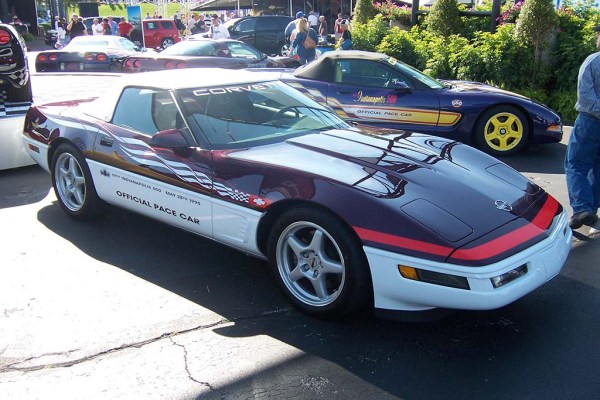 1995: C4 Convertible
Racer Jim Perkins drove a slightly more lively C4 in the 1995 Indy 500. This convertible was white on the bottom half and a nice maroon on the top half. A red stripe wrapped around, the front turning into little Chevy bow ties behind the front wheels giving way to a stylized checkered flag that turns into… ribbons? Or something? Very 1990s. Speaking of 1990s…
1998: C5 Convertible
It's hard to say if this is the best Corvette pace car or just the best Corvette of all time. Look at it. Somebody thought purple and yellow went really well together, and they went crazy with it: A mostly purple body with yellow stripes and extremely yellow wheels. And somehow, this car (driven by 1963 Indy 500 winner Parnelli Jones) has more goofy checkered flags on it, that look even less like checkered flags, than the 1995 car. If an alien comes to Earth and asks you to describe America in 1998, show them this car.
2002: 50th Anniversary C5 Coupe
Chevy took it easy on this C5 after what happened in 1998. It's just a red 'Vette with some gold accents that we might even call tasteful. It has a big old 50th anniversary logo on the hood, leaving no doubt of how old the Corvette was. It was driven by Jim Caviezel, the guy who played Jesus in "The Passion of the Christ."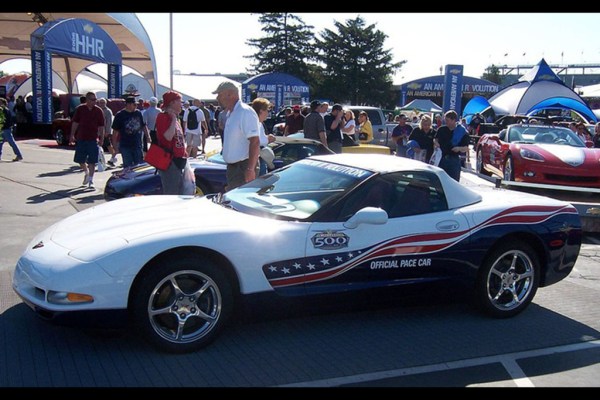 2004: C5 Convertible
This C5 has a particularly American theme, letting everyone know it was an American car pacing an American race enjoyed by Americans. It's mostly white with stylized American flags on the sides that start at the brake vents. This one was driven by Morgan Freeman just two years after his son did the same job.
2005: C6 Convertible
The 2005 race was the beginning of a whole lot of C6 for the Indy 500. You won't find a Chevy emblem on a normal Corvette, but this one has a huge bow tie on the hood right in front of the windshield. There's another one on the windshield along with a "An American Revolution" banner. Former Secretary of State and real life Corvette enthusiast Colin Powell got to drive this one.
2006: C6 Z06 Coupe
We're back to a super-American theme for this C6. Driven by Lance Armstrong, the 2006 pace car was like a more extreme version of the 2004 car, with big, bold stars and stripes flying around everywhere. This Z06 also has another giant bow tie on the hood to remind us of who builds the Corvette. Presumably, they feel so restrained not putting Chevy emblems on production Corvettes that GM gets it all out of their system on the pace cars.
2007: C6 Convertible
Chevy went full mid-2000s with this C6. It's burnt orange (which we were just talking about), with tribal tattoos on the hood and the sides. We've got another bow tie adorning the hood, but it's hard to see because it's smaller and also orange. Actor/pro-am racer Patrick Dempsey drove this one.
2008: C6 Z06 E85 Coupe
If there's anything Z06 drivers love, it's the environment and fossil fuel alternatives. This C6 is an odd greenish yellowish color that makes the car look like a fish. I guess it's supposed to make us think of going green, but it just makes me think of something that I'd find in the seafood section of my local grocery store. Two-time Indy 500 winner Emerson Fittipaldi drove this "environmentally friendly" Z06.
2012: C6 ZR1 Coupe
After three years of giving the Camaro some spotlight, C6 came back to Indy in the form of a surprisingly subtle ZR1. It's just a white ZR1 with gray stripes on top and an Indy 500 logo with some lettering on the sides. Subtle as it was, the ZR1 was an insane car. A ridiculous American performance car deserves a ridiculous American driver — so Guy Fieri took this Corvette to Flavortown.
2013: C7 Stingray
Showing off the brand new C7, Chevy went easy on the styling again for this year — probably because they wanted people to notice the car in near-production form without flashy graphics. This tasteful blue Stingray was driven by football coach Jim Harbaugh as a consolation prize after losing to his brother in Super Bowl XLVII.
2015: C7 Z06 Coupe
More subtlety came in 2015, in the form of a plain Jane white Z06. While the C7 Z06 is an amazing car, this pace car is starting to make us miss the absurd Corvettes of the 90s and 2000s. It was driven by Jeff Gordon, a man who has driven a Chevy around a race track once or twice before.
2017: C7 Grand Sport Coupe
Chevy may have finally done it: They may have made the perfect Indy 500 pace car. This Corvette Grand Sport has just the right amount of flair to serve its purpose. Although took almost 40 years, it appears Chevy finally figured out a nice balance between the production car and something a little crazy, giving it a lovely red, white and blue color scheme without looking too different from the production Grand Sport. Freshly retired Indianapolis Colts linebacker Robert Mathis will have the pleasure of pacing this year's race — not a bad way to start your retirement.
Which pace car is your favorite? For me, the 1998 C5 the most fun, but the new 2017 car might be the best. Find a Chevrolet Corvette for sale
MORE FROM OVERSTEER:
Autotrader Find: Right-Hand-Drive Nissan Fire Truck
Here's Why the Sunroof Doesn't Open in the Audi A5
5 Unusual Low-Mileage Cars For Sale on Autotrader